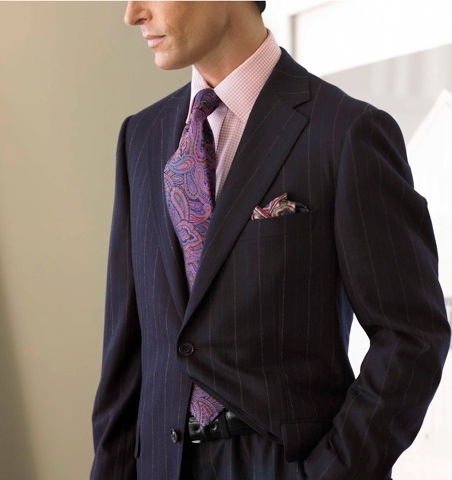 You work hard, and so should your suits. Let's look at how using different combinations of shirts, ties, and accessories-worn with the same suit-can help you create three different styles, taking you from a board meeting to a brainstorming session to an evening get-together-all while maintaining a professional image.
Corporate Power
Stick to the basics: white or blue shirt, traditional tie, and dark shoes. For the ultimate corporate image, add a pocket square that coordinates with the colors in your tie, and include a vest with your next suit. Keep jewelry and other noticeable accessories to a minimum.
Creative Image
Add flair to your ensemble with rich, bold colors in your tie or shirt. Loosen your collar or go without a necktie. Bring a little zest to your footwear without sacrificing professionalism by forgoing basic black. Instead, choose shoes with deep red or brown tones, such as Bordeaux, walnut, or burgundy.
Casual Look
Casual doesn't have to mean sloppy-the beauty of custom clothing is that even casualwear fits you perfectly. Soften the corporate look without sacrificing style by exchanging the suit coat for a lightweight sweater or sweater vest. Instead of white or blue, consider a checked or striped shirt in a subdued color, such as ecru or beige. Shirts or ties with tight patterns add visual interest to your outfit without overwhelming the eye.