What a great weekend that was! We are so proud to have been a part of the 12th Annual Tommy Tant Memorial Surf Contest! Congratulations to the winners and thank you all for coming to the Kickoff Celebration at the Lion on Friday night. Last weekend was a "chamber of commerce" weekend with blue skies, smiling faces, and surfers everywhere you looked!
It's here! It's here! The Beaujolais Nouveau is here!! We have been celebrating Beaujolais Night at the Golden Lion Cafe since 1994, so we get a little excited.

On Saturday, it will all Trop Rock all the time. Local parrothead Jim Lamb will be here in the afternoon as part of the Phun Coast Parrothead Club's monthly social. In the evening we will welcome Jeff Pike from Atlanta. Jeff is the front man for A1A, widely regarded as the best Jimmy Buffett tribute band on the East Coast.

Don't forget about Thanksgiving Eve in Flagler Beach. It is a night to see and be seen as locals return to the fold to visit family and friends. We will be featuring the Park-O-Lators on the main stage for this fun Wednesday night!

Read on for more information and have a great weekend!
Beaujolais Nouveau Night
Thursday November 17

It's not too late to make your plans to attend the Golden Lion Beaujolais Nouveau Party! This event is a fall tradition at the Lion as we join the world-wide on the third Thursday of November every year! We have celebrated since 1994!


Live music by Cesar Romero, a special four-course meal, and plenty of wine!

Special 4-Course menu to include your choice of entrees (Beef Bourguignon, Coq Au Vin, Lamb Shank, or Salmon Filet) and our delicious Berry Crepes! Cost of the dinner is $25 per person and does not include wine. Come for dinner or just stop by for a glass.

Beaujolais Nouveau is a red wine made from Gamay grapes produced in the Beaujolais region of France. Hand harvesting and whole berry fermentation create a red wine that is easy to drink and does not age. So drink it while it is young on November 17th!

Call the restaurant

at 386.439.3004

for reservations.
Jeff Pike


Atlanta native Jeff Pike has been entertaining, singing and playing music for a living since 1984.
An accomplished guitarist, vocalist, songwriter and keyboardist with over 15 CDs to his credit, Jeff has performed thousands of shows, traveled the globe and played many styles of music.
His vast and extensive song list covers Jeff's original music, classic rock and soft rock standards, easy listening oldies, acoustic classics, deep cuts and favorites dating back to the 1960's.
Aside from performing and recording as a solo artist Jeff performs with his Original Trop Rock Band, A1A. A1A are known world wide as "The Official and Original Jimmy Buffett Tribute Show - Since 1992."
Look for Jeff on the main stage Saturday night at the Lion!
Golden Lion Online Store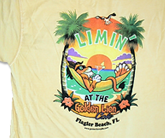 Just in time for Christmas, official Golden Lion merchandise & gift cards can now be purchased online! Visit http://goldenlioncafe.us/store/cart.asp
Upcoming Music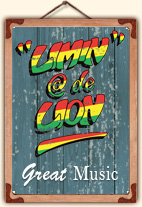 The Golden Lion is a popular live music venue. We are proud to feature a variety of local & regional musicians. Our musicians are a huge part of our success over the years.



Thursday Nov 17 5-9pm
Cesar Romero
Friday Nov 18 6-10pm
Joe Atti & Friends
Saturday Nov 19 12-4pm
Jim Lamb
Saturday Nov 19 6-10pm
Jeff Pike
Wed Nov 23 5-9pm
The Park-O-Lators


The Park-O-Lators


The Park-O-Lators return for their second show at the Golden Lion on Thanksgiving Eve. If you missed them the first time they were here, you might have seen a taste of them at the all day Junior Lifeguard Jam a few Sundays ago. Clayton Park's electric fiddle and Susan Park's percussion added so much to the event. We appreciated so much that they came to the event and look forward to seeing them again.

You are in for an early Thanksgiving treat on Wednesday 11/23 with this unique act. Based in Daytona Beach, The Park-O-Lators serve up an original blend of Americana. Featuring Clayton Park on fiddle, guitar & vocals, Susan Park on drums & vocals, and rounded out by Graham Woodard on rhythm guitar & Patrick Sullivan on bass. This is not an act you want to miss!

Holiday Parties
Looking for a great spot to host your Holiday Party? We will do all the work for you! Get in touch with Julio at (386)439-3004 or email parties@goldenlioncafe.com and leave the rest to us.
How do you like our new format? We welcome your feedback at infor@goldenlioncafe.com. Not interested in receiving our updates? Click the unsubscribe button below.

Have a great week!



Celebrating our 19th year as Flagler's Most Awarded Restaurant and our 1st year as Florida's Best Waterside Beach Bar


Golden Lion Cafe

500 North Scenic A1A

PO Box 2225

Flagler Beach FL 32136

386.439.3004




Weekend Specials
Fresh Catch Of The Day
Served up grilled or blackened as an entree, sandwich, or in fish tacos. We'd tell you what the catch will be, but it changes every day!

From The Bar:
Try a Bacardi vanilla coke this weekend! Bacardi rum, vanilla liqueur, and coke. It's soda-pop for grownups!
Featured Menu Item
Coconut Shrimp
Our jumbo shrimp are hand butterflied, then breaded with coconut. Enjoy them as an appetizer with our house-made pina colada sauce or in fish tacos with our catch of the day!
Upcoming Events

Beaujolais Nouveau Night
November 17
Parrothead Day
November 19
Thanksgiving Eve
November 23
Marcia's 75th Birthday!
December 17