 Two black marketing executives Jamila Thomas and Brianna Agyemang of Atlantic Records created the idea to have a day of pause, reflection and make plans for action in response to the social injustice and protests sweeping the nation. That day is today, Blackout Tuesday, June 4. Apple, TikTok, Spotify, LiveNation, Sony, record labels, UTA and other agencies, artists, celebrities, and other brands are posting black squares, changing profile pics and/or pausing operations to show solidarity with the black community. While the initial concept was to be silent for reflection, many organizations, influencers and celebrities are doing the opposite: being very vocal with resources, donations, and funds to help various causes. You can use the image above to show your support, and also post other images of ways to help. When you post your square social media, use #BlackoutTuesday instead of #BlackLivesMatter or #BLM. What resources or action steps do you recommend? For us, we created the event below to discuss action steps this Thursday....RSVP below.
_______
At this discussion via Zoom, leaders in the LA tech community will discuss action plans, personal strategies, community events and resources to help increase tech equality and access among black communities both locally and nationally. We will also discuss how to use tech tools from online fundraising to social media to help amplify black voices and messaging for your company, organization, and personally.

Speakers

- Derek Smith is founder of Urban Tech Connect, an annual conference where hundreds of urban students get inspired by speakers in the LA tech community. OrganizePlug In South L.A. to bridge the technology gap between entrepreneurs in the inner city and the growing opportunities that exist in technology.

- Cassie Betts, Vermont Slauson Economic Development Corporation (VSEDC). Manager of Technology & Innovation. Cassie is the catalyst and visionary behind the 10,000 sq foot South LA Tech Center and the Best Buy Teen Tech Center opening Summer 2020 at VSEDC's Western location in partnership with Annenberg Tech, and PledgeLA. She is also founder of District2.co, an online platform in the collaborative shared economy space for small & mid sized apparel brands.

- Sheila Marmon, Mirror Digital, CEO/Founder. Mirror Digital is an award-winning media and advertising company connecting leading brands to the growing U.S. multicultural market.

- Crystal Mitchell, Co-Director of RBD Communications dba Recycling Black Dollars, which encourages and supports African American businesses in becoming successful and sustaining success with their business

- Jay Tucker, UCLA MEMES. At UCLA's Center for Management of Enterprise in Media, Entertainment and Sports (MEMES), Jay is responsible for the Center's vision, thought leadership, educational offerings and major events - including the annual PULSE conference.

- Moderator: Kevin Winston, Digital LA
___________________
OUR RECENT EVENTS
Digital LA - Asian-American Innovators. Our first Digital LA - Asian-American Innovators panel featured leaders Sabrina Kay of Fremont Private Investments, Mike Prasad CEO of Tinysponsor, and Nanxi Liu CEO of Enplug. They
shared their inspirational startup stories and advice in our celebration of Asian-American and Pacific Islander Heritage Month.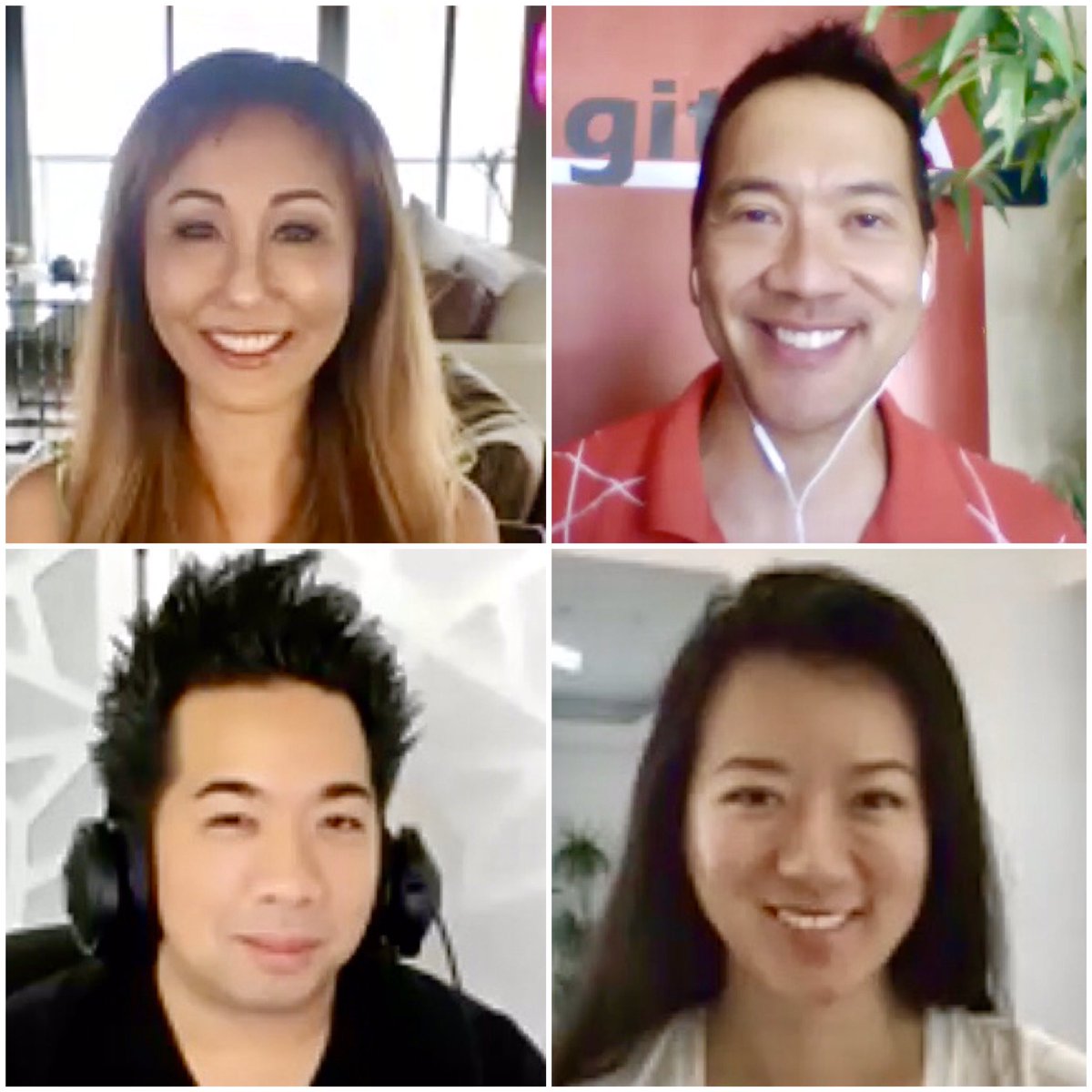 Speakers described how they started their several companies, and serve as board members, mentors and investors in dozens of companies. They also described how their businesses of have adapted to the pandemic.And they described local resources to support Asian-American founders.
Watch the entire livestream on our Digital LA Facebook
page
, and see
article highlights
.
Distance Dating
during a pandemic adds new rules - and apps and experts can help find relationships and love, said speakers at our Digital LA - Distance Dating panel held distantly on May 20 via Zoom. This panel was a follow-up to our Digital LA - Dating Panel held on Valentine's Day Feb 14, where dating coach and expert Julie Spira and a Three Day Rule matchmaker gave dating advice on apps, and more. The world has changed in the past three months, and so have dating rules, which we are all figuring out in this unprecedented time in history. People are looking for more long term relationships than casual. And there's still the build up to the visual date via FaceTime or Zoom. See
article.
Digital LA - Virtual Events in

Pandemic.
Experts in events and virtual events described top 10 keys to successful virtual events at our Digital LA - Virtual Events in Pandemic and Beyond, presented by Cross Campus panel, which was itself virtual via Zoom on May 13.
Speakers included:
-Eyal Simko of the One Up Group, who has worked with ABC, MAC Cosmetics, Equinox, Bacardi, Ipsy Cosmetics and many more on event fabrication, design, production and entertainment; Kathi Sharpe-Ross, who has consulted with CBS Entertainment, Coca Cola, National Geographic, Dick Clark Productions and many more on strategic marketing and branding; Kim Koury of Spin PR which produces dozens of Santa Monica based community events and festival, and Cross Campus Events, and moderator Digital LA founder Kevin Winston, who has organized dozens of virtual events from panels to happy hours and hackathons.
Article.
Digital LA - Band Jam 8
.
Nine indie artists played our Stay-at-Home Band Jam 8 with Planet LA records. It marks 2 months that we've been featuring indie artists playing for 3 hours via Instagram live, to give them a digital stage when physical ones have been closed in pandemic.
Artists performing included:
David Alexander,
who performed live from his home in Colorado. The 17-year old high school student has developed a following on TikTok and Instagram, posting snippets of his songs. Many follower comments applaud his soulful voice. In his most viewed TikTok video with nearly 1M views. David dances in a circle for a few seconds in a house party with an enthusiastic crowd jumping around. David said he juggles schoolwork and writing original songs. See more in article.
Accessibility Tech panel
, experts discussed the importance of websites, apps and products accessibiity, tech education, and representation of people wit disabilities in media and film Developers of websites and apps should use code like dynamic sizing to ensure that those with vision impairments can see the fonts. There are standards for tech coding. Ash Grayon of Oracle Cloud, said there are several resources to help. Joe Devon founded the Global Accessibility Awareness Day, May 21. The Braille Institute has several locations in Los Angeles and Southern California where people with vision impairments can take
free workshops and classes on how to use technology, from readers to their phones. Nic Novicki. He founded the Easterseals Disability Film challenge where people with disabilities and allies are invited to make films over the weekend.
Article.
| | |
| --- | --- |
| | |
Peter and Wendy Cast and Crew Reunion
.
Digital LA hosted the The New Adventures of Peter and Wendy cast and crew 6th anniversary celebration via Zoom on Saturday May 9, six years exactly after the first episode of the popular award-winning web series launched on YouTube. Cast and crew shared stories about their favorite scenes, audition memories, and what they and their characters would be doing during the PANdemic.
Fans of the show, known as Neverlandians, watched the Zoom from LA, Texas, New York, Canada and New Zealand.
Digital LA founder Kevin Winston moderated.
You can watch the 2-hour reunion
special
on YouTube.
Digital LA - Band Jam 7. Ten indie artists performed at our seventh Digital LA Stay-at-Home Band Jam with Planet LA Records on Instagram live on May 9.
Digital LA - Digital Latinx:
Startups and Creators. Latinx startups and creators shared their inspiring stories at our Digital LA - Digital Latinx panel in our celebration of Cinco de Mayo on May 5 via Zoom. Several of the speakers startup ideas formed when they were traveling internationally from Mexico to Venezuela. Adriana Herrera had the idea for EpicHint, a cannabis knowledge exchange startup, when she was visiting friends and family in Mexico. She has taken coding classes, so was able to build out her web site herself, and released it quickly, with rapid iterations. Arturo Perez is founder of Kluge Interactive web and graphics design agency, that created Synth Rider, a VR fitness game after the success of Beat Saber. See more stories in our
article.
Digital LA - Band Jam 6.
Artists AJ Smith and Kris Angelis headlined our sixth virtual Digital LA Stay-at-Home Band Jam with Planet LA Records among 8 indie bands performing on Instagram live on May 2.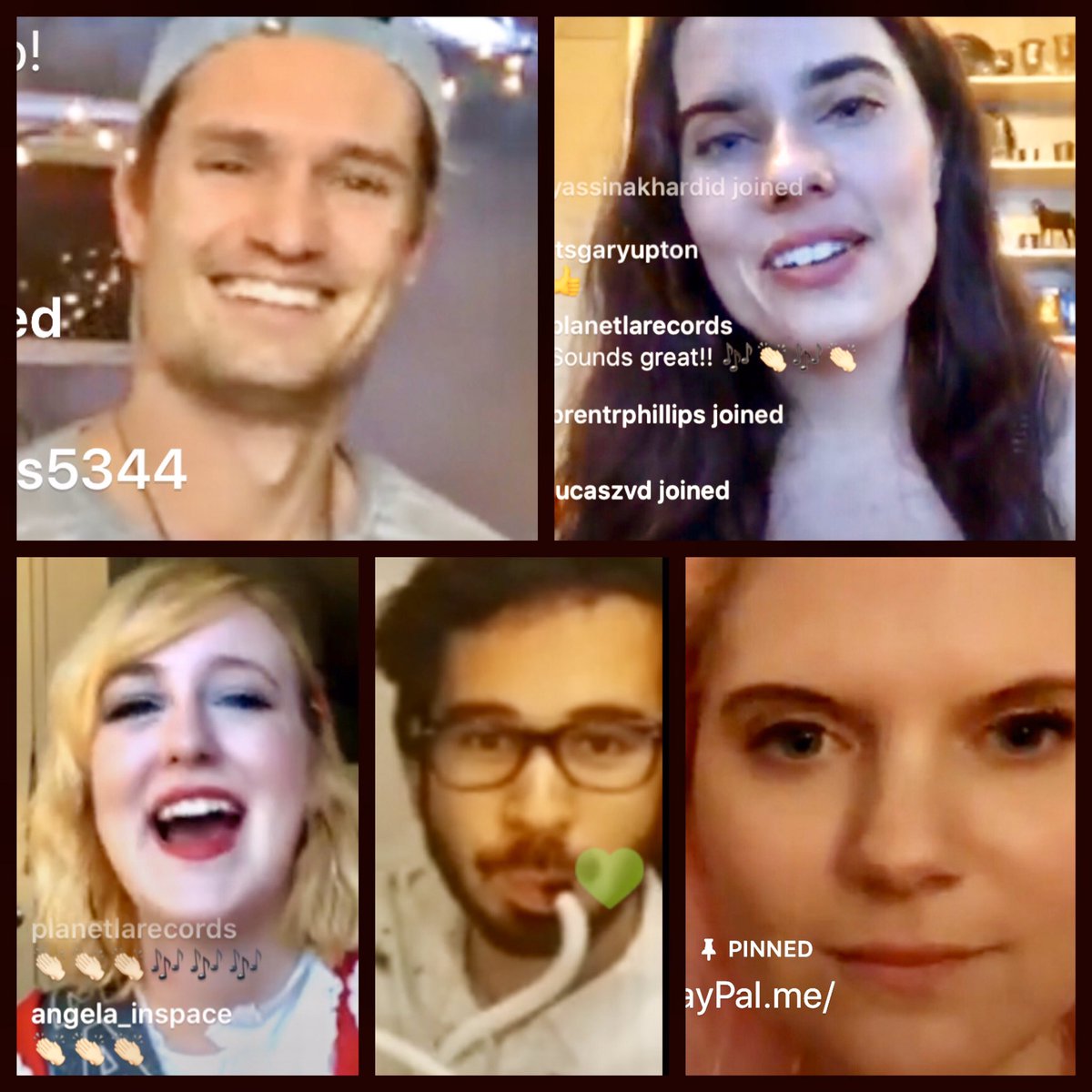 Artist AJ Smith performed his new single "Sad Song" and debuted the song "Billy Joel" while joining us from quarantining in Connecticut. He recently launched a SAD Candle store, selling candles he makes with scents such as "My Pillowcase Still Smells Like You" and "The Jacket I Never Gave Back." He studied songwriting at New York University. See
article
.
Digital LA - Virtual Yoga
.
Yoga instructors and startup founders described how they have quickly started to use digital tools including Zoom, Facebook Live, and Instagram Live to help people practice yoga, and maintain mindfulness, especially important in these uncertain times.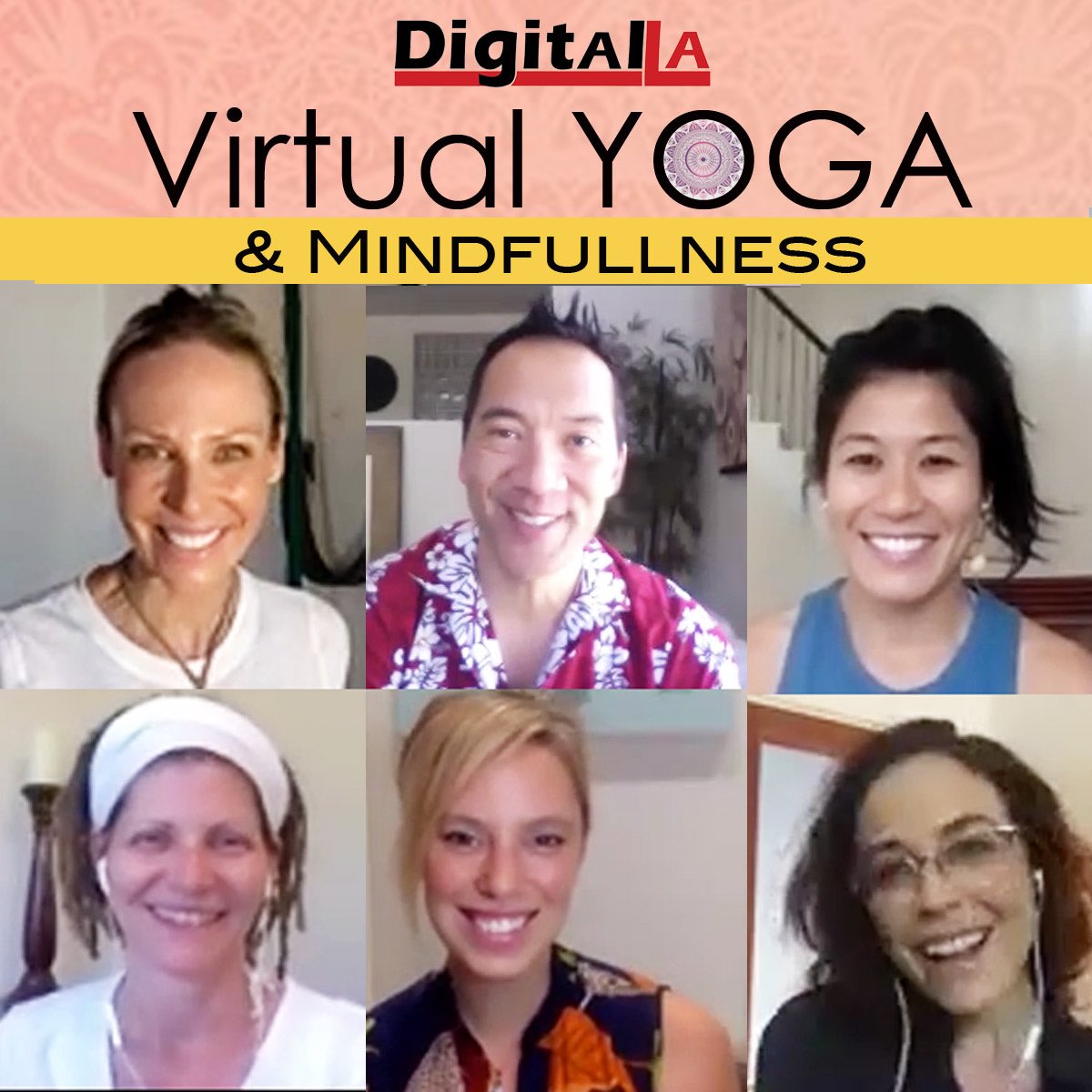 Most of the experts did not offer remote yoga before the pandemic. But they quickly pivoted, learning how to use Zoom, Instagram Live, and other tools so they can continue to help people with their yoga practice. Some instructors said they were initially surprised that they were able to connect spiritually to people, via virtual screens.
After the panel, speakers offered 15-minute sampler sessions of their yoga practice. You can watch the panel, and the yoga session via the recording on our Facebook page, via the link in our
article.
Three teams created tech tools, sites, and apps to address various aspects of the pandemic at our COVIDHACK hackathon on Friday. This was the first all-virtual online hackathon where participants and judges all participated from home. First Place: a platform that helps restaurants feed seniors, according to the new announcement by California Governor on Friday. Second Place: A startup that helps small businesses ramp up their online and digital strategies and presence. Thanks for attendees for amazing ideas. And thanks to judge Miki Reynolds of Grid110 accelerator, which has helped dozens of startups across multiple industries, based in downtown LA. See
article.
Digital LA - Band Jam 5
with Planet LA records. Tatiana from London was among 9 artists who performed from
their
homes from LA to Philadelphia in our fifth weekly Band Jam via Instagram Live on Saturday night. While bars, restaurants, music venues, and festivals are closed and canceled, our Instagram live band jam series has helped indie bands share their music with fans. Thanks to sponsors including Seymour Duncan and several food brands who sponsored to reach snack-loving people at home viewing, including Alo dink Teas Tea, Health-Ade kombucha, Foodstirs snacks, and Pop Art popcorn. See
article.
| | |
| --- | --- |
| | |
At our
Digital LA - Cannabis Tech
panel on Monday 4/20 at 4:20p, speakers from LA to Miami shared they insights on how the cannabis tech industry is adapting to the pandemic. Speakers said that cannabis retailers have increased their online website presence, adding online ordering for home delivery or curbside pickup from stores. The International Church of Cannabis in Denver has switched to virtual services. When expos and events reopen perhaps this fall, they may employ limited attendance, social distancing, and online apps to order heads. See more in our
article.
Stay-At-Home Band Jam 4.
Ten indie artists performed our fourth Saturday night Band Jam 4, playing live from their homes from LA to Texas to Boston. Thanks food sponsors Health Ade kombucha, Teas Tea, Pop Art snacks and more for sponsoring, reaching people saying and snacking at home.
Article.
Our next Band Jam 5 is this Saturday night!
Digital LA - TeleHealth with Heal
CEO Nick Desai, who described how his app has adapted to the pandemic, switching from a doctor house call on demand app to all telehealth, including referrals for COVID-19. See
article.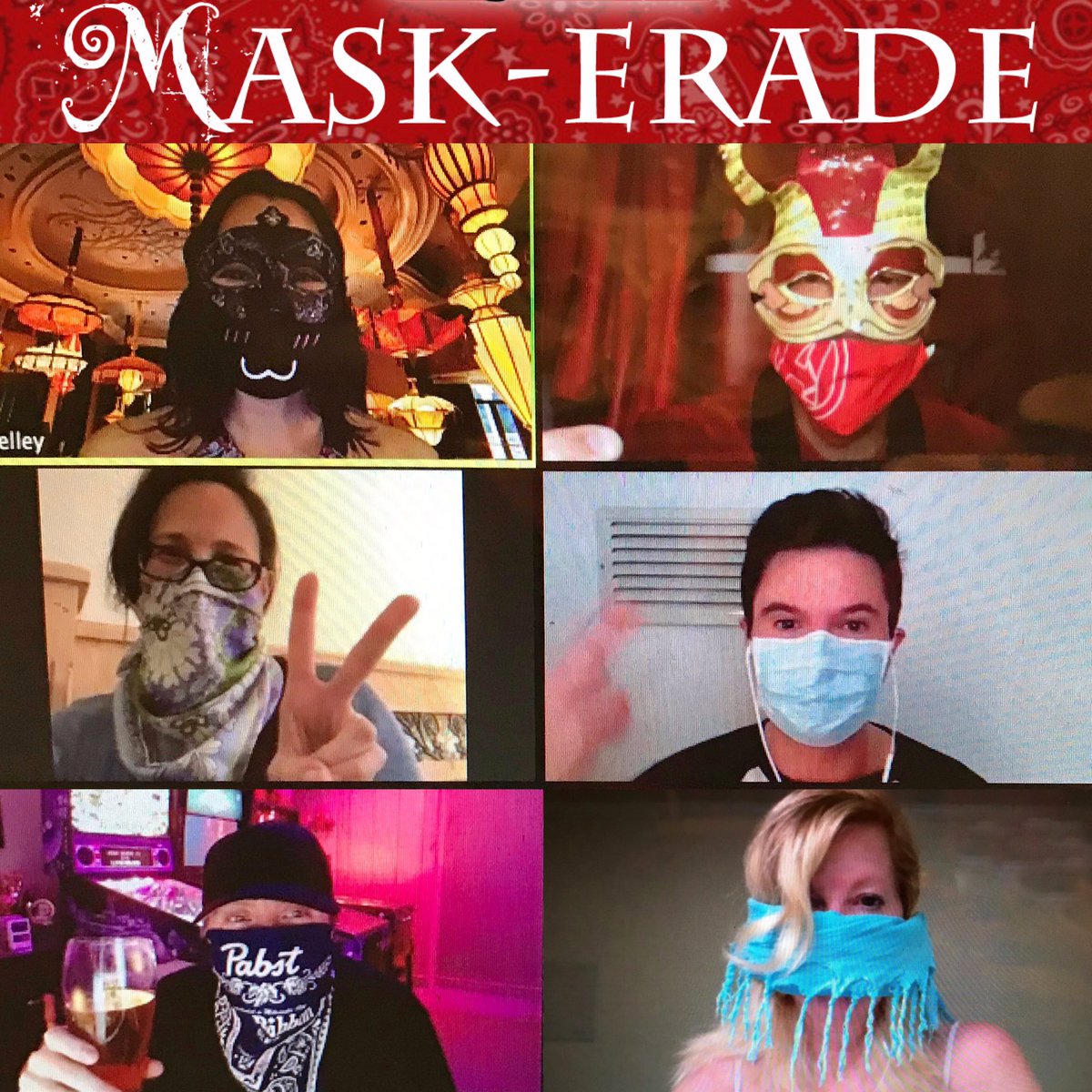 ___
Digital LA - Stay-At-Home Band Jam.
Ten artists performed at our second virtual Digital LA - Stay-at-Home Band Jam with Planet LA records on April 4. The event encourage Artists and viewers to stay at home during quarantine to watch via Instagram live. See
article.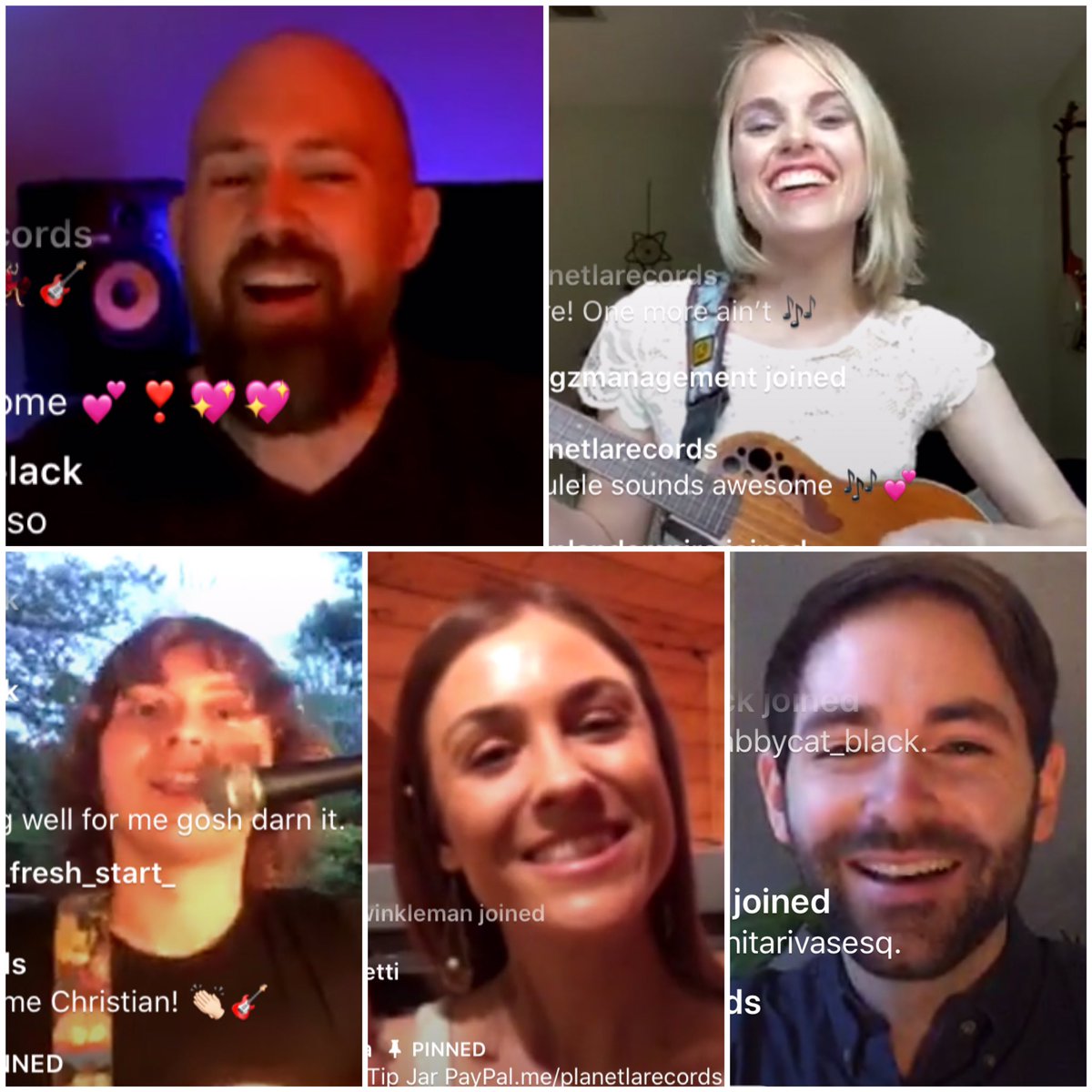 Digital LA - Comedy during Corona.
While the quarantine has closed comedy clubs, comedians are creating corona content online, and helping support each other, said speakers at our
panel
via Zoom on Wed.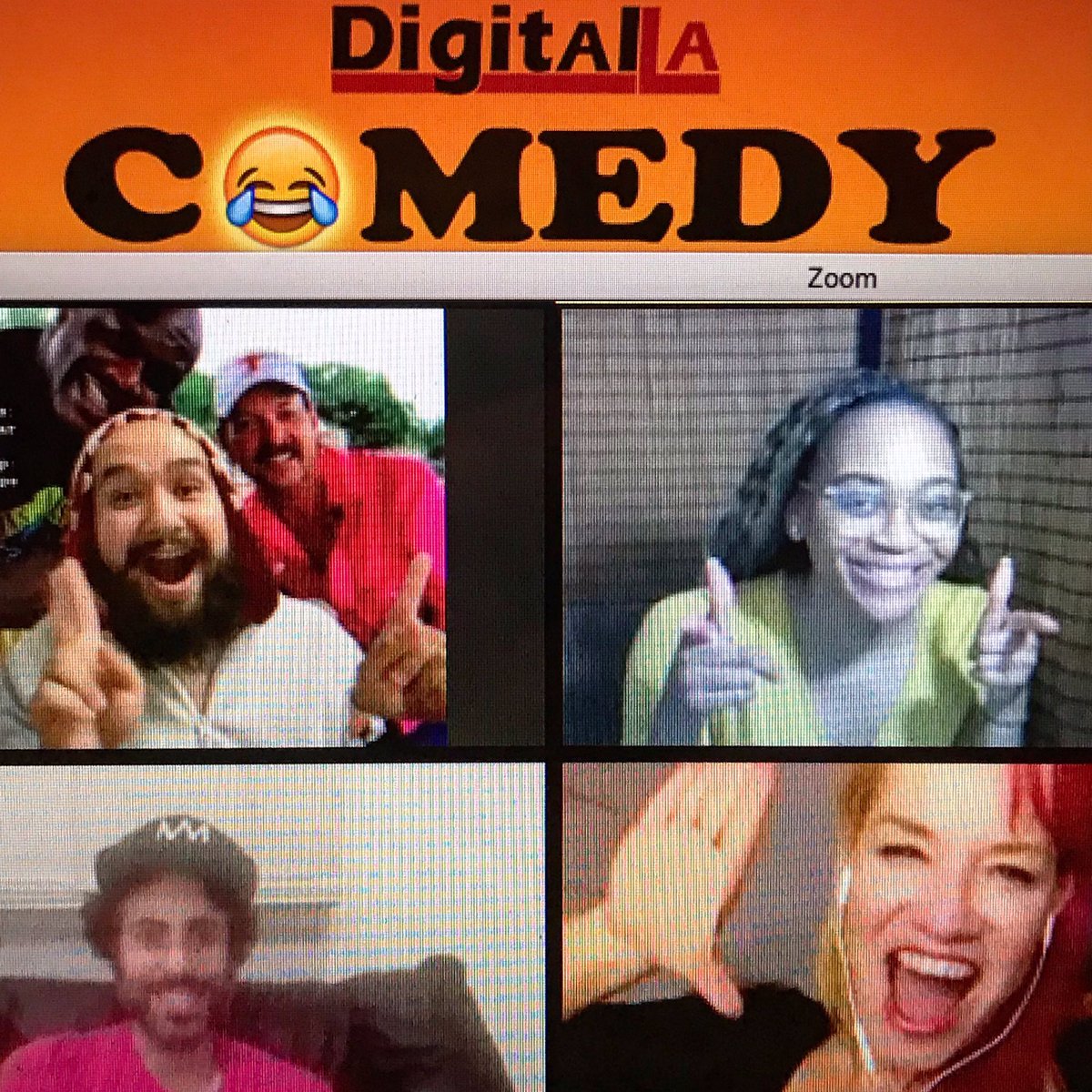 The annual panel was held on April Fools, April 1, 2020, to focus on how the coronavirus has impacted comedians, and how they are adapting to continue to help people heal through laughter.
The panel was conducted entirely via Zoom, with each speaker Zooming in from home, for proper social distancing and stay-at-home behavior. See our article. And watch the ComedyGivesBack.com benefit this Saturday at 4pm.
Digital LA - Virtual Pool Party.
We had a blast at our Digital LA - Virtual Pool Party with everybody joining from their homes: pools, hot tubs, living rooms bedrooms from LA to Florida.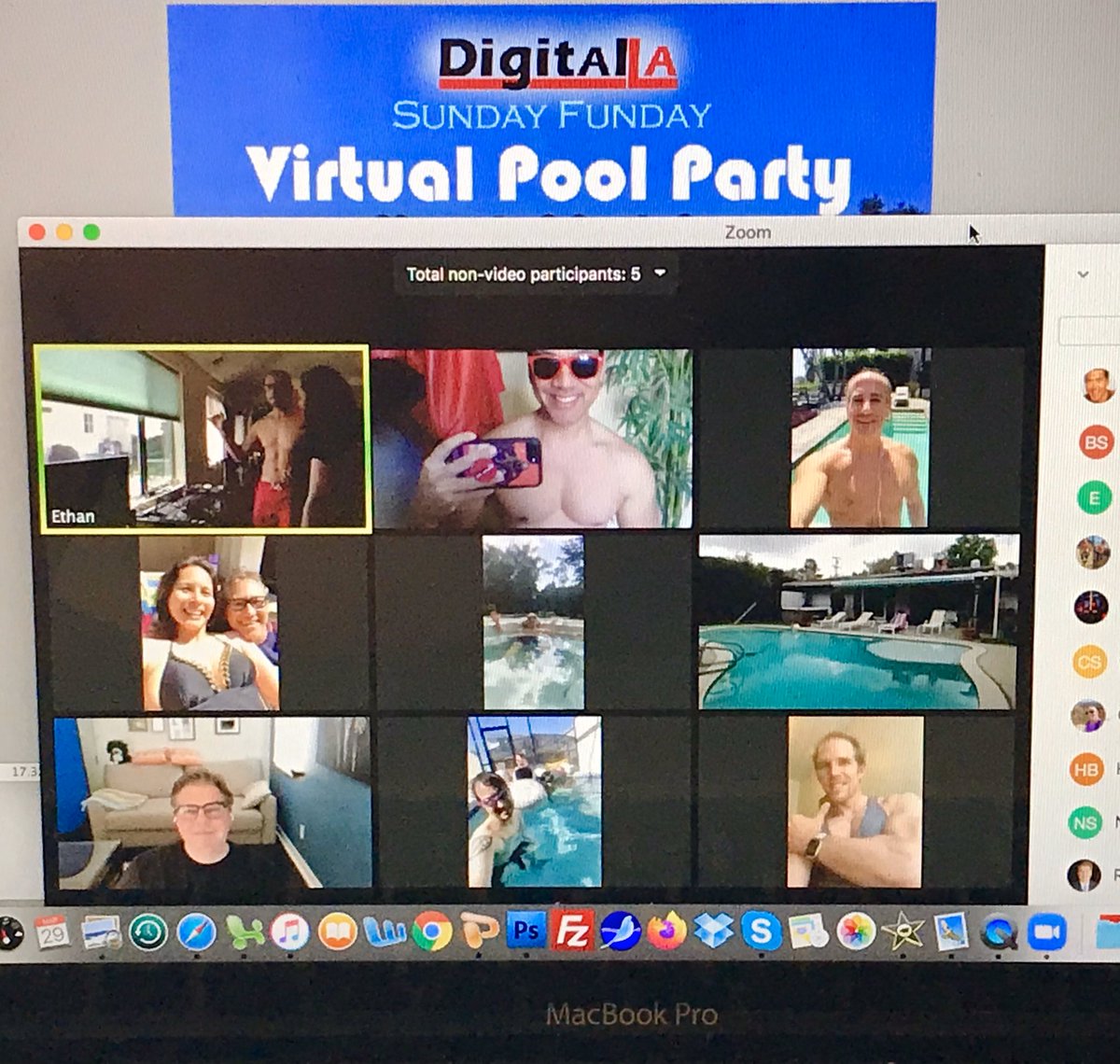 Thanks to DJ Ethan Stone for spinning groove beats from his pad in Hollywood while we chatted and lounged. Thanks to attendee Gary for his panoramic pool cam we made as the main cam. See article.

______
Digital LA - Shift to Live Online panel.
Experts discussed how to shift your work online, from small businesses to education, to artists, and VR/AR. Speakers discussed online platforms including Zoom, Slack, Twitch, Blackboard, Canvas and more. In the past week, Zoom has become the leading online meeting tool for business meetings, organizations, entertainment TV writers and more. Zoom has also been used for social hanging out, with no agenda, just socializing, as LA bars, restaurants, and more have shut down. Educators use Blackboard, Canvas and other tools. Musicians and gamers can use Twith to both engage their fans, and generate revenue. VR/AR livestreams are being used for entertainment, sports, education and more. See highlights in our article. This panel was conducted online via Zoom, our first virtual panel.
_____________
Our St. Patrick's Day Zoom-Up!
We had a blast at our first online Zoom-Up on St.
Patricks Day.
We virtually replicated hanging out at a pub online, by discussing how we are moving to life online, practicing social distancing, exercising, and connecting with family and friends. Attendees drinks were encouraged, as everyone was already at home - no need to drive!
A
ttendees joined from LA, DC, and NY. Several showed their green for St. Patrick's Day.
Thanks attendees for joining! We will be doing more of these!