Whether you're reading a new best seller, a non-fiction treatise of the first Thanksgiving, or a favorite holiday story book with your favorite little one,

November is the perfect time to cozy up with a good book. Browse the catalog or our shelves to see what's new at the library!




In addition to new books, we have a schedule of events and information to share with you. The Friends of the Library book sale kicks off this Thursday, November 5th. On Thursday and Friday, children's books are just $1.00 a pound! We're really looking forward to our Tea Time on Wednesday, November 18, where historical interpreter Stacy F. Roth will give you a glimpse into the lives of 18th century women. Scroll down for more information on these events and more at the library this November!




The library strives to serve our communities as best we can with our resources, but sometimes, we need a little input. Please consider taking our

adult programming survey

to let us know what you'd like to see at the library in the future.




In the spirit of Thanksgiving, the library staff thank you for your support in the years we've been serving you. Your donations, volunteer work and patronage are much appreciated.




Happy Thanksgiving to you!

Thanksgiving Holiday Hours


The Library will close early at 5 pm on Wednesday, November 25th and reopen Friday morning, November 27th at 10 am. Our Library Staff wishes everyone a Happy Thanksgiving!
The Friends of the Memorial Library of Nazareth and Vicinity's semi-annual book sale takes place
November 5th to 7th.
Thousands of books, DVDs, and CDs are available for all ages and reading interests.
Hours are:
Thursday, November 5 10 am - 7:30 pm
Friday, November 6 10 am - 4:30 pm Saturday, November 7 10 am - 3:30 pm
Saturday is $5 bag day. On Thursday and Friday, children's books are just $1 per pound! A preview for members of the Friends takes place before the Library officially opens on Thursday morning, November 5th from 9 am - 10 am.
Membership to the Friends can be purchased at the door, $10/individual or $15/family. Only cash and checks will be accepted at the book sale.
Tea Time: The Distaff Muse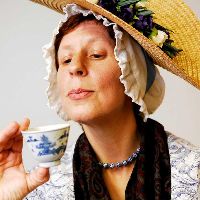 What qualities define the 18th Century Woman? Virtue? Piety? Gentility? Spirit? Wit? Fortitude? Resignation? Passion? Take a mid-morning break and join us for a cup of tea on Wednesday, November 18th at 11 am as historical interpreter Stacy F. Roth brings us an entertaining and authentic look at the lives of 18th century women through songs, quotations, poetry and prose.

In this unique presentation from a revolving repertoire, we will visit with humble heroines, brave Amazons, wise wits, and warriors in disguise.

Funding for this program is provided by Friends of the Memorial Library of Nazareth and Vicinity. You can register for this free program at the Library's circulation desk or by phone at 610-759-4932, ext. 1
W
e are busy planning activities to fill the 2016 calendar, and we want your input about what programs you'd like to see at the
library. Are you passionate about history or interested in technology classes? Do you want to learn how to craft or would you like to sit back and enjoy some live music in our living room? Please help us in our goal of offering you a slate of programs that fit your needs and interests by
filling out this short survey.
Join us at the next Friends Meeting.

The Friends of the Memorial Library of Nazareth and Vicinity will hold its regular bi-monthly meeting on Tuesday, November 10th from 6:30 pm - 7:30 pm. The Friends is a group of community members who raise money to provide programs and to purchase items for the library collection which surpass the library's annual budget. Without the Friends, many of the annual events that you and your children participate in would not be offered such as the Young Authors Program and educational and entertaining programs for adults and children throughout the year. If you would like to get involved, please join the Friends and become part of our library's success.




The Nazareth Book Group meets
Wednesday, November 11th 6:30 pm - 8 pm
to discuss
The Plum Tree
by Ellen Marie Wiseman
. Everyone is welcome to join for any or all discussions. The book discussion group meets the second Wednesday of each month at 6:30 pm.
Most discussions are held at the Memorial Library of Nazareth and Vicinity. Please call Amy at 484-767-8049 to confirm location or for more information.
Registration begins on Monday, November 23rd for our popular family Holiday Crafts Program on Wednesday, December 2nd from 6:30-7:30pm. There is a limit of 30 children for this event. The sign-up list will be at the Children's Room Desk one week in advance.



Come to the Library on
Wednesday night, November 18th from 5:30 pm - 7:30 pm
for an evening of jewelry shopping. With reasonably priced jewelry, Origami Owl's Independent Designer April Gabriel-Ferretti will show you the latest in watches, charms, and earrings for women and men. Jewelry themes range from bridal to collegiate and even baseball. Check April's website for additional information:
https://agabriel.origamiowl.com
.
And, if you are an Amazon shopper and would like to support our Library, sign up for
Amazon Smile!
AmazonSmile is a simple and automatic way to support us every time you shop, and at no cost to you. You'll find the same low prices, vast selection and convenient shopping experience as Amazon.com but with the added bonus that the
AmazonSmile Foundation will donate 0.5% of the purchase price to Memorial Library of Nazareth and Vicinity
if you select us from the nearly one million registered organizations . As you shop you'll see qualified products marked "Eligible for AmazonSmile donation" on their product detail pages.
Thank you for supporting the Library!