As we enter 2013 I would like to extend our best wishes for a very Happy New Year to our partners and friends! I am so grateful for the love and kindness that you've shared with Brevard's children and families during the holiday season and throughout this past year. Brevard County truly exemplifies the intent of Community Based Care and the difference a unified and caring community can make in the life of a child.
On behalf of Brevard Family Partnership and Brevard C.A.R.E.S., we wish you a Happy New Year! It's our hope that this will be a year with less children suffering abuse, neglect or abandonment, more families finding the help they need to remain safe and intact, and "forever homes" for every child who needs a loving family to call their own.

If you share our hopes, please consider how many different ways you can help our children and families. Think about becoming a foster parent; a child needs a safe place to stay and heal. Explore the idea of becoming a "forever family" to a child who needs a permanent place to call home. Or lend your support through our volunteer program, donate services or items to help sustain families in need, or make a financial contribution that will help us provide the necessary programs and services for the many in our care.

Anything that you do makes a difference. Make that difference a positive one!

Special Thanks to our Generous Holiday Sponsors
On behalf of Brevard Family Partnership and our partners, Brevard CA.R.E.S., Children's Home Society of Florida, and Devereux, we offer a special THANK YOU to our sponsors for their generous contribution towards our annual Holiday Gift Drive!
This year we received gifts for over 2,000 children and it is because of our many sponsors volunteers that we were able to provide joy to these children who had gifts to open during the holidays.
One of our families offered a special word of thanks: "I would just like to say thank you for all that you do, and for all of the wonderful Christmas gifts you have delivered to Brevard County families, including my own!! It is nice to see caring, sharing people out in the world! It means a lot to me and my family."
Commissioner Anderson's Coats for Kids Drive a Success
For the third year in a row, Commissioner Andy Anderson hosted "Coats for Kids, a countywide initiative to combat the growing problem of children without winter coats.
This year the community donated over 140 brand new coats to Brevard Family Partnership, where they will be provided to needy children in the community. A huge thank you to Commissioner Anderson and the residents of Brevard County who contributed towards this important initative!
The coats are available at the Devereux office on Sarno Rd. Call 321-752-3111 for more information.
Kayaking for Kids!
Brevard Family Kayak Festival
supporting child abuse prevention
programs seeks sponsors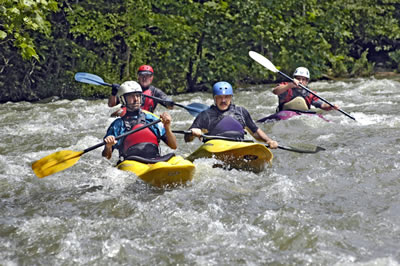 On Saturday, April 13, Brevard C.A.R.E.S. will host its inaugural Brevard Family Kayak Festival at Kiwanis Island Park, in Merritt Island. Presented in association with Space Coast Paddlers and A Day Away Kayak Tours, this event is an opportunity for kayak, canoe and paddleboard enthusiasts - and novices alike - to participate in a day of fun and games on the water (and on land) to raise funds that will support Brevard C.A.R.E.S. child abuse prevention and family preservation programs.
News From the Field - DCM Spotlight
Kathy Yokley is a wonderful team player. She works in Children's Home Society, unit 281 where Bonnie Gibbons is her supervisor.

Things to know about Kathy are.....

She was born in Wilmington, Ohio and lived there until she was 18 yrs old. Upon her 18th birthday, Kathy stated, "I hightailed it out of there". She moved to Florida at that time and has been her ever since. Kathy said she took the long route to getting into this this field by working two jobs and going to school.

Kathy started her social services career by volunteering at Country Acres while attending college. She eventually graduated from University of Central Florida. Upon her graduation, she was immediately hired by Country Acres as a Supervisor. Kathy began her career at Children's Home Society in 2008. She loves this job because, "You can't give up on people. You must continue to push them until they can see themselves being prosperous and independent."

Kathy has a special place in her heart for all children. She believes every child needs a family, as adoptions are very dear to her.
Keep up the good work Kathy!

Upcoming Events
January 21 - Martin Luther King Jr. Day - BFP Offices Closed
January 24 - BFP Board Meeting
January 24 - Brevard Interfaith Coalition Meeting
Nominations now open for the 17th Annual Child Abuse Prevention Awards
Nominate someone you know who is deserving of an award for their outstanding contribution towards preventing child abuse in our community.
Community Partners
Brevard Family Partnership
2301 W. Eau Gallie Blvd., Suite 104
Interested in Volunteering?
Brevard Family Partnership is seeking individuals who are interested in volunteering time and talent to support the organization's many activities related to preventing child abuse and raising awareness of the local System of Care that serves the community.
Visit our website to learn more, download the application form, sign up for our next Volunteer meeting and more!
January is Human Trafficking Awareness Month
"Human trafficking is the fastest growing criminal enterprise in the world today, and tied with arm smuggling as
the second largest international criminal industry. Human traffickers view Florida as one of the most attractive destinations and transit points for their victims and Florida accounts for the third-highest call volume for the National Human trafficking Resource Center..." (Governor's Scott Proclamation)
Foster Parent News
December 2012
Approved Relicensed Homes
Virginia & Michael Dzara
Guy & Katina Behrmann
Sarah Bennett
Michelle & Annil Gunness
Samuel & Gillian Danclair
Danielle Harper
Raymond & Patricia Isom
Newly Approved Foster Homes
Cherie & Edward Manzano
Erin & Jeremy Long
Marie Laurent
Lynn Patow
Congratulations! Thank you for your commitment to Brevard's children.