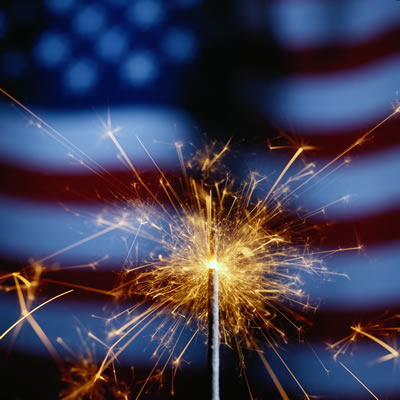 Thursday is:
American
Independence Day
Happy July 4
Sunday Celebration is from 10:00 to 11:30 am. Dress is casual and kids are welcome. Spiritual energies, food, hugs and music are lovingly available!
NEW! Doti/MAH will answer your pressing question in the next edition of CCL Insights. Send one question to safedoti@aol.com and we will print MAH's response. And, it's FREE!
~ ~ ~
Question for MAH from a CCL reader
Am I missing the signs that creator is giving me for my path or paths.

There seems to be too many or just the same one.

Why am I afraid?
Dear One, your path is changing. That is why you are experiencing fear. Your life is like a road splitting. You are achieving more honesty and love for yourself and not worrying as much about others as you follow this new direction. You have chosen the correct path. Keep moving forward - be not afraid - you are loved.
Mahalaleel
Center for Creative Living pastor
Rev. Doti Boon
The California Psychic
offers insight into a person's future, present and past lives to provide direction and support. Through her spirit guide Mah, she has given readings to thousands who seek enlightenment. Her psychic counseling, warmth and sense of humor are appreciated by all.
Doti has been teaching beginning and advanced metaphysics, planned metaphysical trips, managed fund raising events and metaphysical fairs for the past 30 years.
Center for Creative Living
Mission Statement:
We proclaim and affirm the spiritual nature of all faiths, religions and creeds. Our vision is to co- create spiritual communities of love, trust, integrity, and mutual respect which embrace our diversity, celebrate the oneness of the human spirit, serve the well-being of the human family and honor the sanctity of all creation. We accept that God is the moving spirit in all and the loving essence of the universe.
Sunday Celebrations
July 14: "Looking in God's Mirror" Rev. Doti Boon with musician Tim Mauro performing.
July 21: "Transgender"
four Speakers from the LGBT Billy de Frank Center.
2013 Peace Meditation
Third Monday of every month from 7 to 8:30 pm, at CCL, July 15,
facilitated by Rev. April Lussier and inspirational music by Rev. Janet Childs.
My dog has a very big ego. Everytime someone knocks the door, he runs to it barking, assuming it's for him.

~ ~ ~ ~ ~
While at sail a Captain of a steamship hears a distress call. "Captain, Captain you must alter your course by 10 degrees, you are in danger of collision." To which the Captain replies, "I am a mighty steamship sound and sturdy, I say to you, if my path endangers you, you should alter your course, I will not." The voice once again cries out "Captain you must take heed and change your course by twenty degrees, you are in danger of collision." The crusty ol captain replies, "I am at sail and will not change. I am a mighty and fierce steam ship." The voice replies, "Yes you are a steamship, but I am a lighthouse."
Here is someone who took himself lightly. - Cupertino got its name from the famous "flying" priest of Cupertino, Italy. He's now the patron saint of aviation and all forms of flying because he levitated so much. His name is St. Joseph of Cupertino (Italy) and he has a church dedicated to him in Cupertino (California).
Did you already know that?
For a start, it is possible to divide every kind of happiness and suffering into two main categories: mental and physical. Of the two, it is the mind that exerts the greatest influence on most of us. Unless we are either gravely ill or deprived of basic necessities, our physical condition plays a secondary role in life. If the body is content, we virtually ignore it. The mind, however, registers every event, no matter how small. Hence we should devote our most serious efforts to bringing about mental peace.
the Dalai Lama
AFFIRMATION
I accept and know without a doubt that
God loves me unconditionally.
This Sunday at CCL
"

Self-Reliance: Your Inner Truth

"
with Joyce Brown and Patty Baker
Self reliance is under-standing your own signals and learning to trust them. Some would call this intuition, discernment, and paying attention to that small still voice inside. We would also call this, listening to your soul.
Self-reliance is based on creating a positive way of living and can benefit to those around
you, provided they can allow it to be so.
But the key begins with you. You cannot look to others to be your self-reliance. Others can give support, compassion, friendship, incredible teachings. But the final decision rests with you.
God Loves You
by Rev. Doti Boon
A new client of mine was very distraught over the fact that no one liked her! She was convinced that even God was uninterested in who she was. When I told her, "you are a beautiful woman - inside and out" she started arguing. She immediately told me how she was too fat, too nervous and full of anxiety, too clumsy and much too shy to ever meet anyone or have any friends. When I asked her if this was the way she wanted to spend the rest of her life - she explained she "doesn't have a choice!" Because "everyone is judging her and making her wrong."
I asked her what her life would look like if she didn't worry about other people's opinions. She said she couldn't imagine that.
I responded that it would be a freedom for her and for everyone. She could live according to what she thought was beneficial to her and no longer have any need for approval nor fear of disapproval. The look on her face was one of total disbelief!
The truth is, we don't have any need for approval. It is our egos that crave approval and fear disapproval. Another person's thought or opinion about you is never personal, because it is never really about you in the first place...it's about them!
What you think and what you feel is your business*. When I'm worried about how you feel about me, I'm in your business. And if I'm busy living in your business, how am I present for my own?
Living according to our own truth is one of the highest acts of self-love and self-care. And when you live according to your truth and stay in your own mental business, others will honor you and the truth you live, too, whether they agree with you or not. Having lived this way all my life - I am always amazed that other folks don't. I know that as a child of God, I am the perfect "Doti" and most of all - that God loves me just the way I am!

The following is something I just down-loaded from my friend Regan Chastain's blog danceswithfat:
When it comes to a lot of areas of our lives we get to choose what we do and why, and who - if anyone - we do it for. Sometimes we get confused and think we owe other folks behaviors, states of being, or explanations. Let's just clear some of this up:
Pretty - People who get upset that there are others walking around who are not aesthetically pleasing to them have an over-exaggerated sense of self importance. Don't like what you see? Too lazy to expand your skills for perceiving beauty? Two words my friend: Look Away. And stop judging!
Health - Each person gets to decide how to prioritize their health, and the path they choose to meet their goals. That's why people are allowed to be professional bull riders and X games athletes. The suggestion that fat people have some obligation over and above what everyone else has (which is none) is thinly veiled bigotry and nothing more.
Sexiness - One of the more ridiculous types of hate mail that I (Regan Chastain) receive are e-mails letting me know the sender would never have sex with me. These are always phrased in a way that suggests they are under the impression that I care. I don't understand why they would think that - that's the kind of thing they can really keep to themselves. Regardless it's not our job to comport ourselves in such a way that other people will want to have sex with us (unless you want to, then comport away!)
Food Rationale - Food talk is a cultural phenomenon that I could very much live without. I would be perfectly happy if I went the rest of my life without hearing "I want a muffin but I can't because I'm being good" or "I'm going to have to do 3 hours on the treadmill to make up for eating these grapes" or whatever. Sometimes I try to imagine if we made all of our personal decisions out loud "Hmmm, I kind of have to pee, but not that badly so maybe I'll finish this blog, or maybe I should go now and finish it with full concentration..." Who cares? Regardless, we don't owe anybody an explanation of what we eat or don't eat ever!
I'm sure there are plenty more but that's a start, remember that not only do you not owe these things to anyone in any specific situation, you have every right to reject the entire premise and suggest that people drink a big steaming mug of None of Your Darn Business.
~ ~ ~
*Or, as Terry Cole Whitaker says in her best selling book, What You Think of Me is None of My Business.
You may go to the CCL meetup calendar:
www.meetup.com/Creative-Living-at-the-Center
to learn more about any of these events.
Classes at CCL
WED. July 3 - 6:00 to 9:00- Transcender Instituto
MON. July 8 - 6:30 to 9:30 - Parents of Murdered Children and Other Survivors of Homicide. (POMC) support group meets on the second Mondays of the month from 6:30 to 9:30. For more information please call 1-831-426-0874 or pomcsouthbay@hotmail.com
TUES July 09
- 7:00 to 9:00 - The Healing House Kinkou School of
Reiki. LEVEL I,
class 1 of 3. With Dr. Ayleen
WED. July 10
- 6:00 to 9:00 -
Transcender InstitutoTHURS. July 11
- 7:00 to 9:00 -
Druid Training Third Gift: Healing
with Dr. Ayleen
MON. July 15
- 7:00 to 8:30 -
World Peace Meditation.
With Rev. April and music by Rev Janet Childs.
WED. July 17
- 6:00 to 9:00 -
Transcender Instituto
THURS. July 18
- 7:00 to 9:00 -
Using Runes as a Healing Tool
with Rev. Doti Boon ($15 or $25 for 2). Make your own set of runes.
FRI. July 19
- 7:00 -
Professor Paranormal's Psychic Mind
Theater.
Professor Paranormal will astound you with humorous and mysterious feats of mind-reading, predictions, and other mental miracles. Sponsored by SAMPAIR CHIROPRACTIC who promotes fun and laughter in your life just for the health of it!! A portion of the proceeds will go to the CCL. Tickets are $15 in advance/$20 at the Door Advance tickets may be purchased Online at
www.brownpapertickets.com/profile/377061
For more info on the show & tickets, Call 408-394-5487
SAT. July 20 - Mercury goes DIRECT

SAT. July 20 - 9:00 to 6:00 - TAGA

SUN. July 21
- 1:00 to 6:00 -
TAGA
TUES July 23 - 7:00 to 9:00 - Reiki.
LEVEL I, class 2
of 3 Dr. Ayleen
WED. July 24
- 6:00 to 9:00 -
Transcender Instituto
THURS. July 25
- 7:00 to 9:00 -
Druid Training Fourth Gift
with Dr. Ayleen
FRI. JULY 26
- 9:30 TO 4 -
HIV/AIDS REJUVE-NATION RETREATSAT. July 27
- 1:00 to 5:00 -
Numerology
with Susan Moon $30
MON. July 29
- 7:00 to 10:00 -
TAGA
TUES July 30
- 7:00 to 9:00 -
Reiki. LEVEL I, class 3
of 3 with Dr. Ayleen. You may contact Dr. Ayleen at 408-372-2840.You can also visit either:
www.the-healing-house.com/Events