UAB CCTS Digest
August 30, 2013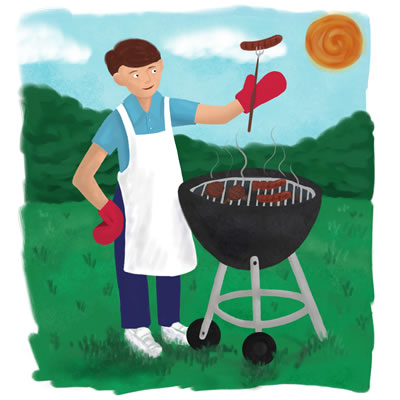 Kick Back and Enjoy Your Labor Day Weekend!
CCTS EVENTS
Research Coordinator Training Program
This workshop will provide study coordinators with the basics of good clinical practice, research compliance, and other key topics. The six-session course will be held on Tuesdays, September 10, 17, 24, and October 1 from 7:45 a.m.-noon. No session will be held the week of October 7 but sessions will resume on Wednesdays, October 16 and 23 from 9-11:45 a.m. All classes will be held in the Children's Harbor Bradley Conference Center. Cost is $125 and payable with registration.
Enrollment is limited, so please register early. CEUs will be offered and attendance at all of the six sessions will meet initial IRB training requirements. Please remember to bring your nursing license to each session to receive CEUs.
Professional Skills Training Program
8-9:30 a.m. in West Pavilion, Room E
Topic: "Electronic Submissions" presented by
Timothy M. Parker, BS, CRCP
Associate Director, Office of Sponsored Programs
Objective: To understand how to prepare and submit SF424 through Grants.gov
Thursday, Sept. 26-Friday, Sept. 27
3rd annual Alabama Launchpad Innovation and Entrepreneurship Conference (i3)
Students and Faculty: Don't miss the 3rd annual Alabama Launchpad Innovation and Entrepreneurship Conference (i3), the only statewide event focused on innovation and entrepreneurship. Hear national speakers, visit with top Alabama startups, and learn from thought leaders as we celebrate Alabama's innovative ecosystem.The conference will be held at the Birmingham Wynfrey hotel on September 26 and 27. This event will include the finale of the current round of the Launchpad startup competition. The $100,000 in cash grants that the competition awards each round has provided proof-of-concept and seed funding for UAB start-ups in the past.
This year's keynote speakers are William Taylor, founding editor, Fast Company; Brad Feld, founder, The Foundry and Techstars. Other scheduled speakers include: Ted Alling, CEO, Access America Transport; Andrew Chang, director of marketing, UPS.
Any faculty or student interested in actively developing or commercializing their research may attend.
Save the Date: Sept. 30-Oct. 1 Genetics & Genomics in Clinical Research Immersion Course for Investigators at UAB
Save the Date: November 5 UAB Comprehensive Cancer Center
NIH NEWS & VIEWS
NIH Announcement:

Applications to Loan Repayment Programs Accepted Sept. 1-Nov. 15
On July 16 NIH announced the next application cycle for the NIH Extramural Loan Repayment Programs (LRPs). If you are a researcher who has incurred significant educational debt, then the NIH LRPs are for you. Click here to visit the NIH page and learn more about qualifications and other details.
Also:
Check out this helpful Q&A from NIH Office of Extramural Research on: "How Can My Institution Support Public Access Compliance and Prevent Delays in Funding Due to Public Access Issues?" posted July 31, 2013. For more information visit the CCTS Training Academy page on the topic.
NIH Announcement: Opportunity to Submit Proposals for the Therapeutics for Rare and Neglected Diseases (TRND) Program
Notice Number: NOT-TR-13-007
Key Dates
Release Date: July 22, 2013
Letter of Intent/Pre-Application Call Due: No later than September 16, 2013
Final Proposal Submission Date: September 30, 2013
NIH Funds Research to Explore Cell-to-Cell Communication
Researchers will investigate the emerging field of extracellular RNA and its role in human health conditions
The National Institutes of Health (NIH) announced $17 million in awards on August 13, 2013, for the Extracellular RNA (exRNA) Communication program. This trans-NIH initiative is designed to advance research in a newly discovered type of cell-to-cell communication that may play a role in the diagnosis and treatment of a variety of health conditions.
Through 24 awarded research projects, scientists will explore basic exRNA biology and develop tools and technologies that apply new knowledge about exRNA to the research, diagnosis and treatment of diseases, including many types of cancer, bone marrow disorders, heart disease, Alzheimer's disease and multiple sclerosis. Of these projects, NCATS will administer 18 awards
through which researchers will develop biomarkers from exRNA and design new ways to use exRNA in treatments.
UPCOMING EVENTS/OPPORTUNITIES
Registration Now Open: UAB Center for Exercise Medicine Symposium, October 23
Free registration and trainee abstract submission for the upcoming inaugural UAB Center for Exercise Medicine symposium, October 23, is now available. The symposium agenda is also online. There are several easy options to reach the "Register" button. Click the Symposium banner announcement, the options in the left side grey box or SYMPOSIUM on the top bar. Each will take you to the Registration and Abstract submission.

*Trainee Poster Competition*

3 Travel Awards

Abstract deadline: September 5

Please encourage your trainees to present.

Scott K. Powers, Ed.D., PhD, UAA Endowed Professor and Distinguished Professor of Applied Physiology and Kinesiology will be our Keynote Speaker for this event.

Learn more about the Center and training program at: www.uab.edu/exercise.

Coming Up: UAB Comprehensive Cardiovascular Center Announces Second Annual Symposium: "Focus on Cardiovascular Repair and Regeneration"

October 25-26, Renaissance Ross Bridge Golf Resort & Spa

Deadline to submit abstracts: Sept. 2.

Registration is free by signing up at: uab.edu/medicine/cardiovascularcenter

2013 Community Health Scholars Announces Pilot Grant Program
An initiative by the UAB Center for the Study of Community Health to encourage and facilitate community based participatory research of a community organization with UAB faculty.
Tuesday, September 3rd Letter of Intent due
Tuesday, October 1st Applications are due
Friday, November 15th Award notifications made
January 1, 2014 Projects begin
Two (2) awards of $20,000 each will be made.
http://www.soph.uab.edu/csch/research/chs/pilotgrant
Congratulations to the CCTS/Council of Center Directors' Translational Research Intramural (Pilot) Program Recipients
The CCTS would like to congratulate the recipients of this year's Translational Research Intramural (Pilot) Grant Program, a partnership between the CCTS and the Council of Center Directors (COCD). The Council of Center Directors (COCD) is comprised of the Directors of all University-Wide Interdisciplinary Research Centers (UWIRCs). The goal of the program is to develop investigator-initiated pilot projects with a focus on creating new interdisciplinary clinical and translational research projects at UAB in order to grow mature research programs in these areas. This year's recipients and their projects are:
Lorie Harper, MD /Mentor: Joseph Biggio, MD
A Novel Biomarker of Hyperglycemia for Detecting Gestational Diabetes in Obese Women
Richard Kennedy, PhD /Mentor: Virgina G. Wadley Bradley, PhD
Depressive Symptoms and the Risk of Cognitive Impairment in Diabetes
Aimee Landar, PhD /Mentor: Richard Shelton, MD
Bioenergetics and mitochondrial dysfunction bipolar disorder
Spencer Melby, MD /Mentor: Louis Dell'Italia, MD
Contribution of Oxidative Stress and Inflammation in Pericardial Fluid to Postoperative Atrial Fibrillation after Cardiac Surgery
To read more about their projects, including their cosponsors, click here.
Visit us on the web at: www.uab.edu/ccts