CIRA Pilot Program Information Session - Friday, February 19, 3:00 pm
CIRA is holding an info session for this year's Pilot Projects on February 19th, 3:00 pm-4:00pm. Please join us to hear about the pilot process, experiences from previous awardees and reviewers, and common pitfalls in proposals. Panelists are Sheela Shenoi, Assistant Professor of Medicine, Yale School of Medicine; Tamara Taggart, Assistant Professor, George Washington University; and Development Core Director, LaRon Nelson. The Call for Letters of Interest will be released February 15th and this year, we are accepting proposals from any CIRA affiliated PIs.
- Zoom link: yale.zoom.us/j/91889336569
Contact Development Core Assistant Director Katie Doucet (katie.doucet@yale.edu) with any questions.
Dr. Yzette Lanier Named a Mentor for the APA's Interdisciplinary Minority Fellowship Program

Dr. Yzette Lanier, a former Research Education Institute for Diverse Scholars (REIDS) scholar and currently an assistant professor at NYU Rory Meyers College of Nursing, has been named a mentor for the American Psychological Association's Interdisciplinary Minority Fellowship Program (IMFP). The fellowship identifies, selects, and supports the training of ethnic minority graduate students who commit to significantly improving the quality of care provided to ethnic and racial minorities who have a mental or cooccurring mental and substance use disorder.
CIRA's Executive Dirctor, Sharon Mierzwa, Volunteers at Food Bank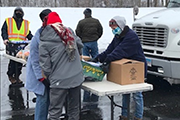 As part of Yale School of Public Health's Acts of Service campaign, CIRA's Executive Director, Sharon Mierzwa, volunteers every month at one of Hartford's mobile Foodshare sites. "People across Connecticut are confronted with the difficult decision of paying for rent or heat or medicine, instead of buying food," Sharon commented. Thanks to her and all the other volunteers!
Credit: YSPH Twitter



Download a PDF compilation of active funding opportunities. Opportunities previously not listed are below.


NOTE: All times are expressed in Eastern Time unless otherwise noted. All dates refer to 2021 unless otherwise noted.