CIRA Pilot Projects: Now Accepting Letters of Interest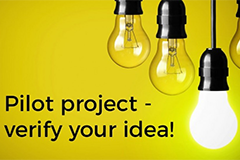 CIRA's 2021 Pilot Project cycle is now open. Click on this link for details and requirements. To submit a Letter of Interest, please complete the online survey by March 15, 2021. This year, all CIRA affiliates are eligible to apply as PIs.
Relevant Dates:
- Letter of Intent Due: March 15, 2021
- Application Deadline: April 26, 2021
- Pilot Project Review Panel: May 2021
- Awards Announcement Expected: May 2021
- Earliest Start Date: June 1, 2021 (dependent on IRB and NIMH approval)
If you have any questions about this announcement, please contact Katie Doucet (katie.doucet@yale.edu), Assistant Director of CIRA's Development Core. If you wish to discuss a project you are considering for submission, please contact LaRon Nelson, Director of CIRA's Development Core.
Recording Available: CIRA Community Conversations: Can mindfulness promote the well-being of LGBTQ people?
During February's Community Conversation titled Can mindfulness promote the well-being of LGBTQ people?, CIRA affiliate and Brown University Assistant Professor Dr. Shufang Sun talked with Yale School of Public Health's Diane Frankel-Gramelis about her clinical and research experiences on the promises and potential pitfalls of mindfulness-based interventions for sexual minority health.
View Recording (Recorded February 17, 2021)
HIV in the USA
A new Lancet series published on February 19, 2021, "HIV in the USA", outlines the ongoing challenges to ending the HIV epidemic and recommendations to overcome barriers to implementing HIV services, such as counseling, testing, treatment, pre-exposure prophylaxis (PrEP), and syringe services programs. The six-paper series underscores pronounced racial, sexual, and gender disparities; substantial gaps in domestic program funding; and due to geography and the patchwork health-care system, limited access to HIV treatment and prevention services.
- Overview of the series
- Read the series



Download a PDF compilation of active funding opportunities. Opportunities previously not listed are below.


NOTE: All times are expressed in Eastern Time unless otherwise noted. All dates refer to 2021 unless otherwise noted.