CIRA Welcomes New Yale AIDS Prevention Training Program (Y-APT) Fellows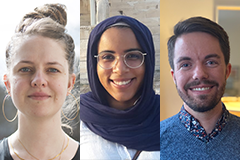 CIRA welcomes three new fellows to the Yale AIDS Prevention Training Program (Y-APT) (L-R): Lyuba Azbel, PhD, Catherine Chantre, MSc, and Gabe Murchison, PhD, MPH. Over the coming months the fellows will be engaging with individual CIRA cores with a view to participating fully in the CIRA community.
Implementation Science Training at Yale Boosted by NIH Training Grant to Drs. Donna Spiegelman and Eric Velazquez
Donna Spiegelman, ScD, founding Director of Yale's Center for Methods in Implementation and Prevention Science (CMIPS), and Eric Velazquez, MD, section chief for Cardiovascular Medicine at the Yale School of Medicine, were recently awarded a National Institutes of Health Training Grant in Implementation Science Research and Methods (T32). The award will play a significant role in building a critical mass of implementation science methods scholarship at Yale and developing the next generation of implementation scientists by training at least 9 pre- and postdoctoral researchers over the next five years.
More from Yale School of Medicine
CIRA and Providence/Boston CFAR Collaborators Publish Report
Jacob van den Berg and New England HIV Implementation Science Network collaborators from CIRA and the Providence/Boston CFAR published a short report last month in the journal Implementation Science Communications. The paper details the Network's goals and activities since its formation in 2014, reports outcomes including successful academic-practice research collaborations, and provides suggestions for developing regional networks to impact HIV implementation research.
US Department of State Taps Nelson for HIV/AIDS Research Expertise

The U.S. Department of State recently tapped Yale School of Nursing Associate Dean for Global Affairs & Planetary Health Dr. LaRon Nelson, PhD, RN, FNP, FNAP, FNYAM, FAAN as a Private Sector Advisor for the United States Delegation to the 2021 United Nations High Level Meeting (HLM) to discuss the UN's 2021-2026 global strategy to combat HIV/AIDS. The virtual session takes place June 8-10, the same week that marks 40 years since AIDS was first discovered.
More from Yale School of Nursing
RECORDING AVAILABLE: "Telehealth in HIV Prevention & Care: Emerging Approaches"
The recording and slides (as they become available) from last week's virtual New England HIV Implementation Science Network session on Telehealth presented on July 13th, 2021 are now available. Thank you to all attendees who participated in the event and discussion.



Download an Excel spreadsheet compilation of active funding opportunities. Opportunities previously not listed are below.


NOTE: All times are expressed in Eastern Time unless otherwise noted. All dates refer to 2021 unless otherwise noted.