Call for Nominations: CIRA International Visiting Fellow Program 2019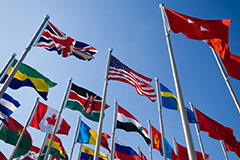 CIRA seeks letters of nomination for the International Visiting Fellow Program. The goal of the program is to support a CIRA scientist who is engaged in HIV research in an international setting to bring an established partner research scientist or a desired partner researcher to CIRA and Yale for a short visit (up to 9 days) to work on collaborative HIV research endeavors, disseminate their research, and network with CIRA's research community.
Key Dates:
For questions about this announcement including eligibility, please contact Dini Harsono at dini.harsono@yale.edu or 203-764-8454.
Download the announcement for full instructions and criteria of successful nominations.
From the US Navy to Yale University: A Chat with Dr. LaRon E. Nelson
Dr. LaRon E. Nelson, PhD, RN, FNP, FNAP, FAAN, a CIRA affiliate, arrived at YSN in early 2019 as the Inaugural Associate Dean for Global Health & Equity. He earned his doctorate from the University of Rochester, where he also served as the Dean's Endowed Fellow in Health Disparities and Associate Director of International Research in the Center for AIDS Research. Dr. Nelson is a leading expert in implementation science and HIV prevention within African diaspora communities.
More from Yale School of Nursing
Requirement for ORCID iDs for Individuals Supported by Research Training, Fellowship, Research Education, and Career Development Awards
By way of this Notice, NIH, AHRQ, and CDC announce that individuals supported by research training, fellowship, research education, and career development awards will be required to have ORCID iDs (Open Researcher and Contributor Identifiers) beginning in FY 2020.
In Memoriam: Domenic V. Cicchetti, PhD
It is with great sadness that we inform you of the passing of Domenic V. Cicchetti, PhD, a former senior research scientist at the Yale Schools of Medicine and Public Health. A CIRA scientist for many years, Dr. Cicchetti was a longstanding member of the Interdisciplinary Research Methods Core, contributing his expertise to advise and support many CIRA affiliates with their HIV research.


Download a PDF compilation of active funding opportunities. Opportunities previously not listed are below.



NOTE: All times expressed in Eastern Time unless otherwise noted. All dates refer to 2019 unless otherwise noted.