For Your Listening Pleasure: Top Podcasts from CIRA Affiliates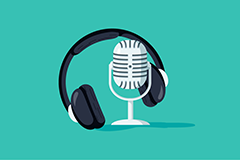 Looking for a new podcast to listen to? Delving into everything from black empowerment, drugs, and sex, CIRA affiliates are giving voice to serious issues. Below are several noteworthy options:
2021 Linda E. Saltzman Award Recipient: Dr. Nkiru Nnawulezi
Futures Without Violence, the Centers for Disease Control and Prevention (CDC), and RALIANCE are thrilled to announce the winner of the 2021 Linda E. Saltzman New Investigator Award, Dr. Nkiru Nnawulezi, Assistant Professor of Community Psychology at the University of Maryland-Baltimore County (UMBC) and former Research Education Institute for Diverse Scholars (REIDS) scholar.
Vaccine Hesitancy and Medical Mistrust: What Did We Learn?
Check out this recent blog post written by CIRA predoctoral fellows, Marie-Fatima Hyacinthe and Shannon Whittaker, and published by the Interdisciplinary Association for Population Health Science (IAPHS). The post focuses on vaccine hesitancy among historically marginalized communities.
Evergreen Planted to Honor Former Dean, Passionate Advocate of Public Health, Environmentalism

A blue atlas cedar tree was planted by the front entrance of the Yale School of Public Health this month to honor Paul D. Cleary, former dean of the YSPH (2006-2017) and the Anna M. R. Lauder Professor of Public Health. Cleary, Ph.D., will retire as a professor June 30, though he will remain at the school as a part-time research faculty member.



Download an Excel spreadsheet compilation of active funding opportunities. Opportunities previously not listed are below.


NOTE: All times are expressed in Eastern Time unless otherwise noted. All dates refer to 2021 unless otherwise noted.