LGBTQ Community Centers Vital to Mental Health Support, Yale School of Public Health Finds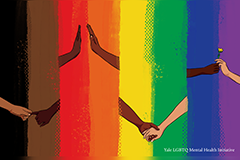 In surveys of 60 LGBTQ community centers across the United States, researchers at the Yale School of Public Health found that these venues provide critical frontline mental health services to a population that often faces stigma and a host of other challenges to their emotional well-being.
The research team, led by John Pachankis, Ph.D., the Susan Dwight Bliss Associate Professor of Public Health and director of Yale's LGBTQ Mental Health Initiative, collaborated with CenterLink, a coordinating hub of LGBTQ community centers across the United States.
More from Yale School of Public Health
REGISTER - CIRA Talk: "Adapting and Implementing Youth-Centered Sexual and Reproductive Health Services in Mumbai, India: Considerations in the Context of COVID-19"

Join us on Zoom for an international HIV/AIDS research seminar. Presentation will be followed by a discussion with panelists and a Q&A session with the seminar audience.
- Tuesday, May 25, 12:00 pm-1:00 pm
Further Details and Registration
Biden-Harris Administration to Invest $7 Billion from American Rescue Plan to Hire and Train Public Health Workers in Response to COVID-19

As part of its ongoing COVID-19 response efforts, the Biden-Harris Administration will invest $7.4 billion from the American Rescue Plan to recruit and hire public health workers to respond to the pandemic and prepare for future public health challenges.
CIRA Introduces Funding Opportunities Database
Don't miss a chance to secure new funding. CIRA is pleased to introduce a new way for our community to search active HIV/AIDS-related funding opportunities. Among the searchable fields are Title, Type (Activity Code), Funding Organization, Posted Date and Application Due Date. Please feel welcome to submit any feedback or questions to elizabeth.cappello@yale.edu.
To access, click and bookmark the link below as CIRA continuously updates opportunities.
https://yale.box.com/shared/static/m8v7yw8y5xow7tdnl7api9pga1ph9erh.xlsx



Download an Excel spreadsheet compilation of active funding opportunities. Opportunities previously not listed are below.


NOTE: All times are expressed in Eastern Time unless otherwise noted. All dates refer to 2021 unless otherwise noted.