Adults: When have has God pruned me so that I could grow and give life?

Children: When have I felt good because I did something to help someone?
Adults: How is love of others connected to love for God?

Children: How can I show Jesus' love to others this week?
PrayAsYouGo.Org resource for Easter:
Enter more deeply into the mystery of the Resurrection with our imaginative contemplation exercise. Click here to experience.
Encounter the Joy of the Gospel!
¡Descubre la Alegria del Evangelio!
Pre-conference: May 17
Conference: May 18-21
Post-Conference: May 21
Register online, or print the registration form in the brochure to register by mail. Utilize the same procedure if you participated in "Save Me A Place." Just check the "Save Me A Place" category.
Last Week To Participate!!
Partnerhship for Adolescent Catechesis (PAC):
Special Message from NCCL President, Bill Miller

BIG NEWS from the Partnership for Adolescent Catechesis (PAC)
As you may already know, NCCL is one of three founding members of the Partnership for Adolescent Catechesis (PAC). Formed in 2003, PAC is a unique collaboration of the National Federation for Catholic Youth Ministry (NFCYM), The National Catholic Educational Association (NCEA), and the National Conference for Catechetical Leadership (NCCL); with support of the United States Conference of Catholic Bishops (USCCB).
In 2013, PAC commissioned a national document to be written on the topic of Adolescent Catechesis. The document is titled: "The Joy of Adolescent Catechesis". All three organizations collaborating in this project have been asked to solicit feedback on each draft of the document in order to make it the finest product possible. The first draft of the document has been released and members of NCCL have a wonderful opportunity during these next three weeks to read the first draft (approximately 45 pages in length) and offer constructive feedback, which will then be considered by the writing team, comprised of members from all the partner organizations.
If you are interested in adolescent catechesis, here is your opportunity to help shape the document which we believe will be an important resource for use in catechizing adolescents years to come! To discover how you can download, read and give feedback on this important national project: Download the Instructional Document here.
Thank you for your participation and contribution in advance.
Sincerely,
Professional Development Webinars for Parish Ministers
Supporting Divorced Catholics: Welcoming the Wounded into the Field Hospital
Presented by Lisa Duffy, Author of
The Catholic Guide to Dating After Divorce
Date: May 5, 2015
Time: 3 p.m.-4 p.m. EDT
At a time when divorce has become an everyday occurrence in society, parish leaders may feel at a loss as to how to address the overwhelming needs of the many divorced Catholics in their communities. With the wide range of emotions, questions, and dilemmas these men and women go through, how can they be effectively supported with truth and compassion? This webinar offers practical tools that can help parish leaders reach and serve this group within the Church. Register now!
2015 Catechetical Sunday Resources Available!
NCCL is happy to share with you the 2015 Catechetical Sunday resources entitled, "Safeguarding the Dignity of Every Human Person."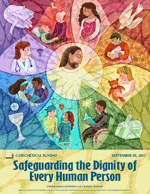 These resources were developed by the USCCB Committee on Evangelization and Catechesis in collaboration with several other USCCB Secretariats and offices. The resources contain helpful articles, lesson plans, artwork, prayers, reflections and more to assist in sharing about the importance of every human person and religious liberty. The resources can be helpful for catechists, teachers, diocesan and parish directors of catechesis, principals, superintendents and many more.
Click here for your Catechetical Sunday resources.
Special Intention Requested of NCCL Members: Please Hold In Prayer All Catechetical Leaders Undergoing Transitions...
May today there be peace within.
May you trust God that you are exactly where you are meant to be.
May you not forget the infinite possiblities that are born of faith.
May you use those gifts that you have received, and pass on the love that has been given to you.
May you be confident knowing you are a child of God.
Let this presence settle into your bones, and allow your soul the freedom to sing, dance, praise and love.
It is there for each and every one of us.
Attributed to:
For Catechetical Leaders seeking new positions, consider participating in NCCL's Career Center. Click here to learn more.
The
Fortnight for Freedom: Freedom to Bear Witness
will take place from June 21 to July 4, 2015, a time when our liturgical calendar celebrates a series of great martyrs who remained faithful in the face of persecution by political power-St. Thomas More and St. John Fisher, St. John the Baptist, SS. Peter and Paul, and the First Martyrs of the Church of Rome. The theme of this year's Fortnight will focus on the "freedom to bear witness" to the truth of the Gospel.
USCCB
Memorandum With Fortnight Materials.