Adults: Who needs my prayers this week?
Children: Who can I pray for this week?
Solemnity of the Ascension of the Lord
Adults: How can I continue with the mission of Jesus in the world?
Children: How have I told others about Jesus? Have I helped them like Jesus teaches?

Encounter the Joy of the Gospel!
?Descubre la Alegria del Evangelio!
Special Thanks To The 2015 Conference Planning Committee!
#NCCL2015 Happening Now!
LIVE this week:
Join our keynoters, Joe Paprocki and Julianne Stanz on Thursday, May 14, utlizing Prezi! Details will be sent via social media on Thursday morning.
FCH is proud to present our annual pre-conference LIVE STREAM! The theme of the pre-conference is "Effective Catechesis with US born Hispanic Youth." The keynote speakers, Ken Johnson-Mondrogon and Lynette Saenz will share their research, experience and practical approach to the issue. Their keynote presentation as well as a panel of youth leaders will be streamed live via our web site. The event will take place Sunday, May 17th at 9 am eastern. For more information or to actually attend this free live stream please visit http://fchcatechesis.org/events/ This live event via the web is free-- you are encouraged to make a donation on the link available on our web site but it is not required.
Handouts for Keynotes and Learning Sessions at the 2015 Annual Conference
Handouts for Quick Fires
2015 White Papers
Presentations and discussions on the White Papers will take place during the Annual Conference as a Double Session: #511 and #611. To participate fully, please read the White Papers before attending the session.
Evangelization Committee Has A Special Invitation
In this Easter Season of joy, the NCCL Evangelization Committee has resurrected a series of articles on the theme of
evangelizing catechesis
that were commissioned by NCCL back in 2000. The articles cover a wide range of important aspects of catechetical ministry and were written by significant national figures. The Evangelization Committee is looking for NCCL members to participate in a revisiting of this series and doing an updating on this most timely
evangelizing catechesis
theme.
If you are open to the possibility of writing a current response to one of the articles in the series from 2000, you may access the titles and articles online now! Please take a look and see which one you would like to write a current response for (from a 2015 perspective). Then communicate your interest to Tom Quinlan, Evangelization Committee co-chair, at
tquinlan@dioceseofjoliet.org
. These articles and responses will be added to the NCCL evangelization website's blog at
www.21stcenturycatholicevangelization.org
. The length of contributions is a modest 300-500 words, so please consider participating in this initiative. If you have questions on this, please feel free to contact Cathy Cornue (
ccornue@syrdio.org
) or Tom Quinlan by email or chat with them during the conference in Buffalo.
Professional Development Webinars for Parish Ministers
Unleashed for Ministry
Presented by
Date: June 2, 2015

Time: 3-4pm EDT
Even with the profusion of modern resources and training in Catholic ministry and formation today, parish leaders continue to feel ineffective at overcoming the superficial lives of the people they lead. Is there a "key" to effective ministry and leadership? What are some of the Holy Spirit's own methods of ministry, training, and formation?
In this webinar, author Sonja Corbitt will offer surprising yet powerful tools that can help parish leaders emulate the Holy Spirit in influencing those they lead in exponential, eternal ways and teach others to do the same.
2015 Catechetical Sunday Resources Available!
NCCL is happy to share with you the 2015 Catechetical Sunday resources entitled, "Safeguarding the Dignity of Every Human Person."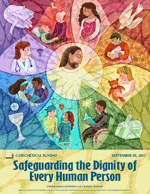 These resources were developed by the USCCB Committee on Evangelization and Catechesis in collaboration with several other USCCB Secretariats and offices. The resources contain helpful articles, lesson plans, artwork, prayers, reflections and more to assist in sharing about the importance of every human person and religious liberty. The resources can be helpful for catechists, teachers, diocesan and parish directors of catechesis, principals, superintendents and many more.
Click here for your Catechetical Sunday resources.
Introducing The Weekly Family Video Reflection From Strong Catholic Families
Every Wednesday a video link and reflection question will be posted on our Strong Catholic Families Facebook page for families to watch, reflect and discuss.
Wednesday's Family Video Reflection of the Week, "The Truth Does Set You Free!"
The Strong Catholic Families Facebook is updated daily with articles, resources, videos and family related information aimed at Catholic parents and the leaders who minister to and with them. Share it with parents and colleagues and help build up the domestic church. Recent postings include...
What's Your Family's Mission? (Video)

The Beauty of Being Colorblind

This Priest Totally Gets the Glory of Marriage... and How to Proclaim it! (Video)

A Parent's Plea to the Church

10 Tips for Parents (Video)

Creating a Faith Nurturing Home

5 Reasons to Have Family Dinners

"What Do You Want from the Church?" Parent Survey Results
For even more family friendly resources, visit www.strongcatholicfamilies.org
NCCL is soon to have a new home in Washington D.C. LEARN MORE!