MSU Children's Choir to perform at Collage IV concert

Among the more than 500 outstanding MSU College of Music student musicians who will perform on the Collage IV is the MSU Children's Choir. The choir will perform

How Can I Keep from Singing

by Gwyneth Walker.


The concert is a fast-paced, non-stop evening featuring an exhilarating array of musical talent. Outstanding student musicians will perform a wide range of selections -- from classical to contemporary and musical theatre to jazz. Other featured MSU ensembles include the Symphony Orchestra, Wind Symphony, jazz and choral groups, as well as soloists and quartets.

The concert is on Friday, Sept. 24 at 8 p.m. at the Wharton Center's Cobb Great Hall. Tickets are still available and are $20, $18 for seniors, and $10 for students. Contact Wharton Center Box Office: (800) WHARTON or purchase tickets online.

All students welcome, encouraged to perform at All-School Recitals
Did you know that once a month CMS hosts all-school recitals as a way for students to show off their newly honed skills? The CMS All-School Recitals are held on Sundays, October through December during the fall semester, February through May during the spring semester, and in July during summer sessions. Anyone can participate regardless of instrument or skill level.

"Beginners through adults have performed. Soloists as well as ensembles have participated, performing a wide range of musical styles," said David Klein, CMS teacher of trumpet/cornet and host of the recitals.

The recitals began after Klein noticed that not every CMS student had the opportunity to perform.

"CMS didn't have a performance outlet for all students," said Klein. "I put together a recital for July 23, 2003. We had 28 performers. Since then, CMS has held all-school recitals throughout the year."

Klein encourages all CMS students to participate, not just because students are "supposed" to play in recitals, but to reap the benefits of music lessons.

"A recital is, by and large, an extension of the music lessons. Performing on the MSU-CMS All-School Recitals helps students work toward a goal," said Klein.

Meet Deb Pajtas, CMS teacher and CMS student
A consistent pursuit for musical and professional growth has led Debra Pajtas to take on many roles. In an average week at CMS, one might find Pajtas introducing young children to music in the Early Childhood Music program, teaching piano lessons to students of all ages, accompanying instrumentalists and vocalists, and taking cello lessons.

Pajtas began her journey as a music teacher in 1972 when she started teaching in her mother's piano studio. She has taught at CMS for ten years.

Although she was already a seasoned piano instructor and accompanist, Pajtas sought graduate degrees in piano performance and piano pedagogy, graduating in 2002. Still open to other forms of music education, she became involved in the Early Childhood Music program while pursuing her graduate degree.

"I was required to take a couple of general music education classes. I had heard about the Early Childhood Music program and signed up for the class, which involved assisting one of the Early Childhood Music classes at CMS," said Pajtas. "I was hooked after the first class!"

Though Pajtas enjoys teaching the Early Childhood Music classes, she is still passionate about piano.

"It's an awesome feeling watching a 14-year-old play a Beethoven Sonata with passion. I love the look of joy and satisfaction on the face of an adult student who finally mastered a concept," said Pajtas. "It gives me such a feeling of fulfillment to know that I am imparting not only a love of music-making, but I'm teaching students self-discipline and patience."

After years of teaching, Pajtas was inspired to become a CMS student herself after seeing children of all ages play string instruments while accompanying them. As a cello student of fellow CMS teacher Paul Rebeck, Pajtas feels that her experience as a student helps her relate better to her students and helps her to be a better teacher.

"I can truly say that I understand the struggles and rewards of being a student of an instrument that I love, yet have not mastered," said Pajtas. "I have more compassion, especially for my adult students who struggle with their feelings of inadequacy and impatience as they learn to play. I also know the joys of finally mastering a technique or finishing a piece."

Pajtas uses the skills she learns as a student and applies them as a teacher, creating a helpful and distinctive way for her students to learn music.

"My experiences in the Early Childhood Music classroom, in the piano studio, and as a cello student have helped to keep me balanced as a musician and a teacher," said Pajtas.

Family bonds through music at CMS

Mothers and daughters have always found their own way of bonding: some travel together, some join the same book clubs, some even wear matching outfits. But for Ande Glasmacher, and her three daughters, Astrid, Ursula, and Jaana, the sense of bonding comes from music.

Ande, Astrid, Ursula and Jaana are all students at CMS, enrolled in different programs. It all started a few years ago when Ande was searching for activities which Astrid and Ursula could do together. Astrid has developmental disabilities, but loves music and being around other children. After Ande discovered the Early Childhood Music program at CMS, she enrolled her daughters.



Ursula attends the free folk jam at RCAH with her mother.
Ursula, now 8, has transitioned to violin lessons through the CMS Suzuki program. Jaana, age 4, is now enrolled in the Early Childhood Music program. Astrid, now 10, joins Ursula in her lessons during the summer, and Ande is working with parents at Astrid's school to get a music therapy program for Astrid and her friends to enjoy. Ande herself is enrolled in violin lessons and participates in the Folk Music Program offered in partnership with the Residential College in the Arts and Humanities. She decided to enroll when watching Ursula with her violin.

"Ursula was having way too much fun with her lessons--I was jealous! I also wanted to play with Ursula, and didn't want her to learn too many bad habits from me," said Ande. "I had a lull in my at-home contract work, so decided I could find time to take a single semester of lessons to get some basics. I've enjoyed it so much that I'm still taking lessons almost two years later."

Ande and Ursula are both students of Sarah Tyriver. Ande says she feels like sharing the experience of playing the violin with her daughter has brought them closer together.

"Ursula and I have enjoyed fiddling together, which has just been fun for both of us. My taking violin lessons has given me a much bigger appreciation of what she accomplishes, so I can hopefully better encourage her, and understand when she struggles," said Ande. "The violin and fiddling are, right now, something special Ursula and I do, often without her sisters. So it's given us some special one-on-one time."

As much as Ande bonds with Ursula over violin, she feels that she bonds with Astrid and Jaana over Early Childhood Music just as much.

"The time spent in early childhood is also so valuable--my daughters and I have a language of tunes, songs, and games through those classes," said Ande. "It's something we've done together as mother and daughters for many years, and something I think they will remember (and I know I will)."

News and noteworthy happenings

CMS received a $750 grant from the Lansing Exchange Youth Foundation, Inc. in support of financial aid for low-income local youth.


The Mid-Michigan Youth Symphony is seeking new members. Contact Jack Mike at jmike4176@sbcglobal.net or (517) 646-6096 for information.


Have you picked up your green CMS bag yet? If not, please stop by the CMS office to pick up your free tote.

New fall classes starting soon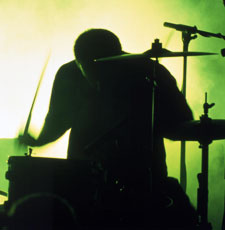 Adult Rock League
The Adult Rock League is a platform for adult musicians to jam together and includes music coaching as desired. Sessions will be led by members of
The Outer Vibe.
Mon. 7-9 p.m.
$180 (6 sessions)
Starts Sept. 20
Chamber Music Coaching
CMS is offering chamber music coaching for youth and adults. Sessions are 2-4 weeks and times are to be arranged. Costs are $95-$135 per person. Coaching is highly recommended for student musicians preparing for Solo and Ensemble.
Singing for Speech
The class offers a fun, stimulating environment where children are provided with music therapy interventions specifically designed to increase and improve the verbal skills of each individual.
Tues. 3:30-4:15 p.m.
$25 (7 sessions)
Starts Sept. 21
Collage IV ticket giveaway
The Community Music School has a limited number of tickets which is it giving to enrolled students on a first come, first served basis. If you would like free tickets to the Collage IV concert, please stop by the main office.

Please consider a gift to CMS
Support from individuals in the community helps CMS offer quality music programs, classes, lessons, and music therapy taught by dedicated and gifted faculty. Your support allows CMS to offer financial aid to those in need of assistance. Gifts are tax deductible.
Make a donation to CMS
Events Calendar