Several Confederate statues on Richmond's iconic Monument Avenue were tagged with apparent anti-Donald Trump graffiti as protesters took the streets Wednesday night to protest the result of the presidential election.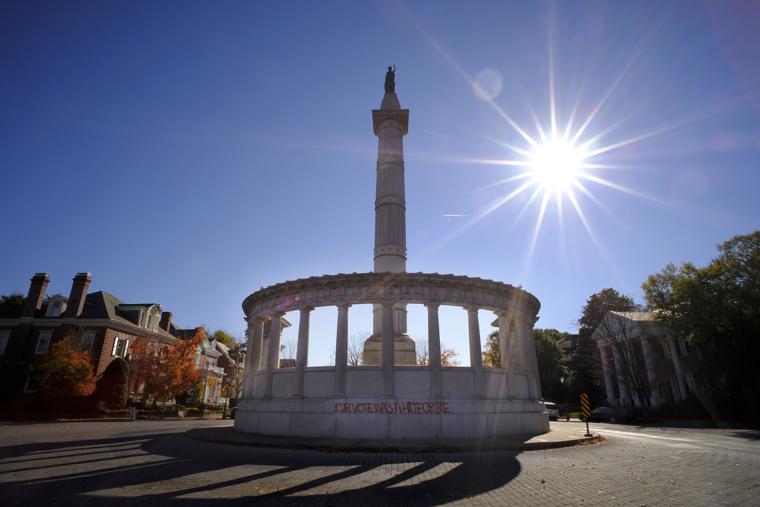 The message "Your vote was a hate crime" was written in red spray paint
on monuments to Confederate president Jefferson Davis and oceanographer Matthew Fontaine Maury.
A Richmond police vehicle was parked in front of the Davis statue Thursday morning.
The Robert E. Lee monument also had an expletive directed at Trump spray painted on it and the letters 'KKK.'
Authorities investigate arson at Confederate Memorial Hall Museum
New Orleans Police, FBI, and ATF are investigating two early morning incidents Wednesday, including a fire they said was intentionally set, at the entrance of the Confederate Memorial Hall Museum.
According to the Police report the Museum has stated that nothing like this has happened before at the museum.
At the historic building, blackened steps and burnt doors show where the fire happened around 1:45 a.m.
"They set it on fire with something," said Board of Directors member Richard Angelico. "Some sort of accelerant, I don't know."
Museum to unveil preserved Confederate Flag
The Louisiana, Missouri Area Historical Museum has taken steps to preserve a tattered Confederate Flag used during the WBTS.
The red, white and blue flag -- featuring a dozen small stars encircling a large star in the center -- was donated to the museum several years ago by Danny Strode of New London, a former Louisiana resident. Strode bought the flag from the estate of Etta McDannold, granddaughter of Confederate soldier Samuel O. Minor of Eolia.
Minor fought with Company D of the 1st Northeast Missouri Cavalry under the direction of Col. Joseph C. Porter, a notorious Confederate leader. Minor later took part in some Confederate campaigns in Texas and Arkansas, which is probably where he got the flag, according to Judy Schmidt, vice president of the museum's board of directors.
As the War was coming to a close, "He folded it up and put it under his jacket and brought it home," said Schmidt, a retired school teacher who has been researching the flag's history.
Minor for a time hung the flag upside-down in his home -- a sign of surrender or distress. Later, the flag was wrapped around a flag pole and placed into storage, where it remained for decades.
After the flag was donated to the museum, its historic value was immediately recognized, and the board initiated steps to preserve the flag -- a feat recently accomplished thanks to a $2,100 grant from the Missouri Humanities Council and some private donations.
"It's taken until now for us to get the money together to have it professionally, archivally framed," Schmidt said.
The preservation work was carried out by Creative Art Services of St. Louis. The flag was simply laid out flat and delicately stitched to a layer of pure linen cloth. It was then pressed between two layers of archival-quality Plexiglas and enclosed in a frame fashioned out of weathered pine salvaged from the floor joist of a home built in the 1860s.
"We have not changed anything or added or cleaned or straightened up the flag," Schmidt said. "We merely preserved it as it is."
The framed flag will be shown publicly for the first time during the museum's annual fund-raising banquet at American Legion Post 370 in Louisiana. Tickets are $25 and can be reserved by calling Schmidt at 573-754-5697. A social gathering starts at 6 p.m. with a buffet dinner at 6:30.
Schmidt will be the featured speaker. She will talk about the flag's history and the steps taken to preserve it.
After the banquet, the flag will be stored at an undisclosed location while the museum undergoes some renovations and security enhancements over the winter. The flag will then be hung from the museum's ceiling and will be unveiled for public viewing when the museum opens for the 2017 season over Memorial Day weekend.
Schmidt said Thursday's banquet will be the only opportunity the public will have to get a close-up look at the flag from inches away while it is displayed on an easel. Once the flag gets hung from the museum's ceiling, it will be out of reach for safety reasons. An exhibit of War memorabilia will be displayed below it.
Martha Sue Smith, president of the museum's board, said the flag will be a welcome addition to the museum's historical collections.
"It truly is a treasure and definitely an asset for the museum, Louisiana and Pike County," she said.
Board member Brent Engel said the flag has "great significance" to Louisiana and Pike County because of its ties to history.
"It represents a period in our history that was very contentious. There were a lot of sympathizers on both sides in Pike County," he said.
"History in general gets overlooked too often, so this is an effort to keep a part of the past in the present and preserve it for the future."
Schmidt thinks the flag will become a centerpiece exhibit for the museum and will help attract visitors to Louisiana as the town prepares to celebrate its bicentennial in 2018.
"The flag is one of the things that we think will draw people," she said. "We hope a lot of people get to come and enjoy it."
EXPELLED FOR CONFEDERATE FLAG HISTORY PROJECT
When 16-year-old Hunter Bloom brought a Confederate flag to Prairie Ridge High School in Crystal Lake, Illinois on Tuesday for a History class project, he wore the flag tied around his neck for the rest of the day.
School officials told Hunter not to wear the flag in school again, he said, but he came back wearing it Wednesday. "I brought in the flag to basically enlighten other students of my vision of the flag itself," Hunter, a junior, said. "And by doing so I enlightened the entire school when I walked down the hallway [wearing the flag.]"
Hunter was asked to leave school Wednesday when he wore the flag again, he and his father Kevin Bloom said, and was told he would be suspended for a longer period of time if he wore it Thursday.
The class project was called "my vision," Hunter said, and while he spoke to the class on his views on the Confederate flag and the meaning behind its colors and symbols, other students presented on topics such as gun control and abortion.
"I'm not a racist person," Hunter said. "I just support pro-freedom, and I support independence and pride - and that's what the flag stands for."
WILL CALIFORNIA SECEED?
In the Spring of 2019, Californians will go to the polls in a historic vote to decide by referendum if California should exit the Union, a #Calexit vote.
In reaction to Donald Trump's overwhelming victory on Tuesday the Yes California Independence Campaign (YCIC) will qualify a citizen's initiative for the 2018 ballot that if passed would call for a special election for Californians to vote for or against the independence of California from the United States.
The following is a statement issued by the YCI
C:
As the sixth largest economy in the world, California is more economically powerful than France and has a population larger than Poland. Point by point, California compares and competes with countries, not just the 49 other states.
In our view, the United States of America represents so many things that conflict with Californian values, and our continued statehood means California will continue subsidizing the other states to our own detriment, and to the detriment of our children.
Although charity is part of our culture, when you consider that California's infrastructure is falling apart, our public schools are ranked among the worst in the entire country, we have the highest number of homeless persons living without shelter and other basic necessities, poverty rates remain high, income inequality continues to expand, and we must often borrow money from the future to provide services for today, now is not the time for charity.
However, this independence referendum is about more than California subsidizing other states of this country. It is about the right to self-determination and the concept of voluntary association, both of which are supported by constitutional and international law.
It is about California taking its place in the world, standing as an equal among nations. We believe in two fundamental truths: (1) California exerts a positive influence on the rest of the world, and (2) California could do more good as an independent country than it is able to do as a just a U.S. state.
In 2016, the United Kingdom voted to leave the international community with their "Brexit" vote. Our "Calexit" referendum is about California joining the international community. You have a big decision to make.
It is our opinion that California should secede and that the rest of the United States would be far better off if they did!
STONEWALL JACKSONS OPINION OF CALIFORNIA
On February 16, 1857 in reply to his aunts letter, Stonewall Jackson wrote the following:
"Your letter of February 7th reached me on Saturday arriving too late to answer it. In regard to Wirt I am unwilling to do anything which will favor his going to California. It does appear to me that if he goes to California that the gospel may but seldom if ever reach him and that the influences thrown around him there will be worse then where he is."
Remember, Stonewall was writing about the moral and cultural depravity of California 159 years ago. No doubt he could not have fathomed the modern day Sodom and Gomorrah that is San Francisco, Hollywood, or Los Angeles.
The quote above is from the 520 page book Life and letters of General Thomas J. Jackson.
Everyone who donates $5 or more to Dixie Heritage this week will receive a facsimile copy of this great book. Please note that facsimile reproductions are actual images of the original book's pages and will
contain imperfections such as marks, notations, marginalia and flawed pages.
Life and letters of General Thomas J. Jackson is a first hand account of the life of Stonewall Jackson from the person who knew him best, his wife.

You can almost see her blush as she apologizes that the letters might be too personal. She wants to set the record straight and give us a glimpse of her hero husband that we would have never known.

SONG OF THE SOUTH ON DVD - in time for Christmas
I realize that its a bit early but we want to make sure that we can fill all orders and have them shipped out well before Christmas.
The Song of the South DVDs will ship out brand new, in beautiful cases, sealed in plastic. These will be presentation ready and make great Christmas gifts.
When you donate $10 to Dixie Heritage we will ship one DVD - postage paid to anywhere in the US and Canada.
Donate $70 and we will ship 10 DVDs - thats just $7 each. You could give them as Christmas gifts or use them as a heritage organization fund-raiser.
Order Song of the South DVD:
Order 10 Song of the South DVDs:
Also available:
GENERAL SPANKY
General Spanky
is a full-length (not a short) comedy film released to theatres on December 11, 1936.
Spanky (George McFarland), Alfalfa (Carl Switzer), Buckwheat (Billie Thomas) and others form an army called "The Royal Protection of Women and Children Regiment Club of the World and Mississippi River." The group sees unexpected action when Union troops approach, engaging in battles more farcical than fierce. Using clowning tactics instead of military tactics, the kids stop the advance...and later save an adult friend from the firing squad.
When you donate $10 to Dixie Heritage we will ship one DVD - postage paid to anywhere in the US and Canada.
Donate $70 and we will ship 10 DVDs - thats just $7 each. You could give them as Christmas gifts or use them as a heritage organization fund-raiser.
Order
General Spanky
DVD:
Order 10
General Spanky
DVDs:
A SOUTHERN YANKEE
A Southern Yankee
(1948) is an American comedy film starring Red Skelton and Arlene Dahl, and released by Metro-Goldwyn-Mayer. It is also known as The Spy.
In 1865, Aubrey Filmore works as a bell boy at the Palmer Hotel in St. Louis. Aubrey works as a spy for both the Yankee and Rebel governments in a truly comedic manner that can opnly be portrayed by Red Skelton.
When you donate $10 to Dixie Heritage we will ship one DVD - postage paid to anywhere in the US and Canada.
Donate $70 and we will ship 10 DVDs - thats just $7 each. You could give them as Christmas gifts or use them as a heritage organization fund-raiser.
Order A Southern Yankee on DVD:
Order 10 copies of A Southern Yankee on DVDs:
Dixie Heritage Subscriber Dr. Chuck Baldwin submits the following:
The Trump Victory: What We Saw And What We Need To See
November 10, 2016
Let's be honest: we saw a historic election Tuesday night. The only election coming close to the stunning proportions of this election was Ronald Reagan's first election in 1980. And even that one didn't match Trump's victory. Yes, it was a stunning victory for Donald Trump.
Let's be clear about what we witnessed. In one presidential election, we saw a man completely demolish the neocon and neolib establishments of both major parties; the media establishment; the globalist establishment; Wall Street; the political machine of an incumbent President; and the Clinton/Bush political/criminal empires. The odds of ANYONE being able to overcome the combined wealth and power of the leviathans above was absolutely zero. Each one of the listed cabals has enough power to destroy any would-be challenger. That Donald Trump was able to beat them all was truly incredible--maybe even miraculous. And he not only beat them; he trounced them.
Over the years, Ross Perot, Pat Buchanan and Ron Paul had done the preliminary work of loading the bases for Trump. These men helped awaken the sleeping giant that roared to life Tuesday night. But it was Donald Trump who knocked the ball clean out of the park. And he did it as an outside slugger in the opposition's home park--a park in which the owners, officials, and gatekeepers had rigged the game to insure he would strike out. To their shock and dismay, he didn't.
Make no mistake about it: the globalists, neocons, neolibs, international bankers, national media, and power establishment in both major parties are scrambling now to figure out how they were beaten and what they must do to try to reclaim the sudden loss of their power and influence.
Donald Trump might have delayed the total destruction of our freedoms--at least for awhile. We'll see.
It would certainly appear that the Clinton/Bush Crime Family has been dealt a serious, if not fatal, blow. In one presidential campaign, Donald Trump sent Jeb Bush to the showers and sent Bill and Hillary packing (maybe for another country in order to try to stay out of a U.S. prison). I suggest that the Clintons consider Qatar. It is a country that successfully purchased much influence in Bill's presidential administration and Hillary's Secretary of State's office, and it is also a country that does not participate in U.S. extradition policy.
I tell you the truth, breaking up the Bush/Clinton Crime Family and perhaps ridding the United States of their death grip on U.S. politics might be the GREATEST success of Trump's victory Tuesday night. The swamp was drained a lot just by getting rid of the Clintons (forever)--and maybe the Bushes too (at least for quite a while).
And forgive me for gloating just a bit. Over a year and a half ago, on April 14, 2015, I made this bold prediction on my Facebook page: "You heard it here first: Hillary Clinton will NOT be our next President."
As far as what's visible, the biggest loser Tuesday night was the mainstream media (MSM). Never in history had the MSM banded so tightly together with the single goal and aim in mind of completely destroying one man's political campaign. They were relentless and ruthless. They truly used every dastardly, duplicitous, and devilish trick in the book to defeat Trump. And, for once, the American people completely saw through it.
People in this country have been growing increasingly fed up with the overbearing, arrogant, holier-than-thou, rub-your-nose-in-the-dirt establishment. They are sick and tired of the political elite, such as the Clintons, getting away with corruption and criminality. They are sick and tired of corrupt presidents circumventing Congress and attempting to make law via unconstitutional executive orders. They are sick and tired of the media demeaning and lying to them day after day after day. They are sick and tired of all of these foreign wars of aggression that kill and maim their family members while enriching the political and corporate elite. They are sick and tired of immoral entertainers in music and Hollywood flaunting their corrupt and debauched lifestyles while telling them how evil they are for not supporting their corrupt and debauched buddies in politics.
Speaking of the corrupt Hollywood elite, here is another potential blessing of Trump's victory Tuesday night: several Hollywood super-smuts have said they would leave the country if Trump won. These include Barbra Streisand, Bryan Cranston, Miley Cyrus, Lena Dunham, Amy Schumer, Jon Stewart, Samuel Jackson, Whoopi Goldberg, Neve Campbell, Keegan-Michael Key, George Lopez, Ne-Yo, and Al Sharpton. I hope they are all buying their one-way plane tickets as we speak. It would be worth a Trump victory watching these people's backsides disappearing over the horizon.
We need to see Donald Trump follow through with what he said he would do (the good stuff that is). If he doesn't, it is all but certain that he will be a one-term President.
He needs to follow through with strict enforcement of our national borders. He needs to stop illegal immigration. He needs to deport the Middle Eastern refugees that Obama brought into the country. He needs to cut off financial aid to the illegal aliens that are already here. He needs to immediately lead the charge in a totally Republican Congress to rescind Obamacare. He needs to put an end to our endless wars of aggression in the Middle East. He needs to leave Syria alone and stop meddling in President Assad's internal affairs. He needs to pull NATO back from encroaching on Russia's territorial boundaries, waterways and airspace and let Vladimir Putin know that the United States will stop being a global bully. He needs to instruct our CIA (and find a director who will enthusiastically follow his instructions) to withdraw ALL covert U.S. support for Muslim terror groups such as ISIS--in which case, they would quickly dissolve.
Trump needs to lead the charge in Congress to reduce taxes and government regulation and spending across the board. If he would propose dismantling the EPA, BLM, OSHA, and the federal Department of Education (and throw in the Department of Commerce and a bunch more of these government bureaucracies whose only reason for existing is to harass the American people), we would know he means business. He needs to tell the ATF to get off the backs of law-abiding gun manufacturers, retailers, and gun owners. And he needs to fire FBI Director James Comey.
Trump needs to follow through with his trade policies. He needs to lead the charge to expunge NAFTA, to kill TPP dead in its tracks, and to institute fair trade practices, including enacting competing tariffs and imposts and removing the egregious taxes and regulations that have forced businesses to relocate production plants overseas--and give them every financial incentive to bring them back to the United States.
Trump needs to appoint a Supreme Court justice that not only recognizes the constitutional rights of life and gun ownership and possession but one that is also determined to protect the Fourth Amendment. He also needs to follow through with his stated intention of urging Congress to remove the 1954 Johnson Amendment from the 501c3 tax code. In addition, he needs to sign an executive order rescinding most of the executive orders issued by former presidents Obama, Bush, and Clinton.
Trump needs to appoint a special prosecutor to thoroughly investigate and then prosecute Hillary and Bill Clinton along with many of their willing accomplices. If Trump truly wants to drain the swamp, he must begin by bringing these career criminals to justice.
These are the things that we need to see, and if Trump is as genuine and committed to liberty as he claims to be, many of these things we will see.
Now let me caution everyone. That Donald Trump was not controlled by the establishment was obvious. But that doesn't mean for one second that he cannot yet become controlled by the establishment. Being an outsider does not necessarily mean that Donald Trump truly understands the reach and tentacles of the globalist conspiracy. I truly hope he does; but only time will tell.
Plus, we need to be praying much for Trump's personal safety, because the power elite would not hesitate to assassinate this man if they felt he was a genuine threat to their globalist agenda and that killing him was the only way they could stop him. I remind you that Mr. Reagan was shot just 70 days after assuming office.
Remember that the establishment was absolutely convinced that Hillary would win the White House up to and even during the elections. Trump's victory came as a total shock to them. I hope everyone around him comprehends the threat level that Donald Trump is now living under and that they are doing everything possible to protect him.
In the meantime, don't expect House Speaker Paul Ryan and Senate Majority Leader Mitch McConnell to willingly support Trump, should he follow through with a smaller government domestic agenda and a non-interventionist foreign policy agenda. At their core, Ryan and McConnell are globalist neocons. In fact, if the Republican caucus in the House truly wants to work with Trump, they will elect a brand new Speaker, one that shares Trump's stated vision.
Speaking of which, here are some of the things that we do NOT need to see:
We do not need to see Trump putting a lot of neocons and globalists in his administration. This is what seriously compromised Ronald Reagan's presidency. Trump already chose a soft globalist, Mike Pence, as his Vice President. Reagan chose Granddaddy Globalist George H.W. Bush, which led to all of the assaults against our liberties that have taken place through the successive administrations of Bill Clinton, G.W. Bush, and Barack Obama.
We need to pay close attention to who Trump places in his administration. During his victory speech, he lauded neocon globalists Rudy Giuliani and Chris Christie. That was not a good sign. If Trump loads his cabinet with neocons, globalists, and CFR members (of which none is worse than Newt Gingrich), he dooms his presidency. These people are no friends of liberty or the Constitution and would use their considerable influence to dilute Trump's less government, more freedom agenda.
We do not need to see Trump giving police agencies the green light to "stop and frisk" people. This has always been one of my greatest concerns about Trump. If he's not very careful, his strong "law and order" agenda can morph into a further burgeoning Police State.
We do not need to see Trump targeting religious houses of worship for unconstitutional searches and harassment. Freedom of religion is sacrosanct in this country, even for those people whose religion we dislike. Once you eviscerate First Amendment protections for one group of people, NO group of people is safe from government persecution. Germany's Martin
Niemöller taught us that.
Trump's victory was truly stunning. It was the triumph of freedom-loving people who are fed up with an obnoxious, abrasive, overbearing, arrogant ruling class. Truly, it was the people's victory. But now those same people must be vigilant to make sure that the ruling class they defeated at the polls does not come back and corrupt the champion who led the revolt. It is okay for people to celebrate--as long as they don't then do what they have been known to do so often: go into a state of deep and protracted slumber. I remind you that most of the damage to our liberties over the past several decades has come from Republican administrations. Again, please remember that the GOP Congress Trump has inherited is led by staunch neocons.
"Eternal vigilance is the price of liberty," said Wendell Phillips. How right he was. Stay vigilant, folks! And let's pray that Mr. Trump will be the President that we need "for such a time as this." And let's do everything that we can as citizen watchmen to make sure he is.
DONALD TRUMP MAKES NEAR SWEEP OF CONFEDERATE STATES OF AMERICA
Below is a map showing which states were won by Donald Trump and which states were won by Hillary Clinton. I have drawn a circle around the Confederate States of America. Notice that with the exception of Virginia that Donald Trump painted Dixie RED.
Look at how few of the states nation-wide are blue.
Suffice it to say, without the tremendous turnout by Southerners voting for Donald Trump we'd be reporting that Hitlery Clinton won Tuesday's contest.
The spelling of Hitlery's name is NOT a typo! Thank you to our friend and subscriber Al Benson for coming up with this awesome play on her name.
HERE IS A FUNNY EMAIL WE GOT ON WEDNESDAY
When the Trump family moves into the White House it'll be the first time in history that a billionaire moved into public housing vacated by a black family!

SUPPORT THE ONGOING BATTLE TO ADVANCE "THE CAUSE"
Your direct donation of even the smallest amount enables Dixie Heritage and other pro-confederate organizations in the never-ending battles to preserve and advance our common heritage.
ADD DIXIE HERITAGE TO YOUR ADDRESS BOOK
This will ensure that your weekly newsletter does not end up in a SPAM folder by accident.

LIKE US ON FACEBOOK


If you have not already done so please take the quick moment to like our Dixie Heritage Page on Facebook:
And then, more importantly, click this link to our website:
When you are there request a free copy of my book The Truth About the Confederate Battle Flag. When you do, not only will you receive a copy of the book - you will also be subscribed to receive the weekly Dixie Heritage Letter by eMail. This will ensure that you never miss an issue.
Until Next Week,
Deo Vindice!
Chaplain Ed