Monthly Meetings
September 29th
Meet and Greet with Solomon Goldstein-Rose
Click here for the 2016-2017 Monthly Meeting Calendar
SEND COSA NEWS:
The United Way of Hampshire County
Needs Your Input
Dear COSA Members and Friends ,
We need your input. Please advise us on how best to invest one million dollars over the next three years to promote financial well-being and stability in our region.
From your positions, both as community service providers and community members, you are each in a unique position to help us best understand how to support economic security in Hampshire County. We hope you will complete the survey using the link below. It should take about 8-9 minutes, and would be immensely value to our efforts.
Please feel free to share this link with your colleagues, clients and anyone else with knowledge of Hampshire County you think would be willing to participate. The more participation we have the better.
~~~~~~~~~~~~~~~~~~~~~~~~~~~~~~~~~~~~~~~~~~~~~~~
Family Outreach of Amherst 5th Annual
Warm Up the Night
Join us as we transform the warm and festive tent at the Lord Jeffery Inn into a strolling culinary extravaganza! Enjoy delicious small bites, sips, and tastes from an eclectic mix of local food vendors.




This year features a pig roast from 30Boltwood, a raw bar from Berkshore Oyster Company, tastings of bourbon from Spirit Haus, scotch from Four Seasons Liquor, and sake from Provisions Wine Shop. Live music will be provided by local musicians Small Parade and a special appearance by

local guitar legend

J Mascis

!



Visit their website for more information and to purchase tickets
~~~~~~~~~~~~~~~~~~~~~~~~~~~~~~~~~~~~~~~~~~~~~~~
Working Together to End Veteran Homelessness:
A Training for Frontline Staff & Volunteers

Are you a... LIBRARIAN? CASEWORKER? POLICE OFFICER? OUTREACH WORKER?
YOU CAN HELP END VETERAN HOMELESSNESS
You will learn:
* The key role that frontline staff & volunteers play in identifying homeless Veterans
* How to quickly connect homeless Veterans to housing providers & other resources
* How Western Massachusetts is working together to end Veteran homelessness
Hosted by the Three County Veteran Homelessness Committee
Thursday, Oct. 20th 3:00 to 4:30 PM
Two choices of Locations:

Northampton Senior Center 67 Conz Street, Great Room
Berkshire County Regional Housing Authority 1 Fenn Street, 3rd floor - Pittsfield, MA

~~~~~~~~~~~~~~~~~~~~~~~~~~~~~~~~~~~~~~~~~~~~~~~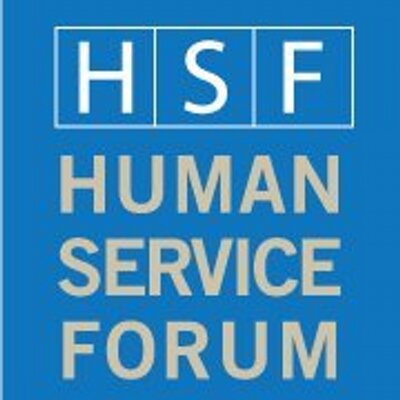 Agency Safety Training for Senior Leaders
Because of your input, HSF will hold an Agency Safety Training with a focus on developing a safety plan that meets EOHHS guidelines.
Y
ou will leave the workshop with the knowledge and skills to develop safety plans for your agency and workers.
Thursday October 13, 2016 from
9:00 a.m. - 12:30 a.m.
CEO Plus Roundtable

CEO Plus is an expansion of HSF's CEO Roundtable, and developed by request of senior leaders. The sessions are for CEO's/Executive Directors and other senior leaders at HSF member agencies.
Learn about potential hidden dangers in Paying Exempt Employees on a Fee-For-Service Model.
Now may be an ideal time to examine whether your agency is at risk of a costly misclassification lawsuit stemming from a fee-for-service payment model. Employers throughout the country are making major changes to compensation practices because the new overtime rules are set to take effect on December 1st. Skoler Abbott attorneys Timothy Murphy and John Gannon will lead an interactive discussion on this topic and present practical litigation-avoidance solutions geared toward human service agencies.
Thursday, October 27, 2016 from

8:30 - 10:30 a.m.
DeCice Hall, 1365 Northampton St. in Holyoke
Program fee: $10 - registration is required.
~~~~~~~~~~~~~~~~~~~~~~~~~~~~~~~~~~~~~~
Free Resource From Nonprofit Hub
Download the free eBook to transform your fundraising strategies
Looking for a little inspiration as you prepare for year-end fundraising?

Qgiv's new eBook, Tales from the Trenches

, is a collection of stories from 9 different nonprofits who exceeded their fundraising goals.





They share their fundraising

challenges

, the

solutions

they put in place to address them, and how you can

copy their success

.



~~~~~~~~~~~~~~~~~~~~~~~~~~~~~~~~~~~~~~~~~~~~~~~
November
First Time Home Buyers
Workshop
Valley CDC and Florence Bank are pleased to offer a 4-part series on Thursdays, October 27, November 3, 7 and 10. At the workshop you will be informed about:

1) Incredible Loans!
2) Access to Down Payment and Closing Cost $$$.
3) Education, education, education!
~~~~~~~~~~~~~~~~~~~~~~~~~~~~~~~~~~~~~~~~~~~~~~~
HAPHousing is embarking on a new initiative entitled The Way Home, opening our doors to friends and community partners. Each month, there will be two opportunities to attend a one-hour gathering that highlights several programmatic areas of impact. Stories of client transformation will be shared and our dedicated staff will discuss the paths taken to achieve success. At HAPHousing, we provide people with the tools they need to thrive and their communities flourish.
We invite you to join us for an informative and inspirational journey. The upcoming programs takes place on:
HAPHousing, 267 High Street
Holyoke, MA
Please contact Jason Montgomery for more information or to RSVP
~~~~~~~~~~~~~~~~~~~~~~~~~~~~~~~~~~~~~~~~~~~~~~~
If you're a competitive runner or a leisurely walker, don't miss the

5K Turkey Run/Walk

!
Proceeds from this
fun event are use
d in support of students and programs at GCC.
Entry Fee $30.00 Day of $35.00
Check-in from 8-8:45am
5K race/walk 9am
First 100 registrants get a free T-shirt
Greenfield Community College 1 College Drive, Greenfield MA
~~~~~~~~~~~~~~~~~~~~~~~~~~~~~~~~~~~~~~~~~~~~~~~
PODCAST
The Cost of Poor Nonprofit Leadership Featuring Marc Pitman

Marc Pitman has spent years consulting with nonprofits to get their boards and staff excited to raise money for their organizations. During that time he's come to find that it's not all roses with nonprofit leadership in our sector. Building upon his research, he developed the Nonprofit Sector Leadership Report 2016. What he found was that these negative experiences weren't outliers, and that our sector has a lot of work to do.
~~~~~~~~~~~~~~~~~~~~~~~~~~~~~~~~~~~~~~~~~~~~~~~~~~~
2016 Nonprofit Finance Study

In the 2016 Nonprofit Finance Study the Nonprofit Times surveyed more than 400 nonprofit finance professionals in order to better understand the challenges and complexity of the more technical aspects of nonprofit finance - such as how federal regulations (and changes in regulations) impact an organization, the cost of compliance, the overall infrastructure of business processes and people, and how today's nonprofit can handle the increasingly difficult nature of nonprofit finance.
~~~~~~~~~~~~~~~~~~~~~~~~~~~~~~~~~~~~~~~~~~~~~~~
First annual Transforming Education for Social Justice conference

The Collaborative for Educational Services (CES) will host the first annual Transforming Education for Social Justice conference on October 15th, 2016, at Holyoke Community College.
A goal of this conference is to connect and grow a local network of committed educators, students, and community members focusing on social justice and equity issues. Over the past few years, CES has been joining in this work. The organization is currently hosting a Social Justice and Equity in Schools professional learning community (PLC), and has been providing professional development for educators and administrators on social justice issues in education.



The conference includes keynote speakers Pa'lante, a youth group from Holyoke High School, who will share their experiences as Restorative Justice Peer leaders. Morning and afternoon sessions will feature educators both from and outside Pioneer Valley, as well as youth-led panels; who will focus on examining the specific regional challenges that young people face in our education system, and promising practices for creating change.
~~~~~~~~~~~~~~~~~~~~~~~~~~~~~~~~~~~~~~~~~~~~~~~
Legislative Advocacy Training
Charlie Fiske from The Arc of Massachusetts will provide an overview of a practical hands-on approach on how to advocate to lobby activity with your elected officials to improve changes for those with Intellectual/Developmental Disabilities I/DD. This is a

free workshop for parents, families, and professionals to be held on Thursday, October 27th, 2016 at The United Arc, 294 Avenue A, Turners Falls, MA
from
6:00 to 7:30PM
.
~~~~~~~~~~~~~~~~~~~~~~~~~~~~~~~~~~~~~~~~~~~~~~~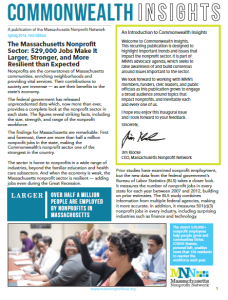 MNN's Commonwealth Insights quarterly publication series highlights policy, issues, and trends important to the nonprofit sector. Each quarter we'll feature data and stories that illustrate the full depth and breadth of the sector in Massachusetts.
With 529,000+ Employees the Massachusetts Nonprofit Sector is Strong, Resilient, and one of the Largest in the Nation
In our inaugural issue of
Commonwealth Insights
, MNN utilized unprecedented data from the federal government's
Bureau of Labor Statistics
to show that with more than half a million employees, the Massachusetts nonprofit sector is strong, resilient, and one of the largest in the nation. A few highlights from the report:
In 2015 the state's 529,538 nonprofit jobs produced well over$30 billion in wages for employees.
Nonprofit jobs account for 17% of the state's workforce, making the Commonwealth's nonprofit sector the 6th largest in the nation.
The nonprofit sector added jobs even during the Great Recession, proving that it is more resilient than its for-profit counterpart.
~~~~~~~~~~~~~~~
~~~~~~~~~~~~~~~~~~~~~~~~~~~~~~~~
HSF is Looking for Esteem Service Awardees
Do

you have an employee you want to publicly acknowledge? The process is fast and easy with a Human Service Forum Esteemed Service Award. The individuals selected will be honored at one of our breakfast events.
Nominations for the November 3rd are being accepted now
.
If you would like to nominate someone, please email us and include the following information
:
~~~~~~~~~~~~~~~
~~~~~~~~~~~~~~~~~~~~~~~~~~~~~~~~
D-I-Y Year-End Fundraising Campaign Planner by
Free Download
In this guide, you'll find everything you need to implement a comprehensive, effective, and achievable year-end fundraising strategy, as well as the tools you'll need to make the most of the year-end giving season. By the time you've finished the action items in this guide, you'll have a year-end fundraising plan that your board will be excited about and the guidance you need to choose tools that will help you boost your revenue in the last quarter of the year.
Be ready for December with a clear plan, a rock-solid message, and a strategy to convert and retain your donors. Use this easy, fill-in-the-blanks worksheet to quickly create the foundation for your year-end fundraising efforts.
~~~~~~~~~~~~~~~
~~~~~~~~~~~~~~~~~~~~~~~~~~~~~~~~
Opportunities
Clinical Support Options
There are many positions available.
Community Action
There are many more positions available!
**New Listings -
Northampton Survival Center
~~~~~~~~~~~~~~~~~~~~~~~~~~~~~~~~~~~~~~~~~~~~~~~~~~~~~~
We will be re-posting this list shortly.
We are in the process of renewing memberships.
Please encourage your organization to join us!