Monthly Meetings
SEND COSA NEWS:
Next
Newsletter Submission Deadline
July 14, 2017
JOIN US:
____________
Public
Listening Sessions on Community Benefits

The Massachusetts Office of the Attorney General ("AGO") will be holding three public listening sessions across the Commonwealth to receive input on the AGO's Community
Benefits Guidelines for Non-Profit Hospitals and HMOs ("Guidelines"). "Community Benefits" include charity care and community programs provided by hospitals and HMOs that address documented community health needs. The Guidelines contain voluntary principles to direct hospitals and HMOs to collaborate with their communities to develop programs that address unmet needs and issue annual reports on their efforts.
The AGO is in the process of updating these Guidelines and seeks public input. The current Guidelines and copies of past hospital and HMO Community Benefits reports are available
here
.
Monday Sept. 11, 2017 from 3-5pm
1350 Main Street, 3rd floor

Community Room

Springfield

If you have questions or require accommodations,
~~~~~~~~~~~~~~~~~~~~~~~~~~~~~~~~~~~~~~~~~~~~~~~

The Bridge
Summer Library
on Wheels
The Bridge is hosting a summer library on wheels during the months of July and August. The books are FREE for you to keep!
Our book mobile will be at various locations on Fridays from 11-12 (except Belchertown when we will be there until 12:30).
During July you will find us at The Bangs Community Center in Amherst and Easthampton Police Department.

During August you will find us at Cliffside Apartments in Sunderland, Family Housing locations in Belchertown, The Boulders Apartments in Amherst and The Bridge Family Resource Center in Amherst.
~~~~~~~~~~~~~~~~~~~~~~~~~~~~~~~~~~~~~~~~~~~~~~~

GOT SPACE?
DIAL/SELF is Looking
DIAL/SELF is looking for
some leads on office space in Northampton (as close to downtown as possible) for
October 1st
.
Minimum specs:
about 120 square feet of office space
a modest meeting space (about 70 sq ft)
occasional access to a larger meeting room
access to parking preferred
If you have any leads, please share them with
Lisa Goldsmith
~~~~~~~~~~~~~~~~~~~~~~~~~~~~~~~~~~~~~~~~~~~~~~~

Who Are You Going to Nominate For a
COSA Award?
Do it Today!
You have the best staff and fantastic volunteers, right? Well then it is time to let them know. Show your star direct service staff and dedicated volunteers how much you appreciate them by nominating them for a COSA Award. In September we will celebrate the chosen award winners at our Annual Breakfast.
The nomination form includes only 4 questions! It is so simple to complete. We will follow up with a phone call to gather a few details on your nominee. Now you have no excuse not to do this!
NOMINATIONS ARE DUE BY AUGUST 15th
~~~~~~~~~~~~~~~~~~~~~~~~~~~~~~~~~~~~~~~~~~~~~~~

3 Tips You Can't Ignore in Connecting
with Gen Z

Nonprofit Hub
Marketers are constantly striving to understand the habits of their target audience. What are your habits? What do you like? What do you believe? What influences your decisions? Why do you drive 15 minutes out of your way to shop at one grocery store over another?
Nonprofit organizations are often in the same boat as they look to engage new audiences and motivate them to action. What inspires you? What do you connect with? What makes you share a message or visual? What pushes you to donate your time, or champion a cause?
Much has been written about millennials and how to reach this key demographic. But Gen Z - those born after 1995 - actually outnumbers Millennials and Baby Boomers,
capturing 25 percent of the population
. Although their power may be limited as adolescents and young teens, their habits will become increasingly important as they enter the workforce and explore their ability to make an impact on the world around them.
If your nonprofit is looking to connect with Gen Z, there are quite a few differences that must be understood. Here are three tips for connecting with this younger generation.
Continue Reading
~~~~~~~~~~~~~~~~~~~~~~~~~~~~~~~~~~~~~~~~~~~~~~~

Help us get a jump on collecting new children's books for the Center's December
HOLIDAY GIFT PROGRAM, now. In the summer.

We're starting to collect donations of new children's books (ages 0-17) now.
This December we once again hope to offer each child whose family uses the Center's Food Pantry three new children's books!
Last year, because of your donations, the Center was able to distribute over 1,800 books to 513 children. Your can help us reach this goal again.
You can bring or send your donations of new children's books to the Center. (Our mailing address is: PO Box 9629, 138 Sunderland Road, Amherst, MA 01002)
~~~~~~~~~~~~~~~~~~~~~~~~~~~~~~~~~~~~~~~~~~~~~~~
Cancer Connection
Spirit of the Written Word & Gentle Yoga workshop

Cancer Connection is offering a day-long workshop, "Spirit of the Written Word and Gentle Yoga" in Shelburne Falls, MA Saturday, July 29, 2017
11:00 AM - 5:00 PM
Shelburne Falls Yoga Studio
The workshop will be facilitated by Pam Roberts. This workshop is free for people with cancer as well as their family and caregivers to attend, but registration is required (call Cancer Connection at 586-1642).
Participants can promote their own healing and experience the therapeutic benefits of group writing and gentle adaptive yoga. Young adults and caregivers are strongly encouraged to attend.
No writing or yoga experience required. Mats and props provided. Participants should bring a bagged lunch.
~~~~~~~~~~~~~~~~~~~~~~~~~~~~~~~~~~~~~~~~~~~~~~~
Amherst
Community Connections
Events
Come & Experience the Healing Power of Reiki

Wednesday, August 2, 10-11:30 am

Come to learn about a therapeutic healing technique and activating our natural healing
Living Fully, Aging Gracefully, Dying Well
Wednesday, August 9, 10-11:30 am

Live your whole life to it's fullest! Facilitated by John Berkewitz

Positive Psychology with Lori and Mark Tuominen

Wednesday, August 16, 10-11:30 am

Learn about the school of thought that emphasizes individual strengths and uses a positive, humanistic approach to
understanding motivation?

Life after Life
Wednesday, August 23, 10-11:30 am

All programs take place at ACC - 121 N Pleasant St. Amherst
~~~~~~~~~~~~~~~~~~~~~~~~~~~~~~~~~~~~~~~~~~~~~~~
Goodwin House
A Substance Recovery House For Young Men
Located in Chicopee, Massachusetts, Goodwin House is the region's only residential recovery program for males ages 13 to 17. CHD was awarded the state contract for Goodwin House following a competitive proposal process acknowledging CHD's expertise in designing evidence-based, gender-specific, client-driven recovery programming. By design, the program is small, with no more than 15 adolescents served at a time through a structured 90-day residential treatment program which leverages evidence-based practices while integrating the participant's family in treatment.
Want to learn more about our new facility?
Click Here
~~~~~~~~~~~~~~~~~~~~~~~~~~~~~~~~~~~~~~~~~~~~~~~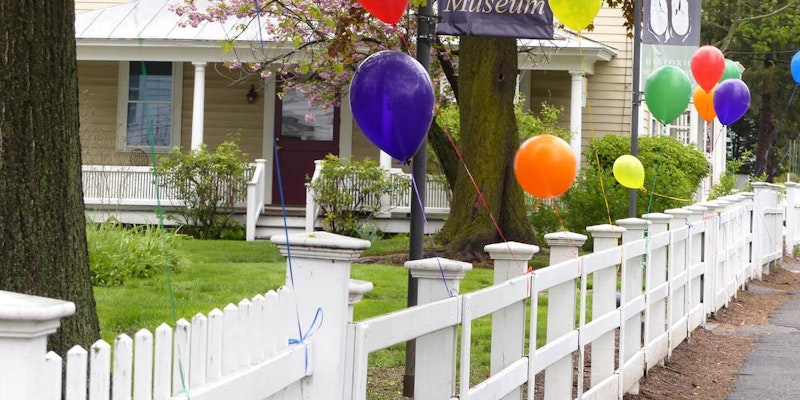 Good Neighbors Paint Good Fences


In the spirit of Tom Sawyer and with apologies to Robert Frost, Historic Northampton invites you to its zany, madcap, painting party. Join dozens (100s?) of volunteers at Historic Northampton where you'll have the "privilege" of helping to paint all 300 feet of fence along Bridge Street. (Could you be so lucky?)

The Expandable Brass Band will be on hand to motivate the painters, and there will be free watermelon and lemonade--plus free painters hats for the first 100 people who register. There will also be activities for children--including (what else?) face painting and decorating of painter's hats.
At 6 pm, put down your brush and follow the band into the heart of downtown to take part in the Summer Stroll, a festival of food, fun, and music that runs from 6-9 pm.
All materials provided. No painting experience needed! The first 100 people to register will get a free painters hat.
~~~~~~~~~~~~~~~~~~~~~~~~~~~~~~~~~~~~~~~~~~~~~~~

Represent Western MA on statewide efforts to address health equity issues
The Massachusetts Department of Public Health (MDPH) requests responses from individuals/organizations interested in participating on the Determination of Need's Community Health Initiative (CHI) Statewide Initiative Advisory Committee and/or the CHI Healthy Aging Fund Advisory Committee.
The Notices of Opportunity ("NoO") for each Committee are attached here. Applicants interested in participating on both committees need to submit a separate response for each Committee.
Please share with your listservs and networks. All questions and communications concerning this NoO must be submitted in writing via email to
DONCHI@state.ma.us
~~~~~~~~~~~~~~~~~~~~~~~~~~~~~~~~~~~~~~~~~~~~~~~

Free Treatment For Those Affected By The 2013 Boston Marathon Bombing
The Trauma Institute & Child Trauma Institute is offering free treatment.

Those eligible include victims, witnesses, family members, and service providers. We are grateful to the Massachusetts Office of Victim Assistance for providing the funds for this service.
Got motor vehicle accident trauma?
The Trauma Institute & Child Trauma Institute is offering free brief EMDR or PC therapy for research. Many satisfied participants so far! Research therapists are available in Northampton, MA.
~~~~~~~~~~~~~~~~~~~~~~~~~~~~~~~~~~~~~~~~~~~~~~~

Cancer Connection is recruiting new Board members and members of the community to serve on committees.
To ensure that we have the skills and knowledge base we need to enhance the center's services, we seek people who have experience in legal, financial, medical, human resources and ethical areas. New Board members should have experience in leadership positions, have had prior Board experience and understand the functioning and role of a Board of Directors. We are also looking for diversity in applicants and people from underrepresented groups so that people dealing with cancer throughout the Valley can use a center that is powered by leadership that represents, reports to and reaches out to the entire Pioneer Valley, and beyond.
Cancer Connection seeks applicants who will:
be active participants on the Board and on at least one committee (which means at least four-six hours per month for meetings, plus the time needed to prepare for and accomplish work generated at those meetings),
contribute financially to the center,
help and promote various fundraising/friend-raising events,
be an ambassador for Cancer Connection, and
have a feel for and understanding of the impact of a cancer diagnosis.
The Board meets on the fourth Mondays of each month from
5:30 - 7:30 PM
. Additional Board and Committee information is available upon request.
~~~~~~~~~~~~~~~~~~~~~~~~~~~~~~~~~~~~~~~~~~~~~~~
Opportunities
Berkshire Children & Families
CHD
Collaborative for Educational Services
Community Action
Northeast Center for Youth and Families
Service Net
Tapestry Health
Mark Your Calendars!
HAPPENINGS IN
HAMPSHIRE COUNTY
~~~~~~~~~~~~~~~~~~~~~~~~~~~~~~~~~~~~~~~~~~~~~~~~~~~~~~
Amherst Boys and Girls Club
Person, Katherine
Roth-Howe, Jeff