Monthly Meetings
Mar. 22nd
Maximizing the Use of Volunteers
April 28th
Fundraising Strategies with David Sharken
May 24th
Providers Fair
* Our last meeting until September
NEXT NEWSLETTER:
Week of Apr. 11th
on Route 9 in Hadley
9:00 am
SEND COSA NEWS:
YOU KNOW YOU WANT TO BE THERE
RESERVE A TABLE!
2nd Annual
COSA Provider's Fair!
May 24th, 9:00 - 10:30 am
NEW*
Non-member agencies may reserve a table for $25, which can be applied towards a membership. Pass the word!
Member agencies are invited, and encouraged, to participate. We will provide a great atmosphere, table for your agency, and refreshments. Bring resources and other staff members along for an enlightening morning with your peers. The Providers Fair will be held in lieu of our monthly meeting, from 9:00 to 10:30 am. There will be ample time to circulate and network with other agencies! The Provider Fair will take place at "The Deuce" events room at the World War II Club in Northampton.
~~~~~~~~~~~~~~~~~~~~~~~~~~~~~~~~~~~~~~~~~~~~~~~
The UMass Department of Psychological and Brain Sciences (PBS) is significantly enlarging its Internship Program.
Undergraduate Interns are available to work 9 hours a week in your Agency in exchange for course credit from the University and an educational opportunity with you. The educational opportunity should involve some direct client contact (which could be shadowing) and some regular mentoring and supervision. Click here to see the Student Intern Contract.
~~~~~~~~~~~~~~~~~~~~~~~~~~~~~~~~~~~~~~~~~~~~~~~



Valley Gives 2016

May 3, 2016
The Community Foundation of Western Massachusetts is pleased to continue hosting Valley Gives in 2016. Valley Gives Day will be May 3, 2016.
Registration
is open now for participating organizations.
There are three goals for Valley Gives Day:
1. Raise money for organizations throughout the Pioneer Valley that serve the needs and address the aspirations of our communities
2. Expand and enhance philanthropy and the spirit of giving throughout our community
3. Provide support and tools to organizations in the region to effectively increase their capacity to raise funds and share their stories.
~~~~~~~~~~~~~~~~~~~~~~~~~~~~~~~~~~~~~~~~~~~~~~~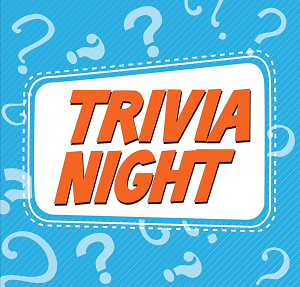 To Benefit PeaceJam, a youth led social justice and community service program.
The PeaceJam Foundation is the global leader in developing young leaders and engaging adults and youth in the local and global communities.

Here at The Bridge Family Resource Center youth have explored issues related to peace, violence, and social justice along with studying the work of 13 Nobel Peace Laureates. The youth and teens in the group have become inspired by world peace leaders, and are in the process of developing a service learning project, but need your help raising the funds to support it
!

$5.00 donation per person.
Come with a team or on your own... it's going to be a great time!
101 University Drive, Suite A3
Amherst, MA 01002
Snacks and raffle prizes!
~~~~~~~~~~~~~~~~~~~~~~~~~~~~~~~~~~~~~~~~~~~~~~~
COSA Meeting
Re-Cap
Using Volunteers
At our March meeting, Patricia Sicard, Volunteer Coordinator at RSVP, and Renee Moss, Executive Director of Big Brothers Big Sisters, shared their experiences recruiting, training and retaining volunteers to be integral members of your team.
~~~~~~~~~~~~~~~~~~~~~~~~~~~~~~~~~~~~~~~~~~~~~~~
Creating Effective Parent-School Partnerships
A free workshop for parents and professionals to be held on Thursday, April 7th, 2016 at
The United Arc
294 Avenue A, Turners Falls,

6-8 PM

.
Guest Presenter Laurel Peltier, parent and educator, will discuss how to create effective parent-school partnerships. Learn what parents can do, educators can do and advocates can do. Educating children requires a partnership.
An IEP for my Child
A
free
workshop for parents and professionals to be held on Thursday, April 28th, from 6-8pm at
The United Arc/GAAAFSN
361 Main Street
Athol, MA
The Federation for Children with Special Needs is presenting this workshop to educate parents step by step to learn to develop an IEP and articulate a vision.
Friends, family members, professionals, and support persons
are encouraged to attend!
~~~~~~~~~~~~~~~~~~~~~~~~~~~~~~~~~~~~~~~~~~~~~~

~
May 2016
First Time
Home BuyersWorkshop
This workshop is sponsored by the
Valley Community Development Corporation
and
Greenfield Savings Bank.
Here are some reasons to come to our 4-part series:
1) Incredible Loans!
2) Access to Down Payment and Closing Cost $$$.
3) Education, education, education!

Wednesdays -

May 4th, 11th, 18th & 25th,
6:00-9:00 p.m. at Greenfield Savings Bank -
325 King St, Northampton
~~~~~~~~~~~~~~~~~~~~~~~~~~~~~~~~~~~~~~~~~~~~~~

~
Hampshire College in Amherst, Massachusetts
recently received a $1.2 million grant
from the Andrew W. Mellon Foundation to revamp its Harold F. Johnson Library on campus as a centralized hub of campus learning, content, tools, and academic support services. The grant came through Mellon's
Higher Education and Scholarship in the Humanities
program, which focuses on "enhancing the learning experience of both undergraduate and graduate students in the humanities, and fostering collaborations within and among institutions."
It's worth digging into a grant like this to see exactly how a small liberal arts school fostered a relationship with a major foundation and landed a seven-figure boost.
Continue Reading
~~~~~~~~~~~~~~~~~~~~~~~~~~~~~~~~~~~~~~~~~~~~~~

~
Poets for Life:
Poets Respond to AIDS

A Benefit Reading for A Positive Place
On Saturday, April 9 at 3 pm, Patrick Donnelly, 2015 - 2017 poet laureate of Northampton, Mass., will host Poets for Life: Poets Respond to AIDS, a benefit reading in support of A Positive Place (formerly AIDS Care/Hampshire County), a non-profit organization providing a wide array of services for people with HIV in Hampshire and surrounding counties.


The event will be held at the Paradise Room, Conference Center, Smith College, 51 College Lane, Northampton. The Northampton Council for the Arts and the Poetry Center at Smith College are co-sponsors of the benefit.Tickets for the event are $20 and may be purchased
online
or by phone at 1-800-838-3006 x 1, or at the door.
Poets for Life will feature readings by award-winning poets Eduardo C. Corral, Patrick Donnelly, Michael Klein, and Joan Larkin, who will not only read from their own poetry about the epidemic, but from the work of other notable poets, living and dead. Singer-songwriter Laura Wetzler will also perform. The noted artist Barry Moser, whose work is represented in The National Gallery of Art, The Metropolitan Museum, and The British Museum, has created a poetry broadside, designed and engraved specifically for sale at this event, with all proceeds to benefit A Positive Place.
~~~~~~~~~~~~~~~~~~~~~~~~~~~~~~~~~~~~~~~~~~~~~~~
SAVE THE DATE
~~~~~~~~~~~~~~~~~~~~~~~~~~~~~~~~~~~~~~~~~~~~~~~
Last summer, Ice Bucket Challenge videos filled social media and news sites. Everyone and anyone was dumping ice water over their heads on camera. Lots of money was raised, $160 million and counting.
Join HSF to learn what was behind the success
. How does a cause suddenly go viral-so much so that Leonardo DiCaprio dumps ice water on his head and donates $100,000?
Wednesday April 27, 8:00 - 9:30 AM

~~~~~~~~~~~~~~~~~~~~~~~~~~~~~~~~~~~~~~~~~~~~~~~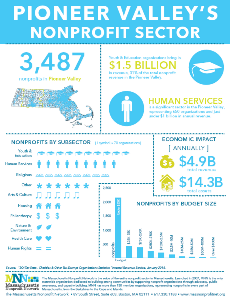 There are 3,487 Nonprofits in the Pioneer Valley!
MNN has gathered information on Nonprofits in Massachusetts by region.
See the infographic here
to get a picture of what the nonprofit landscape looks like in Pioneer Valley.
~~~~~~~~~~~~~~~~~~~~~~~~~~~~~~~~~~~~~~~~~~~~~~~
Why Nonprofit Stories are the Secret to Success
by Marc Pitman - Nonprofit Hub
Everywhere you turn, it seems someone is creating a new nonprofit to combat some societal evil. In the USA, the number of registered 501(c)(3)s jumped from around one million in the mid-1990s to over 1.5 million in less than 12 years. That is the equivalent of 801 new 501(c)(3)s being created each week...for more than a decade! And "501(c)(3)" is only one classification of nonprofits. It doesn't even include the number of associations, chambers of commerce and political action groups. Nor does it include the penny collections and coin jars at convenience stores to help raise money for a neighbor's medical bills.
All of this benevolent entrepreneurialism should help grow our nonprofit sector, right? Unfortunately, no. As much as we like to say we're not competing with each other, we are competing for people's attention and donations; the same attention businesses and politicians are competing for.
This competition is making donors much more savvy. No longer are people satisfied with simply sending cash. People increasingly want to direct where gifts are going and see a measurable return on investment from their gift. Personally, I am excited for this new level of accountability. I think it will force us to get better both at doing our mission and increasing the impact we can have on our communities.
Continue Reading
~~~~~~~~~~~~~~~~~~~~~~~~~~~~~~~~~~~~~~~~~~~~~~~
Six Free Educational Webinars!
5 days, 6 webinars,
7 experts.

Are you taking advantage of online marketing tactics like
Social Media, Google Ads, and Email Marketing
to help you reach new members and get the word out?
From
April 4th to April 8th
, Wild Apricot will be hosting one full week of
FREE expert webinars on digital marketing strategies
to help nonprofits and charities promote their organizations, build awareness and get more members.
Today's top notch nonprofit experts to teach you how to:
Set up an Online Marketing Funnel to make the best use of email marketing
Build effective Google and Facebook Ads
Use Social Media to grow your community
Engage Millennials
Build an Effective Membership Model
and more! REGISTER
~~~~~~~~~~~~~~~~~~~~~~~~~~~~~~~~~~~~~~~~~~~~~~~
Being a grandparent can bring its own challenges (and joys), different from those of parenting. This is an opportunity for grandparents to connect with others, discuss their experiences and feel supported. A light lunch and childcare provided
April 1
, 8 and 15, 2016,
10:00am - 11:30am
, Ware Family Center
Join other parents in informal conversation to share experiences, support each other through the challenges we all face and talk (and laugh?) about the ups and downs of parenting.

April 28
,
May 5 and 15, 2016
,
6:00pm - 7:30pm
, Easthampton HS
REGISTER
Why Do They Do That?!
Raising children isn't easy, and sometimes it can be hard to know how to handle difficult behaviors. Often it can help when we try to understand why a child is behaving the way he is. In Why Do They DO That?! we'll look at what's at the root of children's challenging behaviors and discuss strategies for handling them.
May 3, 2016, 6:00pm - 7:30pm
, Belchertown Family Center
~~~~~~~~~~~~~~~~~~~~~~~~~~~~~~~~~~~~~~~~~~~~~~~
Three years ago, the Haas, Jr. Fund joined with CompassPoint Nonprofit Services to produce a study,
UnderDeveloped
, documenting the chronic fundraising challenges facing today's nonprofits. One possible path to addressing these challenges, the report suggested, is for nonprofit leaders to foster and develop a "culture of philanthropy" in their organizations.
Even as we made this recommendation, we acknowledged that the term "culture of philanthropy" was not yet well understood across the sector. That's why we recently asked Cynthia Gibson to look into exactly what the field means when we talk about such a culture. In
Beyond Fundraising: What Does it Mean to Build a Culture of Philanthropy?
, Cynthia synthesizes her conversations with diverse experts, offers a framework for understanding what a culture of philanthropy might look like, and provides suggestions on how to know if you have one.
The notion of a culture of philanthropy has generated a significant amount of conversation - and some controversy - across the field. Cynthia's paper is a first attempt to try to capture what people are talking about and to identify the core elements of such a culture. The paper suggests that, without a deeper shift in how organizations hold the work of fund development, simply adopting new tools and techniques may not be enough.
~~~~~~~~~~~~~~~~~~~~~~~~~~~~~~~~~~~~~~~~~~~~~~~~~~~
April Healing Arts
Workshops at CCRT
The Center for Community Resilience after Trauma (CCRT), a program of Clinical & Support Options, Inc., offers free
Healing Arts programs
open & free to people who have been exposed to violence, crime and trauma.
All CCRT services are confidential. Space is limited, registration is requested & programs do fill up quickly. Contact us to reserve your place in up to 2 programs: (413) 773-5090 or
CCRT@csoinc.org
Spring Cleaning: Unpacking Your Inner Packrat:
Springtime is traditionally the time to throw things out; bur for some people there is never a good time to throw anything out. Join CCRT's Suzy Polucci and Peer Specialist Jessica Star to explore the reasons why some people compulsively buy, save and hoard (major life events, trauma, loss, depression, etc.) and begin building
an uncluttered life, using the book "Buried in Treasures" as a reference. All three sessions required. Held at CCRT, One Arch Place Main Entrance, 2nd floor in Greenfield. Tuesdays, April 12th, 19th & 26th 5:00-8:00pm
National Liberation Poetry Tour Experience
Come to this interactive community gathering to help People of the Global
Majority (people of color) begin to heal from the trauma of racism. Anika Nailah
will give a mini-performance of Liberation Poetry and facilitate the creation and
sharing of the audience's own liberatory words, art, movement, or songs. Held at
One Arch Place Main Entrance, 3
rd Floor in Greenfield. Thursday, April 28th
United Way
of Hampshire County
Annual Celebration
Hadley Farms Meeting House, May 25th at 11:30 am!
~~~~~~~~~~~~~~~~~~~~~~~~~~~~~~~~~~~~~~~~~~~~~~~~~~

Opportunities
Center for New Americans
Clinical Support Options
There are many positions available.
Community Action
There are many more positions available!
Service Net
United Arc
Valley CDC
~~~~~~~~~~~~~~~~~~~~~~~~~~~~~~~~~~~~~~~~~~~~~~~~~~~~~~
Barry, Sean
Landers, Jo
Loughran, Betsy
Person, Katherine
Roth-Howe, Jeff
If you are not listed above, please follow the link below.