Wellness Self-Management Plus (WSM+) is a curriculum-based clinical practice designed to assist adults who are simultaneously dealing with mental health and substance use problems. The topics covered include a number of research-informed approaches that are organized into a comprehensive and coordinated set of practices.

We're pleased to announce that working with experts at the New York State Office of Addiction Services and Supports (OASAS), CPI has updated the WSM+ workbook to reflect changes and increased knowledge in the field.

The curriculum is still organized into a 57-lesson personal workbook that includes lessons such as:
Understanding the connection between mental health and substance misuse

Understanding how substance misuse and addiction may harm your mental and physical health

Deciding if your substance misuse or addiction is a problem

Understanding pros and cons of substance misuse

Making important decisions: Knowing your personal readiness to change

How are mental health, substance misuse and addiction problems diagnosed?
Understanding and preventing a relapse
Coping with stress: What works? What doesn't?
Knowing your early warning signs
Health lifestyle, tobacco use, e-cigarettes/vaping and recovery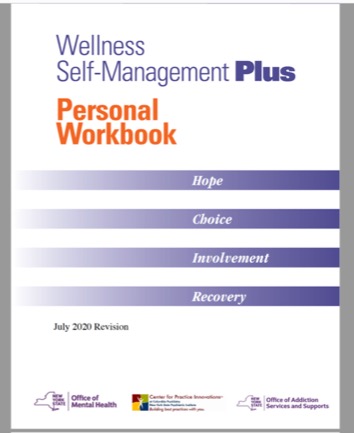 The updated WSM+ workbook is available through the Center for Practice Innovations, by clicking here https://practiceinnovations.org/Products. You will be able to download an electronic copy of the WSM+ workbook at no cost and purchase bound, paper copies.
Please note that a Spanish version of the updated WSM+ workbook is now under development.
To learn more about Wellness Self-Management and Wellness Self-Management Plus, please click here: