CofCC Honors Barack Hussein Obama
According to its website, the Council of Conservative Citizens (CofCC) honored President Barack Hussein Obama with its distinguished and highly coveted Man of the Year Award for 2016.
The award will be presented to the Obama at the CofCC's National Conference in 2017, barring unforeseen circumstances such as his criminal indictments for Treason, Fraud, Criminal Conspiracy, or Obstruction of Justice in the Hillary Clinton eMail scandal.
In the opinion of the CofCC's Board of Directors, the incompetence and utter dishonesty of Barack Hussein Obama did more to ensure the election of President Donald Trump than any other factor, including even the character defects of Hillary Clinton.
In fact, Barack Hussein Obama has done more to advance the causes of paleo-conservatism, nationalism and American Patriotism than even the combined efforts of Barry Goldwater, Ronald Reagan and William F. Buckley, Jr.
Obama's assaults upon the Constitution and Rule of Law, his subversion of our National Security, his utter incompetence in the realm of economics, and his endless lies have revealed the New Marxist Party (incorrectly referred to as "Democrats,") to be the treasonous and organized criminal conspiracy it truly is.
Moreover, the CofCC's Board of Directors wishes to emphasize its pride in being the very first organization to bestow an award upon Mr. Obama for which he is actually deserving.
DO YOUR KIDS GO TO PUBLIC SCHOOLS?
Documents obtained by Judicial Watch show the Internal Revenue Service (IRS) fast-tracked tax-exempt status for an "After School Satan Club" in Tacoma, Washington, while the federal agency was discovered to be either denying conservative and Christian groups the same status or making them wait for years.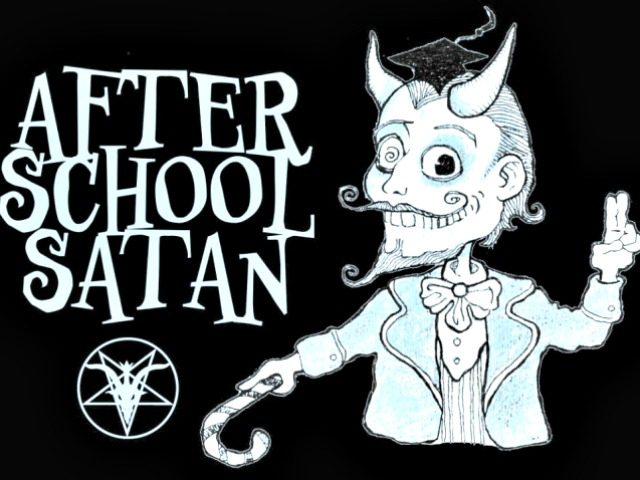 According to the watchdog group that uncovered the
IRS scanda
l during the Obama administration, the After School Satan Club at Point Defiance Elementary in Tacoma
applied
for its tax-exempt status designation on October 21, 2014 and received it only 10 days later on October 31, 2014.
Breitbart News
reported
in October of 2016 the announcement by the Satanic Temple of Seattle for its proposal of the After School Satan Club in the Point Defiance Elementary school:
After School Satan Clubs will focus on free inquiry, rationalism, science, and character building," the temple's
website
says, and continues:
All After School Satan Clubs are based upon a uniform syllabus that emphasizes a scientific, rationalist, non-superstitious world view.

While the twisted Evangelical teachings of

The Good News Clubs

"robs

children

of the innocence and enjoyment of childhood, replacing them with a negative self image, preoccupation with sin, fear of Hell, and aversion to critical thinking," After School Satan Clubs incorporate games, projects, and thinking exercises that help children understand how we know what we know about our world and our universe.
Judicial Watch reports Reason Alliance, based in Somerville, Massachusetts, operates as the Satanic Temple of Seattle with Lilith X. Starr as the director.
The group's documents show the parent permission form used for children to join the club "asks for the name of the child's church and pastor." Records also indicate that Starr told Carla Santorno, superintendent of the Tacoma school district, that After School Satan Clubs are led by "caring Satanists."
In October of 2015, the Obama Department of Justice
announced
that Lois Lerner and other IRS officials involved in the targeting of conservative groups' tax-exempt applications would not have criminal charges filed against them.
"Our investigation uncovered substantial evidence of mismanagement, poor judgment and institutional inertia, leading to the belief by many tax-exempt applicants that the IRS targeted them based on their political viewpoints," Assistant Attorney General for Legislative Affairs Peter J. Kadzik wrote in a letter to House Judiciary officials.
"But poor management is not a crime," Kadzik continued. "We found no evidence that any IRS official acted on political, discriminatory, corrupt, or other inappropriate motives that would support a criminal prosecution."
TO HELL WITH THE NCAA


James Bessenger and a group of Dixie Heritage Subscribers hoisted a BIG Flag mounted to the bed of a pickup that they parked on the top level of the parking garage during the NCAA tournament in Greenville on Sunday.
Bessenger, in a statement issued Monday, said his group intends to make an appearance at attractions in the state "until the State Legislature keeps its promise and the Confederate Battle Flag that was removed from statehouse grounds in 2015 is honorably displayed within the State Museum Confederate Relic Room as is prescribed by legislation."
Bessenger also said the group's message was directed at the NCAA, which "decided to inject itself into South Carolina politics by banning the state from hosting tournaments" until the flag was removed from statehouse grounds, where it had stood since 1964.

"We...are tired of seeing corporations and organizations attempt to bully Southern states into condemning their heritage and sacrificing the honor of their Confederate veterans on the altar of political correctness," Bessenger said.


Bessenger said the flag "has been co-opted and misused by individuals and organizations in the past to spread hatred, fear, intimidation, and inequality," and that his organization is as offended by those misuses. "That does not mean that we are willing to sacrifice the banner under which 20,000-plus South Carolinians and 250,000-plus Southerners of all races laid down their lives in service to their states."


"Soldiers don't fight for political agendas of governments," Bessenger said. "They fight because they are told to, just as soldiers do to this day."


The NCAA issued the following in response to the Flag's display: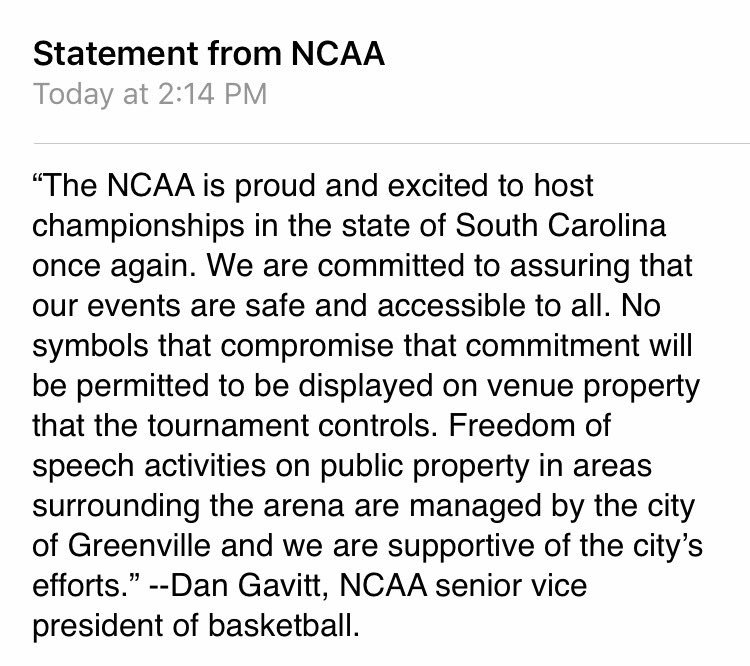 When asked by television reporters, South Carolina's Head Basketball Coach, Frank Martin, flat out said that he "does not like" the Confederate Flag and that he wanted it to be removed.

FIGHTING BACK IN VIRGINIA


Dixie Heritage Readers in Virginia are fighting the City of Charlottesville over City Council's decision to move a monument to Confederate Army General Robert E. Lee.


Councilors voted 3-2 on February 6 to move the statue of Lee out of Lee Park. They also unanimously voted to rename the park.


Descendants of its donor, Paul Goodloe McIntire, and sculptor are a part of this lawsuit against Charlottesville and City Council. Joining them in their lawsuit are The Monument Fund, Inc. and The Virginia Division of Sons of Confederate Veterans, Inc. and eleven individuals: Frederick W. Payne, John Bosley Yellott Jr., Edward D. Tayloe II, Betty Jane Franklin Phillips, Edward Bergen Fry, Virginia C. Amiss, Stefanie Marshall, Charles L. Weber Jr., Lloyd Thomas Smith Jr., Anthony M. Griffin, and Britton Franklin Earnest Sr. Their attorneys filed their lawsuit in Charlottesville Circuit Court Monday, March 20.


The plaintiffs' suit alleges Councilors acted beyond their authority and violated a State Law which prohibits removing monuments or memorials to war veterans:
That the Lee statue and the Jackson statue are Confederate monuments and memorials of the War Between the States protected by the provisions of Section 15.2-1812 of the Code of Virginia, 1950, as amended.
The lawsuit also argues Charlottesville is violating terms of McIntire's gift in 1918 of the land for Lee Park and the statue:


"Defendants [Charlottesville City Council] are required by law to protect and to preserve the aforesaid historic monuments."


Weber, one of the plaintiffs and an attorney, says he joined the suit in order to protect history and the law. "I believe that our history is what it is. We don't change it. We have to deal with it, and we have to come together to deal with it," he said.


Don Gathers, who chaired the Blue Ribbon Commission on Race, Monuments and Public Spaces, said that he expected their decision would face a legal challenge and the City is prepared to fight for the monument's removal.
SOUTH CAROLINA WITCH HUNT?
The South Carolina political consulting firm of

Richard Quinn and Associates

(RQA) is under investigation for "corruption." It would appear that the reason for this investigation is because Quinn, who advises numerous politicians and government agencies, is a strong advocate of Southern Heritage and the Confederate Flag. Just last week he was named in a three-count indictment of veteran Senator

John Courson

. Prior to that, Quinn was reportedly summoned to appear before a statewide grand jury convened by special prosecutor

David Pascoe

. Also Quinn and his son, State Representative

Rick Quinn

, were named in the pages of the State Law Enforcement Division (SLED) report that started this witch hunt.
Former Governor Nikki Haley is not being kept busy enough in her post at the United Nations because according to news reports, she began calling on Wednesday for an indictment of Quinn who was called a "neo confederate."
FEDS FEED HUNGRY MOB ANOTHER CONFEDERATE
Joey Meek, age 22, attended High School with Dylann Roof. His crime, according to US District Judge Richard Gergel, was having been Roof's friend. And for that crime, "Judge" Gergel has sentenced him to 27 months in prison for "failing to report a crime."
According to FBI reports, Roof, while high on Cocaine and drunk on Vodka, may have mentioned to his former school friend that he was planning on shooting black people. his plan as they drank vodka and snorted cocaine a week before the killings.
Meek admitted two federal charges of lying to the FBI in interviews shortly after the shooting and failing to report a known crime.
Last year, Prosecutors chose not bring charges against Meek for failing to warn them of Roof's plans because Meek had cut a deal whereby he had agreed to help prosecutors. Help that the same prosecutors have repaid by deciding to, "make an example of him," upon discovery that Meek is a supporter of the Confederate Flag. The Federal Government also asked for a longer sentence than guidelines recommend.
Meek's lawyer, Deborah Barbier, is using the situation to call for increased gun control. According to her, by failing to finish a background check when Roof went to buy the gun he used, as he had a pending drug charge, he should have been prevented from getting the weapon.
ARKANSAS OFFICIALLY DUMPS ROBERT E. LEE
Arkansas' governor, Asa Hutchinson, signed legislation Tuesday ending the state's practice of commemorating Confederate Gen. Robert E. Lee on the third Monday of January.
Hutchinson championed the bill, which also expands what is taught in schools about "civil rights," saying it will unify the State and improve its image. His signature comes two years after similar efforts failed before a legislative panel, with critics saying it belittles the state's Confederate heritage.
Despite reports that Lee would receive a day of his own on the second Saturday in October, Lee will NOT be receiving a State Holiday in Arkansas.
Arkansas has had a holiday in honor of Lee since 1947.
Alabama and Mississippi are now the only states that still observe the Lee State Holiday on the third January of January. Arkansas' officials are already encouraging a proposal is pending in the Alabama Legislature to end that state's holiday in January and merge the commemoration of Lee's birthday to Confederate Memorial Day, which Alabama celebrates as a state holiday in April. The measure has yet to clear a legislative committee.
No bills to end the dual holiday were filed in Mississippi this year.
CALL YOUR GEORGIA REPRESENTATIVE
In Georgia, House Resolution 644, was introduced this week by State Rep. Tommy Benton. The measure would formally declare April 26 as Confederate Memorial Day.
His proposal, which is not expected to gain any traction in the final days of the legislative session, makes no mention of slavery or the phrase "Civil War." It just recognizes the conflict as a "four-year struggle for states' rights, individual freedom and local government control."
"We just elected a president that said he was tired of political correctness. And so that was the reason that we were looking to introduce the resolution," Benton said in a statement. "We think that our heritage is just as important as everybody else's."
Francys Johnson, the president of the Georgia chapter of the NAACP has called on Gov. Nathan Deal and other state leaders to publicly oppose the measure.
Georgia politicians from both parties have largely avoided entering a debate about Confederate heritage. And the State has steadily moved to cut official ties with its Confederate past, including the State's annual celebration of Confederate Memorial Day, which they quietly erased from State calendars two years ago.
For decades, the fourth Monday in April was known in Georgia as Confederate Memorial Day. But Governor Deal quietly struck that name, as well as Robert E. Lee's birthday, from the State's official holiday calendar in 2015 and replaced them with a more neutral title: "State Holiday."
Sculptures and paintings of Confederate leaders in the Statehouse are also facing fresh criticism.
Rep. Benton, a former schoolteacher and an unapologetic supporter of Georgia's Confederate heritage, has earlier backed measures to protect State monuments.
What Would Patrick Henry Say Today?
by Dr. Chuck Baldwin
On this day in 1775, Patrick Henry delivered the most famous speech ever given on American soil. It was his immortal "Give Me Liberty Or Give Me Death" speech. He gave the speech to the Virginia House of Burgess in Richmond. The question before the delegation was whether the Colony of Virginia would join the fight for independence from Great Britain.
Toward the beginning of his powerful presentation, Patrick Henry said:
"Mr. President, it is natural to man to indulge in the illusions of hope. We are apt to shut our eyes against a painful truth, and listen to the song of that siren, till she transforms us into beasts. Is this the part of wise men, engaged in a great and arduous struggle for liberty? Are we disposed to be of the number of those who, having eyes, see not, and having ears, hear not, the things which so nearly concern their temporal salvation?


"For my part, whatever anguish of spirit it may cost, I am willing to know the whole truth--to know the worst and to provide for it."


Indeed, awakening people to "the whole truth" is in large part what must take place before any people can be sufficiently motivated to fight for liberty. And that is not nearly as easy as it sounds. Truth can often be as Henry describes it: "painful."


It is very painful to wake up and realize that the vast majority of what our government tells us is false. It is very painful to wake up and realize that the vast majority of what our national news media tells us is false. It is very painful to wake up and realize that what the vast majority of our pastors and preachers tell us is false.
It is very painful to wake up and realize that the United States has not fought a constitutional war since World War II. It is very painful to wake up and realize that the United States, Israel, and Saudi Arabia are the aggressor states in the Middle East, NOT Russia, Iran, and Syria. It is very painful to wake up and realize that much, if not most, of our country's military endeavors have almost nothing to do with protecting the lives, security, and property of the people of the United States, but have almost everything to do with protecting and expanding the financial interests of the global/corporate/banking elite.
And it is very painful to wake up and realize that most of the so-called crises in both domestic and international affairs are completely manufactured and concocted by the very same government that comes charging in on a white horse to ostensibly solve the crises. Let me say it plainly: our federal government spends trillions of taxpayer dollars and thousands of American lives fighting wars, conflicts, terrorism, and crises OF ITS OWN MAKING.
Once in awhile, a local newspaper or television newscast will do a bit of independent, objective journalism and shed a little light of truth amidst the gargantuan darkness of a controlled press. It doesn't happen very often, and usually when it does, the poor little publisher, editor, or manager will find themselves quickly out of a job. But whether it's a complete accident (you know, some naïve journalist or editor thinks he or she is supposed to be an objective, honest investigator and proclaimer of truth) or whether it's a sudden act of raw courage, sometimes a story leaks out that shows the "painful truth" that Patrick Henry talked about. Such a story came out of Kansas City recently.
According to The Kansas City Star, the vast majority of so-called foiled terrorist plots in the U.S. were actually contrivances of the FBI. The plots invoking the name ISIS or Al Qaeda were actually the invention of FBI agents carrying out elaborate sting operations.
Reportedly, in recent terrorism investigations in Wichita and Kansas City, the alleged terrorists were unknowingly following the directions of undercover FBI agents who supplied fake bombs and came up with the key elements of the plan.
And listen to this: of 126 ISIS-related cases prosecuted by federal authorities across the country, almost two-thirds involved undercover agents or informants.
See the report here:
FBI Undercover Stings Foil Terrorist Plots - But Often Plots Of The Agency's Own Making
And did I mention that the FBI actually took over a child pornography website for several weeks using the photos and videos of real children? Well, it did. In fact, while the FBI was distributing the child pornography, they actually upgraded the site by making it faster and more accessible. The FBI distributed at least 48,000 photos and 200 videos of child pornography. Imagine if one of those images was a photo or video of YOUR child. Imagine! A federal law enforcement agency that ostensibly is dedicated to protecting American lives--especially children's lives--sexually exploited thousands of little boys and girls--all under the rubric of catching pedophiles, of course. But by sexually exploiting these little children, I contend those FBI agents did in fact become pedophiles themselves. But they carry badges, so that makes it okay. And if you don't believe what I'm telling you, look it up for yourself.
And did I mention that FBI and ATF agents sold arms to Mexican drug cartels that wound up using those arms to kill innocent civilians on both sides of the border as well as U.S. Border Patrol agents? Well, they did. And, oh yes, the money used for these illegal and immoral weapons transfers came out of the FBI's annual taxpayer budget. Of course, not a single agent from the ATF or FBI was ever held to account. Again, look it up for yourself.
And did I mention that FBI agents gunned down innocent Branch Davidians, including elderly men, women, and children as they fled the burning buildings (fires that the FBI started) near Waco, Texas? As horrific as it sounds (and is), that is exactly what they did. And again, not a single agent was brought to justice.
And did I mention that an FBI sniper shot Vicki Weaver in the head while she held her little baby in her arms as she stood in the doorway of her own kitchen? (This happened near Ruby Ridge, Idaho.) Well, he did. And the dog who lined this young mother up in his high-powered scope, and as cold as a Great White Shark squeezed the trigger, was never held accountable. He was initially charged with involuntary manslaughter in State court, but a federal prosecutor successfully had the case moved to federal court where the charge was summarily dismissed.
This follows the pattern that the CIA uses globally. The CIA--along with covert agents from Israel, Saudi Arabia, and Great Britain--uses fake Muslims to create terror groups such as ISIS and Al Qaeda. Some of the terrorists are paid mercenaries with absolutely no religious persuasion one way or the other; others are Arabs and Muslims who are sick and tired of seeing their loved ones killed and maimed in relentless bombing raids and drone attacks by the U.S. and Israel and are, therefore, easy targets for CIA and Mossad agitators to recruit into terrorism; and others are mentally unstable CIA stooges.
Regardless, the arms, equipment, intelligence, plans, etc., being fed to Middle Eastern terror groups come straight out of Langley, Virginia. Washington, D.C., needs the war on terror as justification for building its military/industrial/surveillance complex (aka the domestic Police State and global "New World Order").
I also suspect that the vast majority of the mass shootings in the U.S. are likewise concocted and carried out by stooges of the CIA and FBI.
One of the best things that could happen for the future peace and happiness of the people of the United States (and world) would be for the CIA and FBI to be completely disbanded. These are totally unconstitutional agencies to begin with. If one wants to "drain the swamp," that would be a good place to start. But why stop there?
If we truly want to "Make America Great Again," we would also shut down the BLM, ATF, DEA, Department of Education, Department of Energy, Department of Transportation, OSHA, EPA, HUD, the Commerce Department, HHS, the Department of Labor, EEOC, FEMA, FHA, FDA, GSA, and, of course, the IRS and Federal Reserve.
And while we are at it, we should close the vast majority of the 800 U.S. military bases in at least 160 countries all over the world (source: military scholar David Vine; by contrast Britain, France, and Russia have about 30 foreign bases combined, according to Vine), and bring our troops HOME--which would mean we wouldn't need to spend HALF of the entire federal budget on entangling alliances, Deep State assassinations, regime changes, goading nations into wars-for-profit, nation-building, and fighting wars of aggression.
The painful truth discussed in this column is just the tip of a very large iceberg. I wonder what Patrick Henry would say today.
In talking to Cuban pastors this week I've discovered that there are more Cuban people aware of their Confederate ancestry than you would ever think. We look forward to meeting them in May!
We have received donations of 2 iPads and a smart phone this week but continue need actual cash in order to reach our goals for our upcoming trip to Cuba.
Would you prayerfully give $25 to the Cuba Project today?
Give $25 to the Cuba Project:
Southern Heritage - Then and Now
Seldom does he open his mouth that something profound is not forthcoming. This was no exception. Our friend, Dr. Clyde Wilson, gave this brilliant talk back in 2003 at a banquet in North Carolina:
As the direct descendant of a private in the 42nd North Carolina and a sergeant in the 20th North Carolina, I am honoured to talk to a group descended from notable officers in our War of Independence-or the War to Prevent Southern Independence, as I like to name it.
Nobody gave me any orders as to what to talk about, which is a happy situation. I am going to talk about "Southern Heritage Then and Now," about the place of Southern heritage in American life.
We all know that before and during the War and during Reconstruction and for years afterward, our ancestors were officially the demons of American history. We were the evil people who tried to "destroy the greatest nation on earth" because of our lust for slavery. This is easy to believe if you start out with the assumption that everything Yankees do is always righteous and that, obviously, any people who don't want the inestimable blessing of being governed by Yankees are by definition bad people.
There were always decent Northerners who decried this bloody-shirt mentality. It was, interestingly, the Northerners who had actually fought in the War who wanted to treat defeated Southerners with respect and to do what they had fought for-restore the American Union-rather than continue to oppress, exploit, and slander the South.
Joshua Chamberlain at Appomattox saluted the defeated. He later wrote of the Confederates: "There stood before us ... the embodiment of manhood, men whom neither toils and sufferings, nor the fact of death, nor hopelessness could bend from their resolve." And he remembered his feeling was not of triumph but rather that all Americans should fall down on their knees and beg forgiveness.
Another hard fighting Union soldier, Ambrose Bierce, was enraged by a Republican orator who wanted to prevent the decoration of Confederate graves. He wrote these verses:
The brave respect the brave. The brave

Respect the dead; but you-you draw

That ancient blade, the ass's jaw,

And shake it o'er a hero's grave.
But such generous foes then were a minority.
In the 1890s, things began to change. A truce was called to which most Northerners and Southerners subscribed in good faith. It was symbolized by Charles Francis Adams, Jr., who in 1907 made a speech on the centennial of R.E. Lee's birth called "Lee, the American." This speech was delivered in Boston and Charleston and others places. (Charles, Jr. was the only one of the Adamses who actually fought in the War, by the way.)
The truce was also symbolized by Fitz Lee and Joe Wheeler and many Southern volunteers joining up for the war with Spain and by joint reunions of Union and Confederate veterans. And by D.W. Griffith, the genius of early American cinema and son of a Confederate soldier, who produced The Birth of a Nation, which combined a sympathetic account of Southern experience with an admiring portrait of Lincoln.
The terms of the Truce went something like this. Northerners agreed to stop demonizing Southerners and to recognize that we had been brave and sincere and honourable in the War, although misguided in trying to break up the Union. Northerners agreed also that Reconstruction was a great wrong that would not have happened if Lincoln had lived. And they willingly accepted Confederate heroes like Lee and Jackson as American heroes.
For our part, Southerners agreed, in exchange for a little respect, that we were glad that the Union had not been broken up and that we would be loyal Americans ever after, something which we have proved a thousand-fold since.
And both agreed that the War had been a great tragedy with good and bad on both sides, a great suffering out of which had emerged a better and stronger United States.
The Truce held pretty well for a long time, til past the middle of the 20th century. I have seen a photograph of Franklin D. Roosevelt making a speech before a huge Confederate battle flag. Harry Truman picked the romantic equestrian painting of Lee and Jackson for the lobby of his Presidential Library. Churchill wrote admiringly of Confederates in his History of the English Speaking Peoples, and Gone with the Wind, book and movie, was loved by audiences worldwide.
If you look at the Hollywood movies and also the real pictures from World War II, you will see battle flags painted on U.S. fighter planes and flying over Marine tents in New Guinea. Well, my friends, that truce is over.
Let me tell a few stories from recent history. George W. Bush, while governor of a Southern state and running for president, sent his henchmen in the middle of the night to remove two harmless UDC plaques from a state office building. Governor Pataki of New York banned the true Georgia flag from the display at the state capitol.
More recently, Vice-President Cheney refused to come to the funeral of a longtime respected Congressman if that Congressman's wishes to have a Confederate flag and "Dixie" at his funeral were followed. The Secret Service was on hand to make sure that the V.P. was not embarrassed by any display of evil symbols of the Confederacy. (Nevertheless, a few months later, he came back and South Carolinians gave him a dinner at which they contributed $300,000 to his campaign chest.)
These are not leftwing multiculturalists. These are so-called "conservative" Republicans. These are people who could not have been elected without the votes of Confederate descendants.
I could spend the rest of the month talking about the total unconditional surrender of Southern institutions to organized hatred of the South. Right now, there is a carpetbagger who holds an endowed chair in history at a major Southern state university who teaches that America would be a better place if Southerners had been exterminated at the end of the War. Another carpetbagger in another endowed chair in history in the South teaches that so-called Southern honour was nothing but crude, violent suppression of dissent. Another teaches that Southern women did not really support the War and their menfolk, but were in secret rebellion against the white male ruling elite. Another teaches that every favourable thing we believe about our ancestors' courage, skill, and honour is a "Lost Cause Myth," a pack of lies made up after the War to cover up our evil and failure.
When the Confederate flag controversy was raging in my state, some 90 historians in the state signed a statement which said that the Confederate flag represents slavery7 and nothing but slavery, and that this is not an opinion but is a "fact" established by their expert knowledge. The unstated premise was that South Carolinians are deluded about our own history and need to be corrected by wiser people. What they are really saving is that we should discard our history and accept their myths.
Of course, many of these historians were in other fields and knew nothing about the War. Some were recent imports from strange places like Burma or California. Their position did not rest on study and knowledge. It is a party line that you must agree to, to be a member of the club of so-called "experts," an officially proclaimed "truth" not too different from what used to pass for history in the late Soviet Union.
But my main point is: The Truce is over. Those times are gone. gone. gone. Yet many of those who are charged with the defense of our heritage are living in a dream world, pretending that it is still 1950. The breaking of the truce has nothing to do with us. We did nothing to cause it. We kept our part of the bargain. It has happened because they have changed and they are in a mode which requires them to scapegoat us-and not for the first time in history.
We have been for several years now fighting brush fires instead of realizing that we are in a war-a cultural cold war with an enemy who wants us dead. Our Confederate heritage is being banished to a dark little forbidden corner of American life labeled "Slavery and Treason." And incidentally, all the vast admirable contributions of Southerners to American history over four centuries are redefined as "American" and not really "Southern."
The people who are after our heritage are not folks we can win over by presenting historical evidence and assuring them that we are good, loyal Americans free of hate. They could not care less about truth or heritage. In fact, they don't even know what we are talking about when we speak of honouring heritage, that is, respecting our forebears. We are not in an argument over the interpretation of the past. Our very identity as Southerners-today and tomorrow, as well as yesterday-is at stake.
If I am right, what should we do? First, I think, we need to embrace and claim all of Southern history, from Captain John Smith and Pocahantas right up to this moment. The four years of war, as important as that is, is only a part of the long and continuing history of Southern people. The SCV summer camps are a great idea. So is the "Lincoln Reconsidered" conference recently sponsored by the Virginia SCV and the Abbeville Institute summer schools. We need many more such events where respectable scholars can be mobilized to challenge theirmythology. We ought to commission a thorough, comprehensive documentation of Union army atrocities, which are now being played down as insignificant, and perhaps mount a campaign for reparations -for after all. Southerners are a people who have been, and still are being, economically exploited through the whole existence of the United States.
But most of all, we need to reorient our thinking and fight this war rather than the last one. And I must say that many of those Southerners who have the most power and influence have betrayed the Southern people and left the real fight to be carried on by blue collar Southern white males, who have less public power than any group in the United States today. We need action from Southerners who have influence, who make campaign contributions, who can call up governors and state legislators and newspaper editors and put on some real pressure.
In one of the greatest of all war films, the 1964 Zulu, there is a scene just before a few hundred British soldiers are attacked by thousands of war eager natives. An anxious young soldier asks: "Why us?" The veteran unflappable old sergeant-major replies: "Because we're here, boy, that's why." We are here. If we are going to save our heritage as a part of American life, it will have to be done by us. After us, it will be too late.
SOUTHERN BAPTISTS FOR SOUTHERN HERITAGE
As a leader of the Southern Baptist Convention, Russell Moore is a theological liberal who chairs the denomination's Ethics and Religious Liberty Commission. Moore evades detection as a liberal by constantly changing the definition of what qualifies one to be a conservative. But the evidence should be clear to any discerning person if for no other reason than that Moore has long been a critic of the old-school religious right.

His recent missives regarding immigration and the promotion of Islam under the guise of "religious Liberty" reveal his vision to transform American Protestantism into a collection of social gospel agencies using federal dollars to transport infinite numbers of dangerous refugees under the guise of "missions."

For some time now Moore has come under fire from conservatives within the Southern Baptist Convention for an array of alleged misdeeds, including the fact that he had once worked for a Democratic member of Congress. As one critic put it last year on a popular Baptist blog, "Is it a Southern Baptist value to support a partisan of Nancy Pelosi?"

In a speech he delivered in October, he condemned Christians for being too closely aligned with the Republican Party.

Moore's critics have also accused his defenders of unfairly injecting race into the mix and say his tone is what's of most concern. Moore sides against southerners and whites wherever he can. Calling it "prophetic clarity, Moore seems to especially enjoy "shaming" southerners who are white and whites who are southerners.

Moore's frequent judgments of evangelical culture and politics have been excessively personal and "snide," especially in regard to Trump.

"When Dr. Moore wasn't engaging in snide comments about Donald Trump, he was busy insulting evangelical voters who supported the now president-elect," an Alabama-based blogger wrote in December. "Clearly, he attacked evangelicals who voted for Trump and insinuated they were less Christian."

Opponents of Moore have long accused him of collaborating with George Soros, a billionaire known for his donations to left-wing political causes. A recent report has suggested that Moore ais being financed by a George Soros front group called Evangelical Immigration Table.

While telling Southern Baptists that they should focus their entire attention on local church ministry and not politics, Moore is actively lobbying government for unrestricted immigration, refugee numbers that would make Hillary wet herself, and Black Lives Matter, all things that the overwhelming numbers of Southern Baptists giving to the cooperative program that pays his salary oppose.

During the election, rather than doing his job of lobbying the government for the interests of Baptists (religious and non-religious) and endorsing the candidate most likely to listen (Trump), Moore spent the entire 2016 campaign moralizing about Donald Trump's sex life. And making it up! In other words, he was accusing the candidate and then the president-elect of having done things that he simply had not done. The goal of his gossip and lies was to suppress turnout of one of the GOP's most solid voter blocs so that Hillary Clinton would win, but the dirty tricks from this dusty playbook didn't work this time around. Evangelicals voted in multitudes for Trump, much to the dismay of Moore's handlers.

The planned Jeb Bushization of conservatism fell through thanks to Trump's 11th hour save. Now that religious people feel like they have a friend in the White House, a number of Churches that donate to the SBC are boldly standing up to Moore who has recently escaped with his job by the skin of his teeth.

The Executive Committee of the Southern Baptist Convention has received a wave of criticism directed at Moore. A few hundred churches have threatened to hold back funding from the denomination's Cooperative Program. Two very large churches have already done so.

This has prompted Moore to issue an "apology" to Southern baptists this week. We will not waste time with it because if you really want to read his pathetic excuse of an apology you can do a BING or GOOGLE search for it.

What I do want to call attention to is the response of a Missouri pastor, Josh Hall: "While issues with the ERLC run deeper than just the election, and while these issues need to be addressed along with a broader discussion of whether or not the ERLC is necessary...I am praying for Dr. Moore and all those in leadership in the SBC."

The part I want us to consider is the, "broader discussion of whether or not the ERLC is necessary."

I have been saying that for years!

Moore's predecessor at ERLC was Dick Land. Conservatives, Fundamentalists, Bible Believers, traditionalists, and heritage advocates within the Convention had similarly objected to Dick until the Convention leadership could not save themselves any other way but to throw him under the bus - and thats how we got Russ Moore!

I am definitely not advocating that we keep Moore. But maybe, rather than saying we will withhold our cooperative program giving until he is fired (or resigns), maybe, just maybe, or should I say definitely, we should withhold support until the ERLC is simply dismantled and the money used to finance it reallocated to something that actually means something - like church planting. I'd say Baptist history but we only know that they'd just give that job to another set of liberals who would otherwise be unemployed by the ERLC dissolution and God forbid we let them screw up the documentation and presentation of our history any more than they already have!




ORGANIZING A SOUTHERN POLITICAL PARTY

This past week we have been laying some more groundwork. We are asking that you CONTACT US if you would be interested in joining or volunteering in a Southern Political Party.




Use
this link
to see our Heritage items, books and more
@ Amazon.com
- the prices
@ Amazon
will not be discounted but this link will give you the convenience of shopping through Amazon.

Church Sign is Politically Incorrect-But True
by Al Benson Jr.

We've all seen those newsy little sayings on church signs around the country. Although some of them are cute, they often don't say an awful lot. Unfortunately, this has become a characteristic of many churches in our day-they don't say an awful lot. We get lots of "be nice and don't offend anyone" balderdash, the sort of thing our Lord Jesus gave the lie to when He chased the money changers out of the temple, where they had set up shop in the Court of the Gentiles.

Recently, I read an article about a church in Hood River, Oregon that seems to be giving the local Muslims fits. Hood River is a small town between Portland and The Dalles (but closer to The Dalles). The article was from February 27th of this year. The Missionary Baptist Church in Hood River has a sign out front that says: Wake up Christians. Allah is not our God. Muhammad is not greater than Jesus. The sign also says Only the Bible is God's word. holy book Qur'an is just another book.

In checking back, I found that this sign has been in front of this church since sometime in the Spring of 2016, so this is not a new development. What's new, (and refreshing) is that the pastor of this church, Michael Harrington, does not profess to be politically correct (culturally Marxist). Pastor Harrington has said he has never claimed to be a devotee of the politically correct mindset. He said "I think I'm Biblically correct, and that's what matters to me." What's more, Pastor Harrington has not taken the sign down and it has been there now for probably a year now. This seems to have bothered some of the locals whose spiritual roots might be open to question.

Given the apostate age we live in, there are many who continue to be "offended" at what Pastor Harrington put up and has left up on his church sign. A local resident on a bike ride noticed the sign and commented that it "profoundly offended" him. If telling the truth on a church sign "profoundly offends" him, then I guess you can tell where he is at. And even the local mayor has not seemed to believe in the pastor's First Amendment rights. He has called the sign "a solid case of ugly." Kind of makes you wonder what they have for town government in Hood River. Almost makes me wonder if the mayor has, at some point, converted to Islam. I wonder, would the mayor have made such a fuss if there were a sign in front of the local mosque that said that Allah was God and not Jesus? I'd be willing to bet that wouldn't have bothered him. Since Pastor Harrington has, up to this point, refused to take the sign down, I guess the local population will just have to struggle through life seeing a sign proclaiming Jesus as God at Pastor Harrington's church. I really hope they can manage. Coping is so hard when you deny the truth.

I wonder, how many churches around the country would have scrambled to take the sign down posthaste if it offended anyone except Christians. It seems that it's okay to offend Christians. It's always open season on them and they are always in the cross hairs. I have known Christians around the country who don't want to "offend" anyone and so they take great strides (backwards) to get away from anything that might proclaim Christian truth, lest that truth "offend" some unbeliever somewhere. Quite frankly, their passiveness in regard to those who willingly assault their faith offends me!

Jesus Christ offended lots of people during His earthly ministry, chief among them being the religious leaders of Israel who were more into the Talmud than they were God's Law.If you think Jesus came to earth to be "Mr. Nice Guy" take a look at Matthew 10:34, or the entire 23rd chapter of Matthew. Then begin to realize, and let it sink in, that it was the spiritual leaders of Israel that plotted to put Him to death. Oh, they got the Romans to do the deed, but the idea was their baby, not Rome's.

Christian truth will always offend those who don't want to believe it. That's just the way it is. The pastor at our church says that if you are not offending someone then you are probably not doing anything. He's right. That doesn't mean that we go out of our way to be offensive but I think we need to be more concerned about speaking the truth in love than about offending those who will not believe, no matter who they are.

ADVERTISE IN DIXIE HERITAGE
For a limited time, we are offering single-insertion banner ads like the one below for just $9. And you can pick the week of insertion. So you can order the ad now, take advantage of the special price, and we will wait to insert the ad on the week of YOUR choosing.
Order a 1-week single insertion banner ad:
The banner below was purchased by one of our readers. How would you like to have a banner to raise awareness for your group or service? Dixie Heritage banners can reach over 5,000 people per week.
Matt Walsh submits the following:
A new study has been released showing that a majority of Americans are in favor of female pastors and priests. Of course, this isn't at all surprising. It's been a while since Scripture has enjoyed popular support in this country. There are probably more Americans studying "50 Shades of Grey" every night than the Bible, so you can't really expect the mass of people to have a biblically literate view of things.


Still, the topic is worth a little attention because, breaking the numbers down, it's revealed that over 70 percent of mainline Protestants support female pastors, while 80 percent of Catholics feel the same way. A full 62 percent of those who identify themselves as "practicing Christians" are on board with ignoring clear Biblical teaching on this topic (and many other topics). Only Evangelicals are, as a majority, in favor of sticking with the precedent set by Jesus and Paul and Adam and the prophets and the Church Fathers. But even in their case, it's not a very large majority.


And why have all of these "practicing Christians" come down on this side of the question? They certainly didn't arrive at it from consulting the Bible or thousands of years of Christian tradition, both of which are unmistakably clear. Let's do a quick review:


Going back all the way to the beginning, Adam was formed before Eve. He was given dominion over the plants and animals. He was entrusted with this authority before Eve came onto the scene. She was created as Adam's "helpmate," to be his aide and his companion, not his spiritual teacher or authority figure. Much later, in his letter to Timothy, Paul uses this as one of the justifications for disqualifying women from pastoral positions. He explained that the Church adheres to the order of creation, which has put man at the head from the start.



Passing all the way through the Old Testament we find not a single instance where a woman was in a position of teaching or instructing a group of men in God's Word. And did Christ overturn this order when He came to Earth? No, He followed it. All 12 of His apostles were men. This, in spite of the fact that some of his most loyal and faithful followers were women. And let's not forget the seemingly related detail that He, Himself, is a man. He didn't just take on the appearance of a man, like some alien shapeshifter assuming an Earthly form. He was fully man and fully God. This is relevant for obvious reasons.


Recall that the word "pastor" is from the Latin for shepherd. Christ refers to Himself repeatedly as the Shepherd, meaning that He was the first and ultimate pastor; the pastor at the head of all pastors. So we have the first Shepherd, a man, selecting shepherds, all men, to lead His church in His place after He ascends to Heaven. Those shepherds then delegated that authority to other men. Paul addressed the issue specifically, stating multiple times, particularly in First Timothy and First Corinthians, that women are not to be the leaders of churches.


And if all of this is somehow not conclusive enough for us, we are also told that the family is the domestic church, and as the domestic church it is supposed to reflect the Church. In that domestic church, the man is put at the head, which is explicitly prescribed in Ephesians 5. In this passage, Paul links the family and the church, explaining that the former should model itself after the latter. Then again in First Corinthians he makes the case about as straightforward as it can be:


"The head of every man is Christ, the head of a wife is her husband, and the head of Christ is God."


To put the woman at the head of a the man is to subvert the order established by God, manifested by Christ, explained by Paul, affirmed by the Church Fathers, and basically adopted by all of Christianity up until a few decades ago.


Does this mean that women are unimportant or incidental to the life of the Church? Not in the slightest. After all, Christ came to Earth through the body of a woman. He performed His first miracle at the behest of a woman. It was a woman who came and wiped the blood and sweat from Christ's brow as He carried His cross up Calvary, even as many of His closest male followers ran away and denied Him. Women are the ones who first learned of the Resurrection. There are many examples just like this in Scripture. Women played an integral and indispensable part in Biblical times, in the early Church, in the modern church, and, of course, in the domestic church. Christianity has from always extolled the beauty and dignity and power of womanhood. Scripture speaks of the equal worth of women about 1,900 years before feminists claimed to be the first ones to discover it.


Women have a crucial and utterly necessary role to play in the church and the family, but what they don't have is the same role. A man, no matter how hard he tries, can never conceive life within himself and bring it forth into the world. That is a duty and an honor given exclusively to women. Likewise, no woman, no matter how enlightened and progressive she may be, can overturn the order of creation and install women at the head of men. That is a responsibility given exclusively to men, and so it always will be, no matter how our culture feels about it.


So, with that all established, I ask only one question of the "practicing Christians" who would overlook or deny the order created by God and confirmed by His Son and passed on by the Apostles: Why?


Allow me to suggest a possible answer: hubris.


There are many Christians who believe that we, somehow, are more enlightened than the various Biblical figures who espoused views that offend our modern sensibilities. They even think themselves more enlightened than Jesus Christ. I wish I was being hyperbolic there, but I have heard with my own ears, countless times, as Christians have explained that Our Lord was beholden to the "cultural norms" of the time.


This shouldn't need to be said, but apparently I must: Jesus Christ was not beholden to the habits and customs of human beings. There was no "cultural bias" that He was unable to see through. He did not conform to the culture. Rather, He commands that we conform the culture to Him.


Something else that shouldn't need to be said: It is an essential Christian belief that the men who wrote the various books of the Bible were guided by the Holy Spirit. Therefore, to say that Paul was a "sexist" blinded by his misogyny when he instructed women to submit to men, is to say that the Holy Spirit is a sexist blinded by misogyny. Or it is to say that the Bible is not, in fact, the inspired Word of God. But if that's the case, why are we even talking about women pastors? If the texts that prohibit women pastors are not legitimate, there's no reason to believe that the Bible itself is legitimate, which really renders the whole pastor discussion moot.


But this is all academic, I suppose. The popular support for something like women pastors is not rooted, for most people, in any kind of deep meditation over questions of exegesis or biblical infallibility. It stems, I think, from the instinctive feeling that we here in modern times are more enlightened than those who came before us. We are more enlightened simply because we exist now and they existed then. Now is right because it is now. Then was then, which makes it less right.


We can't see that it is we - not Christ, not Paul - who are beholden to cultural norms. We are so beholden to them that when our norms and God's norms differ, we side with our norms. Our norms aren't just norms to us. Our norms are the new Gospel. They are infallible in our minds not because they were spoken by God, but because they were spoken by us.


It's no wonder that every church that now endorses gay marriage and abortion also has female pastors. It's not that a church must have female pastors if it also has homosexual marriage, but that to allow female pastors is to place our cultural norms over the authority of Scripture. It's to say that on this topic we know more than the Bible. We have a deeper and fuller understanding than the Apostles and the Church Fathers and even Christ. But if we begin to go down this road - if we start to believe that the popular view is truer than the Biblical view on any topic - it's not long before we come to that conclusion on every topic where the two views diverge (which is almost all topics).


The other problem is that we've basically disqualified every Biblical teaching if we've decided that there's not enough in Scripture to support a prohibition on women pastors. If all of the things I just outlined don't meet your burden of proof, tell me: what teaching does meet it? Do you demand that, in order to believe something, Christ must have plainly said it Himself in words that apply with exact specificity to modern times? If so, a great many Christian teachings no longer apply (which is part of the point), and every book of the Bible that is not one of the Gospels must be discarded. But wait. Do you actually accept the teaching that Christ did specifically and explicitly verbalize from His own mouth? I'm guessing not, because every church that allows women pastors also allows divorce and remarriage. Remarriage is one of the few things that Christ did actually prohibit in clear and unmistakable language: "Anyone who divorces his wife and marries another woman commits adultery, and the man who marries a divorced woman commits adultery."


You don't get any clearer than that, do you? Yet "practicing Christians" in this culture are even more accepting of remarriage than they are of women pastors. It turns out that even Christ's own words are not enough for us. We have put the entire Bible up for a vote, and determined, by majority rule, that almost all of it no longer applies. We have no actual Biblical justification for this. We simply refuse to accept teachings that contradict our own cultural biases. And seeing as how they all contradict our cultural biases, we have effectively done away with the whole thing.


Unfortunately for us, however, the universe is not ruled by a democracy. Our opinions mean absolutely nothing in the grand scheme. All of creation is ruled by God and God alone. He is the one King, Lawmaker, and Judge. We have no say in any of this. There are no referendums or recall votes. He has not and will never consult us on this or any topic. He has spoken. And what He has spoken is automatically right, whether we like it or not.


Some 1,000 re-enactors are expected this weekend for the Siege at Bridgeport, the largest Civil War re-enactment in Alabama. Now in its 22nd year, the event features battles, anvil shoots, a ladies tea and a period ball during its two-day run Saturday and Sunday.


Re-enactors will travel from as far away as Kentucky, Virginia, Florida and even England to take part, according to Glenn Hill, one of the organizers.


The town of Bridgeport, founded in the late 1840s, was a key strategic site during the War Between the States, owing to its location on both a rail line and the Tennessee River. The area saw major skirmishes on April 29 and Aug. 26, 1862, and numerous smaller actions. In the latter part of the war, Bridgeport became a major shipyard, building gunboats and transports for the Union Army.


The re-enactment takes place on one of the original skirmish sites in Jackson County, just outside the city limits. Public camp tours begin at 10 a.m. CDT. Anvil shoots, in which a 100-pound anvil is shot more than 100 feet into the air, begin at noon each day. Battles begin at 2 p.m. and last about an hour.


Sunday's festivities start with a church service and a memorial to the soldiers buried in the Williams Family Cemetery, one of the older cemeteries in Jackson County.
SUPPORT THE ONGOING BATTLE TO ADVANCE "THE CAUSE"
Your direct donation of even the smallest amount enables Dixie Heritage and other pro-confederate organizations in the never-ending battles to preserve and advance our common heritage.
ADD DIXIE HERITAGE TO YOUR ADDRESS BOOK
This will ensure that your weekly newsletter does not end up in a SPAM folder by accident.

LIKE US ON FACEBOOK


If you have not already done so please take the quick moment to like our Dixie Heritage Page on Facebook:
And then, more importantly, click this link to our website:
When you are there request a free copy of my book The Truth About the Confederate Battle Flag. When you do, not only will you receive a copy of the book - you will also be subscribed to receive the weekly Dixie Heritage Letter by eMail. This will ensure that you never miss an issue.
Until Next Week,
Deo Vindice!
Chaplain Ed