In This Issue

QWIC Links



Food Drive

Together, we can make a difference
Saturday, May 12th, 2012, has been set aside as a county-wide collection day. For what, you might ask? It is for a food drive to benefit Loudoun County Area Foodbanks.

If you think you might be too busy on the 12th to drop off your donation at one of the three drop sites, you can drop off anytime at Cartridge World in Ashburn prior to May 12th at 10am. We will take your donation to one of the designated donation locations on the 12th.

The recommended items for donation are:
boxed cereal, hearty soups, canned meat, canned ravioli, 100% juices, canned fruit, mac&cheese, rice and pasta, and peanut butter. Please no items that have expired.

Thank you in advance for your generous donations.

For more information on the countywide food drive, please contact Cartridge World in Ashburn.

Spring "E-Waste" Cleaning
During your Spring cleaning, reconsider the old electronics in your home or office. E-Waste is anything with electronic components that you're no longer using, such as old printers, computers, stereos, air conditioners, phones, keyboards, etc. Many of these items include harmful materials such as lead, mercury, and even gold, so they can't simply be placed into your normal garbage. So, how do you get rid of E-Waste?
You can do it this week!! Click on the following link for more information...
Loudoun County to Hold Electronics Recycling Event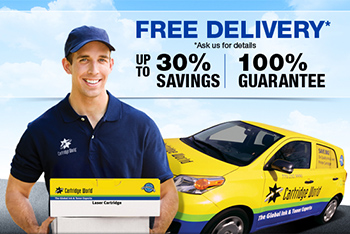 Don't Shake it like a Polaroid Picture!
Sometimes going green means using as much of each product as your can before replacing it. In the case of an ink cartridge, that usually means giving it a "shake" when the printer says "empty."

Here's why NOT to shake your ink cartridges: Aside from putting color on a page, ink also serves as a printer lubricant and a coolant. (Who knew?) Because of these important functions of ink, it's critical that there is always enough ink flowing through the cartridge. While your prints may appear to be coming out right on paper, a lack of ink flow could not only limit the amount of times a single cartridge can be refilled, but also damage your printer over time. This is the case with all new or refilled cartridges! Rest assured, Cartridge World inks are designed to ensure all three functions of ink operate to their peak performance.

Save
10%

coupon code: fooddrive12

Give a little, get a little


If you bring in any two food items (minimum 2) from the list above before May 12th, 2012, you will receive 10% off on your ink or toner refill order.

Max one discounted order per customer during promotion period. Refills only. Ashburn location only. Business customers eligible. No added discount for bringing in more than 2 items, just good feelings. Coupon and donation must be presented at time of purchase. Thank you in advance.


Offer Expires: May 12th, 2012 10AM