2017 Customer Satisfaction Survey

For the past 20 years the Lincoln Square Business Improvement District (BID) has strived to make the Lincoln Square neighborhood cleaner, safer, and more beautiful. To ensure we are providing the best services possible, we are once again conducting an annual survey of our membership and friends (We've made it shorter this year!). We value the feedback and suggestions we receive as we continue to evaluate all of our programs.


CLICK HERE and tell us how we are doing!

Plus, you can register for a chance to win a gift certificate to a great Lincoln Square bakery!

Amazon Books Opens This Week!

Lincoln Square is getting a new bookstore!

Opening this Thursday, May 25 on the 3rd floor of

The Shops at Columbus Circle

is Manhattan's first Amazon Books store. The newest addition to The Shops Collection, Amazon Books will have gadgets, a children's section, and a rotating selection of Amazon favorites and recommendations, unique to the demographics of Amazon book buyers.

Plus, the entrance to Amazon Books is just across the way from

Bouchon Bakery

, so shoppers can pick up a book and enjoy a coffee and macaron while reading before continuing to shop at the other great stores inside of Time Warner Center.

Stop in late this week or this weekend and start reading!

NYC Wave Walk in Lincoln Square

Bruce Webber, "Sweet Home", on display in The Shops at Columbus Circle




Partnering with La Mer, Project 0 brought together some of the world's most influential artists, designers and culture-makers to create their own wave-inspired, charitable works of art which hope to inspire real change through creativity and connectivity. Titled

NYC Wave Walk

, these sculptures are now on display around New York City and will continue to be during the months surrounding World Oceans Day. Afterwards, the artworks will be auctioned off with all net proceeds going to ocean protection efforts.




You can view six of these incredible works inside of

The Shops at Columbus Circle

; enjoy a brief art walk and read about each sculpture as you shop around at your favorite stores. Also, further north in the district, another Wave Walk

sculpture

is outside the front entrance of

American Folk Art Museum

on Columbus Avenue between West 65th and West 66th Street.

Open Roads: New Italian Cinema at the Film Society of Lincoln Center

Still from The War of the Yokels



New Italian Cinema is the only screening series to offer North American audiences a diverse and extensive lineup of contemporary Italian films. This year, the Film Society of Lincoln Center's seventeenth edition of its New Italian Cinema series again strikes a balance between emerging talents and esteemed veterans, commercial and independent fare, outrageous comedies, gripping dramas, and captivating documentaries, with in-person appearances by many of the filmmakers.




On this year's schedule, you'll find a number of interesting films between Thursday, June 1 and Wednesday, June 7, beginning with Indivisible, an eccentric coming of age tale of twin sisters.




Tickets for individual screenings begin at $14, but you can also buy a 3+ film package or an all access package that discounts multiple tickets.
Celebrate 20 Years of the Lincoln Square BID - Tickets Going Fast!
On Wednesday, June 14, 2017 from 5:30pm - 8:30pm the Lincoln Square Business Improvement District will celebrate its
20th Anniversary
with a reception at the David Rubenstein Atrium at Lincoln Center. The event will honor three of our Founding Board Members and commemorate two decades of vision, action, and results. The party will offer heavy Hors d'Oeuvres, delicious specialty cocktails, and a silent auction with wonderful prizes from our local community businesses and organizations.
The evening's Emcee will be David Novarro, Anchor, WABC-TV, Eyewitness News with live music by the creative jazz and swing band Grandpa Musselman & His Syncopators! W
e will be honoring three of our Founding Board Members:

Georgette F. Bennett,

George

Cra

wford, and
Andrew Pucher.
Purchasing a ticket to this celebration will help support the Lincoln Square BID's signature
Streetscape and Beautification Program
. We hope you will join us for this exciting anniversary event!
Radical Bodies: An Exhibit at the New York Public Library for the Performing Arts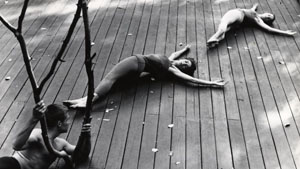 The New York Public Library for the Performing Arts has a new, free
exhibitio
n now through Saturday, September 16, 2017 in the Library's Vincent Astor Gallery.
This exhibit, titled
Radical Bodies
, visually details the work of Anna Halprin, Simone Forti, and Yvonne Rainer, in California and New York between 1955 and 1972 through
more than 150 photographs, videos, and even original scores and drawings by these women themselves.
In August 1960, the choreographer Anna Halprin taught an experimental workshop attended by Simone Forti and Yvonne Rainer. Within two years, Simone Forti's conceptually forceful dance constructions premiered in Yoko Ono's loft and Rainer co-founded the ground-breaking Judson Dance Theater in New York. This exhibit
explores how Halprin, and subsequently Forti and Raine, opened the way to a radicalized, postmodern vision for the body in dance and the visual arts that continues to influence choreographers and visual artists globally.
Along with this exhibition, there will be a number of free talks and discussions at the Performing Arts Library as well as
elsewhere
in the City. Click here for more information.
A Successful 20th Annual Meeting
Thanks to everyone who helped us host a fabulous milestone 20th Annual Meeting this past Thursday, May 18. Our speakers, Debora L. Spar, President of Lincoln Center for the Performing Arts and Mariana Garavaglia, Head of Stores for Amazon Books, were both terrific. We appreciate our dedicated Board and our wonderful street teams for their support of and work for the Lincoln Square BID. Thanks also to all of our partners, district members, and neighbors too!
Click here
to view great photos from the event on our Flickr page. And, to download an online copy of our Fiscal Year 2017 Annual Report, which highlights 20 years of vision, action, and results,
click here
.
1841 Broadway, Suite 1112 |
New York, NY 10023