Chicago Corner
Five weeks is a long time to be away; still, Donald and I had a great trip to Europe where I had a number of exhibitions. I thought I'd share some of the highlights of our visits to London, Paris, Milan and Bilbao, Spain.
London
Press preview at Tate Modern


Time Out London review
We spent almost two weeks there for two shows. The World Goes Pop at the Tate Modern was a new look at pop art and included three of my Car Hoods. Apparently, there were many unknown artists around the world who had used pop imagery for political critique, including a number of women artists who seemed to find the pop idiom appropriate to explore the use of the female body in art, advertising and popular culture. At the same time, I also had a solo show at Riflemaker Gallery, Star Cunts and Other Attractions, which featured work from the first two decades of my career.
| | |
| --- | --- |
| | |
| Outside Riflemaker Gallery | Installation view of Star Cunts and Other Attractions |
Judy in conversation
with Hans Ulrich Obrist, Serpentine Gallery
By the time we left London, I'd done almost 20 interviews which was both exciting and exhausting. The most interesting of these was a conversation with Hans Ulrich Obrist, curator of the Serpentine Gallery, who does an annual weekend-long 'marathon' during Frieze Week. This year's theme was transformation. As I have spent a great deal of my career trying to 'transform' the patriarchal paradigm, we had a lively dialogue.
Paris
Birthday dinner at Allard, Paris
The only part of the trip that wasn't work related was our three day celebration of Donald's 70th birthday in this most romantic of towns. When we arrived, our only plan was for his birthday dinner. Fortunately, there were some interesting exhibitions in town and we had the time to see them. Splendors and Miseries was a fascinating show on the history of prostitution at the Musee D'Orsay that included both painting and photography. We also saw a retrospective of Elisabeth Vigee-Lebrun, the celebrated eighteenth century court painter whose production greatly exceeded that of almost any previous woman artist. Incredibly, this was her first retrospective in France.
Milan
Pen and ink drawings, Arts and Foods exhibition
In conjunction with the Milan World Expo, there were a number of major exhibitions including Arts and Foods, curated by the legendary curator, Germano Celant, whom I had met many years ago when he visited The Dinner Party studio in Santa Monica. His huge, meandering examination of the relationship between art and food included a series of my pen and ink plate studies and an Untitled Test Plate which are in the collection of Margaret and Dan Loeb. Although it was interesting, my major reason for going to Milan was to see The Great Mother, curated by Massimilano Gioni, which included In the Beginning, my (1982) thirty-two foot narrative drawing reinterpreting Genesis.
Installation view, In the Beginning
Strangling Angel, Meret Oppenheim, 1931
When I was working on this drawing as part of the Birth Project, there were very few known contemporary works on the subject of birth and motherhood. Art generally grows from art and the absence of images caused me to turn to direct experience for inspiration which means that I witnessed a birth, looked at many personal photos and films and interviewed dozens of women, hoping to introduce this subject into the art dialogue. I was stunned to discover that there is actually a wealth of work by women on this subject (though the show included many men as well). The research Gioni and his team compiled is astounding and also upsetting, because it exposes a different aspect of the erasure of women artists, that is the erasure of work of even well known women whose content lies outside what the male dominated art world has defined as important.
An outstanding example of an unknown work by a well-known woman is this amazing 1931 drawing by Meret Oppenheim expressing her personal conflicts about art and motherhood.
Bilbao, Spain
In front of Azkuna Zentroa, with Andrew Perchuk, Amelia Jones, Barbara Dewey and Edward Lucie-Smith
For the last two years, feminist curator Xabier Arakistain has been working on a major exhibition of my work that is, in his words, a narrative tale of my career. On October 9th, Why Not Judy Chicago? opened at the Azkuna Zentroa in Bilbao and will subsequently travel to the Museum of Contemporary Art in Bordeaux (CAPC) where it will open on March 9th, 2016. In conjunction with the exhibition, Xabier and his colleague, Lourdes Mendez, convened a two day seminar about my work that included presentations by British art writer, Edward Lucie-Smith; Andrew Perchuk, Deputy Director of the Getty Research Institute; Amelia Jones, art historian and curator of the 1996 exhibition at the UCLA Armand Hammer Museum, Sexual Politics: Judy Chicago's Dinner Party in Feminist Art History; and Jane Gerhard, historian of the 1970s and author of The Dinner Party: Judy Chicago and the Power of Popular Feminism.
| | |
| --- | --- |
| | |
| Installation view Why Not Judy Chicago? | Xabier and Lourdes Mendez |
Judy and Xabier at press conference, Bilbao
The thesis of Xabier's show revolves around the notions of deficit and disobedience; that is, early in my career, I became aware of a deficit of information about women artists, women's history and images of female sexual agency. In order to counter this deficit, I had to become disobedient which meant disregarding conventions about gender and forging my own path. By organizing the exhibition around these themes, Xabier created an understandable narrative about my career that clarifies my reasons for combining artmaking, writing and teaching as part of my challenge to the institutional structure of art. His show is also an inquiry into the ongoing resistance to my work, exemplified by my absence from the collections of most major museums. This is manifested in the fact that only half the work is real; the other half is made up of full scale reproductions. Why? Because an exhibition of this scale would require the resources of a major museum and such venues have not supported my career, thus the questioning title.
Now that we're home, I'm back in the studio where I'm always happiest. In closing, let me wish everyone a happy holiday season and say that we all hope you will continue your support of Through the Flower.
With warm regards to all our friends and supporters.
---
Why Not Judy Chicago?: Reflections
by Barbara I. Dewey, Dean of University Libraries & Scholarly Communications, Penn State University
I was fortunate to attend the opening of the groundbreaking exhibition Why Not Judy Chicago? held at the Azkuna Zentroa in Bilbao, Spain. The exhibition and surrounding events were done in collaboration with the Musee d'art Contemporain de Bordeaux and Penn State University October 8-10, 2015. The exhibition, covering more than 50 years of Chicago's work, was brilliantly curated by Xabier Arakistain.
In Why Not Judy Chicago? I was struck by the way Arakistain balanced the meaning and impact of individual works with a sense of comprehensive understanding of the totality of the works. The title of the show, itself, tries to answer the question of why THE legendary pioneer of feminist art has not been recognized by the mainstream art world until now. Arakistain organized Chicago's work around the main conceptual, visual and political questions raised by Judy Chicago regarding art institutions and patriarchy. I found myself going through the exhibition "in order," "backwards," and by individual works to comprehend its meaning to me as a decades-long follower of Chicago's work.
In addition to attending the opening of Why Not Judy Chicago? and accompanying symposium I also attended a meeting with international collaborators to discuss an emerging international collaboration called "Art and Culture, Feminist Knowledge Network."
Xabier Arakistain conducted a conversation with Judy Chicago kicking off the seminar, "Feminist Perspectives in Artistic Productions and Theories of Art." Conducted in Spanish and English the conversation covered many aspects of Judy's art, pedagogy, and life experience. Her discussions of deficiencies, at best, and complete erasure, at worse, of the feminist experience resonated with my own experiences and thinking over time (and still to this day).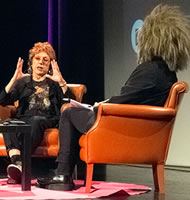 Judy and Xabier in dialogue
The culminating event was the seminar "Feminist Perspectives in Artistic Productions and Theories of Art" co-organized by Xabier Arakistain and Lourdes Mendez. The seminar featured important talks on feminist art and Judy Chicago. Andrew Perchuk, Deputy Director, The Getty Research Institute placed Judy Chicago's earlier work (such as Car Hood) in the context of pop art that was occurring at the time in Los Angeles, mainly by male artists. Jane F. Gerhard, noted scholar and writer, provided an in depth analysis of Judy Chicago's iconic work, The Dinner Party, and talked about her book of the same name. Amelia Jones, the Robert A. Day Professor in Art and Design and Vice-Dean of Critical Studies, USC, discussed the history of feminism and, especially the "2nd wave" including Judy Chicago. Edward Lucie-Smith, internationally known art critic and historian, wrote the 2000 biography, Judy Chicago. He asserts that she plays a central role, not only in the narrative of feminist art, but also in the story of 20th and 21st century American Art. The seminar was also enriched with commentary by Judy Chicago, Xabier Arakistain, and Lourdes Mendez as well as an incredible array of questions from an audience of different generations.
In summary, attending Why Not Judy Chicago? and events surrounding it was a tremendous opportunity to focus, not only on Chicago's work, but also on how the institution of "library" can erase the deficit of feminist art and knowledge and preserve this erasure forever. I look forward to future collaborations and projects to that end.
---
The Judy Chicago Art Education Collection at Penn State, Beginning Year Four
by Karen Keifer-Boyd, Ph.D., Professor of Art Education & Women's Studies, Penn State University
In our fourth year with The Judy Chicago Art Education at Penn State, we have added the third installation of videos, resources, and question prompts to a four-part series of the Judy Chicago Dialogue Portal. What About Men? Part III of the Portal features and is inspired by the 2014 symposium talks at Penn State by photographer Donald Woodman and Andrew Perchuk, deputy director of the Getty Research Institute. This part addresses the often contentious subject of men in a feminist environment and takes up some of the challenges of making institutional changes in terms of curriculum.
Judy Chicago Art Education Archives, overseen by Jackie Esposito, Special Collections Library
The Judy Chicago Art Education Collection at Penn State continues to inspire researchers and educators in many ways. Angelique Szymanek from upstate New York, a 2015 recipient of an award sponsored by the Special Collections Library to travel to Penn State to research the Collection, focused her research on the relationship between feminist art production and the anti-rape movement in the US throughout the 1970s. Chicago's feminist pedagogy, she claims, was one of the conditions of possibility for the artistic engagement with the subject of rape during this time. Her presentations on this led to a lively and varied perspective discussion with the students. Leslie Sotomayer used the Special Collections archive and the embedded videos with her class, assigning students to continue researching the Collection and to choose one piece to write a critical analysis/reflection of the feminist art piece, bridging connections to the present. Her reflections from the field can be found here.
The Collection also inspires research by visitors from outside the US. A professor from Beijing Normal University, Yuxi Chen, is a full year visiting scholar at Penn State in 2015-16, who came to research Judy Chicago's teaching methodology, working with the archive to bring back to the context of China art education. She is particularly interested in Chinese art students bringing their life experiences and ideas into their art in such a way that they move beyond the personal and into a larger frame of reference, and is studying the archives to learn Chicago's approach for how to do this. Recently, two curators from Cuba, visited the archives to examine Womanhouse, also part of the Collection.
Behind the scenes, Yen-Ju Lin preserves and protects the Judy Chicago Art Education Collection website with installing "Brute Force Login Protection", a software to "block out brute force attacks." This is the language of today's digital world and women, such as Yen-Ju Lin, have learned how to stop attacks to feminist art education, allowing the Collection site to grow with "From the Field Reflections," and from annual updates of award-winning curriculum of the Judy Chicago Art Education Award, dialogue in the Dialogue Portal, and news updates.
President's Box
Judy Kovler, President TTF
For me, like many of us, year end is a time to reflect on the year's accomplishments as well as to anticipate what we at Through the Flower hope to achieve in the coming year. Our goal remains the same - the creation and preservation of a lasting historic legacy. To achieve this, we have partnered with appropriate institutions who are interested in furthering feminist knowledge. When I look back on 2015, I am impressed by how much has been accomplished and how deeply our work has been embedded with our institutional partners.
The Judy Chicago Art Education Collection gifted to Penn State is being used even more extensively, inspiring students and visiting scholars, as well as collaborative efforts with other organizations. The Dialogue Portal launched in late 2014 as part of the online archives has been extended to Part 3 this fall and incorporated into additional courses at the University.
The University of Louisville, which received the International Honor Quilt project, has completed its digitized integration of the IHQ quilts and documentation into the Hite Collection as well as into the University's research resources and collection. The University has already created a number of interdisciplinary academic programs utilizing the quilt project and plans to expand its curriculum potential both inside and outside the University. Maggie Leininger, the new director for the IHQ Project at the University, discusses plans for the IHQ exhibition in 2016 in her article below.
In 2015, in support of Judy Chicago's long alliance with the National Museum of Women in the Arts in Washington, D. C, Through the Flower gifted extensive documentary materials to NMWA relating to both The Dinner Party and Resolutions: A Stitch in Time, including panels chronicling the creation of The Dinner Party and explicating the many needlework techniques employed in Resolutions. The intention of the gift is to make these materials available for future exhibitions, research and study.
In 2016, Viki Thompson Wylder, scholar on The Dinner Party and the Birth Project, will hold a semester long course at Florida State University in tandem with "Judy Chicago's Birth Project: Born Again", an exhibition drawing on the University's Birth Project collection and ancillary materials gifted to the university museum by Judy Chicago.
We continue to expand our website to provide additional resource material and links to relevant sites so that scholars and researchers can more easily find related information from other institutions. And of course, every year, we send materials to Judy Chicago's extensive archive at the Schlesinger Library for the History of Women in America at the Radcliffe Institute at Harvard University.
With your support, all of these projects will continue to grow so that they can have influence even beyond the walls of these institutions. We hope that your commitment and support will continue into the coming year so that together we can ensure that Judy Chicago's achievements will not be lost but instead, can educate, inspire and benefit future generations.
Get Out Your Calendars
Around the Country
LA/MA: '60s POP FROM BOTH COASTS
Sept 13 – Dec 13, 2015
The Rose, renowned for its collection of American Pop Art, presents this survey exhibition of 1960s Pop Art that places work of East Coast-based artists alongside the work of their West Coast peers.
The Rose Art Museum
Brandeis University
Waltham, MA
---
Evil: A Matter of Intent
Sept 1, 2015 – June 30, 2016
This group show includes a study Judy Chicago and Donald Woodman created while working on the Holocaust Project.
Hebrew Union College Museum
New York, NY
---
Art AIDS America
Traveling Exhibition
Oct 2015 – Sept 2016
Co-curated by Jonathan D. Katz and Rock Hushka, and organized by the Tacoma Art Museum in partnership with the Bronx Museum of Arts, this exhibition examines 30 years of art responding to the AIDS epidemic in the U.S.
Tacoma Art Museum
Tacoma, WA
Oct 3, 2015 – Jan 10,2016
Zuckerman Museum of Art
Kennesaw State University
Kennesaw, GA
Feb 9 – May 21, 2016
Bronx Museum of the Arts
New York, NY
June 23 – Sept 11, 2016
---
Material Behavior: Visualizing Feminism Through Social Practice
Feb 1 – Mar 19, 2016
Opening reception Feb 12
The exhibition will showcase the International Honor Quilt in its entirety, historical documentation and stories related to the creation of this monumental work, and an additional collaborative work titled Hot Flash Fan.
Hite Art Institute
University of Louisville
Louisville, KY
---
Around the World
The World Goes Pop
Traveling Exhibition
Sept 2015 – Summer 2016
This groundbreaking reassessment of Pop Art surveys global engagements with Pop, its origins and its socio-political underpinnings. Three of Judy Chicago's seminal Car Hoods will be exhibited.
Tate Modern
London, UK
Sept 17, 2015 – Jan 24, 2016
Pinacoteca do Estado de São Paulo
São Paulo, Brazil
Summer 2016
---
Star Cunts and Other Attractions
Sept 14 – Dec 2015
A solo exhibition that celebrates the visual language and core imagery of Judy Chicago's minimalist and early feminist work from the '60s and '70s.
Riflemaker
London, UK
---
Why Not Judy Chicago?
Traveling Exhibition
Oct 2015 – Sept 2016
Curated by renowned feminist curator Xabier Arakistain and drawing from works across Chicago's career, this exhibition both celebrates her oeuvre and challenges the ongoing institutional resistance to her work.
Azkuna Center
Bilbao, Spain
Oct 8, 2015 – Jan 10, 2016
CAPC Musée d'Art Contemporain de Bordeaux
Bordeaux, France
Mar 9 – Sept 4, 2016
The International Honor Quilt at University of Louisville
by Maggie Leininger, Director International Honor Quilt Project
Hite Art Institute, University of Louisville


Hello everyone! I am very excited about serving as the new director for the International Honor Quilt. I come to the University of Louisville from Chicago, IL where I served as the director of operations for the Oak Park Regional Housing Center that focuses on dealing with issues related to fair housing and integration. Prior to that, I had the pleasure of being a visiting professor at Arizona State University for four years where I instructed undergraduate and graduate students to incorporate fibers/textiles within contemporary art practice. This unique combination of experiences provides me with essential skills that are needed as both the director of the International Honor Quilt and fibers professor at University of Louisville.
Selection of some of the quilts which make up the International Honor Quilt


Since my arrival in late August, I have been getting to know Louisville. It is a welcoming community eager and open to collaboration that aligns perfectly with the plans to utilize the IHQ as a prompt for engagement as we plan to develop collaborations with key community agencies throughout the city that promote issues related to social justice, poverty, women's issues, etc. The most exciting news that I can share with you is that the IHQ will be exhibited in its entirety for the first time as a solo work at the Hite Art Institute. Along with Chris Reitz, the new gallery director of Hite, we are planning a stunning exhibition that will introduce the IHQ to students, faculty, public school educators, textile enthusiasts, and the general public. The dates of the exhibition will be from Feb. 1-March 19, 2016 with a public opening reception on February 12, 2016. Please join us if you are able! Also, if you or anyone you know was involved in the creation of the IHQ, please contact us as we are gathering stories from the makers to share within the digital humanities initiative of the College of Arts and Sciences.
In closing, I would just like to share with you my own personal connection to Judy Chicago. I read Through the Flower: My Struggle as a Woman Artist and Beyond the Flower: The Autobiography of a Feminist Artist at a seminal moment in my artistic career as I was trying to figure out the path that I needed to take—one that included being an artist, a wife, a mother, and so on. Judy's words enlightened me to the challenges I would face in my career both as an academic and as an artist. While I am traveling among a different generation, her words still held many truths, but her vision inspired me to summon the courage to press on. Thank you, Judy. It is my honor and pleasure to be promoting the impact you are making on future generations through your tireless efforts.
---
International Honor Quilt
Shelly Zegart, international quilt expert and the catalyst for placing the IHQ with the University of Louisville, will be featured on one of the upcoming PBS "Quilting with Nancy" segments focusing on the IHQ. The segment will air on December 21, 2015 and again on June 20, 2016.
Support Through the Flower
You can help us continue TTF's mission of educating a broad public about the importance of art and its ower in countering the erasure of women's achievements
Join or renew your membership in TTF today, or visit our TTF Shop.
Your support is very important to us.
www.throughtheflower.org
505-864-4080
| | |
| --- | --- |
| | Follow Through the Flower on Facebook |