Golden City Hall
911 10th Street
Golden, CO 80401
Upcoming Events
From City Council meetings to bike races to community choir concerts, there's always something happening in Golden.
Don't miss out! Keep track of what's happening and when on the Community Calendar.
Submit an Event!
Help us keep our Community Calendar up-to-date. If you are sponsoring a not-for-profit event that takes place in Golden and welcomes everyone, we want to know about it. Fill out our event submission form and if it fits our editorial standard, we'll add it to the calendar.
Happy New Year, Golden! Hopefully you all had a wonderful holiday and are ready to kick 2016 off to a grand start.
You can start by coming to City Hall for a City Council reception this Thursday at 5:30 p.m. before the regular meeting. Welcome the new Councilors and bid veteran Councilor, Marcie Miller, farewell and good luck. Join us for cake and a fantastic start to a new year in Golden, then stay for the meeting to keep involved with what's happening in your city. Read more below, and keep reading for everything else happening in Golden this week.
Have a great week!
Your friends at the City of Golden
US 6 & 19th Street Interchange project
Interviews for construction management/engineering of the US 6 & 19th Street Interchange will be conducted this week. CDOT, a rep from Design team and the city will be conducting the interviews Staff expects to bring a contract for this service to City Council Jan 21.
West Fork Kenney Run Drainage Improvements
The contractor in charge of the project will be working to replace some of the upper tier boulders because the installation didn't meet plan specification.
Ice dams are forming, but no danger of floods
With the cold weather we've had recently, ice dams are occurring in the Clear Creek Basin above Golden. This is a relatively common experience, however, and Golden is not in danger of flooding from the release of an ice dam.
We have experienced ice rising and covering portions of the Clear Creek Trail with this type of weather. Staff keeps track of and monitors these situations.
Planning Commission Public Meeting
The Planning Commission will meet on January 6 at 6:30 p.m. in Council Chambers.
At this meeting, Planning Commission

will conduct a public hearing to review a Site Plan Approval request for an assisted living and memory care facility.
Public Art Commission Meeting
The Public Art Commission will meet on January 7 at 9 a.m. in the Public Works Building.
At this meeting, PAC

will conduct a public hearing to review a Site Plan Approval request for an assisted living and memory care facility.
City Council Meeting
City Council will meet on January 7 at 6:30 p.m. in Council Chambers at 911 10th Street.
As the first meeting of the year, the public is invited to come early at 5:30 p.m. to welcome new and returning council members, and bid farewell to a veteran councilor.
At the meeting, beginning at 6:30 p.m. City Council will consider the following items:
Consent Matters (all items listed will be treated as one item and one vote. For a full list of items included, please see the Meeting Agenda.)

City Council will award the construction contract for the US 6 and 19th Street Interchange project to Kraemer North America for a guaranteed maximum price of $20,704,380.39.

City Council will consider a formal resolution establishing the number of allocations available in 2016 for new dwelling units in accordance with Section 18.70.060 of the Golden Municipal Code.

Staff will provide a briefing on two elements of a 2015 Council project seeking information from residents about their well being and attitudes about the community. A detailed community presentation of the two studies will occur on Saturday January 30, 2016 from 10 a.m. until noon in City Council Chambers.

In preparation for the upcoming annual recruitment process of volunteers to serve on our community boards and commissions, Council will begin to discuss possible refinements or adjustments to the process.

Council may consider an ordinance to change the expiration of terms for two boards in order to more equally balance the number of scheduled openings annually.

The Mayor will appoint councilors and City staff as representatives on area and regional boards and committees. For a full list of appointments, please see the Meeting Agenda.
To view the full agenda for more information on all items to be considered, as well as information on other upcoming board meetings,
please visit our
Agendas, Minutes, Web Casts and Schedule page
.
North Clear Creek Neighborhoods Plan Open House
The first public engagement opportunity for the North Clear Creek Neighborhoods Plan will be held
held from 5:30 to 7 p.m. on Wednesday, Jan. 13 at the Golden Community Center, 1470 10th St. Residents
and visitors are encouraged to attend. The goal of the plan is to establish a framework for building and site design,
address concerns of the neighborhood, and establish future goals and priorities for the plan area.

The North Clear Creek Neighborhoods' Plan area incorporates 8th, 9th, and 10th Street neighborhoods as well as
Goosetown along Clear Creek. The North Clear Creek Neighborhoods' Plan is intended as a component of the
City of Golden Comprehensive Plan and will find ways to achieve the Value Themes set forth in the Golden
Vision 2030 Plan. The plan will also be complementary to the Downtown Character Plan, Clear Creek Master
Plan and Clear Creek Management Plan.
The planned public process will include a survey and a series of three public meetings. For meeting dates, plan area, and to access the survey, visit www.cityofgolden.net/links/NClearCreekPlan .


You're Invited! City Council Reception
The public is invited to join the City of Golden City Council for a reception to welcome new and returning Council members, as well as say goodbye to a veteran Councilor. The reception will take place at 5:30 p.m. this Thursday, January 7 at City Council Chambers in City Hall, 911 10
th
St. before the regular Council meeting. Join us for cake and a celebration of service!
The election in November of 2015 included the positions of Mayor, District 1 Councilor and District 2 Councilor. Mayor Marjorie Sloan was re-elected for another four years, as was District 1 Councilor Saoirse Charis-Graves. District 2 will now be represented by newcomer Casey Brown. He is replacing Marcie Miller, who served on Council several times over the years and continues to contribute to Golden in many ways including the Golden Civic Foundation. She will be honored during the reception.
Stick around for the City Council meeting at 6:30 p.m. where the new and returning members will be sworn in and the first official meeting of 2016 takes place.
Golden museum creates master timeline for the ages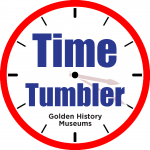 A group of local historians are collaborating with museum staff to develop content for an in-depth timeline component of an upcoming exhibit at the Golden History Center.
The local advisory group are contributing content to Golden History Museums while serving as a sounding board for exhibit ideas. The working title of the exhibit is Time Tumbler.
"We're committed to sorting out what really happened in town," says Museum Curator Mark Dodge. "Working with this group of community historians is demanding and fun. I've already learned how little I know. We've got a long way to go, but we're committed to making this timeline as accurate as possible."
Borrowing from preexisting chronologies like the one created by the Golden Historic Preservation Board in 2003 and another from the Jefferson County Archives, the timeline will span over 150 years of recorded history.
"We're keeping an eye toward events in Golden's history for the timeline," says Dodge. "We'll celebrate our town's founding in 1859, mourn events like the 1918 flu epidemic, and confront the controversy surrounding Nike's proposed development of South Table Mountain in 1998."
Time Tumbler will establish a context and big-picture overview to Golden history, familiarizing residents and visitors alike.
Museum Director Nathan Richie said, "The new exhibit will include a general orientation to Golden's past-something we've never had at the Museums previously."
"This master timeline is certain to be invaluable for residents, visitors, and researchers alike," says Dodge.
Golden History Museums engages and inspires visitors by preserving and sharing Golden's history.
Golden Well-Being Index Study
The City of Golden participated in the Gallup-Healthways Well-being Survey in May and June of 2015 and had over 500 responses. Well-being was defined as a life well lived, all the things that are important to us, what we think about and how we experience our lives. Well-being is comprised of five elements including: Purpose, liking what you do each day and being motivated to accomplish your goals; Social, having supportive relationships and love in your life; Financial, managing your economic life to reduce stress and increase security; Community, liking where you live, feeling safe, and having pride in your community; Physical, having good health and enough energy to get things done daily.
Join us for a presentation of the findings from Golden's Well-Being Index Study on Saturday, January 30, 2016, from 10 a.m. to 12 p.m. at the City Council Chambers, 911 10
th
Street. The presentation will feature reports from Gallup Healthways, the Colorado School of Public Health and the Tobacco Free Jeffco Alliance. Share your thoughts with other community members and ideas for future healthy initiatives.
Well-Being Chart