Trick-or-Treating in Cleveland Heights will be held on Tuesday, October 31 from 6:00 - 8:00 pm
Bulk leaf pickup begins on Monday, October 30 and will continue through Friday, December 8
Fall leaf collection in Cleveland Heights will run from Monday, October 30, through Friday, December 8, 2023. Residents are asked to place their loose leaves in piles on the tree lawn area between the street and the sidewalk in advance of their scheduled collection date, which can be found on the above map.
Leaves should not be placed in the street; it is illegal to do so, and you may be cited. Leaves in the street can cause flooding by blocking curb inlets and may create slippery road conditions, posing a potential threat to motorists. Please do not place leaves in kraft paper bags. Please remember it is illegal to burn leaves in Cleveland Heights.
Leaves will be collected from Cleveland Heights at least twice this Fall. The City's leaf collection map is updated daily to reflect the progress of our collection crews. You can see the updated map by clicking on the map image above. Collection days may change, particularly if snow starts early, so please check the map regularly. Please visit the City's website for more information about Cleveland Heights' leaf collection program.
Please don't miss your second collection date. When leaf collection is completed, the Department of Public Works converts the leaf collection trucks for snow removal, and they cannot be converted back for leaf collection until the spring. As a result, the City cannot guarantee a third leaf pickup. Leaves that are still on your tree lawn or in your yard after your second pickup date may have to remain there all winter.
Central Outreach Wellness Center expands healthcare to LGBTQ+ community with new Cleveland Heights location
Two years after it opened a smaller center across from the Lee Road Library, Central Outreach Wellness Center has moved to a larger building at 2040 Lee Road. It will continue to provide health and wellness care to the LGBTQ+ community and has expanded its wellness care to include a teaching kitchen, on-site pharmacy and food pantry.
Central Outreach Wellness Center opened in July of 2015 in a modest medical clinic in Pittsburgh with six patient rooms and three employees. It is the largest LGBTQ+ medical center in Pennsylvania, offering high-quality medical care at eleven locations in two states with more than 57,000 square feet of treatment space and 115 employees.
The new Lee Road facility is now the largest healthcare provider to the LGBTQ+ community on the eastside of Cleveland.
"We've been here two years, and the community welcomed us with open arms," Central Wellness Marketing Director Alexander Young said during a grand reopening ceremony on Wednesday, October 25 attended by community leaders including Mayor Kahlil Seren.
According to Kenyon Farrow, a writer, activist and Cleveland Heights resident, the Cleveland Heights site fills an important gap in care. Delivering a keynote address at the opening, Farrow challenged the myth that Black men on the eastside of Cleveland don't identify as LGBTQ+, insisting rather, "they are just not being served." Central Wellness' services include providing HIV deterring medication and primary care for patients who are HIV-positive.
"We are on the frontline of the fight to end HIV," said Young. "With this facility, we can accommodate more people and we will save more lives."
He added, the kitchen, pharmacy and food pantry, will provide support to those struggling with housing insecurity.
In her remarks at the grand reopening of the Cleveland Heights facility, Central Outreach Founder and Pittsburgh native Dr. Stacy Lane said the organization is providing "healthcare without the stigma. Not too long ago, we had separate waiting rooms for HIV patients. We're about creating spaces that are part of the community. We have a strong team and are excited to be in Cleveland Heights at this great facility."
Cleveland Heights celebrates Global Climate Action Day and kicks off development of its Climate Action and Resiliency Plan
Cleveland Heights joined in the global Climate Action Day 2023 celebration, starting on Tuesday, October 24, with an open house at City of Cleveland Heights, Ohio - City Hall where Mayor Kahlil Seren and the city's new Sustainability and Resiliency Coordinator, Andy Boateng, discussed this year's theme, "The Role of Cities in Climate Action."
A big thanks to the residents who attended and shared their ideas, including solar energy education, home energy efficiency measures, protecting trees, and green infrastructure, especially serving areas in the city lacking those services.
These ideas and more were discussed at the city's second Climate Action Day event, on Wednesday, October 25 at the Cleveland Heights Main Library. Boateng and a representative from the city's Climate Action and Resiliency Plan consultant officially kicked off the plan and presented to an audience on climate change, its impacts, and what cities can do to reduce those impacts while improving resiliency. More exciting details, including community workshops, will be coming soon!
If you weren't able to attend and want to share your thoughts on climate action in Cleveland Heights, start by filling out the brief survey at the link below.
Cleveland Heights Racial Justice Task Force presents preliminary findings
From Cleveland.com
After convening for two years, the city's Racial Justice Task Force has issued its overview of findings and recommendations to City Council.
The task force is calling for additional provisions and safeguards in local government to end systemic racism.
That was the goal back in the summer of 2020, in the wake of George Floyd's murder at the hands of Minneapolis police, when council created "actionable legislation" and plans for a small citizen task force.
The Racial Justice Task Force (RJTF) then expanded that November to 25 members, focusing not only on policing and public safety but also two other subcommittees: housing and economic mobility, as well as health and education.
Although there was a "sunset provision" in the enabling legislation calling for disbandment of the group after two years, RJTF Chair Rhonda Davis-Lovejoy said she hoped the task force would remain intact to assist in carrying out recommendations that include:
Cleveland Heights to participate in National Prescription Drug Take Back Day on Saturday, October 28, 10:00 am–2:00 pm
The Drug Enforcement Administration (DEA) announced that the next National Prescription Drug Take Back Day will be held on Saturday, October 28, 2023, from 10:00 am to 2:00 pm. DEA will again be collecting potentially dangerous expired, unused, and unwanted prescription drugs at sites nationwide.
The Cleveland Heights Police Department will again participate in National Prescription Drug Take Back Day. Please bring prescription drugs you wish to discard to our drop box in the lobby of the CHPD Headquarters, Cleveland Heights City Hall–Lower Level, 40 Severance Circle.
New Trees in Cleveland Heights
We were excited to see the City of Cleveland Heights Forestry Division planting one of 150 trees it plants in the fall on Berkshire Road.
This particular tree is a Yellowwood, which grows to an average height of 40 feet, has smooth bark, and large, hanging clusters of fragrant white flowers. The city orders its tree lawn trees from local nurseries and plants trees upon resident request.
Heights Libraries to demolish PEACE playground to make room for new one
From Cleveland.com
The end of an era at Coventry PEACE Park comes with anticipation for a new one taking shape next year.
The Heights Libraries Board of Trustees gave the official go-ahead on October 16 for Regency Construction to begin the first phase of a $2.5 million renovation project.
The initial work will start on November 13 with the demolition of the playground, which is expected to take about a week.
"It will be bittersweet," Heights Libraries Director Nancy Levin noted in a press release. "It is at the end of its life, and it holds such wonderful memories for the community."
It's still all about "People Enhancing A Child's Environment," the basis for the original "P.E.A.C.E. Park" acronym when the largely wooden playground was built in October 1993.
Heights Libraries bought the 6-acre campus from the Cleveland Heights-University Heights City School District in 2018 for $1 to preserve the "PEACE" and keep the property off the market for potential private development.
"We are looking forward to the new playground and the new life it will breathe into not only the library's programming and activities, but the neighborhood as a whole," Levin added...
Heights High plans ahead for state football playoff and highly anticipated fall musical
From Cleveland.com
Call it a good problem to have in the Cleveland Heights-University Heights City School District.
District officials anticipate nearly 3,000 spectators converging on the Cleveland Heights High School campus on November 3. Most of those will be in the stands at Crawford Field for the state football playoffs; the rest will be attending opening night of the fall musical in the Dina Rees Evans Auditorium.
Preliminary plans had called for limiting the number of tickets sold for the Heights High Vocal Music Department's highly anticipated production of "The Addams Family."
This was due to the fact that parking would already be at a premium, with The Marquee at Cedar Lee construction well underway in the former city surface lot across the street.
That will no longer be the case, CH-UH Schools Superintendent Liz Kirby said in an October 21 email to Heights families, fans, students, and staff.
"I'm pleased to announce that our teams have developed a new plan that will not require us to cap ticket sales for the musical's opening night," Kirby said.
"We have contracted with an outside company to provide bus transportation from the Severance Town Center parking lot to Heights High School."
Cleveland Heights native Donna Kelce, mother of NFL stars Travis and Jason, featured in shirt to support Heights Schools Foundation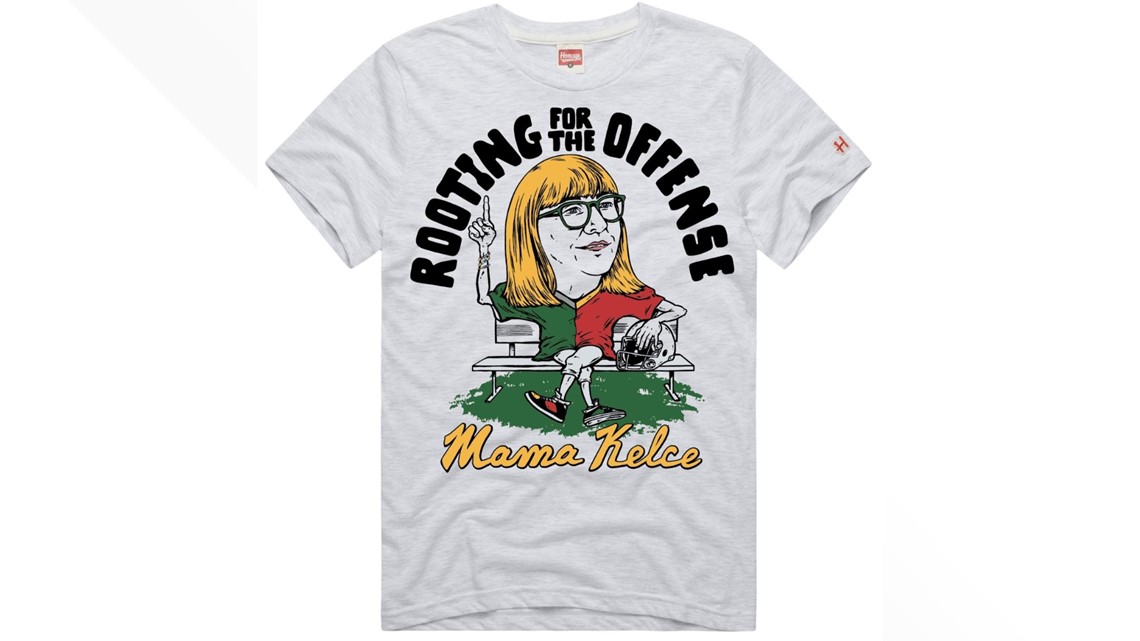 From WKYC-Channel 3 News
It's safe to say the Kelce family has been the most celebrated family in sports in 2023.
From brothers facing off against each other in Super Bowl LVII (57) to the worst kept secret in mainstream media of Travis Kelce rumored to be dating pop mega-star Taylor Swift.
Kelce-mania hasn't yet flamed out this year. Now, it's Donna Kelce's turn.
The mother of Kansas City Chiefs tight end Travis and Philadelphia Eagles center Jason is getting her own merch. A t-shirt from the popular clothing brand HOMAGE features a caricature of her likeness on the shirt showing support to her sons' respective teams.
However, the reason this shirt exists is much more than a brand taking advantage of the family's current popularity (though that's never a bad reason).
Donna Kelce's long-standing relationship with the Heights Schools Foundation brought the idea to life. Proceeds from shirt sales will go to the foundation that is still near and dear to Donna's heart.
These Tri-C students work to reach young voters
From Signal Cleveland
Sylvia Snow-Rackley (seen in this image on the right, playing a nurse) is a Cleveland Heights graduate and a second-year Tri-C student who, while attending the college, was selected to be a Democracy Fellow.
The cohort has made this year's fellowship focus a get-out-the-vote campaign for young adults, producing a series of lighthearted videos. In one recent video, the scene is a hospital room, where a patient by the name of Democracy lies on a gurney near death.
Enter the doctor. Her remedy: a big syringe filled with…Votes. Message cleverly delivered (with a dose of daytime drama).
CH resident offers tips on low-impact leaf cleanup
From Heights Observer
In the fall, Heights neighborhoods fill with noise, dust, and invisible toxic emissions as crews or residents use gas-powered equipment in an attempt to remove every fallen leaf.
Some residents, however, are finding ways to reduce carbon emissions and noise in keeping with the city of Cleveland Heights' commitment to climate action.
Fadi Kdayssi owns an historic home on nearly one acre, set 100 feet back from Fairmount Boulevard. Mature oaks buffer the home from weather and traffic noise. Its brick walls are two-feet thick, with triple-layer windows set in stone trim. Yet, even with windows closed, leaf-blower noise intrudes from hundreds of feet away.
Kdayssi's professional expertise in sound and video recording may make him especially sensitive, but the sound of two-stroke gas leaf blowers is both high decibel and low frequency—qualities that make sound more penetrating, over longer distances...
 

Euclid Heights Boulevard

has reopened!
Construction is complete on the water quality project under Euclid Heights Boulevard between Lee Road and Superior Road and the roadway is open again. Thank you motorists, cyclists, and pedestrians for your patience during this time.
Cleveland Heights played host to Roller Derby Western Cup
Many thanks to the Cleveland Guardians, the local roller derby team that is a member of the international league, Men's Roller Derby Association (MRDA), for bringing the Western Hemisphere Roller Derby Cup tournament to Cleveland Heights last weekend.
In addition to filling the coffers of local bars, restaurants and hotels from out-of-town guests, Cleveland Heights residents got to enjoy a free pass to one of the two full days of bouts between the eight playoff teams. Here, teams from San Diego and Mexico faced off in a hard-fought bout on Saturday night.
The next City Council meeting will be held on
November 6, 2023, at 7:30 pm
, in the Council Chamber.


It will be preceded by a Committee of the Whole meeting at 6:00 pm in the Executive Conference Room. Both meetings may be viewed live on
YouTube
.
Future Shades in Medicine Youth Summit is an exciting day designed to inspire black, brown, and other youth to consider careers as doctors, nurses, and other healthcare professions. Students in grades 3 - 12, parents/guardians, educators, healthcare professionals, and community leaders are welcome to attend.
Thursday| November 2, 2023 | 7:00–8:30 pm
Lee Road Library
The final Crowdsourced Conversations forum of 2023, on the topic of "Planning and Development in the Heights," will take place Thursday, November 2, 7:00 pm–8:30 pm at the Lee Road branch of Heights Libraries.
Come ready for small group discussions that aim to inspire and empower Heights residents to get involved with this topic they care about. This free community event is planned in partnership with FutureHeights, Home Repair Resource Center, Reaching Heights, and Heights Libraries. All are welcome to attend -- advanced registration is strongly encouraged.
Doan Brook Photography Hike
Saturday, November 4, 2023 | 9:00 am—12:00 pm
Meet on the Lower Shaker Lake Bridge
Doan Brook Partnership's annual Doan Brook photography hike gives aspiring photographers a chance to take in the autumnal beauty of the Doan Brook gorge and get in some practice with experienced local photographer David Perelman-Hall.
Be sure to bring your camera with a fully charged battery and ensure there is space on your card to capture new images.
Participants will meet on the Lower Shaker Lake bridge over the dam spillway; street parking is available on Brook Road. Bring hiking shoes you would trust to navigate mildly steep and treacherous conditions.
After everyone meets and has an introductory shoot, the group will then move to the Roxboro parking lot and explore the ravine on foot from there. Total time usually runs close to three hours.
While you do not need a camera to participate, be advised that this event is structured as an outdoor photography class/workshop and not a traditional hike.
The fee is $20 per person. For questions or additional information, contact Doan Brook Partnership at 216-325-7781 or info@doanbrookpartnership.org