Paul Beck

Social and Behavioral Sciences Distinguished Professor Emeritus
"President Obama Delivers Final State of the Union Address"
Peter Mansoor

Gen. Raymond E. Mason Jr. Chair in Military History
"Ginther, Coleman to attend Obama's final State of the Union speech"
John Mueller

Senior Research Scientist
Mark Stewart

Visiting Scholar
"Anti-terrorism funding questioned"
"Balancing Terror and Reality in State of the Union Address"
Margaret Newell

Associate Professor of History
"

Horrors of Native Slavery in New England Revealed in New Book

"
David Stebenne

"The Republicans' Religion Problem"
Mershon Memo
is a weekly e-mail newsletter distributed by the Mershon Center for International Security Studies, a unit of the
Office of International Affairs
at The Ohio State University.


Thursday-Friday, January 28-29, 2016
COMPAS: Conversations on Morality, Politics, and Society
11th Floor, Thompson Library,
1858 Neil Avenue Mall
The
Fall COMPAS Conference
explored the value trade-offs that are involved in pursuing competing visions of a sustainable future. The
Spring COMPAS Conference
on "
Realizing Sustainability
" turns to the practical: the challenge of realizing sustainability. Who bears responsibility for this challenge and how can we motivate the necessary shifts in public policy and personal behavior? If the Paris meetings represent a moment, as President Obama has stated, when "nations embrace their responsibility to assure a world worthy of our children," what policy implications follow from that change in moral viewpoint? The conference will bring together an interdisciplinary group of experts from communications, decision sciences, economics, law, philosophy, and political science, among other fields, to address these issues.
See complete conference program
Monday, February 1, 2016
Noon, 120 Mershon Center, 1501 Neil Ave.
Leif Wenar
, a Columbus native, now holds the Chair of Philosophy and Law at King's College London. After earning his bachelor's degree from Stanford, he edited an autobiographical volume by the Nobel-winning economist F.A. Hayek and was Karl Popper's research assistant. He went to Harvard to study with John Rawls, and while there took classes with Amartya Sen and led discussions for Michael Sandel's course on justice. He wrote his Harvard qualifying thesis on Karl Marx's theory of history, and his doctoral dissertation on property rights with Robert Nozick. In this presentation, Wenar will discuss how the world's most coercive regimes depend on trade of stolen natural resources, and how the West can lead a peaceful global revolution by ending dependence on authoritarian oil. Read more and register at
go.osu.edu/wenarl
Thursday, February 4, 2016
3:30 p.m., 120 Mershon Center, 1501 Neil Ave.
William Reno
is professor of political science and director of the Program of African Studies at Northwestern University. He is the author of
Corruption and State Politics in Sierra Leone
(Cambridge, 1995),
Warlord Politics and African States
(Lynne Rienner, 1999),
Warfare in Independent Africa
(Cambridge, 2011), and other works on the politics of conflict and the organization of armed groups in failed states. More information about his research is at
http://www.willreno.org
. Reno will discuss research explains variations in how armed groups organize their relations with surrounding communities in the context of conflict in collapsed states. Read more and register at
go.osu.edu/renow

Alexander Thompson stands in front of the venue for the 2015 climate conference at Le Bourget in Paris.
Mershon affiliate studies politics of climate finance
Since 1995, countries of the world have gathered in the annual Conference of Parties, or COP, to assess goals and progress toward the United Nations Framework Convention on Climate Change, the international environmental treaty whose objective is to prevent dangerous climate change by stabilizing levels of greenhouse gases in the atmosphere.
One of the most contentious parts of this annual meeting concerns finance. Industrialized countries have agreed to provide substantial support to help developing countries lower emissions, adapt to the effects of climate change, and develop clean energy technology.
This financing is an important part of "common but differentiated responsibilities," or the principle that each country has different capabilities and different responsibilities in addressing climate change.
The 2009 Copenhagen Accord requires industrialized countries to supply $100 billion a year.
With the help of a grant from the Mershon Center,
Alexander Thompson
traveled to
the 2015 climate conference in
Paris as well as the 2014 conference in Lima
to observe negotiations and interview participants
. His findings will be part of a forthcoming book on the evolution and design of global climate agreements.
Developed vs. developing nations
Historically, industrialized nations are not only wealthier than developing countries, but also more responsible for the carbon emissions that cause climate change, since they have been burning fossil fuels for much longer. Developing countries are more subject to the effects of climate change but less able to cope, even though they are less responsible.
However, as developing countries expand their economies, their emissions are beginning to surpass those of developed nations. Nor do poorer nations have any incentive to scale back development when substantial portions of their populations do not have access to basic needs such as electricity.
Thompson is conducting systematic research into the politics of international cooperation over climate finance, with a goal of diagnosing key obstacles and finding potential solutions. In this project, he is tracking the positions of key countries or blocs at each annual climate conference since 2007, as well as at meetings of its Subsidiary Body for Implementation.
Key players include the United States, European Union, Canada, Japan, Australia, and Russia, as well as developing countries in the BASIC group (Brazil, India, South Africa, and China), the G77, and the Alliance of Small Island States, whose existence is threatened by climate change.
Read more

Friday, January 22, 2016
6 p.m., Ohio Staters Traditions Room, Ohio Union, 1739 N. High St.
Sponsored by East Asian Studies Center
In celebration of Asian Pacific American Heritage Month, join the East Asian Studies Center and the Multicultural Center for a screening of "
HAFU - The Mixed Race Experience in Japan
" (2013, 85 minutes). Producer/director
Megumi Nishikura
will introduce the film and hold a question-and-answer session at the conclusion of the screening. According to the Japanese Ministry of Health, Labor and Welfare, one in 49 babies in Japan today are born into families with one non-Japanese parent. This newly emerging minority in Japan is under-documented and under-explored in both literature and media. The feature-length HD documentary film seeks to open this increasingly important dialogue. The film explores race, diversity, multiculturalism, nationality, and identity within the mixed-race community of Japan.
Read more
Monday, January 25, 2016
7:30 p.m.,
Whetstone Library,
3909 N. High St.
Sponsored by Clio Society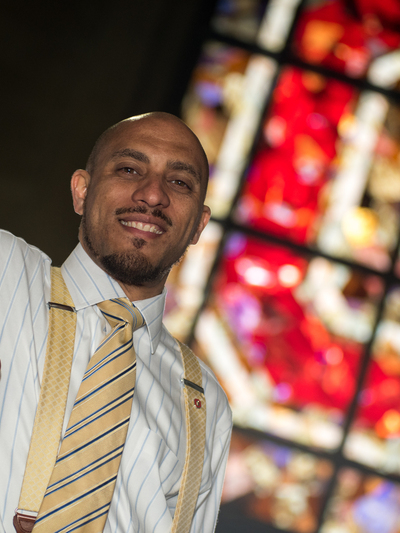 Hasan Kwame Jeffries
is associate professor of history at Ohio State, where he teaches seminars on the civil rights and black power movements, and surveys in African American and American history. In 2009, Jeffries published
Bloody Lowndes: Civil Rights and Black Power in Alabama's Black Belt
(NYU Press). The book tells the story of organizers from the Student Nonviolent Coordinating Committee who ushered in the black power era by transforming rural Lowndes County, Alabama, from a citadel of violent white supremacy into the center of southern black militancy. His current book project,
Stealing Home: Ebbets Field and Black Working Class Life in Post-Civil Rights New York
, examines the experiences of the residents of Ebbets Field Apartments, an expansive housing complex built in 1962 on the site of old Ebbets Field, the former home of Major League Baseball's Brooklyn Dodgers.
Thursday, February 11, 2016
3:30 p.m., 120 Mershon Center, 1501 Neil Ave.
Sponsored by Department of History
Dagomar Degroot
is an environmental historian who bridges disciplines to investigate how people confront changes in the natural world. He has written a book, currently in peer review, that furnishes the first detailed analysis of relationships between climate change and the "Golden Age" of the Dutch Republic. His ongoing projects trace the human consequences of 17th century Arctic cooling; investigate connections between climate change and early modern conflict; and identify how people have responded to environmental changes in space. Degroot is the founder of
HistoricalClimatology.com
, a website that attracts more than 100,000 viewers annually, and the co-founder of Climate History Network, an organization with more than 150 multidisciplinary members. In this lecture, Degroot examines whether climatic changes during the "Little Ice Age" from 1450 to 1850 led to more societal conflict. Read more and register at
http://go.osu.edu/degrootd
Thursday, February 11, 2016
7 p.m.,
Archie M. Griffin Ballroom,
Ohio Union,
1739 N. High St.
Sponsored by Environmental Professionals Network
M. Sanjayan
is a leading global conservation scientist, writer and an Emmy-nominated news contributor focused on the role of conservation in improving human well-being, wildlife and the environment. He serves on Conservation International's senior leadership team as executive vice president and senior scientist. Previously he was the senior scientist for The Nature Conservancy. His scientific work has been published in journals including
Science, Nature,
and
Conservation Biology
. He is a Catto Fellow at the Aspen Institute. With remarks on "
Central Ohio's Contributions to Protecting Earth's Environments and Peoples"
by Tom Stalf, CEO of the Columbus Zoo and Aquarium. The event is free but
registration is required
.

Research Commons offers grant writing workshop

Join Research Commons for an interactive workshop on grant writing. We will address some of the similarities and differences between the funding processes for federal/state agencies and private foundations. Topics include best practices for seeking funding, including the SPIN Funding Opportunities system and other funding resources, and examples of writing that is both persuasive and clear.
Presenters include:
Dinessa Solomon, Executive Director, Foundation Relations
Jeff Agnoli, Office of Research
Amanda Rinehart, Data Management Services Librarian
Who: Ohio State faculty, staff, and postdocs
When: Thursday, January 21, 10 a.m. to noon
Where: Research Commons, 3rd floor of 18th Avenue Library
Council for Graduate Students offers variety of grants

Please see the following opportunities for funding for conference travel, research abroad, and professional development through the Council of Graduate Students.
Workshop: How to Successfully Apply for a CGS Grant
The Council for Graduate Students in concert with the new Research Commons will host a workshop on tips for applying for CGS funding opportunities. The event will take place in the newly inaugurated Research Commons on the third floor of the 18th Avenue Library on Thursday, January 28, from noon to 1:30 p.m. Food will be provided.
Space is limited.
Read more and register
Conference Presentation Requiring Travel?
Apply for the Ray Travel Award for Service and Scholarship!
Our Funding Cycle 3 Deadline is February 26, 2016.
Conference dates must begin on/between: May 4, 2016 - August 3, 2016. Read more
Professional Development Activities?
Apply for the Career Development Grant!
The grant awards up to $350 for professional development (non-research activities).
Our Funding Cycle 3 Deadline is February 26, 2016.
Professional activity dates must begin on/between: May 4, 2016 - August 3, 2016.
Apply by the application deadline if you are hoping to present at a conference, participate in a workshop, and etc. that falls within an application period's dates, even if you have not yet received word regarding your conference/workshop submission. Read more
Conducting international research this summer?
Apply for the Global Gateway Grant! Consider applying if you are conducting thesis and dissertation research abroad this summer to be awarded a $1,500 grant.
Deadline: February 19, 2016.
Research must be conducted between May 9, 2016 - August 22, 2016.
Read more