Greetings!
Have you ever planned for a party or an event...then realized your home is just not ready? Entertaining at home seems to get us motivated to complete those rainy day projects. Once the date is set, you now have an official deadline for your preparations. Of course you want your home to be the best it can be especially with company coming.
The holidays are right around the corner and that time for finishing your projects is here. Don't let the holidays stress you out because your home is not ready. If you do not have time to complete them all, focus on what is important. If you are entertaining out-of-town guests this season, preparing an inviting guest room will make your company feel right at home. Below are some tips on how to create a welcoming guest room for your holiday company.
Have a happy and blessed holiday season!


Sharyn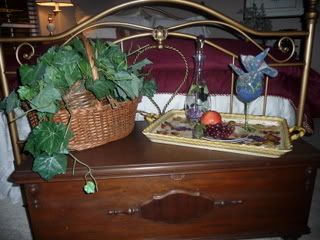 GUEST ROOM TIPS


If you plan on entertaining overnight visitors, you will want them to feel comfortable in their "home away from home". Providing a few extra touches will surely be appreciated. The following are some tips to spoil your guests and make them feel right at home.

Place a "Welcome Basket" in their room. Use either a basket or an open suitcase and fill with amenities i.e. bottles of water, house slippers, reading material, munchies for late night snacking or special treats you know they will enjoy.
Set up a "Coffee Station" with an assortment of coffee and teas.
Lay out bath items such as towels, bubble bath, soaps, etc.
Create a cozy reading corner with a comfortable chair, table and lamp.
Add some fresh flowers or a single rose and chocolates on their pillow.
Last but certainly not least, a comfy bed with lots of pillows and an extra blanket.
MORE GUEST ROOM TIPS