Links:
The Black Star Project's website:
Follow us on Twitter:
Conference Call with Denzel Washington about "FENCES"


The Campaign for Black Male Achievement has been a proud partner with Values Partnerships and Paramount Pictures on "Across The Fence", a national campaign to promote the highly-anticipated film "FENCES" starring Denzel Washington and Viola Davis.

In advance of its official theatrical release on Christmas Day, we invite you to join us for a special call
with
Denzel Washington himself
on Thursday, December 22nd at 7:30 p.m. EST
to offer insights into the production of the film, and to thank all of you for supporting it and the #AcrossTheFence campaign. The call will also feature CBMA CEO Shawn Dove, and Values Partnerships Founder/CEO Joshua DuBois.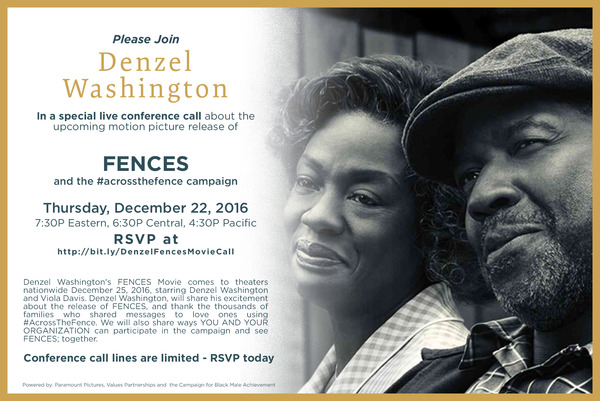 Space on the call is limited, so
click here
to RSVP!

Hope you can join us!

Sincerely,

Campaign for Black Male Achievement
These Cities Have Signed-Up to Participate in the 2017
Dr. Martin Luther King, Jr.
Birthday Weekend Mentor Program
City State
| | |
| --- | --- |
| Asbury Park | New Jersey |
| Atlanta | Georgia |
| Beachwood | Ohio |
| Birmingham | Alabama |
| Boston | Massachusetts |
| Brooklyn | New York |
| Bryan | Texas |
| Charlotte | North Carolina |
| Chicago | Illinois |
| Dekalb | Illinois |
| East Chicago | Indiana |
| Fairfield | California |
| Gahanna | Ohio |
| Harrisburg | Pennsylvania |
| Hazel Crest | Illinois |
| Hyde Park | New York |
| Jackson | Mississippi |
| Jefferson City | Missouri |
| Jersey City | New Jersey |
| Kansas City | Missouri |
| Laporte | Indiana |
| Laveen | Arizona |
| Montgomery | Alabama |
| New Orleans | Louisiana |
| Newburgh | New York |
| Norfolk | Virginia |
| Philadelphia | Pennsylvania |
| Stockton | California |
| Tougaloo | Mississippi |
| Williston | Florida |
Click Here to get a free organizing guide and join the ranks
of those mentoring across America in the 2017 Dr. Martin Luther King, Jr. Mentor Weekend Program.
"With violence in cities escalating and failure in schools increasing, officials have now realized that they cannot be successful developing youth without an intentional and focused mentoring effort as part of a comprehensive plan to reduce youth violence and improve communities.
The societal, peer and negative media forces competing for our children's time and energies are just too strong and unrelenting for youth to overcome without a structured, consistent, positive mentoring program to support them.
It is unfortunate that street gangs "run better mentor programs" than most churches and schools, and that most drug dealers are better mentors than church members and community members. Until this changes, we have almost no hope!"
Phillip Jackson
Chairman of the Board
773.285.9600
On the 2017 MLK Mentor Weekend:
Friday - Show a film or documentary to youth about their history and/or their service to community and country.
Saturday - Complete a community service project with children, the homeless, ex-felons, new immigrants or senior citizens.
Sunday - Take A Young Person to Worship at a mosque, synagogue, temple, church or to a quiet place.
Monday - A Day of Mentoring as you choose with food, fun, speakers and information.
Click Here
to register your organization, church or school and your city for
the Dr. Martin Luther King, Jr. Mentor Weekend.
This program is open to men and women of all ethnicities and socio-economic backgrounds to work with youth of all ethnicities and socio-economic backgrounds.
The Young Black Men of Honor Mentor Program for Young Men 12 to 18 Years Old Represented Chicago Well at
Mentees in Young Black Men Of Honor Program
Being mentored at Black Star is fun as well as exciting!
Young men develop skills and enjoy the evening
New friends are made on this day.
Black Star Mentees won more prizes than any other group that night.
If you know of a young man between 12 and 18 years old who needs structure, guidance, discipline, encouragement and fun, please call 773.285.9600 and register him for the Young Black Men Of Honor mentor program. This program is supported by the Department of Family
&
Support Services and the Chicago Housing Authority.
Whether It Is "Watch Night" or "Freedom's Eve",
the Black Community
in America Celebrated
Freedom
from Slavery as of
11:59 pm, December 31, 1862
"On that night, Blacks came together in churches and private homes all across the nation, anxiously
awaiting news that the Emancipation Proclamation
had
actually become law."
Slaves wait for 12:00 am, January 1, 1863, the first day of
freedom for many Black slaves in America.
Written by Charyn D. Sutton
If you live or grew up in a Black community in the United States, you have probably heard of "Watch Night Services," the gathering of the faithful in church on New Year's Eve. The service usually begins anywhere from 7 p.m. to 10 p.m. and ends at midnight with the entrance of the New Year.
There are two essential reasons for the importance of New Year's Eve services in African American congregations. Many of the Watch Night Services in Black communities that we celebrate today can be traced back to gatherings on December 31, 1862, also known as "Freedom's Eve."
On that night, Americans of African descent came together in churches, gathering places and private homes throughout the nation, anxiously awaiting news that the Emancipation Proclamation had become law. Then, at the stroke of midnight, it was January 1, 1863, and according to Lincoln's promise, all slaves in the Confederate States were legally free.
People remained in churches and other gathering places, eagerly awaiting word that Emancipation had been declared. When the actual news of freedom was received later that day, there were prayers, shouts and songs of joy as people fell to their knees and thanked God.
Black-White Earnings Gap Remains at 1950s Levels for Median Worker
By Newswise - University of Chicago
December 15, 2016
The earnings gap between African-American men and white men is the same now as it was 60 years ago for the median worker, according to a new study from University of Chicago economist Kerwin K. Charles and Duke University economist Patrick Bayer.
In the study, Charles, the Edwin and Betty L. Bergman Distinguished Service Professor and interim dean at the University of Chicago Harris School of Public Policy, and Bayer take an innovative look at federal data on the earnings of African-American and white men from 1940 through the Great Recession.
Their results provide a sobering picture of the persistence of income inequality for the vast majority of African Americans. The researchers also found the wage gap closing swiftly at the top of the earnings scale, suggesting that targeted, race-specific policies have been effective in expanding access to top-tier educational opportunities and high-wage professions.
Historically, most economists have focused on average earnings when comparing black and white wage differences-an approach that blurs the increasing divergence between the highest and lowest earners. Charles and Bayer decided to look at the data in a different way, ranking black and white men from 0-100 based on their earnings and then comparing them using such a scale.
The researchers also included "zeroes" in their analysis-men who are not part of the workforce and who have zero earnings. The resulting analysis captures the impacts of rapidly rising income inequality in the United States and provides a much starker representation of the widening gap between most African-American and white men.
"It's astounding that, in terms of economic rank, a black man in the middle of his economic distribution is no closer to his white counterpart in terms of earnings than was his grandfather," Charles said.
"In essence, the economic benefits that should have come from the substantial gains in education for black men over the past 75 years have been completely undone by the changing economy, which exacts an ever-steeper price for the differences that still remain," Bayer said.
There is no reason for your child to be left behind in school or in life. You can use this holiday season to take control of your child's education. Those who control the education of the children control the future of that race.
The Black Star Project's
Holiday University
1) Boys and girls in 1st to 4th grade whose parents want them to become serious and effective readers for our Holiday University from 9:00 am to 11:00 am during the holidays!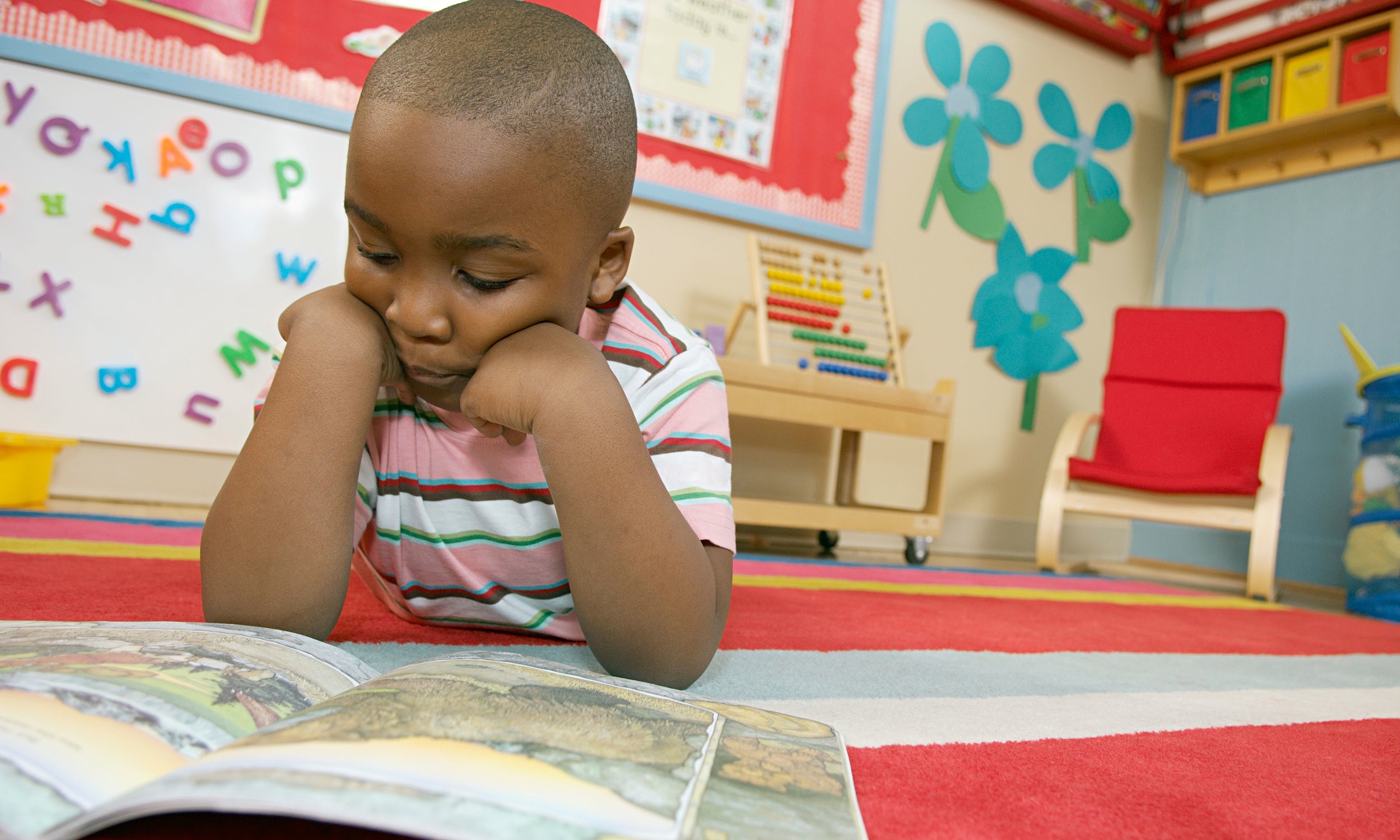 2) Young women and young men in 5th to 8th grade for our Holiday University focusing on reading, writing, Black history, science and math from 11:00 am to 1:00 pm during the holidays.
Classes on Tuesday, Wednesday, Thursday and Friday, December 27 through 30th, 2016 and Tuesday, Wednesday, Thursday and Friday, January 3rd through 6th, 2017.
All classes are at The Black Star Project, 3509 South King Drive, Chicago, Illinois. Please call 773.285.9600 to register for any of the above classes or for more information about these free programs. Parents must have a high level of support and engagement with our academic programs. Enrollment is limited.
Dear Supporter of Progress,
This may be your last chance this year to invest in the work of The Black Star Project!
Our work in the past year has included:
Helping to organize the Red, Black, Clean And Green National Day of cleaning up Black communities.
One million fathers taking their children to school in the Million Father March
Tens of thousands of youth being mentored on Martin Luther King Mentor Day
Major operational and policy support for the U.N. coming to America and declaring that people of African descent deserve REPARATIONS NOW!!!
The creation and successful operation of the first Black Male Reading Academy in the United States.
Organizing the Mass Black Male Graduation Midwest
Supporting 25 cities in the creation of Daddy Daughter Dances (see ours below)
And much, much more!
You have seen our work and now we need your support. If you know of another organization doing the work of The Black Star Project, support them. If not, support us. But support somebody in the war for the hearts, minds and souls of our children, and our future as a race!
Just click the orange DONATE NOW button (or CLICK HERE) to make your investment in the future of our race!
We desperately need your as we leave 2016. We cannot continue to win these battles without your support.
Sincerely,
Phillip Jackson

Chairman of the Board of Directors
773.285.9600

P.S. You may also donate by sending a check or money order to The Black Star Project, 3509 South King Dr. Suite 2B, Chicago, IL 60653. Make all checks and money orders should be payable to "The Black Star Project". Thank you so much for your generosity! All investments are deductible to the extent allowed by 501c3 law.