Good evening, .
As we prepare for the near future where manufacturers lead the return to a robust economy with a safe, healthy, confident and economically secure workforce, the MMA is working furiously to support our member companies with the many complex facets of operating in the shadow of a global pandemic.
We know you're busy. We know you're overwhelmed. We know that conditions change by the minute. To help cut through the noise, we have developed the MFG Best Practices for Operating Safely and Productively which condenses the leading safety standards and best practices for manufacturers on critical topics like employee screening, social distancing, decontamination, personal protection equipment, communication and training.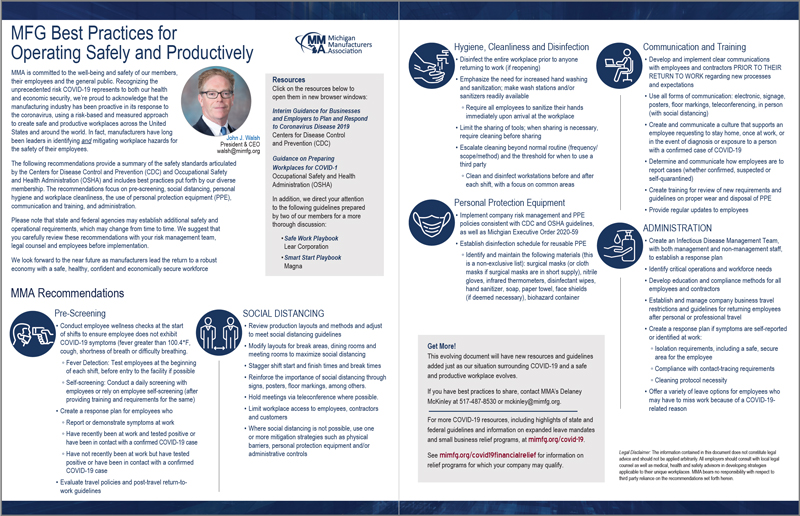 This tool will continue to evolve in the coming days and weeks to include even more resources, connections and critical information.
MMA has also developed partnerships with companies that can help you restart or scale up your operations:
Heritage-Crystal Clean, the nation's second largest and fastest growing parts cleaning and industrial waste services provider, offers FDA- and EPA-approved services to decontaminate common surfaces and dispose of potentially contaminated materials.

HoMedics, a trusted health and wellness company for over 32 years, has converted its supply chain to provide critically needed Personal Protective Equipment (PPE) including face masks, no-contact thermometers, air purifiers, pulse oximeters and other equipment you might find useful for opening back up.
MMA Member Discount: Go to www.homedics.com/MMA to save 10% and FREE Economy shipping.


iMBranded, a Pontiac-based provider of architectural millwork and customizable graphics for multiple industries, has developed a line of social distancing signs and products designed to help businesses implement social distancing measures as they re-open.
MMA Member Discount: Go to safely6ft.com and use code MMA to save 10%.
Together, we will overcome both the health crisis and the economic crisis plaguing our state and nation, and manufacturers will lead the way.