Help SOHO protect and preserve one of San Diego's most cherished cultural landmarks and historic landscapes now
.
We are sorry, the previous email had an error in the zoo parking information. Please see this corrected version and thank you.
SOHO is continuing its legal challenge to the deeply flawed Plaza de Panama project that would devastate Balboa Park's 1915 historic core and jeopardize its National Historic Landmark District status. We believe we will prevail. And we need your help.
SOHO's objections are based in the California Environmental Quality Act (CEQA). The City should have revised its 2012 Environmental Impact Report before approving a misguided and poorly conceived new project under changed environmental circumstances four years later. Instead, the City Council approved a cursory "addendum" to the 2012 EIR for an $80 million project. This was done without public notice or consideration of new circumstances and feasible alternatives to a massive construction project that the City concedes will have significant adverse environmental impacts to the historic park.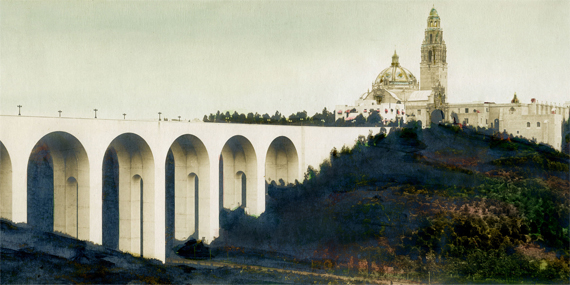 The original impetus for the project was to clear parking from the Plaza de Panama in anticipation of
c
entennial celebrations planned for the park's exposition grounds in 2015. In fact, parking was easily eliminated from the Plaza de Panama in 2013without the project's Centennial Bridge, a freeway-like bypass proposed to cut into the Cabrillo Bridge and connect to a new road, destroying hallowed parkland in the process. Hundreds of thousands of pedestrians now freely enjoy the open plaza with caf
e
tables, sweeping park vistas, and special events each year. Free tram service has increased and the San Diego Zoo has constructed a new employee parking garage freeing up 650 spaces for park visitors in existing parking lots. There is no justification for the bypass bridge or for the project's proposed enormous new garage, which would introduce paid parking into the park.
Most San Diego residents were completely unaware of the new project approvals due to the lack of public notice. Championing residents and Balboa Park lovers everywhere, SOHO filed suit in 2016 to challenge the City's CEQA violations.
In ruling against the legal petition, Superior Court Judge Gregory Pollack told SOHO that its case should be decided in the Court of Appeal. That is where the case is now pending. "This case is of great import not only to Balboa Park's future but to meaningful public process for other environmentally-damaging projects," said Bruce Coons, SOHO's

e

xecutive

d

irector.
Please contribute as generously as you can today to the Balboa Park Legal Defense Fund.
Help SOHO protect and preserve one of San Diego's most cherished cultural landmarks and historic landscapes now
,
and for generations to come. Thank you for your support.
Read more HERE.