November 2023

Agency Newsletter
Self care is really important to Catarina, and she emphasizes the importance of spending time with your loved ones.

This November, as the air gets colder, go outside to get fresh air, read a book. and engage in your hobbies!
From the Executive Director
Hello!
What a lovely season to be in right now with the fall weather and foliage! I've mentioned before how it's beautiful here in the fall in New England. It truly is and I always have to mention that during this season!
A few things I would like to share with you.

I hope you were able to attend the Foliage Walk with us the last few weeks and made new friends or reconnected with friends. Thanks to funding we have received, we are able to do several Wellness activities for our staff and for the community. I look forward to being part of making healthy changes together as a team.
I am excited to announce that on April 27, 2024 DEAF, inc. will host a 5k Walk.Run in Watertown! More information will be shared in the next few months. Just save the date on your calendar!
As always, thanks for your support for DEAF, Inc.
Darian
JOB OPENINGS
Domain Change
DEAF, Inc. is thrilled to share that we are changing our domain name for our website URL and emails. Previously our website was http://www.deafinconline.org and our emails ended in http://deafinconline.org.
Now we are http://www.deafincma.org for both emails and website! Our domain change reflects the state we serve and the wide variety of in person and online services and programming we offer.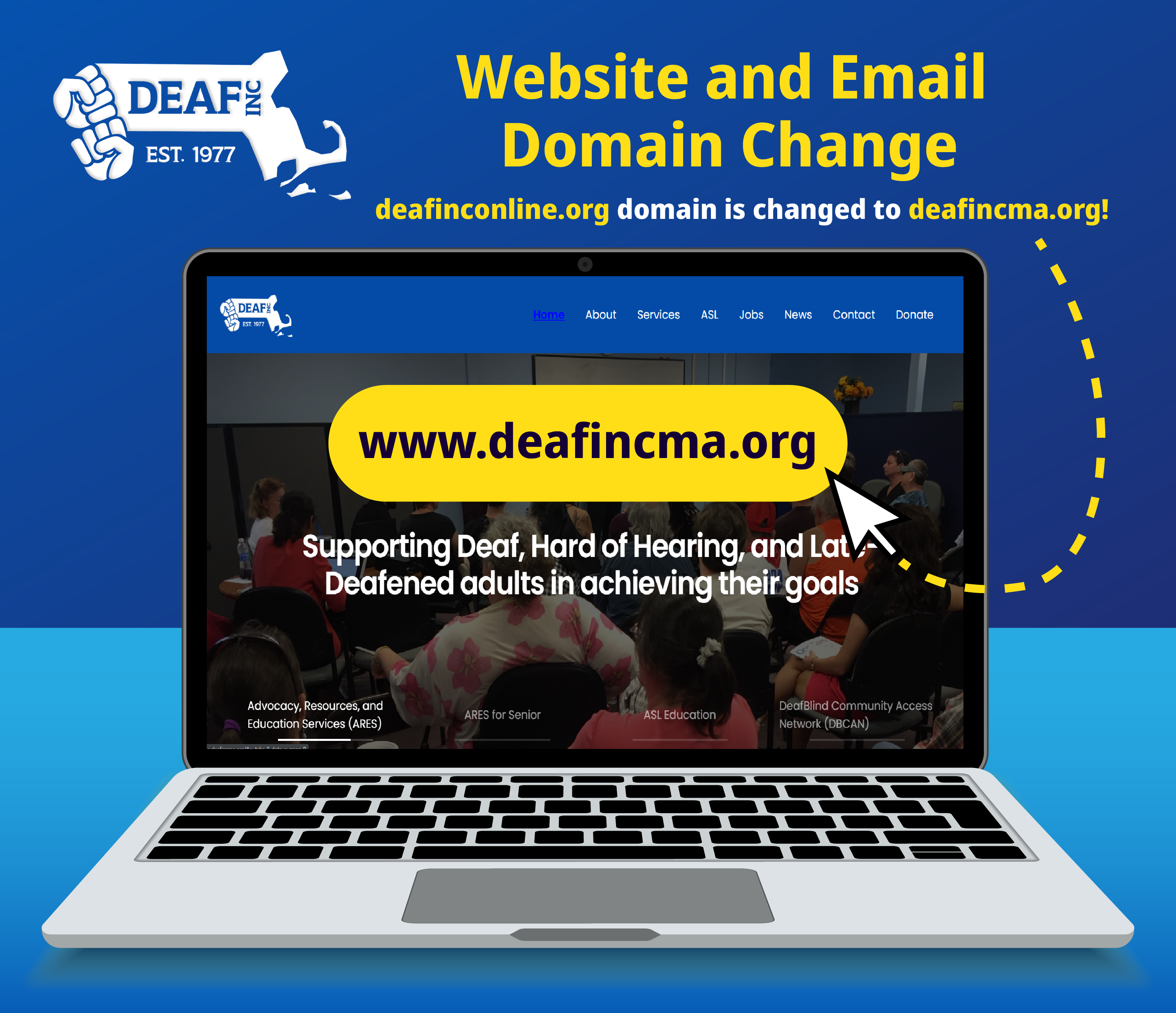 DEAF, Inc. Staff Retreat
DEAF, Inc. hosted a staff retreat where staff learned the LEGO Serious Play techniques to increase creativity and team building skills led by certified trainer Christopher Robinson. We had a great time!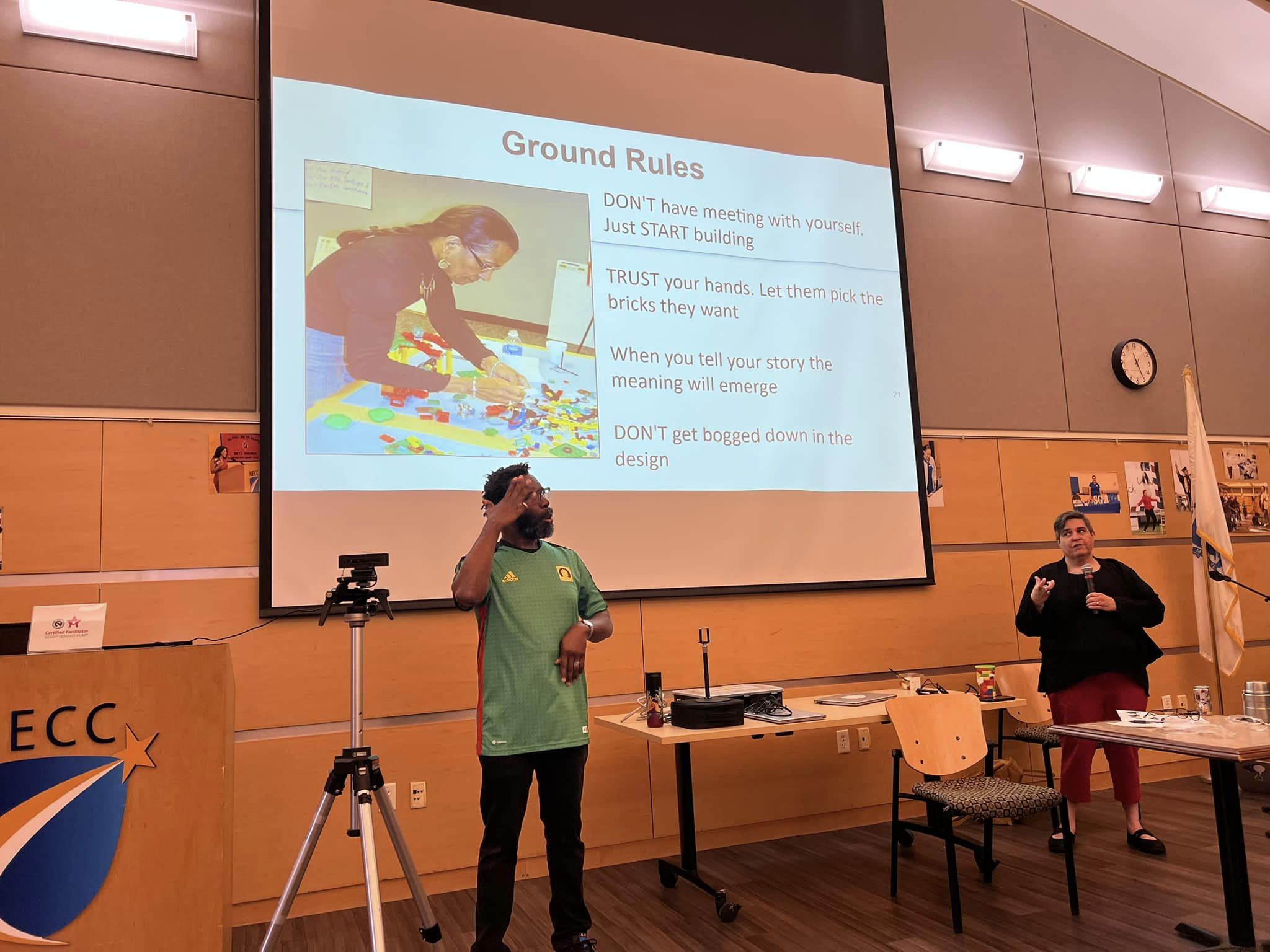 DeafBlind Community Access Network (DBCAN)
ProTactile Happy Hour


WHERE?
Waltham, MA
DBCAN will email with the location in Waltham when it is set up!


WHEN?
November 17, 2023
6:00 PM - 8:00 PM


Touch you there!
BASH HOUR


WHERE?
DEAF, Inc. Watertown Office

50 Hunt Ave, Unit #200 Watertown, MA


WHEN?
December 9, 2023

12:00 PM - 4:00 PM


We will have Italian food and games! It would be great if you bring desserts!


We will play a gift swap game called White Elephant. Please bring a gift that costs 20 dollars or less.


Touch you there!
Support Groups for DeafBlind and Providers
For anyone who needs an interpreter for any group meeting, please email Jonathan and/or Courtney at dbcan@deafinconline.org to request an interpreter at least 1‐2 weeks before the date.
DeafBlind Support Groups
Held virtually every first Wednesday of each month.
To enter zoom, please click here.
For August, we decided to put it on hold due to the outrageous traffic of the Summer Tunnel's closure. A lot of us will be stuck in traffic sitting and sitting, so let's wait till after Labor Day!
November 1, 2023
12:00 pm - 2:00 pm EST & 5:00 pm - 7:00 pm EST
December 6, 2023
12:00 pm - 2:00 pm EST & 5:00 pm - 7:00 pm EST
Provider Support Groups
Held virtually every second Wednesday every two months.
To enter zoom, please click here.
December 13th, 2023
6 pm - 7 pm EST
Advocacy, Resources, and Education Services
National Latine Heritage Month -
Deaf Velez Sisters
Thank you to Ivy and Elisa Velez for presenting to our community about their experiences as Latine individuals. Their presentation taught us a lot about their journey and what it means to celebrate National Latine Heritage Month.
DEAF, Inc. and our community members had a great time at our Fall Foliage Walks in Milton and Methuen! We enjoyed the crisp cool air and beautiful scenery. Thank you to all of you who attended! See you next fall and remember to get your fix of fresh air as we approach winter!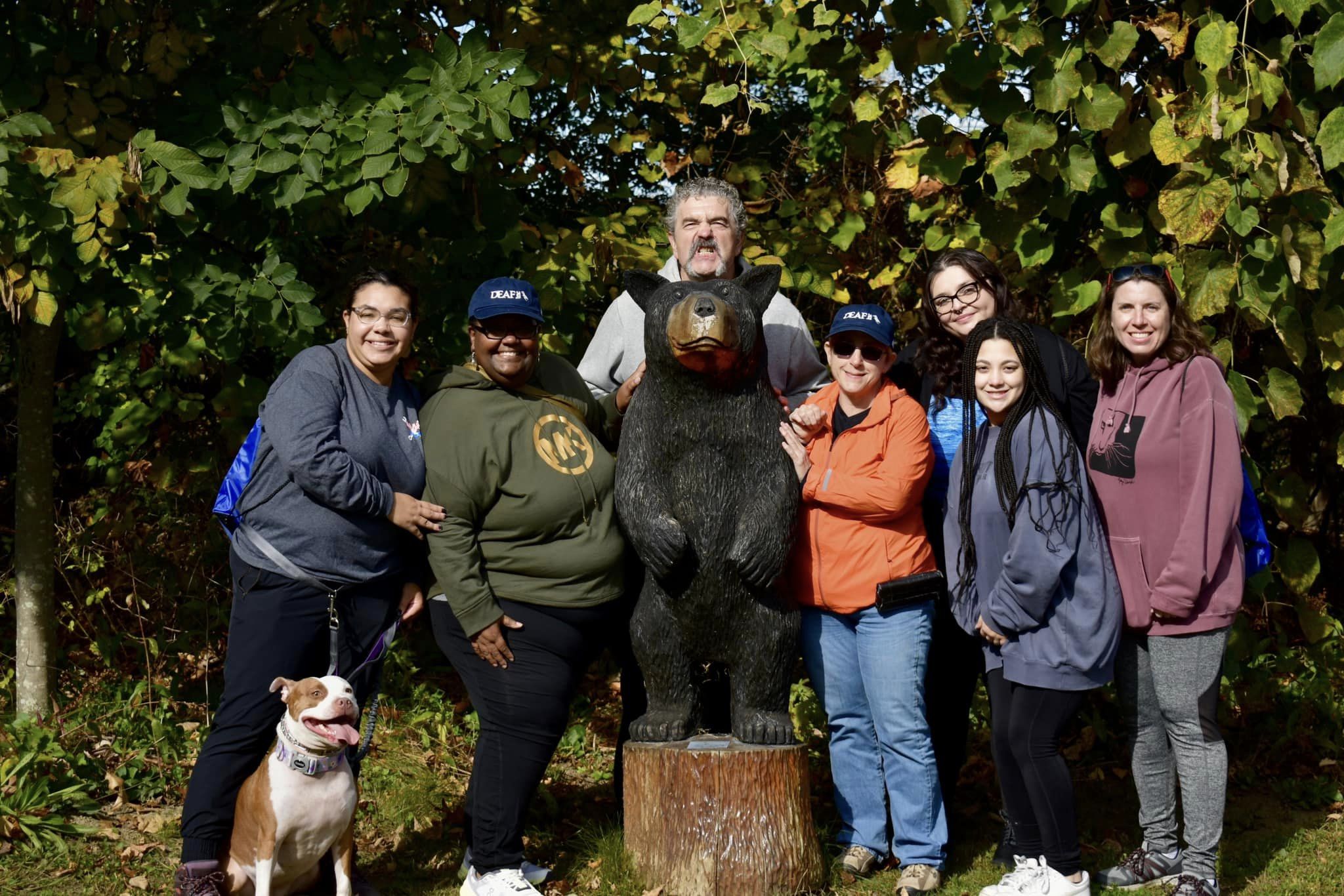 See more images click here

Winter Registration Opens Soon!
Keep an eye on our social media and your email inbox for our Winter ASL class schedule and registration!
Registration will open on the first week of November.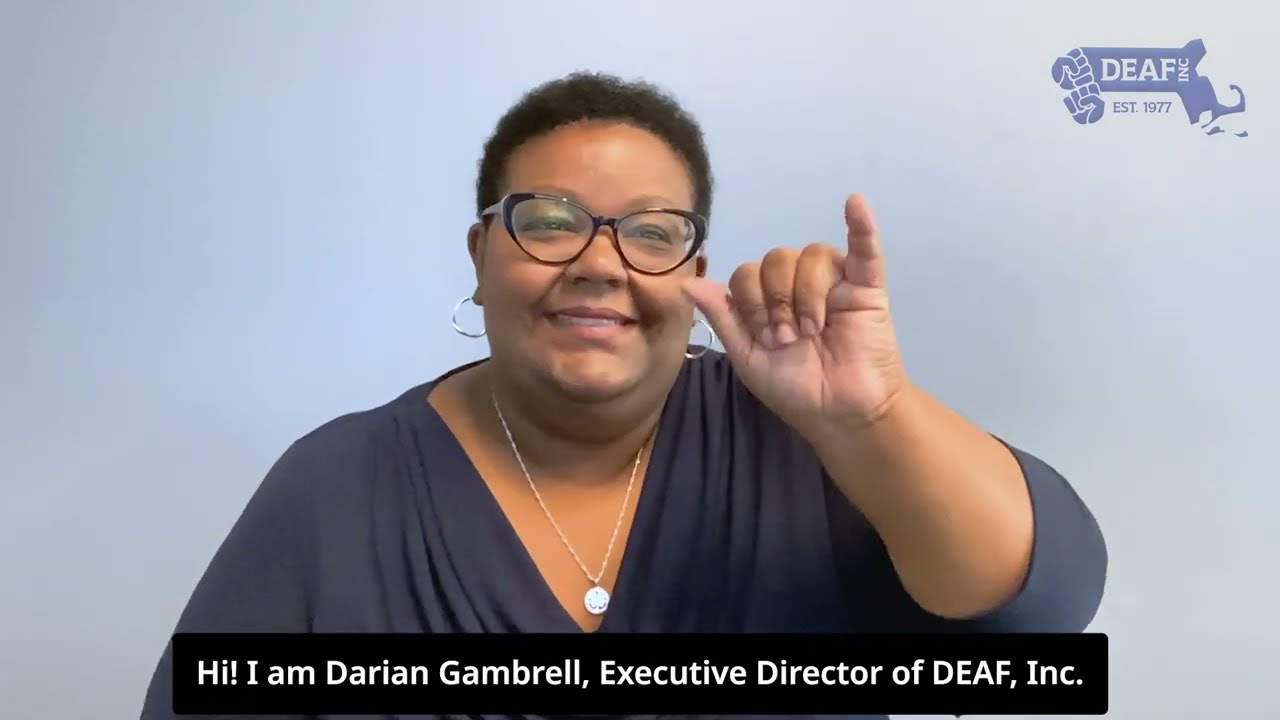 Click to watch the video
SUPPORT DEAF, Inc.
Take this opportunity to support DEAF, Inc. with a voluntary donation!
Any amount helps us! The proceeds will be used to expand our services and advocacy for our community.
Your dontation will be confidential. You will not be denied services if you choose not to donate.
STAY UP TO DATE WITH DEAF, Inc.
Follow us on our social media and website.
Any Questions? Feedback?
Please contact the front desk at
617-505-4823 or frontdesk@deafincma.org.
DEAF, Inc. is a non-profit 501(c)(3) agency funded through government contracts, private funding and donations. This newsletter developed with support from: MA Commission for the Deaf and Hard of Hearing, City of Boston's Office of Jobs and Community Development Block Grant, Executive Office of Elder Affairs, City of Boston's Age Strong Commission, and United Way Massachusetts Bay/Merrimack Valley (in the Greater Attleboro/Taunton Region), Elder Services of Cape Cod and the Islands, Coastline Elder Services, Inc., Federal Administration for Community Living, MA COVID-19 Community Grants, USCIS Innovations in Citizenship Grant, HealthCare for All, MassHealth, Association for the Relief of Aged Women of New Bedford