Dear Florida Climate Center friends,
We'd like to present you with the December 2016 edition of our newsletter. In this newsletter, you'll find our November 2016 monthly climate summary, a brief on the ongoing drought situation in North Florida and adjacent Southeast, and news about activities in which the staff have been engaged. If you have any questions,

please send us an e-mail message at
climate@coaps.fsu.edu
.
Thanks,
The Staff of the Florida Climate Center
David Zierden
State Climatologist
Danny Brouillette
Service Climatologist
December Climate Summary for Florida
The Florida Climate Center's
November 2016 Florida Climate Summary
is now available. The summary provides an analysis of temperature and precipitation patterns during the past month across the state, along with data on hazardous weather, drought, the impacts of the weather, and any records tied or broken for the month. During November, statewide temperatures were above average, averaging 66.7 degrees Fahrenheit and ranking 24th warmest on record since 1895. It was also the driest November on record in Florida, with a statewide average monthly total of 0.25". Previously, November 1931, with 0.31" statewide, was the driest November on record. Sea-surface temperatures in the equatorial Pacific Ocean have continued with negative anomalies, and the
La Ni

ñ

a Advisory
issued by NOAA's Climate Prediction Center continues, with some indications of a return to neutral conditions as the winter proceeds.
The following table gives November average temperatures and departures from normal (˚F) for selected cities.
| | | |
| --- | --- | --- |
| Station | Average Temperature | Departure from Normal |
| Pensacola | 65.4 | +4.7 |
| Tallahassee | 63.7 | +3.5 |
| Jacksonville | 63.0 | +0.8 |
| Orlando | 68.7 | +0.2 |
| Tampa | 71.1 | +2.0 |
| Miami | 74.6 | -0.3 |
| Key West | 76.5 | +0.7 |
The following table gives
September precipitation totals and departures from normal (inches) for selected cities.
| | | |
| --- | --- | --- |
| Station | Total Rainfall | Departure from Normal |
| Pensacola | 0.86 | -3.87 |
| Tallahassee | 0.49 | -3.01 |
| Jacksonville | 0.02 | -2.09 |
| Orlando | 0.06 | -2.11 |
| Tampa | 0.01 | -1.54 |
| Miami | 0.94 | -2.33 |
| Key West | 0.11 | -2.19 |
The following schematic maps November precipitation departures from normal across Florida. Image courtesy of the National Weather Service.

Presentation Made at Tally Rotary Club Meeting

State Climatologist David Zierden was the guest speaker at the 30 November meeting of the Tallahassee Rotary Club. Tallahassee Rotary is the oldest and largest service club in the Tallahassee area and the largest Rotary club in the district. He was introduced by Ruth Pryor, a current member and former program manager at COAPS, which houses the Florida Climate Center. David's wife, Betsy Ouellette-Zierden, is also a current member of Tallahassee Rotary. The presentation covered how climate and drought historically impacted the Apalachicola-Chattahoochee-
Flint river system and the challenges of meeting water needs for all sectors that rely on the river system. He closed with a summary of current conditions and outlook for drought in the coming winter and spring seasons.
Drought Improvement Seen, May Persist and Spread

Drought has been present in portions of the Southeast for several months and had more recently begun to affect the panhandle and northern portions of the peninsula. Rainfall since the end of November has improved the drought situation in many areas, including the aforementioned areas of Florida. The most recent
U.S. Drought Monitor
shows this improvement.
Whereas extreme (D3) and severe (D2) drought had affected parts of the panhandle as recently as late November, all areas of Florida have moderate (D1) drought or abnormally dry conditions. The December monthly drought outlook from NOAA's Climate Prediction Center, however, suggests that drought improvement may be fleeting, forecasting the persistence or development of drought over a large portion of North Florida over the next few months.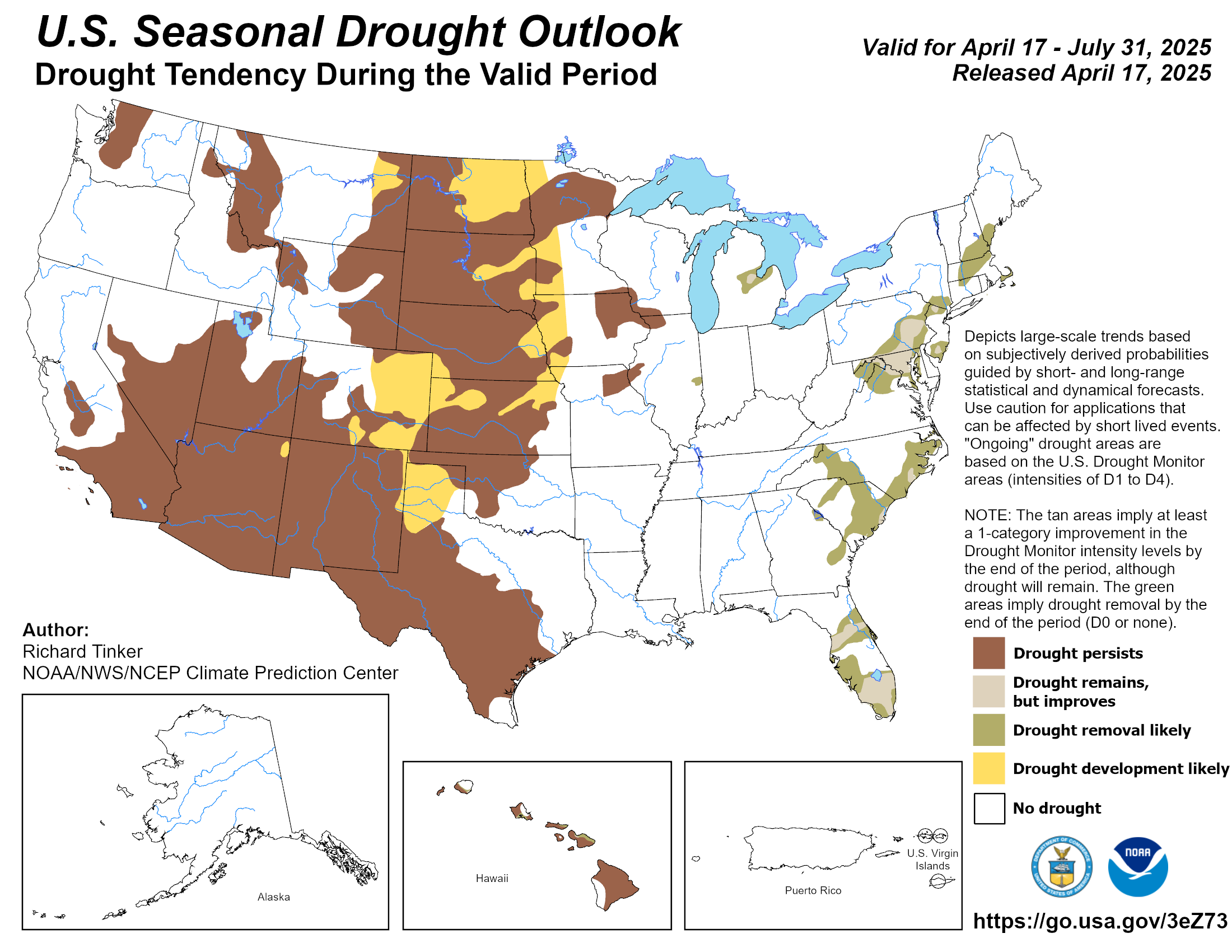 Information Presented at Wiregrass Irrigation Conference

The Wiregrass Research and Education Center in Headland, Ala., hosted its first annual Irrigation Conference on 6 December at the National Peanut Festival at Dothan, Ala. Presentations were made on various methods of irrigation including variable rate, drip, pod-lines, and center pivot. State Climatologist David Zierden kicked off the afternoon session with a presentation on the current drought, state of the Pacific Ocean, and climate outlook for the coming winter and spring seasons.
Florida Climate Center in the News

About Us
The Florida Climate Center is part of a three-tiered system of national, regional, and state climate offices, including NOAA's National Centers for Environmental Information (NCEI - in Asheville, North Carolina) and the Southeast Regional Climate Center (in Chapel Hill, North Carolina). The Florida State Climatologist and other staff at the Florida Climate Center provide the following information and services to the people of Florida:
· Climate Data:
Historical weather observations for weather stations throughout the state of Florida. We are able to provide data for most stations from 1948-present.
· Climate Information:
Long-term historical averages for various stations, climate divisions, and the entire state.
· Extreme Event Records:
Information and analyses on extreme events such as freezes, droughts, floods and hurricanes.
· Special Analysis:
With their vast knowledge of El Niño, La Niña and climate variability, the State Climatologist and staff can offer expert insight into Florida's climate trends.
· Outreach:
Activities, presentations, and workshops that inform and educate the people of Florida about current and emerging climate issues. We also coordinate volunteers for the Community Collaborative Rain, Hail & Snow Network (CoCoRaHS).