"Demonstrating Unity in the Power of the Spirit"
Assemblies of God USA Superintendent Dr. George Wood: What the Church Should do After the Election

Today we find ourselves at the end of a historically bitter and contentious election process that has lasted more than 18 months. As we wake up today, we know the winners of federal, state, and local elections. We know the issues and referendums that passed and those that failed. Among the things we have yet to learn, however, is how these decisions will impact our nation and our future.


Regardless of who you supported in this election, we can all agree we must continue to be fervent in prayer.


1) Pray for our leaders.
The first presidential election we saw in Assemblies of God history was 100 years ago in 1916. The 1916 election was one of the closest elections in U.S. history. It was truly a nation divided. The election was so close that the results were unknown for days. Factoring in the electoral college, Woodrow Wilson's
narrow victory came down to 3,800 votes in California.
Read more
Members on the Move

NHCLC names Criminal Justice System Director Dr. Antipas L. Harris to head efforts to address racial disparities
Rev. Samuel Rodriguez, president of The National Hispanic Christian Leadership Conference (NHCLC), announced that Dr. Antipas L. Harris has been named to the newly established position of Criminal Justice System Director. He will represent the NHCLC as the liaison on criminal justice reform by working with Congress, the Executive branch and emerging coalitions for the purpose of advancing reforms that immediately address racial disparities in the system and recognizes the image of God in all.
Read more
(OBC) The Life Amphitheater: Reaching Central Oregon
In 2003 Christian Life Center in Bend, Oregon, pastored by Dan LeLaCheur, broke ground on a new venue that would turn the "pit," a large, collapsed lava tube on the church property, into an amphitheater. The vision for the amphitheater first came to Associate Pastor John Bluebaugh in 1998 during an early morning prayer meeting. After years of waiting for God's timing, working through legal issues, laying roughly 10,000 cinder blocks and 42,000 square feet of sod, and installing landscaping, the beautiful Life Amphitheater was ready.
Read more
Foursquare Missions Press Reaches 200 Million Mark
Started out of a garage 35 years ago, Foursquare Missions Press has reached a significant milestone - over 200 million pieces of gospel materials distributed worldwide.
Read more
On Understanding 'Christian' Mexico

by Daniel Valles

I assert that what would be considered "persecution" of Christians in Mexico is instead disguised as peer pressure or group coercion. This is not that far removed from open coercion, which provokes and results in the rejection of Christians. The suffering is the same even if the name is different. And I am not in any way referring to the religious fanaticism that is so off-putting in every country.
Behind this intolerance we find not one buy many causes, which are the product of large doses of secular humanism entering from the United States of America in diverse forms. These ideas include radical gender theories, international organizations' human-rights agendas for population control, promotion of a "new era" culture and a new world order.
Read more.
Pray for 100 Days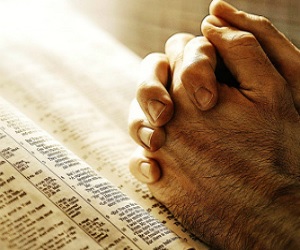 Prayer ministries including Intercessors for America, Reformation Prayer Network, the National Prayer Committee, the National Day of Prayer, and Cry Out America will join together to intercede during President Trump's first 100 days in office starting on Inauguration Day, January 20, 2017. Prayer targets will be assigned, and an app may be provided. "People are recognizing the power of prayer more than ever," Kay Horner, executive director of Awakening America Alliance said. A new website, www.prayasone.org, will be launched for the Pray 100 initiative.
Jon Engstrom, representing the Full Gospel Fellowship of Churches, said, "While there is an emphasis on being great again; we need to become good again as a nation. True spiritual righteousness and goodness come from the heart of God."
PCCNA President Jeff Farmer cited Psalm 75:7 that states, "It is God who judges: He brings one down, he exalts another" (NIV). Jeff's focus in prayer has been to ask God to bring down evil and exalt those whose hearts are righteous and who love equity and truth. "We must continually pray that godly men and women who embrace righteousness will be placed in areas of leadership," says Farmer.
Doug Small, Prayer Commission chairman and founder of Project Pray, emphasized that the Church must seize the moment and ask what can be done to move revival and prayer forward.
Recommended Reading
God desires to draw all people to Himself. He is awakening the world through the reconciling love of Jesus and the power of the Holy Spirit. What if the Lord was already awakening you, your family, your church, your city? Are you willing to let His Spirit, without warning, sweep through your own life?
In Jesus Now, join Dr. Phillips as he explores:
*The themes and patterns of previous revivals that are becoming apparent today.
*The unpredictable, untamed purposefulness of God to draw His church to Himself through ordinary and anonymous Christians.
* How the power of prayer has found extraordinary new expression within Christians who have raised the name of Jesus above a denomination or ministry.
* Human impediments to God-initiated and sustained spiritual awakening.
* Ten principles to discern current revivals.
* How to seek and follow Jesus, who has promised to do far more than you could ever imagine or request!
God is up to something big. What is your place in His great awakening? Because of Jesus, our churches, nations, and lives will never be the same again.
Cont. on next column
"But you will receive power when the Holy Spirit comes on you; and you will be my witnesses in Jerusalem, and in all Judea and Samaria, and to the ends
of the earth." Acts 1:8 (NIV)
Jeff Farmer, President

Pentecostal/Charismatic Churches of North America