Edited by
Brue Hunt
Produced by
Megan Byrd


VILLAGE PROGRAMS
Regist

er for these programs by calling 773.248.8700 or
Village Members receive registration priority.
Payment confirms your registration and is due in advance.

Let the Village office know if you need a ride!
As the Village grows, from time to time, events fill up quickly. If this happens, you will be placed on a waiting list. Please remember to sign up early! You can do so by calling the office at 773.248.8700 or e-mailing celebrate@thevillagechicago.org.
SUGGESTION BOX
The Village Chicago welcomes any comments, suggestions, or concerns.


Please
click here
to fill out our form to give the Village office your feedback. Thank you!
JANUARY PROGRAMS
Let's Talk Loss
Mondays, ongoing.
January 8 - January 29
1:30-3:00 PM
Host: Linda Randall
(N. Sheridan Rd. & W. Oakdale Ave.)
Members only-$60 for the four week series
We have all suffered loss. We have all lost something or someone of value. This group will openly talk about the feelings and thoughts brought on by loss. Linda is a psychotherapist in private practice. She is also a member of the village, has been a caregiver and has experienced losses
.
Registration Deadline:
January 5


Women's Discussion Group - Goal Setting
Tuesday, January 9
10:30 AM-12:00 PM
Chicago History Museum,
Guild Room
(1601 N. Clark St.)
Members & guests-free
For 9 years, Village member Peggy Walker has participated in an annual goal setting exercise on New Year's Day. Goal setting in a group improves the chance that goals will be attained with informal accountability. For this month's discussion, participants will divide up into small groups and each person will have time to identify up to two issues and then establish reasonable goals and implementation steps. Goals can range from cleaning out the front hall coat closet to restructuring your business or meeting the person of your dreams. We ask that participants come prepared with the issues you want to address. If you sign up in advance of the program, you will receive an email with questions and examples to help trigger identification of issues, goals and a couple of steps to take to start implementing.
Registration Deadline:
January 5


Men's Discussion Group - Giants in the Park: Unveiling the Histories behind Lincoln Park's Monumental Art

Wednesday, January 10
11:00 AM-12:30 PM
Chicago History Museum,
Guild Room
(1601 N. Clark St.)
Members & guests-free
Lincoln Park, historically Chicago's great place of leisure, is also an outdoor art and history museum with its seventeen vintage portrait statues. Using historical photographs and book highlights, this presentation with Krista August, author of Giants in the Park, will feature the histories behind the Couch Tomb, The Alarm, LaSalle, Lincoln, Grant, Fountain Girl (originally named Willard Fountain, and the Eugene Field Memorial). Missing statuary and the park's cemetery years are touched upon as well. [Giants in the Park was Chicago Writers Association 2011 Book of the Year; Illinois State Historical Society 2014 and 2017 Certificate of Excellence]

Life 3.0: Communicating Your Ideas
Thursday, January 11
6:00-8:00 PM
Village Office
(2502 N. Clark St.)
Members only-$10
Moving into new stages and situations brings the opportunity for new ideas to arise. We are in the age of information overload. It is helpful to be able to communicate your ideas effectively whether it is formally or informally. The objective of the session is to give an overview of the skills needed to organize a presentation from the listener's point of view; project a professional and confident image during a presentation; and facilitate a question-and-answer session. Note: We will look at tips for using PowerPoint effectively but we will not go into how to create visuals. Cheryl Cornell, a Village member, has been coaching executives on effectively presenting their ideas for over 30 years. We are limiting the number of participants for this session so sign up early. Bring your idea or draft to use during the session.
Registration Deadline:
January 9
Artists of The Village Chicago
2:00-4:00 PM.
The Admiral at the Lake
(929 W. Foster Ave.)
Members & guests-free
Join us for the opening reception to view the work of 18 talented Village artists working in a variety of media. The Village Chicago Art Exhibit can be seen at the Admiral on the Lake from January 12 to March 5.
12 Financial Resolutions With Raymond James
Wednesday, January 17
10:00 AM-12:00 PM
Next Door Cafe - Conference Room
(659 W Diversey Pkwy.)
Members & guests-free
The approach of a new year can be a good time to jump start a new goal. Join us to discuss 12 suggested resolutions that, if followed, could help you go a long way toward attaining your financial goals. Please arrive early to grab a coffee and treats. On Wednesday, January 24, Eric from Raymond James will offer one-on-one follow up sessions to discuss and help you implement your financial goals.
Stradivari Concert Presents: Randall Goosby

Wednesday, January 17
6:00 PM-7:30, optional dinner at 7:45 PM
Woman's Athletic Club
(626 N. Michigan Ave.)
Members & guests-$12 for Concert & Wine, $57 for Concert, Wine & Private Dinner
All are invited to this unique concert at the historic Woman's Athletic Club. Violinist Randall Goosby began violin studies at age 7 and made his solo orchestral debut with the Jacksonville Symphony Orchestra at age 9. He is the proud recipient of the prestigious Kovner Fellowship. The evening will commence with a reception and wine at 6:00 PM, followed by the concert at 6:30 PM. Optional dinner to follow at 7:45 PM.
Registration Deadline:
January 12
Two Sessions Offered!
Session 1: 10:30 AM-12:00 PM
Session 2: 12:30-2:00 PM
Village Office
(2502 N. Clark St.)
Members only-free
With 1Password you only ever need to memorize... one password. All your other passwords and important information are protected behind your Master Password, which only you know. Our instructor, Mr. Joe Daddezio, formerly of Apple Inc, was born and raised in Lincoln Park. During his career and as Chicago's The MacTutor, Joe has helped thousands of folks get more from their Mac, iPhone, and iPad.
Session 1 is waitlisted; spaces are still available in Session 2.
Apple Store Tutorial: iPhones, Apple 8, and Apple X

8:30-10:00 AM
Apple Store - Lincoln Park
(801 W. North Ave.)
Members-free & guests-$10
Join us for our first Apple Store program in 2018. Learn about the new generation of iPhones, Apple 8 and Apple X-what's new, how do they differ, how do they compare to current generation. Whether you're thinking about an upgrade and need more information or just want to see what's new, join us. We will have demo devices available so that you can experience facial recognition and more.
Tiny Theater: Rose by Kennedy biographer Laurence Leamer
2:30 PM Performance
The Greenhouse Theater Center
(2257 N Lincoln Ave.)
Rose appeared to excellent reviews last Spring. The character is Rose Kennedy and the play delves into her life and relationships at the time of Teddy Kennedy's accident at Chappaquiddick in 1969. Self-hosted dinner to follow the performance at neighborhood Thai restaurant, Simply It, located next door from the theater.
Reservation Deadline:
January 8

Financial Resolutions: One on One Sessions With Raymond James

9:00 AM-5:00 PM
(one hour sessions)
Village Office
(2502 N. Clark St.)
Members & guests-free

The approach of a new year can be a good time jump start a new goal. As a follow-up to the 12 Financial Resolution Program on Wednesday, January 17, Eric from Raymond James will offer one-on-one sessions to help you in discussing and implementing your financial goals.
iOS Settings with MacTutor
Session 1: 10:30-12:00 PM
Session 2: 12:30-2:00 PM
Village Office
(2502 N. Clark St.)
Members only-free
iOS 11 is one of those behind the scenes update. You'll find big sweeping changes on the iPad. But on the iPhone, they're much more subtle. There are new technologies under the hood. And new features like Do Not Disturb While Driving or QR Code scanning that only get a mention in the Settings app.Our instructor, Mr. Joe Daddezio, formerly of Apple Inc, was born and raised in Lincoln Park. During his career and as The MacTutor, Joe has helped thousands of folks get more from their Mac, iPhone, and iPad.
Confronting the Moral Crisis of Mass Incarceration
January 25-February 15
6:30-8:30 PM
St. Chrysostom's Episcopal Church
(1424 N. Dearborn)
Members & guests-$10 per session, or $30 for entire series. Box dinner included.
The United States has far more people in prison and in jail than public safety requires. This damages the lives of those who are incarcerated, their families, and their communities. It also contributes to a cycle of crime and punishment and diverts resources from more constructive uses. We have much work to do to achieve a fair and effective criminal justice system. St. Chrysostom's is hosting this series of programs in order to promote greater understanding of the criminal justice system and to begin to provide tools for individuals and organizations to get involved in promoting radical change. Leading experts will speak to the full range of complex issues that we need to address in order to rethink and change the laws and practices that have resulted in too many men and women-most of them people of color-being imprisoned or jailed.
How to Fall With Balance Chicago
11:00 AM - 12:00 PM
Balance Chicago
(1 E Erie St #225)
Members & guests-free
Please join Chris Smith, stage combat instructor along with Taryn Sowa, Physical Therapist Assistant, as they teach you the safest way to fall to prevent further injuries. This will be an interactive class. Please wear comfortable clothing and athletic shoes. Be prepared to participate in demonstrations if you want.
Registration deadline:
January 24
FEBRUARY HIGHLIGHTS
Memoir Writing with Beth Finke
Monday, February 5
1:00-2:00 PM
Hosted by Mel & Pam Washburn
(N. Lakeview Ave. & W. Fullerton Ave.)
Members only-free
Memoir teacher Beth Finke will give a short presentation on the benefits of memoir-writing and share the methods she uses to lead weekly memoir classes like the ones offered by The Village Chicago. Beth's latest book

Writing Out Loud

is a leisurely and entertaining read that intertwines her own Chicago story with those of writers from her classes, including several Village members. She'll be signing copies after the presentation for anyone interested.
A Matter of Balance
Tuesdays, February 6-March 27
Center for Life and Learning
Members-$40 & guests-$45 for the 8-session series
A Matter of Balance is an eight-week evidence-based program that is designed to reduce the fear of falling and increase activity levels among older adults. Participants learn to set realistic goals to increase activity, change their environment to reduce fall risk factors, and learn simple exercises to increase strength and balance. Each week, the class features an exercise component and discussion. This course is offered in conjunction with The Center for Life and Learning, Skyline Village, and CJE Senior Life.
Hey Doc, Can We Talk?
Village Office (2502 N. Clark St.)
Members & guests-free
Ever feel like you left the doctor's office with more questions than answers? Or maybe you needed further clarification from your doctor about something, but forgot to ask? Hey Doc, Can You Talk?, adapted from the National Institute On Aging's "Talking With Your Doctor", will give you the basics on how to take an active role in your health care, focusing on communication prompts and tips to get the most of your doctor's appointment. Hey Doc, Can You Talk? will include information about how to prepare for your doctor's appointment while also giving ideas on what questions to ask to promote active participation in your health care plan. This program allows time for supportive activities, open dialog, and a question/answer session. Handouts will be provided to help facilitate a proactive doctor/patient partnership.
Reservation Deadline:
Wednesday, February 14

WAYS TO STAY FIT
Village Yoga Program
Mondays, Ongoing
3:00 - 4:30 PM
Yoga Circle
(401 W. Ontario)
Special yoga program led by
Village member Donatella Santoro and her colleague, Cheryl Hurst, both taught and inspired by Gabriel Halpern's yoga technique, will bring a self healing approach to yoga.
See
www.yogacircle.com
for a list of prices and packages.
***


Pilates
Eight-session series:
Tuesdays, Ongoing
10:00 - 11:00 AM
Studio 1002
(1002 W. Diversey)
Members only-$160 for the series of 8 sessions
Payment goes directly to Studio 1002.
***
NIA
10:30 - 11:30 AM
Church of the Three Crosses
(333 W. Wisconsin)
Members - $64 for the series of 8 sess

ions, or $10 per session;
Guests- $100 for the series of 8 sessions, or $15 per session.
For personal growth, body-mind-spirit fitness, and lifestyle practice fusing dance, yoga, and martial arts.
Join in anytime!
SPECIAL OFFERS
Check out these special offers for Village members to stay active.
Chicago Athletic Club
Click here
for details on their discounted membership rates. Contact the Village office for information on obtaining a one-month free trial membership.
CityWide Super Slow
High Intensity Strength Training with Personal Trainers.
1901 N. Clybourn Suite 201
773.281.7569
Monday - Friday 6 AM - 8 PM
Saturdays 6 AM - 3 PM
Members will receive a complimentary one-hour introductory session -- a high intensity personal training session tailored to each individual. A $75 value. Or members can purchase a gift certificate for $75 which includes one introductory session and three personal training sessions.
This is for new clients only and the offer ends 12/31/17.
Chicago's premier SuperSlow® facility, where high intensity training generates the fastest and greatest results!
XSport Fitness
Click here
for information and a printable flyer you can redeem for a discounted gym membership. Contact the Village office for information on obtaining a 7-day trial membership and special rate for Village members only.
Board of Directors
Kathleen Kologdy, President
Mary Ann Schwartz,
Vice President
Nancy Felton-Elkins, Vice President
Alan T. Lougée, Vice President
Joan Goldstein, Secretary
Karen Terry, Secretary
Richard W. Sullivan, Treasurer

Ruth Ann Watkins,
Immediate Past President
John Kingsley Holton, Ph.D.
Advisory Council
Neelum T. Aggarwal, MD
Joanne G. Schwartzberg, MD
Michael Spock
Founding Executive Director

Dianne S. Campbell

PARTNERS
The Village uses an asset-based approach to identifying first-rate resources for members, leveraging existing strengths within our communities. This approach has led to the formation of strategic partnerships with two organizations chosen for the breadth and depth of their capabilities and their recognized expertise in the health and well-being of older adults.
CJE SeniorLife™
Rush University Medical Center
December 2017/January 2018

Dear Friends & Neighbors,
Giving and Gratitude. "Ageless" principles and practices. A fittingtheme for The Village Chicago last newsletter for 2017. Not only are giving and gratitude principles that our country has valued and the Village is good at exhibiting but there is now science behind the impact both have contributed on a personal, community, and global basis. These are the things that help "Make America Great."

The Village closes the year 430+ members strong. Our members live
in communities from Edgewater to the South Loop and beyond, and we are diverse in many ways. What connects us: A generosity of spirit and a caring for each
other and the world around us with gifts as simple as a smile, a hug, a helping hand, and a donation of resources. That's what lets us accomplish so much as a community - and it is good for each of us and for each other (read more about the science behind giving and gratitude in this issue
via this link
).
The Village is fueled by extraordinary social capital, more than 200 volunteers of all ages, and an expansive network of community partners. We have a talented, caring office team that connects members to trusted resources, to opportunities of all sorts and to each other. The impact for me is one of feeling extraordinarily grateful each day, and
I am utilizing an
online resource -
Tiny Gratitude
-

to build a new gratitude practice.
We wish you a healthy and happy holiday
season and look forward to our work in the New Year. Join us!
Sincerely,
Founding Executive Director
MOMENTS OF GRATITUDE FROM 2017

"When it comes to life, the critical thing is whether you take things for granted or take them with gratitude." -- G.K. Chesterton

We are grateful for...
...our guest editor Bruce Hunt, pictured with Anne Hunt
...the continued support from student volunteers of our sponsor, DePaul University
...intergenerational connections. Village member Jan Brown (center) with volunteers Maeve Masterson (left) and Seamus Masterson (right)
...innovative partners that allow us to sponsor exciting programs year-round. From left: Mary O'Donnell, The Retirement Research Foundation, Dianne Campbell, The Village Chicago, Donna Zarcone, The Economic Club of Chicago, and Luke Tanen, Chicago Innovation
...active Village members that welcome new members to the community. Village member Stefanie Clark (center) with members John Hobbs (left) and Lois Stack (right)
...partners focused on health and well-being. Sarah Brunner, Village Director of Engagement and Operations, gets a flu shot from a Walgreens representative.
GIVING & GRATITUDE
by Bruce Hunt
"Gratitude" sounds like a "soft" virtue, polite but not really essential in the "real world." A hard nosed research center with a gentle name:
Greater Good Science Center
has found strong correlations between gratitude and well-being. Here are the benefits they discovered: gratitude drives out the toxic emotions of resentment and envy; the practice of gratitude can become habitual; gratitude changes the brain and causes one to be more generous.
That's the connection with giving. People who cultivated gratitude were more willing to give not out of guilt nor even the attractiveness of the cause, but because they were grateful.
So we tested this science. Now see if you can find evidence of the connection between gratitude and giving in these stories from Village members.
Carol Senderowitz: A Lifesaver
by Bonnie Kepplinger
| | |
| --- | --- |
| | |
| | Carol's dog, Newman |
The Village provides many opportunities for giving and gratitude.Member Carol Senderowitz has experienced both. When she broke her foot, she telephoned the Village office to ask if they knew of any dog walkers for her little Havanese, Newman. Niki Fox searched the member-recommended dog walkers and telephoned Anna Perlberg's grandson Josh to see if he was interested in dog walking for eight weeks. He called back right away stating he could help out with the morning walk. Carol was absolutely thrilled.
Later, when Niki checked in to see how things were going, Carol raved about how fabulous Josh was - "a lifesaver, giving 100%." She thanked the Village for connecting them and asked for Anna's contact information to thank her.
Anna,
I am so grateful to you for offering Josh to me. He is saving my life and has been such a lovely person while doing it. Thank you so much.
This is the first time I've ever asked the Village for help and thanks to you and to them, I now fully understand the value of my membership.
I am in your debt. If I can ever return the favor please let me know.
-Carol
Editor's Note: Beloved Village member Anna Nessy Perlberg, mentioned in the above story, passed away November 30, 2017. She will be greatly missed.
Bob Hernquist: Time to Volunteer
by Bruce Hunt
Bob Hernquist told me,
"When I volunteer for the Village, I get to do what I like to do. I like to drive and I don't like to write much. You can do that."
He has no fixed schedule these days, but he does make himself available on the second Wednesday of the month to be a designated driver. He ends up doing much more than one day because the Village system allows drivers and those in need of a ride to be matched up. Simply and easily.
In November alone, Bob completed 48 ride requests... because he does really like to do it. He says, "I have met some very interesting people and because they are often neighbors, I will frequently see them again, and they certainly appreciate the ride. For me it has been a great way to bond in my community."
Bob's mode of giving is to offer his time, and in return he's benefited from some marvelous conversations and some new friends.
(For another narrative about driving and gratitude, see John Simond's
.)
Renee Harrison: A Thank You to the Village
by Bonnie Kepplinger
| | |
| --- | --- |
| | |
| The Hebrew symbol for Chai | |
"Every letter of the Hebrew alphabet has a corresponding number," says Renee Harrison. "The number 18 represents
chai,
which in Hebrew means
life.
Renee's family gives monetary gifts that are multiples of 18, a tradition that Renee follows in donating to the Village. In addition, she has made the Village's Legacy Circle a benefactor in her will.
"I feel it's important to have a base and support such as the Village provides, especially for a single person like me," says Renee. "The caring staff and services give me a sense of security. This is an organization whose interests, outlook, and values are similar to mine."
Renee is living testimony that giving and gratitude go well beyond numbers and that legacies and traditions enhance life. She adds this tribute: "My legacy is a thank you to the Village."
Editor's Note: Please join us in thanking Renee Harrison and others who have earned a place on the Village Honor Roll. By remembering the Village in your estate planning with the Village's Legacy Circle, you too can create an enduring legacy for the future and know that the Village will be there for those who come after us. For more information, please call the Village office.
Gratitude in Tough Times

by Bill Gordon
I do not think we fully understand gratitude until we lose something we cherish. Apart from my professional life, my passions included hiking, ballroom dancing and, while traveling, exploring on foot cities, towns and countrysides. Twenty years ago I was diagnosed with a degenerative motor neuron disease which was going to cause me to slowly lose the use of my legs. My life quickly changed.
Instead of whining, I pivoted. I looked at life anew, which included a review of past pleasures and dreams for the future. Nearly every part of my life was going to change, but what I realized was how much I had for which I was grateful. Just think, I said to myself, you have had a long and interesting career, you have family and lots of friends whom you love, you still have all your cognitive powers, you have sufficient resources to look after yourself, you have help from a personal assistant who makes your life so much easier than it otherwise would be, you have an active social life, you have a comfortable home which has been altered to accommodate your handicap, and, although challenged, you still can walk a little.
There is so much for me to be grateful for in this eightieth decade of my life. I have simply altered the expectations for my future and no longer pine for those days when I could hike and dance. My gratitude is unbounded for a life filled with success, and although there have been some serious speed bumps along the way, I have lived a very long life filled with joy, and, above all, a life in which I have had the great honor of loving and being loved.
The Practice of Gratitude
By Sandra Kirmeyer
Meditation
Meditation is one way to quiet our busy minds and feel more gratitude. For me, gratitude comes naturally when I am fully present. Being present means that I am not thinking about the past or the future; not recalling, judging, planning, or anticipating. Rather, I am available to see, hear, and touch the present moment and all that it brings. Meditation can be done anywhere and at any time by simply sitting or lying quietly and bringing the attention inward to the breath. In this season when there is so much to do, it is easy to focus exclusively on tasks and fail to see our family and friends clearly or listen carefully. Taking a few minutes to meditate each day can help re-set our attention and bring a moment of peace and gratitude. To help guide you, here are two links to online resources, the first provides a 7-minute guided meditation on cultivating a loving heart and the second, a 50-minute lecture on gratitude and how it can be deliberately cultivated. Both the meditation and lecture are led by Dr. Tara Brach, a clinical psychologist and founder of the largest non-residential meditation program in the United States.
From left: Susan Burke, Jean Alan, Biba Roesch, and meditation leader Sandra Kirmeyer
Editor's note: Sandra leads regular meditation groups for the Village on Tuesday evenings and Saturday mornings. If you are interested in participating please click here for more information.
The Gratitude Journal
by Bruce Hunt
Writing down the things or experiences for which we are grateful has been shown to be beneficial in all kinds of ways: from better sleep, to more happiness among adults and kids alike. Here are some guidelines for paying attention to the good stuff:
Don't just go through the motions

Go for depth over breadth -- pay attention to the details

Get personal -- focus on the people involved

Savor surprises -- treat them as gifts

Don't overdo it -- writing occasionally is more beneficial than daily journaling
Grateful for the Dreams
by Yoon Tae Chong


As a second generation Korean American (meaning I was born after
my parents immigrated to the States), I grew up knowing that my parents' sacrifice and dream was for my sister and me to have the opportunities to succeed that they never had. Indeed, this is a common and beautiful refrain for immigrant families of all ethnicities. Often lost, in this narrative of sacrifice for future generations, is the fact that the older generations still have a life to live and other dreams to pursue.
In the Fall of 2014, I had just started my career as a nonprofit development professional, moved into an apartment I was proud to be in, and just started dating my now fiancé: the future looked bright. So when my mom called and asked me to come home for a church ordination service the day after I was helping host a Halloween party, I was less than stoked. Being a decent son, however, I decided to make the trip home to Atlanta. This trip ended up being one of the most profound experiences of gratitude in my life.
Little did I know that this service was to celebrate my mom's ordination as the first Korean female elder in the Presbyterian Church (U.S.A.) of Georgia. It's a strange yet profound feeling to realize that your mom is probably more of a badass than you are. At that moment, then a late 20 something, I realized fully for the first that my mom had dreams, she was actively and successfully pursuing-what a gift it is to realize that! Not only was it a great motivator for my own dreams, but also an opportunity to share in the dreams of someone so dear to me. It seems to be such a simple thing to share dreams, but how wonderful it is to share dreams across generations.
Yoon Tae's mother's historic ordination at the Presbyterian Church (U.S.A.) of Georgia
Editor's Note: Yoon Tae Chong is the newest member of the Village office team as our Administrative and Fund Development Coordinator.
Lessons From My Grandson
By
Bruce Hunt
I asked my grandson, Dylan Gschwind, to reflect on the ways that gratitude shaped his teaching. After referring to his college experience, surprisingly, in Positive Psychology class (he was a math major), he wrote this:
"The lessons from that class have stayed with me since graduating college and have deeply inspired my current field of work: outdoor education. My job is to bring high school students out into the woods for multi-day backpacking trips, teaching them technical skills like tying knots and cooking meals and interpersonal skills like conflict resolution and leadership styles. These trips can be physically exhausting, emotionally draining, and downright scary at times, but when those feelings of self-doubt and worry begin creeping up, I ask them what they're grateful for. When we're out there in the middle of the forest without the luxuries of everyday life, students often express gratitude for the small things they've never thought about before: running water, a roof, fresh vegetables, heat. Other times they're grateful for bigger things: family, friends, opportunity, wilderness lands. No matter the subject of their gratitude, these students come away from these moments and these trips with a newfound freshness and perspective. They are kinder to others, more confident, more grateful, and happier. And I remind them that when those feelings of uncertainty and doubt rise again, which they no doubt will throughout their lives, to stop, slow down, and ponder their gratitude."
As for me, I'm grateful for the opportunity to work in nature, to learn from students, and to teach what I care deeply about. What are you grateful for?
Gratitude from the Village Office Team
Top row from left: Tia Clifford, Eloise Barron, Dianne Campbell, Sarah Brunner, Niki Fox, and Rob Green. Bottom row from left: Yoon Tae Chong, Megan Byrd, and Alexandra Arias. Not pictured: Laurel Baer, Betty Dayron, Joan Turk, and Courtney Wilson.
Everyday, the Village office team sees examples of the generosity and empathy demonstrated by members of the Village community. Here is a word cloud featuring the many things Village members inspire within us.
With Gratitude,
The Village Office Team
Editor's Note: If you are interested in making your own word cloud, click here. You can customize everything from the words, shape, font, and colors.
Village News and Upcoming Events
Searching for a meaningful volunteer opportunity in the new year?
Join a team of volunteers dedicated to engaging in ongoing, mutually beneficial relationships and meaningful

interactions

with Village members, that provides real-time, tangible support and companionship so that we can remain contributing members of our community. As part of the Village Connection Program team, each volunteer is paired with a Village member and serves as a "Connector" aimed at helping members better access supportive services and program resources. Training sessions will held Saturday, January 20, 2018 from 10:00AM-1:00PM and Tuesday, January 23, 2018 from 2:00PM 5:00PM. Sound like something you'd be interested in? Contact Niki Fox at the Village Office to learn more at 773.248.8700 or nfox@thevillagechicago.org.
Final Village Social Event of the Year: 8th Annual Eve of the Eve
Join us for
Eve
of
the E
ve
at
The

Polo Inn
in Bridgeport on Saturday, December 30, 2017. Members will enjoy a buffet dinner (
see the menu here
) and an evening
of
jazz featuring Anne Burnell (
the
Village's beloved first NIA teacher), Mark Burnell, and their band, along with other guest performers.
The
banquet hall
of
The
Polo Inn, known as
The
Old Eagle Room (see below), was built in 1914 as a neighborhood picture show, and features exceptional acoustics that are perfect for live musical performances.
The
price for this event is $35 for members and guests, so bring a friend! Call
the
Village office today to reserve your spot (see left for more details).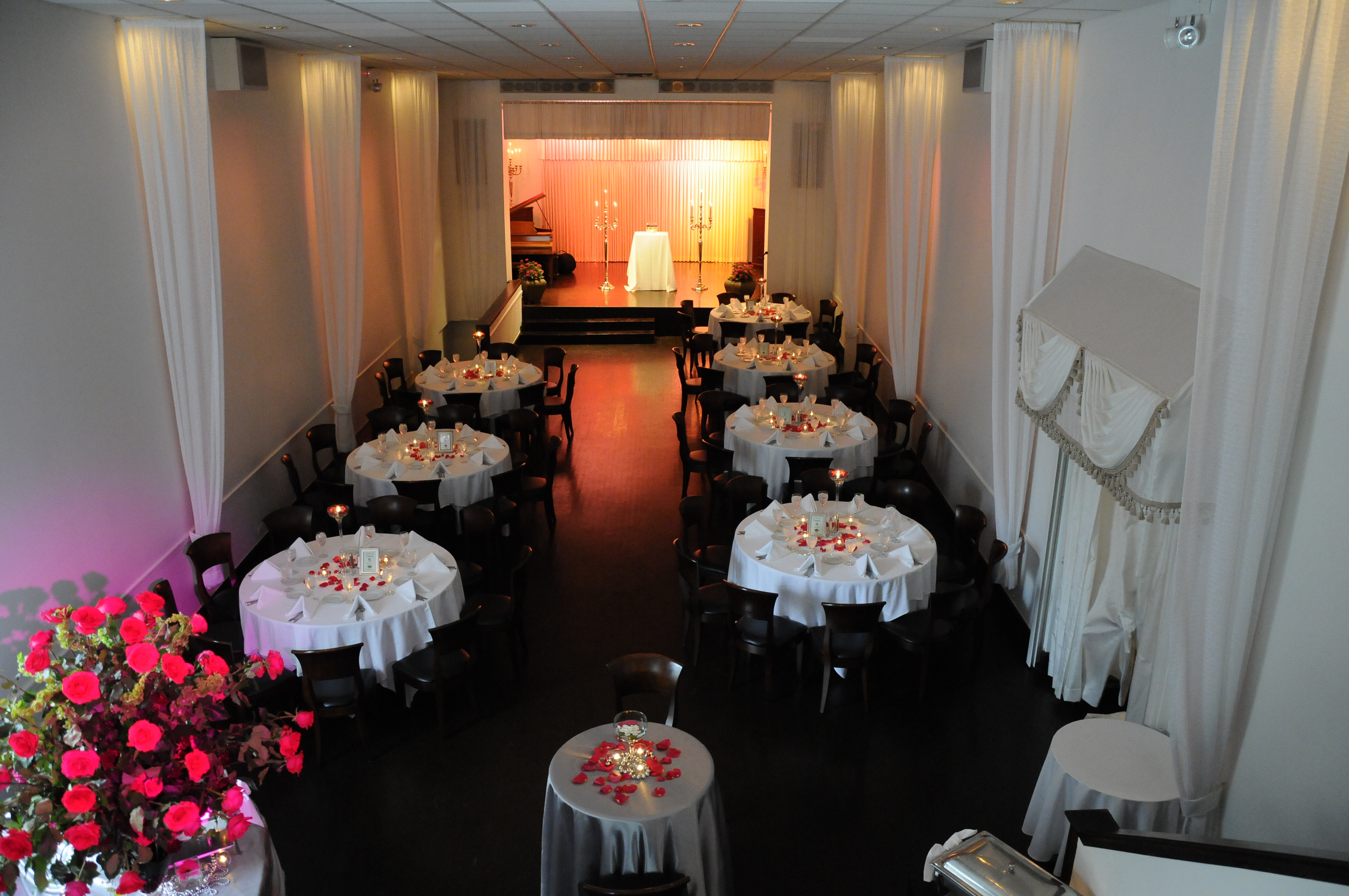 What is The Village Chicago?
The Village Chicago is an innovative, not-for-profit membership community that helps members navigate the new longevity by connecting them to each other and to trusted resources that support vibrant, secure later lives. Members value a unique array of programs and activities, the certainty that someone is there to help, and the kind of neighbor-to-neighbor connections that last a lifetime. Our Member-Plus program enables all neighbors regardless of income, to join and engage fully in Village life. Volunteers along with a small, nimble staff respond to each member's interests and requests with personal attention. By leveraging the talents, wisdom and skills of older adults, we have become an important asset to each other and to our communities, and a model for the future. Together, we are inventing a new future for older adults in America.
Serving Chicago's neighborhoods from South Loop to Edgewater and beyond, our Village is a unique resource--professional yet neighborly and close-by--valuable to you right now and as your needs change.
Call us! Join us!
773.248.8700
2502 N. Clark Street
Chicago, IL 60614
p. 773.248.8700 f. 773.248.8181
Joining The Village Chicago
Membership is available to people 50+ living in Chicago's north side communities from River East to Edgewater and beyond. For your convenience, you can click on the membership application below, or if you prefer, call the Village office for other options. A reduced-rate program, Member Plus, is available for those on limited fixed incomes.
After becoming a member, we will welcome you and connect you to the specific people, activities and services that fit your unique interests and needs. Our goal is always to help you explore possibilities and support your choices so you can live the life you wish to live.
Download Membership Application
Click here to pay and join online
FAVORITE PASTIME GROUPS FOR
VILLAGE MEMBERS
Basic Meditation
Join this group, hosted by
Ellen Stone Belic
, to learn and practice basic meditation techniques. This is a great opportunity to start or renew your practice - and to experience the joy and multitude of benefits of meditation. The next session will be led by
Sandra Kirmeyer
on:
Saturday mornings (9:45 AM set up; 10 AM start): December 23
Tuesday evenings (5:45 PM set up; 6 PM start): December 26
If you would like to attend or receive notices of upcoming sessions, e-mail Ellen at
ellen@stonebelic.com
.
***
Bridge
This group regularly meets on
Wednesdays
from 10:00 AM to 1:00 PM in members' homes, usually with three tables. The next meeting will be hosted by
Stefanie Clark
on
December 27
. If you are interested in joining, please contact
***
Just Restaurants
We are fortunate to live in one of the world's great food cities and our vibrant restaurant group takes advantage of all there is on offer. From BYOB to BBQ, French to fusion, seafood to steak--we try them all.

If you want to receive information about these outings, please contact Helene Stoffey at hlnstvns@gmail.com.
Knitting with Friends
The knitting and crocheting group meets most Wednesdays from 3:00 - 5:00 PM at Sister Arts Studio (721 W. Wrightwood). Beginners and experts are welcome to join. The group will be working on their own projects -- and if asked, will make items for those in need such as the hats, scarves, and mittens they made for the Night Ministry. Bring your needles and yarn, maybe even some coffee or tea. Sister Arts Studio will be happy to supply needles and/or yarn, patterns, and tips. For more information, please contact Beth Hickey at

***
Saturday Afternoon at the Movies
Each Wednesday, Village member Mel Washburn sends an email to all members of the group. This email selects one of the films being shown at the Landmark Century Cinema (2828 N. Clark St.) and suggests a time on the following Saturday when members of the group will gather to watch the movie. On that Saturday, members come to the Cinema and watch the movie. After the film, they gather in the bar/lounge area of the theater for a self-hosted beverage and lively discussion of the movie.
Six at The Table
With this group, you will have an opportunity to share a meal with three or four other members several times throughout the year. Everyone in the group hosts one meal for six and it can be anything the host wants -- brunch, lunch, dinner, or a picnic -- whatever suits you. Once the date and type of meal is announced, members of the group sign up -- first come, first served.
If this interests you, please contact Sheila Ganch at
sgsculpture@yahoo.com
to be added to the list.