As we prepare to turn the last page of the calendar, we want to take the time to thank all of our members, friends and sponsors. It's because of you that we are able to support, promote and work on behalf of Vermont's vibrant and growing technology sector. We had an eventful 2018 and look forward to continuing the momentum in 2019. Highlights include:

Continued to be a voice for the Vermont tech sector on a range of issues, including

consumer focused bills

such as Data Broker, Right to Repair, and Contract Renewal; as well as Business Portal, Blockchain and Workforce Recruitment legislation. We closed out the year with a dinner for tech business leaders discussing public policy topics that may arise in the year ahead.

Held

a

networking event in Rutland

thi

s summer to connect with and learn about the tech-focused businesses and organizations in and around the Rutland area.

Launched our "Let's Tech Together" networking sessions to highlight the unique Vermont-based businesses and organizations that are driving tech innovation (and job opportunities) in all aspects of the economy, with sessions featuring innovators

working in

Health Tech

,

Agriculture Tech

and

Blockchain Tech

.

Continued as an organizing partner for the annual Tech Jam event and presented another round of

Tech Jam Awards

to Vermont innovators and leaders.

Job seekers took advantage of our

Career Center

, which consistently offered 100 to 200 opportunities with our member businesses.

We connected to the tech community, including through this newsletter and our growing

LinkedIn group

of more than 1500 members.

We welcomed sponsors, including those listed at the end of this newsletter, and, we added more than 50 new individual and business members this year.

We encourage you and your business to join us in 2019 to support, promote and advance Vermont's tech businesses, entrepreneurs and jobs.

If you'd like to find out more or discuss how we can help, contact

jeff@vtta.org

.

Finally, please accept our best wishes for the holiday season and a Happy New Year.

Executive Director, Vermont Technology Alliance

We have sponsorship opportunities in our newsletter, for our Lunch & Learn and social events, on our website, and much more.



Vermont Telecommunications Plan Public Meetings
(Through December 21, 2018 - Multiple Locations)
The Department of Public Service is holding public meetings at multiple locations to solicit feedback on the contents of the Final Draft Telecommunications Plan, through Dec. 21.
Data Broker Law Webinar
(December 20, 2018)
The Vermont Attorney General's Office is holding a one-hour webinar on Vermont's new Data Broker law. Representatives will walk through the key elements of the law and take any questions.
Vermont Distributed Ledger & Blockchain Innovations
(January 9, 2019 - Reconciled offices, Burlington)
All Blockchain technicians, distributed ledger entrepreneurs, and business startup innovators are welcome to join in on this discussion about the use of this technology in business and government.
My Business is Growing: Am I Ready to Manage It Effectively?
(January 9, 2019 - New England Federal Credit Union, Williston)
Vermont SCORE presents this session with a panel discussing how to ensure businesses are ready for growth.
Find more
here.
VCET Female Founders Speaker Series: Libations
(January 14, 2018 - Hotel Vermont, Burlington)
VCET and Hotel Vermont continue the Female Founders Speaker Series in 2019 with the topic of Libations. Hear from three leaders making waves in the Vermont spirits, wine, and beer industry.
Vermont Technology in the News

Business Group Aims to Position Vermont as a Blockchain Magnet
(December 16, 2018 - VTDigger)
Some of the key advocates behind Vermont's blockchain bill passed last session, creating a favorable regulatory environment for blockchain-based businesses, have started a commercial association. The Vermont Distributed Ledger Governance Association, or DLGA, was formed to better position the state as being friendly to the emerging technology.
Attorney General and State Agencies Launch Working Group to Study Blockchain Technology
(December 12, 2018 - Vermont Attorney General's Office)
Attorney General T.J. Donovan announced that four state agencies have established a working group to study the opportunities and challenges presented by Blockchain technology. The Attorney General's Office, the Department of Financial Regulation, the Secretary of State, and the Agency of Commerce and Community Development will make up the working group. The working group will engage stakeholders and interested industry experts.
Making it in Vermont: Showcasing Vermont's Industrial Side
(December 16, 2018 - VTDigger)
If you ask people outside Vermont to name the state's largest export, nine out of 10 will say maple syrup, says Mike Schirling, the state's secretary of commerce. But the reality is that Vermont sells more computer and electronic products outside of the state than anything else, by far. If the public had a better grasp of how much manufacturing happens in Vermont, a state better known for its foliage, farms and skiing, more young people would look into working in the state, and perhaps assist in reversing the state's population drain and workforce shortage.


Draft of Vermont Broadband Plan Criticized at First Hearing
(December 11, 2018 - MyChamplainValley)
At the first in a series of public hearings on the state's 2018 Telecommunications Plan, critics said the plan falls short of expectations. "This plan does not appear to move Vermont ahead in a way that enables it to compete effectively," said state Sen. Mark MacDonald (D- Orange). "It doesn't seem to be moving forward at the pace we're capable of."
Champlain College Online Enrollment Jumps Following 50% Following Tuition Cut
(December 11, 2018 - Champlain College)
Champlain College Online reported that Fall 2018 enrollment in its bachelor's degree programs grew 19 percent over the previous year; following the not-for-profit college's decision to reduce its online undergraduate tuition by 50 percent. Notable growth was seen in information security-focused bachelor's programs, with 35 percent of the undergraduate Fall 2018 class enrolled in either a cybersecurity or computer forensics degree program.
Black River Innovation Campus Receives $724,000 EDA Grant
(December 7, 2018 - Vermont Business Magazine)
The Center on Rural Innovation announced that the Black River Innovation Campus (BRIC) has received $724,000 in federal grant funds to support continued progress in building a digital economy ecosystem in Springfield. The award was announced by the US Economic Development Administration (EDA) as part of its most recent Regional Innovation Strategies i6 Challenge competitive grant program. The BRIC award is one of only 40 awards in the country this year, and the first award in the history of the program with a rural digital economy focus.
An Electric Helicopter that Can Get to Boston in an Hour
(December 4, 2018 - VTDigger)
Entrepreneur Kyle Clark's company in Burlington has created an electric aircraft with a top speed of about 170 miles an hour. Beta Technologies has created a working prototype of a piloted electric aircraft that rises into the air like a helicopter and then flies like a passenger plane. Clark intends to be the first aerospace engineer in the world to produce such a craft for commercial use.
Remote Worker Incentive Program Needs Tweaking
(November 27, 2018 - VTDigger)
The state Department of Economic Development has to work out some details before it launches its remote worker program on Jan. 1. That's the day that would-be remote workers, drawn by the idea of a $10,000 incentive to move to Vermont, can start taking action to qualify for the money. But before the program starts, the department needs answers to several questions about the legislation, such as determining eligibility from among more than 3,000 queries.
Social Sentinel Profile: Can Scanning Social Media Help Prevent a School Shooting?
(November 26, 2018 - CBS News )
CBS News' Saturday Morning program profiled the work of Burlington-based social media monitoring firm Social Sentinel, the recent Vermont Tech Jam Innovation Award Winner.
It looks at how the company actively scans social media for warning signs that may call for intervention to prevent school incidents.
Vermont Firm is Helping the Blind See Their Work - And Become Engineers
(November 25, 2018 - Ozy)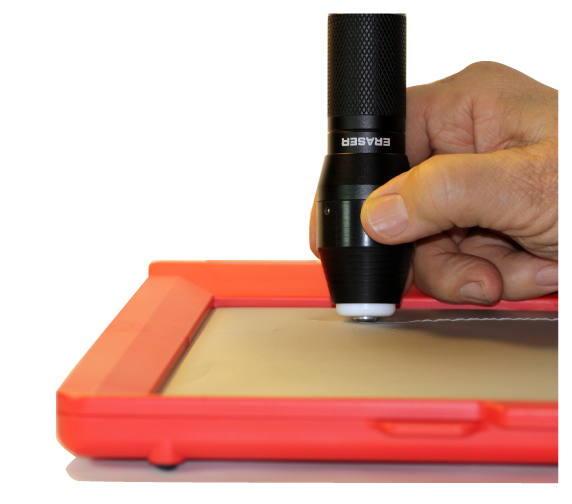 A UVM Engineering School capstone project to develop a digital tablet for the blind that creates "raised" lines, giving students the ability to draw an image, feel it and erase the 3D designs if they choose - think Etch A Sketch on steroids - has become a Burlington-based firm called E.A.S.Y. Tactile Graphics. Their sketch pads and eraser technology are being used in dozens of schools for blind and low-vision studentsaround the country - buoyed by a $1 million grant in 2015 from the National Institutes of Health to develop a 3D printer that helps the company mass-produce its products.
Featured Member -
eDoc Innovations
Set in the picturesque town of Middlebury Vermont, eDOC Innovations is a nationwide leader in mobile enterprise digital transaction management (mDTM
®) software. For more than 25 years, eDOC Innovations has been designing easy-to-use solutions for credit unions that reduce overhead, increase operational efficiency, automate and manage workflow to eliminate paper processes, and provide mobile conveniences for their members.
eDOC Innovations' leading solutions - eDocLogic® Suite, CheckLogic® Suite, and eDOCSignature® - seamlessly integrate with existing applications to remove friction in digital transactions and can be deployed on premise or in a software as a service (SaaS) model. eDOC products include solutions for remote mobile and in-branch closings, mobile eSigning, digital asset lifecycle management, intelligent and interactive form automation, remote deposit capture, electronic statements and more.
eDOC Innovations' dynamic and diverse staff are constantly learning, improving, and positioning the company to be a key player in the industry. As a credit union service organization (CUSO)

that embraces the cooperative principles, eDOC Innovations empowers its staff to do business in the best interest of its owners, partners and peers.

To learn about their technology visit: edoclogic.com

or give them a call at: (800) 425-7766, Option 3.
Useful Information & Links

Attorney general's office issues guidance on data broker regulations
The Vermont Attorney General's Office has released guidance to assist Data Brokers in complying with Vermont's new Data Broker Regulations, Act 171 of 2018. These regulations go into effect on January 1, 2019. The new law requires Data Brokers to register with the Secretary of State annually and maintain certain minimum data security standards.
Businesses that are unsure whether they fall within the definition of "Data Broker" should review the guidance, and may contact the Attorney General's Office with questions.
More information, including the guidance for compliance with this law, can be found on the Attorney General's Data Broker website
here.
vtTA Career Center
Vermont Technology Alliance member companies are hiring, and when you visit the
Career Center
on the
Vermont Technology Alliance website
you can browse and search for these job openings
. The Career Center regularly lists between 100 - 200 tech and non-tech jobs. Jobs available from vtTA members are listed at no charge in the Career Center as a member benefit.
Find the resources page
here.
Advertise in the Vermont Technology Alliance Newsletter
Feature your business, organization job listing or service with an ad in this newsletter.
Each month reach an audience made up of leaders, innovators, supporters and partners of Vermont's growing and dynamic tech sector.