December 2019 | vol. ii, #12
_________________________________________________________________

_________________________________________________________________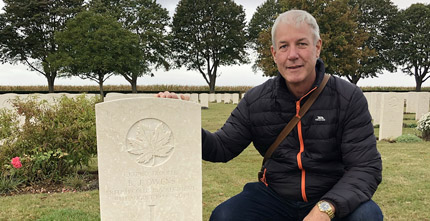 VISIT TO JUNO BEACH "A HUMBLING EXPERIENCE" FOR TIMBER MART HEAD
TIMBER MART's commercial members from across Canada visited the Juno Beach Centre in Courseulles-sur-Mer, Normandy, France, this past fall to honour the Canadian soldiers who lost their lives during the Second World War.
The group toured the site where more than 14,000 Canadian troops landed on D-Day (June 6, 1944) to liberate France. To commemorate their visit, which fell on the year of the 75th anniversary of D-Day, they made a donation to the centre, while unveiling plans for a commemorative brick to be placed on the beach at the centre's memorial kiosks in the spring.
"Touring such a significant historical site was a humbling experience for us all as Canadians," says Bernie Owens, president & CEO of TIMBER MART. "We are so proud of our fallen heroes and grateful for their sacrifice, for it is because of them that we are able to live so freely in this beautiful nation we call home."
Owens also had the opportunity while at the Juno Beach Centre to visit the gravesite of his uncle, Bernard Owens—for whom he is named. It was his first opportunity to visit the site where his 19-year-old uncle was laid to rest after losing his life in his first battle.
The historian who led the group on their tour of the Juno Beach Centre met Owens and his wife the next day to show them the gravestone. Having done some research overnight, he also discovered the site of the battle Bernard had fought in—and brought the couple on a tour, where they discovered shrapnel and other remnants of war.
"For myself and my wife Judy, it was a great chance to go see his gravestone. I have photos of my father while he was in the Navy on one of his trips to Normandy visiting the site and now, I have my own, too," says Owens. "It's emotional. I'm glad I had an opportunity to see it."
_________________________________________________________________
_________________________________________________________________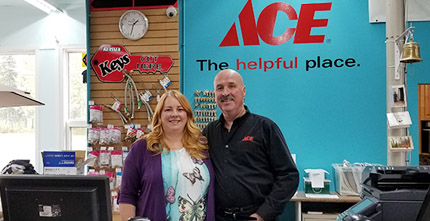 PUTTING THE FUN IN RETAIL FUNDAMENTALS

Mackenzie, B.C., is a remote town of just 3,800 people in the foothills of the Rocky Mountains. In 2005, motivated by a frustration with a lack of products and services in the area, long-time residents Sylvain and Marilyne Laferriere decided to set that right.
The Laferrieres purchased an existing business in town and gutted and renovated the store to fit their needs. They gradually began to add products like plumbing, bath, sinks and fixtures, basic electrical and lighting and then lumber and building supplies. And in May 2006, Sylvain left his position at the local mill to work in the business full-time and it wasn't long before the store was renamed Ace Victory Building Centre.
Local engagement is essential for the Laferrieres, who love their town. It's also an important aspect of their business model. Social media has been especially successful for the store. They make funny and educational videos for Facebook that have been shared as far afield as Mexico and the U.K. Customers often ask when their next video is coming out.
Mackenzie's tight-knit community has enabled the Laferrieres to build a successful business and their love for their town—and their unique and very personal way of doing business—shines through in everything they do.
_________________________________________________________________
_________________________________________________________________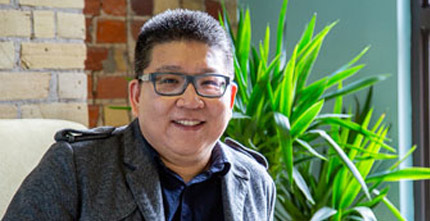 SELLING ONLINE OFFERS DEALER GLOBAL GROWTH OPPORTUNITIES
The winners of eBay Canada's 2019 Entrepreneur of the Year awards were unveiled this fall, including Nan Xu of Investments Hardware Ltd. (IHL).
IHL, which was started in 1985, specializes in power tools and building materials. When he was hired in 2014 to oversee the business' e-commerce department, Xu immediately saw an untapped opportunity for IHL Canada to stimulate global export growth using eBay. He redesigned the company's eBay store, which today includes more than 500 listings and exports to more than 50 countries across the world. This growth has created opportunities for IHL to introduce new product offerings and even develop its own private-labelled brands, including DuraDrive and BOSSA, which it sells both online and in its Woodbridge store.
Today, IHL operates in a 120,000-square-foot warehouse complemented by a 40,000-square-foot showroom for local clientele. The eBay business is on track to triple in size this year and now boasts the largest selection of tools and workshop equipment in Canada.
________________________________________________________________