Sustainable Jersey Goes to South Korea
At the request of the US EPA, Sustainable Jersey staff travelled to South Korea at the end of August to support the creation of a Cities Clean Air Partnership certification program for cities in Southeast Asia. In 2011 and 2012, Sustainable Jersey staff visited cities in Taiwan on an exchange trip and then hosted the Minister of the Taiwan Environmental Protection Administration and his delegation in New Jersey. We're proud that the Sustainable Jersey program has been singled out nationally and internationally as a powerful model for change. Read more.
83 Schools Achieve Certification
Congratulations to the 83 schools that have achieved the Sustainable Jersey for Schools certification. The 83 schools come from 24 different school districts across 13 counties. In two years, 118 schools have achieved certification. A total of 513 schools and 207 school districts are participating in the program overall. Five schools achieved certification at the more advanced silver-level, these stand-out schools include: Cape May City Elementary School, Egg Harbor Township High School, H. Russell Swift Elementary School, Holland Township Elementary School and Reeds Road Elementary School. To review the list of 83 schools, visit: http://bit.ly/2cwD6Pt.
Applications are due on October 28, 2016 for the Sustainable Jersey Small Grant program, which provides opportunities for municipalities, public schools and school districts to implement sustainability projects. Two grant opportunities are now open.
$180,000 in Funding for Sustainable School and District Projects: Funded by the New Jersey Education Association (NJEA), $180,000 in grant money is now available; visit: http://bit.ly/2aMEv1H.
$150,000 in Funding for Municipal and School District Energy Projects: Funded by the Gardinier Environmental Fund, $150,000 in grant money is now available to fund energy projects focused on energy conservation, efficiency and renewable energy; visit: http://bit.ly/2aOtfBs.
Celebrate at the Annual Luncheon for Municipalities
It's time to reserve your spot for the Annual Luncheon, the premier celebration for New Jersey's sustainability community. Meet the 2016 certified towns and the municipal award recipients. The Sustainable Jersey Annual Luncheon takes place on the first day of the New Jersey League of Municipalities (NJLM) Conference in Atlantic City. Stay after the luncheon for the Sustainable Jersey NJLM Conference Workshops. We'll share best practices at Sustainable Jersey sessions held throughout the week. Read about the Sustainable Jersey workshops. Register for the Annual Luncheon: http://bit.ly/2016AnnualLuncheon.
Schools Conserve Energy and Save Money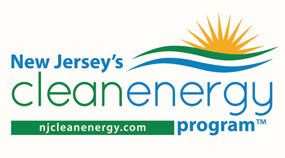 All nine schools in Long Branch School District (Monmouth County) have achieved bronze-level Sustainable Jersey for Schools certification. The district embarked on a successful district-wide energy savings program. A full-time energy manager was hired to actively track and monitor utility usage at every building using EnergyCAP, which allows the district to track any energy or non-energy commodity and any type of bill detail. Teachers, aides, custodians, principals and maintenance crews have all played a critical role in the success of the program. The district has saved nearly $1.7 million dollars. If you're looking to free up money for the classroom, school administrators should be aware of the incentive programs offered by the New Jersey Clean Energy Program (NJCEP). The New Jersey School Boards Association's Workshop 2016 will feature Sustainable Jersey for Schools sessions including one on Tuesday, October 25, 2016 which will focus on "Case Studies in School Energy Improvement." For more info on this workshop visit: http://sched.co/7K8j.
Somerset County Regional Hub Gets Award
The Sustainable Raritan River Initiative and Sustainable River Collaborative recognized Somerset County's Green Leadership Hub with the Government Innovation Award. In 2015, this Sustainable Jersey regional hub was launched with the help of the Somerset County Planning Division. The county department heads, Somerset County Business Partnership and municipal representatives from the county are participating. Read more about Sustainable Jersey Hubs: http://bit.ly/1NJSS7f. Hubs are located in Atlantic-Cape May, Burlington-Camden-Gloucester, Essex, Hunterdon, Mercer, Monmouth and Somerset counties.
NJ Cities to Participate in Resilience Pilot Program
Sustainable Jersey has invited the City of Atlantic City, Irvington Township, the City of Newark, the City of Paterson and the City of Pleasantville to participate in a 2016 Resilience Pilot Program. With a grant from the Prudential Foundation, Sustainable Jersey will provide free expert assistance and resources to support local efforts in city disaster readiness and emergency communications, as well as develop strategies to protect vulnerable populations from extreme heat and other climate threats.
Board Spotlight: Tanuja Dehne, Esq.

This spring, Sustainable Jersey welcomed Tanuja Dehne to the Sustainable Jersey Board. Tanuja is an award winning corporate governance lawyer, human resources professional and community volunteer who thrives when making a positive difference in the lives of others. Tanuja is a member of the Board of Directors of publicly-traded Silver Bay Realty Trust Corp. (NYSE: SBY) and serves as Senior Advisor, Net-Zero for The B Team. She is the former Executive Vice President, Chief Administrative Officer and Chief of Staff for NRG Energy, Inc. She also serves on the Board of Trustees of the Geraldine R. Dodge Foundation, Board of Trustees of HomeFront of New Jersey and as Board Vice President of Young Audiences New Jersey. In 2013, she was named an honoree at the YWCA Tribute to Women Awards, and in 2011, was recognized as one of the "Best 50 Women in Business" by NJ Biz. She earned her undergraduate degree from Lafayette College, her Master's degree in Political Science from the University of Pennsylvania, and her Juris Doctor degree with honors from Syracuse University College of Law. Tanuja balances the demands of her profession with commitment to family, which includes her husband and five children.
Who does that? Behind the Scenes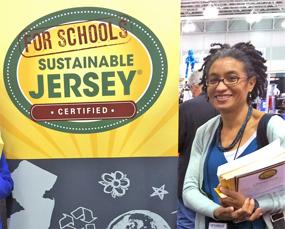 As the Sustainable Jersey for Schools program coordinator, Véronique Lambert is the primary point of contact, providing program and technical assistance to schools and districts on sustainability practices and the certification program. Véronique has previously worked in sustainability education and community outreach in New York City, London, Providence and Ithaca. She has performed cropping systems research in Hawaii and Guyana. Véronique has enjoyed getting to know more about her home state of New Jersey through her work with Sustainable Jersey for Schools. She said, "It's gratifying when a school achieves certification or gets a grant for an innovative sustainability project. Sustainable Jersey for Schools provides a framework for people to get engaged and connect to sustainability in a meaningful way." She received a Bachelor of Science and Master of Science in Agronomy from Cornell University and University of Hawaii and a Master of Science in Geography from Brunel University, London. Véronique is a member of her town's Environmental Commission and green team and is a volunteer SAT tutor. She enjoys free time with her children and family. Read more at Sustainable Jersey staff bios.
---