We've recently partnered with a new wire distributor. We're stocking 18/2, 18/4, BACnet cable, etc and can get most other types of wire within 1-2 days. Ask us for pricing!
Save the date! Food Truck Fridays are happening this summer:
June 25th
July 30th
August 27th
September 24th
Technical Training from Resideo
Resideo is offering online learning opportunities for you and your business.
Webinars are led by a member of the Resideo sales team, are one hour long and include time at the end for Q&A. Contractors attending the live webinars are eligible for 1 NATE credit.
Upcoming Webinars:
UV Air Purifiers
April 27, 2021 | 3:00 PM EST
View recorded webinar sessions
HERE


Technical Training from JCI
This course is designed for customers who need to learn how to perform daily tasks using the Metasys® User Interface (UI). After completing this course, Participants will receive an overview of the Facility Explorer MSTP field controller system, create programs from standard tree systems using the Programmable Controller and Commissioning tool. They will be able to complete daily tasks by focusing on issues that are critical to their site. Participants will then be empowered to take action on potential problems by leveraging advanced reporting capabilities for building analysis.


Course Topics:
Intro To The Facility Explorer MSTP
Field Controllers System

Application Creation

Peer-to-Peer
Mobile Access Portal
Transferring Files
IO Commissioning
Commissioning Programs
Zigbee (copyright) Wireless Communications
Logic Blocks
PRAC+ and PID
Sequencers
Hands on Labs



The course will be led by a virtual instructor from Johnson Controls, but will be held in EEC's training room where our Control Systems Engineer will be there to provide in person assistance to participants.
Breakfast and lunch will be provided Monday through Thursday. Breakfast will be provided Friday.
Classes will run 8:00 AM - 4:30 PM. Class will end early on Friday at 11:30 AM.
Contact Adam Reed at 302-540-1179 to register.
The JACE® 8000 is a compact, embedded IoT (Internet of Things) controller and server platform for connecting multiple and diverse devices and sub-systems. With internet connectivity and webserving capability, the JACE 8000 controller provides integrated control, supervision, data logging, alarming, scheduling and network management. It streams data and rich graphical displays to a standard web browser via an Ethernet or wireless LAN, or remotely over the internet. VYKON Enterprise Security is a Niagara AX-based application that runs on the JACE 8000. VYKON Integrated Analytics 2.0 is a data analytics extension to the Niagara Framework® available on JACE 8000 controllers
CALL US FOR PRICING TODAY!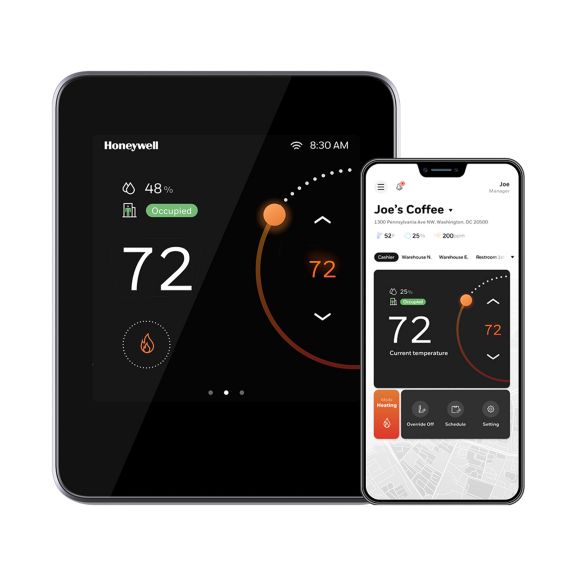 TC500A-N/TC500A-W Thermostat is an advanced, configurable, connected device for commercial buildings. It controls and monitors RTU, AHU, Heat Pump equipment, and their configurations. This device communicates over Wi-Fi, Bluetooth, BACnet IP, Sylk, easily integrates with the building automation system. The built-in intelligent control algorithms of the device help to achieve the perfect balance between Energy Efficiency and Comfort. The device is packaged with numerous presets suitable for most commercial building requirements that enable the easy and quick initial setup. The firmware of the device can be upgraded via Wi-Fi network. The device has four universal terminals and a pair of Sylk terminals to connect with sensors or other accessories. It also has a built-in temperature sensor, humidity sensor, and proximity sensor.
Smart commercial application thermostat with flexible customization and highly intuitive user interface
Supports RTU and AHU applications 5H/3C Heat Pump, 3H/3C Conventional and modulating heat system
Premium color touch screen interface (edge-to-edge glass) with auto sleep mode and 3 color operating status indicator bar
Weekly, holiday, and special event scheduling flexibility
Communicates via Wi-Fi, Bluetooth, BACnet (coming soon - wired and wireless), and Sylk
Multiple, configurable levels of user privilege access such as setpoint limits, reminders and schedules
Fast and simple contractor commissioning through Honeywell Connect Mobile app (avail. w/firmware Update May 2021)
Flexible and configurable input/output flexibility including (2) inputs and (2) inputs/outputs with more than 15 pre-defined functions
Easily integrates with Honeywell Small and Medium Building Administrator solution
High level functionality including demand response, service mode, user level privilege customizations, and much more
CE
FCC
ICES
UL/cUL
RoHs
REACH
Title 24 (coming soon)
BTL (coming soon)
ASHRAE
LEED
Prop65
Do you utilize any of these AX JACEs within your facilities?

If so, there are only 71 more days until the Niagara AX platform reaches its end of life. As of July 1, 2021, replacements for all legacy JACES will end, all AX licenses and license options will end, and Niagara fixes for defects and cyber issues will end. After this date, there will be no future updates or security patches. With Tridium's conversion tool, adapting AX stations to N4 can be a seamless transition.
Contact Energy Equipment Controls today for guidance on your N4 transition plan!
Congrats to our Yeti cooler winner!
Justin Clark from Tustin took home the YETI Tundra cooler.
Congrats to Justin, and thank you to all who entered!
For your safety and our staff's, please wear a mask when visiting our counter. Thank you!