Mom Tip #447
If you find yourself unable to exercise during the day or evening because too many other commitments get in your way, consider exercising first thing in the morning before anyone else gets up. You will start your morning refreshed and have the rest of the day to do whatever comes your way.

Tip from LifeTips
Follow us on Facebook!

We put our most current info on our facebook page.
Become a fan and then you will always be in the know!
New iPhone App!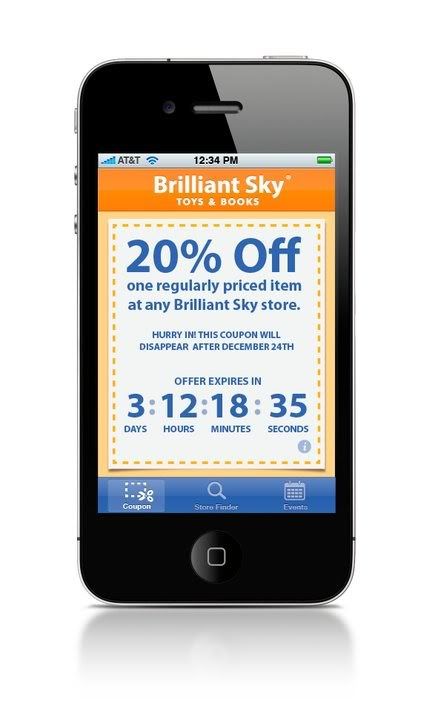 Get great coupons zapped right to your phone, plus find out about cool events here in the store and even add them right to your calendar. Click here to download it today!
Free Gift Wrap!
We offer complimentary gift wrap. And of course we will remove the price tag. Don't forget to ask for a gift receipt just in case the recipient already has the perfect gift. :)
Please join us
for our
EASTER "EGG"STRAVAGANZA!!!!
THIS Saturday March 2, 2013

10:00 am - 10:30 am
Easter Egg Hunt
Find the hidden eggs with secret goodies including a $100 gift certificate!

Bring your own basket or buy one here!

10:30 am - 12:30 pm

Visit with the Easter Bunny

Say "Hi" to the Easter Bunny, get your face painted by artist Christine Nall, and get a picture with the Easter Bunny for only $5 by
Zappy Springs Photography.

12:30 pm - 1:30 pm

Easter Arts & Crafts

Make crafts to celebrate Easter fun!



What's Happening
Join us for these great March events!
Tuesday March 5th 11:30 a.m.
Children's Musician Mr. Will Dupuy will be here for a concert to benefit the:
Center for Child Protection
in conjunction with
Amplify Austin
What is Amplify Austin?
An initiative of "I Live Here, I Give Here", Amplify Austin is a new 24-hour, online giving event to increase philanthropy in Central Texas. The first annual Amplify
Austin
event will begin Monday, March 4, at 7 p.m. and end March 5th at 7 p.m. Donations will be accepted through their secure website,
AmplifyATX.org
The goal is to inspire Central Texans to come together for 24 hours to contribute $1 million to support the life-changing work of more than 300 local nonprofit organizations. Brilliant Sky is helping to raise funds for the Center for Child Protection, here in Austin.
What is the Center for Child Protection?
The Center for Child Protection is a nationally accredited children's advocacy center, and the first stop for children in Travis County who are suspected victims of sexual abuse, physical abuse, neglect and for children who have witnessed a violent crime. It is the only nonprofit in Travis County involved in the investigation of crimes against children. All services are provided to children and their protective caregivers at no charge.
How Can I Make a Donation?
Starting March 4th at 7 p.m. g
o to AmplifyATX.org. The Center for Child Protection will have a donation page on the site where you can choose the amount you want to donate. Or you can come to Mr. Will's concert on Tuesday and meet with a representative of the Center for Child Protection who will be taking donations!
Importance of Children's Outdoor Actvity
In this age, where children are suffering from obesity, outdoor activities form an important part of their life. Outdoor activities have long term benefits on their health. Adequate outdoor activity increases health and physical development by improving sensory development, reducing obesity and stimulating blood cells.

Health benefits
Outdoor activities help kids stay fit and active which will benefit them in the long run. They can ward off health problems like obesity and heart ailments later in life. Some kids frequently fall ill; being active in life will help them stay healthy; they will feel hungry and have meals on time. Since they will feel tired by the end of the day, they will sleep on time too.

Makes them competitive
When kids play outside, they gain a sense of mastery and competency skills. They try climbing, running; throwing and they feel they can do it, which in turn builds up their confidence level. Even when they are playing any game and they win the game, it helps in developing the winning spirit. It's a best way to boost their self-esteem as well.

Learning working in groups
When kids play with other kids, they learn to interact in groups, learn building strategy to win. They learn to adjust with kids of different temperament. This will help them when they grow up, in both their professional and personal life.

Giving a sense of freedom
When kids play outdoors, adults are generally more lenient with them. They feel a sense of freedom. They feel more enthusiastic and energetic and want to discover themselves.

Take them to the beach, let them let go of themselves. Let them play in the sand, make sand castles, take them play in the water.

Learning social skills
Often when kids play, they have a lot of loud interactions and physical movements with other kids. At times they might not know the other kids they have to play with especially in schools, and that helps them develop social skills. They learn to be cordial and try and work well in groups often developing qualities like leadership and co-operation. They learn to interact with other children, often bonding over games and developing long lasting friendships.

Learning to appreciate nature
Parents should take their kids for treks and nature camps. They will understand nature and science better. This will help them relax and sooth all the five senses. You should teach them to respect nature. Try doing activities like gardening, planting trees, flower exhibition which help them to understand nature.

In this age, where children are so tech savvy, it might be challenging for parents to take your child away from television, computers and video games. But you should make outdoor activities fun according to your child's interests and slowly they will learn its importance.
Article from IndianChild
Warmly,
Maya Pomroy
Madelyn and Emma's Mommy
Owner, Brilliant Sky Toys and Books
701 S. Capital of Texas Hwy
Suite D-480
Austin, TX 78746
(512) 347-TOYS (8697)