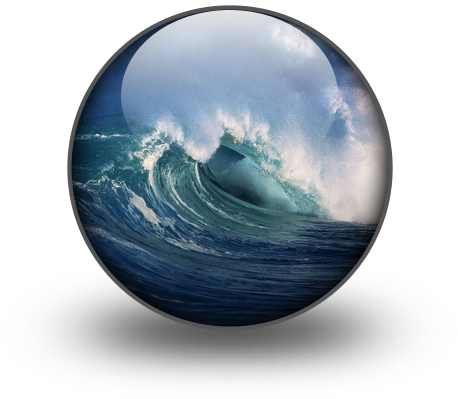 EMOTIONAL TSUNAMI

(Be sure to join our weekly discussion about this article on Facebook, which is posted every Friday and remains open for ongoing participation.)

I've been using the example of a tsunami for years to illustrate the destructive force of emotional allergies. Sadly, this past week we saw this imagery over and over again as Japan reeled from earthquakes, tsunamis, and nuclear disaster. The destruction of a tsunami is usually far removed from its source - an earthquake in the ocean floor. That quake sends up a shock wave of energy through the water and it begins to travel, gathering energy and strength as it does so. By the time it makes landfall, it has devastating potential.
Emotional allergy is a force to contend with for abuse and trauma survivors. It is an extreme and often inappropriate reaction to an event in the present that reminds you of past trauma. As with physical allergies, that reminder doesn't have to be big. For some people who are allergic to peanuts or strawberries or shellfish - even the tiniest amount of the allergen can trigger life threatening allergic reactions. The body thinks it is providing protection, but because the reaction is so extreme, it makes people sick. It accomplishes exactly the opposite of what the self-protective system of the body is designed to do if it is balanced.
Emotional allergy works in much the same way. Let's take the experience of abandonment for a child - I'll give him the name Wes. Wes' single mother was an alcoholic who let just about anyone come over, which meant he was constantly accessed by predatory people. When his mom started drinking, he knew he was in great danger. He was beaten, raped, given drugs, and starved whenever she went on a binge. Mom would promise that she'd stop drinking, but never kept her word. Some of the men who abused Wes made him feel special and wanted, but then they'd disappear. So Wes learned to expect people to break their promises, to fail him, and to throw him away.
Fast forward thirty years. Wes is now with his third partner in five years. He trusts no one, is extremely possessive and jealous, and is an obsessive neat freak. His current special someone - Rose - is a free spirit who thinks housework is a waste of energy and that time is abstract. She also has many long-time friends of both genders.
When Wes got home from work, he found a sink full of dishes and a note that said, "Out with friends, be back soon." He is overwhelmed with rage and terror. By the time Rose got home, about seven, Wes was vicious. He accused her of having an affair, flipped out because she left the house dirty, and pretty much annihilated her to the point that she walked out - never to return.
Wes just tsunamied. The epicenter of this tsunami had nothing to do with Rose. The epicenter was the abandonment he experienced as a child. Rose's behavior evoked a familiar feeling. It felt like she didn't take care of what was important to him, she left him alone because other people were more important, and she gave no specific time that she'd return - leaving him to question if she'd return. This emotional allergy is to familiar feelings that are tethered to that past abandonment and the intense reactions to it. But unlike that abandoned child, the out-of-balanced adult cannot emotionally distinguish between the past and the present, and so the shock waves from that epicenter gather energy and unleash destruction with the present situation, leaving Rose wounded, bewildered, and done.
If I was to draw a picture of emotional allergy - this is what it would look like:

As in the natural world, emotional allergy tsunami early detection and preparation are vital to prevent catastrophes from happening. Unlike the natural world that can't really stop a tsunami, emotional tsunami prevention is possible. So here are some ideas to help you control emotional allergy and diffuse the tsunami:
1. Pay attention to your feelings.
2. If you notice that you're feeling intense - whether it's rage, depression, fear, etc. - ask yourself why you feel so strongly.
3. Look at the situation that evoked these intense feelings and ask yourself if the circumstances merit the intense reaction.
4. Ask yourself what about this situation feels similar to your past abuse or trauma. Is it a smell, a tone of voice, a behavior, a time of year . . . be a detective and examine the situation in contrast to your past trauma.
5. Recognize the difference between then and now. Identify the fact that you are not living in the past, you are in the present and can respond to the present differently so you don't harm yourself or others.
6. Ask yourself what a more balanced and reasonable response might be than a tsunami wave freak out.
7. If possible, ask a safe person to give you input about the situation and what you feel like doing. Bounce ideas off them that might help you better navigate through the emotional allergy you're having.
If Wes had taken these steps, the situation might have been experienced like this:
After going through three partners in five years, Wes recognized that he struggles with trust, that he is extremely possessive and jealous, and that his standards of housekeeping are almost impossible to maintain. He was attracted to Rose because she seemed to be such a free spirit - smart and energetic with lots of friends. But he discovered as the relationship wore on, that the very things that attracted him to her were also the very things that made him terrified. She wasn't about to be possessed by anyone and felt that love was the great connector - not obligation.
Wes opened up to Rose and shared his fears, giving her an opportunity to reassure him. When Wes got home that day and saw a sink full of dishes, he recognized that the only person bothered by that was him. Rose didn't leave them there because she didn't value him, he reminded himself. She left them there because a few dirty dishes in the sink are tolerable to her and she'd get to them later. When Wes read her note, he knew that it was important that she maintain her other friendships. He reminded himself of Rose's love and that she had never done anything to lose his trust. The entire time she was gone - although Wes felt anxious about being alone - he reminded himself that she was just out with friends and their relationship was good.
When Rose walked in the door at seven, Wes gave her a kiss, asked if she had a good time, and finished putting away the last clean dish. She chatted about where she'd been, thanked him for doing the dishes. Wes told he her had been nervous when she was not home, but knew it was okay. She assured him, once more, that they were good.
Wes experienced emotional allergy - an intense reaction to the familiar emotions brought on by abandonment - but combated that allergic reaction with truth and reason. The end result was a more open and honest relationship with Rose and no damage done to either of them.
This is not an easy task, but it is well worth the effort. The more you practice controlling the urgency of emotional allergy, the smoother the waters of your life become - for you as well as for everyone else.