Using the Web Appropriately to Learn More about a Volunteer Candidate
The following Tip is an adaption from the book I co-authored with Jayne Cravens,
The LAST Virtual Volunteering Guidebook
. Written with online volunteers in mind, the advice applies equally to screening all volunteers.
Privacy, while a legal right, has been turned on its head in this day and age of public information online. It has become commonplace for employers to "check out" possible new hires by seeing what is available about them online...So, one of the tools at your disposal for learning more about volunteering applicants is to look for the candidate's name on online social networking sites...However, If you are going to explore what's posted on social media,
understand the social rules.
| | |
| --- | --- |
| 1. | Be sure you put a note in the position description or on the volunteer application form, from the start, that you will do this kind of screening, so a person will know before he or she applies. |
| 2. | Do not exclude a person you have screened online because he or she: |
| | * Is politically active . . . unless the activity is clearly in conflict with the mission of your organization, such as a potential volunteer campaigning against gun control on his or her blog while, at the same time, applying to your anti-handgun organization to be its online marketing person. |
| | * Posts opinions online . . . unless these are irrational and/or personal attacks ("I hate the mayor; she's fat and stupid"), are slanderous to a person or organization ("the local zoo is slaughtering monkeys and selling the meat to the local butcher"- which you know is actually not true), or are in conflict with your organization's work, as above. |
| | * Posts personal photos to public spaces . . . unless you feel these would be inappropriate for viewing by your clients (such as a potential volunteer who would lead your online marketing campaign against teen drinking posting photos of herself passed out from too much alcohol). |
| | You are not looking for perfect angels or for people with whom you are in complete agreement in terms of politics or values. Rather, you are looking for clearly outrageous material that is obviously in conflict with the role the volunteer will fill with your organization. |
| 3. | Make sure it really is the candidate (many people have the same names!) |
| 4. | Hear the candidate's point of view before deciding. If you do find material that you believe could be used by the public or the press to put your organization in a bad light, talk with the volunteering candidate first about what you saw online. |
Finally, remember this level of screening is only for volunteering assignments that warrant such special attention.

And, to assure no problems moving forward, include discussion of social media posting in new volunteer orientation: What can a volunteer share online? What should not be posted?

******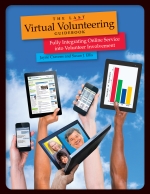 This Quick Tip has been adapted from
The LAST Virtual Volunteering Guidebook
by Jayne Cravens and Susan J. Ellis, available in the Energize Online Bookstore.
Want more of Susan's Wisdom?
Read her books. You'll find them
in our bookstore
.