Angela Brintlinger

Professor of Slavic and East European Studies
"Crime and Punishment 150 Years Later"
John Mueller

Senior Research Scientist
Mark Stewart

Visiting Scholar
"Politicians and the media have botched the war on terror, but are great at terrifying us"
Mershon Memo
is a weekly e-mail newsletter distributed by the Mershon Center for International Security Studies, a unit of the
Office of International Affairs
at The Ohio State University.

Thursday-Friday, January 28-29, 2016
COMPAS: Conversations on Morality, Politics, and Society
11th Floor, Thompson Library,
1858 Neil Avenue Mall
The
Fall COMPAS Conference
explored the value trade-offs that are involved in pursuing competing visions of a sustainable future. The
Spring COMPAS Conference
on "
Realizing Sustainability
" turns to the practical: the challenge of realizing sustainability. Who bears responsibility for this challenge and how can we motivate the necessary shifts in public policy and personal behavior? If the Paris meetings represent a moment, as President Obama has stated, when "nations embrace their responsibility to assure a world worthy of our children," what policy implications follow from that change in moral viewpoint? The conference will bring together an interdisciplinary group of experts from communications, decision sciences, economics, law, philosophy, and political science, among other fields, to address these issues.
See complete conference program
Monday, February 1, 2016
Noon, 120 Mershon Center, 1501 Neil Ave.
Leif Wenar
, a Columbus native, now holds the Chair of Philosophy and Law at King's College London. After earning his bachelor's degree from Stanford, he edited an autobiographical volume by the Nobel-winning economist F.A. Hayek and was Karl Popper's research assistant. He went to Harvard to study with John Rawls, and while there took classes with Amartya Sen and led discussions for Michael Sandel's course on justice. He wrote his Harvard qualifying thesis on Karl Marx's theory of history, and his doctoral dissertation on property rights with Robert Nozick. In this presentation, Wenar will discuss how the world's most coercive regimes depend on trade of stolen natural resources, and how the West can lead a peaceful global revolution by ending dependence on authoritarian oil. Read more and register at
go.osu.edu/wenarl
Thursday, February 4, 2016
3:30 p.m., 120 Mershon Center, 1501 Neil Ave.
William Reno
is professor of political science and director of the Program of African Studies at Northwestern University. He is the author of
Corruption and State Politics in Sierra Leone
(Cambridge, 1995),
Warlord Politics and African States
(Lynne Rienner, 1999),
Warfare in Independent Africa
(Cambridge, 2011), and other works on the politics of conflict and the organization of armed groups in failed states. More information about his research is at
http://www.willreno.org
. Reno will discuss how research explains variations in the ways armed groups organize their relations with surrounding communities in the context of conflict in collapsed states. Read more and register at
go.osu.edu/renow
New event!
Friday, February 5, 2016
Sara Mitchell
"

Contentious Issues in World Politics

"
Noon, 120 Mershon Center, 1501 Neil Ave.
Sara Mitchell
is professor of political science at University of Iowa, where she co-directs the
Issue Correlates of War Project
and is associate editor of
Foreign Policy Analysis and Research and Politic
s. She is co-author of
Domestic Law Goes Global: Legal Traditions and International Courts
(Cambridge, 2011),
Guide to the Scientific Study of International Processes
(Wiley-Blackwell 2012),
The Triumph of Democracy and the Eclipse of the West
(Palgrave Macmillan, 2013), and C
onflict, War, and Peace: An Introduction to Scientific Research
(CQ Press/Sage 2013). In this talk, Mitchell will describe the issue approach to world politics, how it differs from other major theories of interstate conflict, and present new data from the Issue Correlates of War Project. Read more and register at
go.osu.edu/saramitchell
Monday, February 15, 2016
3:30 p.m., 120 Mershon Center, 1501 Neil Ave.
Michael Campana
is professor of hydrogeology and water resources management at Oregon State University and technical director of the American Water Resources Association. His expertise and interests include hydrogeology; hydrophilanthropy; integrated water resources management); water, sanitation, and hygiene in developing regions; water policy; and education. He founded and runs his own hydrophilanthropic foundation, the Ann Campana Judge Foundation. As WaterWired he blogs and tweets on water and related issues. Campana will recount his experience as project director for the South Caucasus River Monitoring Project, a model of collaboration and cooperation in a region where such traits have at times been in short supply. Read more and register at
go.osu.edu/campanam
Friday, February 19, 2016
3:30 p.m., 120 Mershon Center, 1501 Neil Ave.
Cristina Bicchieri
is the S.J.P. Harvie Chair of Social Thought and Comparative Ethics, and professor of philosophy and psychology at the University of Pennsylvania. She is the director of the Behavioral Ethics Lab and the Penn Social Norms Consulting Group. Bicchieri works on social norms, their measurement and behavioral/field experiments on norm change, cooperation and fairness on social networks. Her most recent work looks at the role of trendsetters in social change, and how network structures facilitate or impair behavioral changes. Among her books are
The Grammar of Society: the Nature and Dynamics of Social Norms
(Cambridge, 2006) and
Norms in the Wild: How to Diagnose, Measure and Change Social Norms
(Oxford, 2016). Read more and register at
go.osu.edu/bicchieric

Elizabeth Gardiner (second from right), doctoral student in anthropology, interviews rural citizens about land privatization in Burkina Faso.
Mershon Center offers grants, scholarships for faculty, students
Each year, the Mershon Center for International Security Studies holds a competition for Ohio State faculty and students to apply for research grants and scholarship funds.
Applications for
Faculty Research and Seed Grants
and
Graduate Student Research Grants
must be for projects related to the study of national security in a global context. We are also interested in projects that emphasize the role of peace-building and development; strengthen the global gateways in China, India and Brazil; relate to campus area studies centers and institutes; or address the university's Discovery Themes of health and wellness, energy and the environment, and food production and security.
In recent years the center has funded several dozen faculty and graduate student research projects with grants for travel, seminars, conferences, interviews, experiments, surveys, library costs, and more. To learn about the types of projects being funded, please see faculty project summaries on the Mershon Center website under
Research
and graduate project summaries in past
Annual Reports
.
The Mershon Center has also established
International Security Scholarships for Undergraduate Theses and Study Abroad
to support undergraduates whose professional career plans lie in the field of international security and who would benefit doing research for an undergraduate thesis or studying in a foreign country. Applications will be evaluated by an interdisciplinary review committee that will make recommendations to the director of the Mershon Center. Scholarship amounts typically range from $2,000 to $3,000.
Application forms and instructions for all Mershon Center grants and scholarships can be found in the
Grants
section of the Mershon Center website. The deadline for all applications is
5 p.m. on Monday, February 22, 2016
.


Monday, January 25, 2016
7:30 p.m.,
Whetstone Library,
3909 N. High St.
Sponsored by Clio Society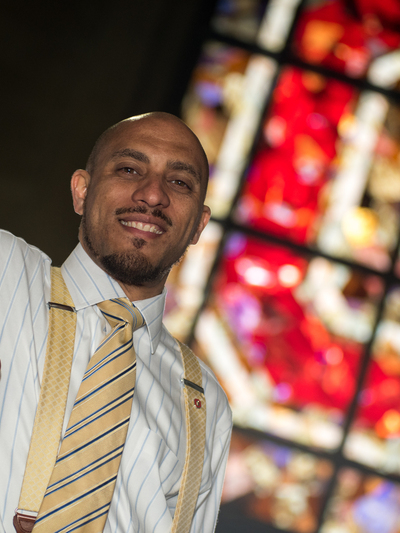 Hasan Kwame Jeffries
is associate professor of history at Ohio State, where he teaches seminars on the civil rights and black power movements, and surveys in African American and American history. In 2009, Jeffries published
Bloody Lowndes: Civil Rights and Black Power in Alabama's Black Belt
(NYU Press). The book tells the story of organizers from the Student Nonviolent Coordinating Committee who ushered in the black power era by transforming rural Lowndes County, Alabama, from a citadel of violent white supremacy into the center of southern black militancy. His current book project,
Stealing Home: Ebbets Field and Black Working Class Life in Post-Civil Rights New York
, examines the experiences of the residents of Ebbets Field Apartments, an expansive housing complex built in 1962 on the site of old Ebbets Field, the former home of Major League Baseball's Brooklyn Dodgers.
Thursday, February 2, 2016
Michael Rubin, Alexander Thompson, Randall Schweller
6 p.m., Room 348, Moritz College of Law, 55 W. 12th Ave.
Sponsored by Alexander Hamilton Society | OSU Chapter
The Alexander Hamilton Society is pleased to announce its inaugural event, for the spring semester, "Playing with Fire: The Perils and Pluses of Engaging with Rogue Regimes," at 6 p.m. on the evening of February 2 in the Moritz College of Law (Drinko Hall), room 348. We will be hosting author and American Enterprise Institute scholar
Michael Rubin
(left) and Ohio State's own, political science professor,
Alexander Thompson
for a debate over the role of negotiation with rogue regimes like North Korea, Iran, and Syria.
Randall Schweller
, also, from the political science department, will serve as our moderator for the evening. As usual, we will be serving free wings and Coke products. We look forward to seeing you!
Read more and register
Thursday, February 11, 2016
3:30 p.m., 120 Mershon Center, 1501 Neil Ave.
Sponsored by Department of History
Dagomar Degroot
is an environmental historian who bridges disciplines to investigate how people confront changes in the natural world. He has written a book, currently in peer review, that furnishes the first detailed analysis of relationships between climate change and the "Golden Age" of the Dutch Republic. His ongoing projects trace the human consequences of 17th century Arctic cooling; investigate connections between climate change and early modern conflict; and identify how people have responded to environmental changes in space. Degroot is the founder of
HistoricalClimatology.com
, a website that attracts more than 100,000 viewers annually, and the co-founder of Climate History Network, an organization with more than 150 multidisciplinary members. In this lecture, Degroot examines whether climatic changes during the "Little Ice Age" from 1450 to 1850 led to more societal conflict. Read more and register at
go.osu.edu/degrootd
Thursday, February 11, 2016
7 p.m.,
Archie M. Griffin Ballroom,
Ohio Union,
1739 N. High St.
Sponsored by Environmental Professionals Network
M. Sanjayan
is a leading global conservation scientist, writer and an Emmy-nominated news contributor focused on the role of conservation in improving human well-being, wildlife and the environment. He serves on Conservation International's senior leadership team as executive vice president and senior scientist. Previously he was the senior scientist for The Nature Conservancy. His scientific work has been published in journals including
Science, Nature,
and
Conservation Biology
. He is a Catto Fellow at the Aspen Institute. With remarks on "
Central Ohio's Contributions to Protecting Earth's Environments and Peoples"
by Tom Stalf, CEO of the Columbus Zoo and Aquarium. The event is free but
registration is required
.


'Origins' examines 'incomplete peace' in Northern Ireland
The 1998 "Good Friday Agreement" was a breakthrough in the Northern Ireland peace process. Holding for nearly 20 years, it has brought a measure of stability and tranquility to an area wracked by Protestant-Catholic violence for decades.
But as historian Jeffrey Lewis observes, the Good Friday Agreement only treated the symptoms of the conflict and did not redress its underlying causes. Examining the history of the sectarian divisions in Northern Ireland, he asks whether treating symptoms is sufficient to bring a lasting peace. The whole article can be found at
origins.osu.edu
.
About Origins
:
Origins: Current Events in Historical Perspective
is a monthly ad-free magazine that features top scholars on today's most pressing topics. Published by The Ohio State History Department, its authors include National Book Award winners and world-renowned scholars. You can also explore
reviews
of popular history books on the
Origins
website as well as the new monthly feature
Milestones
.
CURA offers graduate student travel grants

The Center for Urban and Regional Analysis provides $1,000 grants for conference travel to five graduate students per semester from any department to attend major specialized conferences related to urban and regional analysis. In line with CURA's multi-disciplinary and multi-collegiate approach, we strive to award funds to students from a diversity of fields within Ohio State. The deadline for Spring 2016 applications is Friday, February 19.
Read more