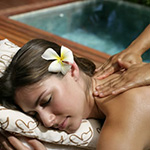 Greetings!
Sometimes, you just can't wait for your massage!
So here are some currently available dates and times for the weeks of January 21-31.
When you schedule a Massage Therapy session during these dates, you will receive a $10 discount off your service!
24-Jan
12:00
1:00
2:00
3:00
5:00
25-Jan
12:00
1:00
29-Jan
1:00
2:00
3:00
30-Jan
11:00
3:00
4:00
5:00
31-Jan
1:00
2:00
3:00
Please call for your appointment 414-899-9496
Email Lee Ann at: Email
Please mention this 'Special' when you schedule your appointment.
PS: Wouldn't a Hot Stone Massage feel exquisite right now?
Dates and times are subject to availability, special offer excludes current special, prior purchased packages and gift certificates.
Published Jan. 21, 2012
The Healing Place
N112W16760 Mequon Road
Germantown, WI 53027