It
's a brand new quarter and a brand new
newsletter!
And it's more exciting than

a yellowjacket in the outhouse

.
Practice Makes Perfect
We know FIRST teams and students are always learning and trying to improve, even in the off-season. There is a lot of news
to share-
2018-2019 Season Theme, Off-Season Events , FTC Team Grant ,
Advocacy Conference, FIRST on National TV, updated Events Calendar,
and more- whew
!!
So hold on to your thimble-
a
nd keep reading for these topics
and more.
And please pass this newsletter on to teams, parents and students.
(a web link is at the top of this email- the "click here")
To subscribe to the newsletter, just fill out this form.
For
FIRST
's 30th anniversary, they have a special space theme planned for the whole continuum of
FIRST
programs:
FIRST
LAUNCH 2019.
FIRST National Advocacy Conference
| | |
| --- | --- |
| | |
| | FRC 1086 with FIRST President Don Bossi |
FIRST
Chesapeake was again represented at the
FIRST National Advocacy Conference
, held
June 24-26.

Each year students from the

FIRST

Robotics community gather in Washington, D.C. to advocate for national support of

FIRST

and STEM education programs.
Our participating FRC and FTC teams included:
FRC 422- Mech Tech Dragons
FRC 449 - The Blair Robot Project
FRC 888 - Robotiators
FRC 1080- Resurgence Robotics
FRC 1086- Blue Cheese (a member of the FIRST National Advocacy Conference Coordinating Committee and a conference presenter)
FRC 3455- Robot Revolution
FRC 4099 - The Falcons
FRC 5243- Aegis Robotics
FRC 5338- RoboLoco
FRC 5950- Trojans
FRC 6239 - The Irrational Engineers
FTC 12838- Lancaster Robot Warriors
This year Virginia had the largest delegation of any state (48 people). The conference lasted 3 days and included two days of meetings, presentations, and networking, and one day of meetings with lawmakers on Capitol Hill. FIRST President Don Bossi joined them for one day this year. Select conference members also met with Secretary of Education Betsey DeVos.

The entire Virginia delegation- the conference's largest at 48 participants- spoke with US Senators Tim Kaine and Mark Warner on the steps of the Capitol
Students from Teams 1080, 3455, 5243, and 1086 coordinate their presentation prior to meeting with a representative from Sen. Mark Warner's office.
Thank you teams for meeting with members of Congress to promote FIRST and STEM!
DC FIRST Robotics Competition Teams Luncheon
With a successful "Power-Up" season completed, it was certainly time to celebrate. In mid-June, Google generously invited eight DC-based FIRST Robotics Competition teams sponsored by Google to attend a special luncheon honoring their efforts this season at Google's Washington, DC office on Massachusetts Ave.
The FRC students enjoyed a gourmet lunch complete with ice-cream sundaes and had a glimpse of life at this famous company. Students had an opportunity to present their robot to other students, mentors, and DC public school employees. All there celebrated the successful partnership between FIRST, Google and DC Public Schools and eagerly looked towards future collaborations and program growth.
FIRST Robotics Competition Off-Season Events
Everyone loves to compete, and here's your chance to experience FIRST POWERUP one more time!

There are four off-season events in the FIRST Chesapeake District- be sure to check them out. Some have discounts for early registration or competing at more than one off-season event.
Here are some upcoming FIRST and STEM-related events. FIRST Chesapeake events are still being confirmed, and are subject to change.

Click through the links
for more information or visit the
FIRST Chesapeake calendar

.

Virginia
FIRST Tech Challenge G
rants
Again this year,
Newport News Shipbuilding has generously provided funding to qualified teams in the Hampton Roads area of Virginia.
Teams must be located in the counties of Gloucester, Isle of Wight, James City, Mathews, Surry, York or the cities of Chesapeake, Franklin, Hampton,
Newport

News

, Norfolk, Poquoson, Portsmouth, Suffolk, Virginia Beach, or Williamsburg.
This
grant
places a special emphasis on FTC teams that need assistance with registration fees and/or travel/lodging expenses. Funding levels will not exceed $1,000 and must be used for expenses associated with the 2018-2019 FTC competition season.
***************************
See application for more details.
Grants will be reviewed and awarded on a rolling basis during 2018-19 season.
The first round of approvals will be notified August 30th, 2018, and new applications will be reviewed each Wednesday thereafter.
See what HBO has to say about FIRST on "Real Sports with Bryant Gumbel"
Is it time to update your Volunteer Youth Protection Screening?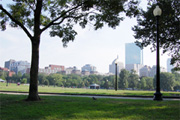 Volunteer background screening is required every four (4) years. If you were screened during the 2014-2015 season, you will be asked to re-screen in the 2018-2019 season. If you would like to complete this process early, you may do so in the Volunteer Registration system by:
Applying to an event, or
Applying to a Program (found on the event search page in Volunteer Registration)
Both options will direct you to complete the screening process. If you have any questions, please contact FIRST Chesapeake at volunteer@firstchesapeake.org.
Kevin (KP) Pardus will be retiring as FIRST Senior Mentor for the Virginia Tidewater area this summer. Over the years, KP has been a coach, judge, volunteer, and FIRST Senior Mentor. He has attended more competitions than we can count and has always been a stalwart supporter of FIRST Chesapeake.
Barry McGovern, FIRST Senior Mentor for Maryland, will also be stepping down. Barry has been a volunteer and coach for over 5 years. Last year, as FIRST Senior Mentor, he helped bring FIRST programs to students throughout Maryland.
We thank KP and Barry for their dedication and wish them the best in all future endeavors.
Krystian Jones has decided to step down from her duties at FIRST Chesapeake. Her goal is to dedicate more of her time pursuing a masters degree to further her education. She has promised to continue her volunteer efforts with FIRST Chesapeake during the season. We thank Krystian for all of her work with FTC and FRC this past season and wish her the best.

Looking for current FIRST

Chesapeake news,
information and announcements?
Keep up with all things FTC and FRC by liking and or following FIRST Chesapeake on all our social media accounts!