Plug Power Signs $70 Million Fuel Cell Agreement with Amazon
On April 5,
American fuel cell manufacturer Plug Power announced an agreement to supply Amazon with fuel cell technology for its warehouses, which it estimates will generate $70 million in revenue for 2017. At select fulfillment center locations, Amazon will power its industrial equipment, such as forklifts, with Plug Power's GenKey hydrogen fuel cells.
In addition, Plug Power also granted warrants to Amazon for the purchase of over 55 million common stock shares of the company.
Amazon and Plug Power will begin working together on technology collaboration, such as exploring the expansion of applications for Plug Power's line of ProGen fuel cell engines.
For a link to the full press release from Plug Power, click here.
Toyota to Test Fuel Cell Semi Truck

On April 19,

Toyota announced that they will soon begin testing a hydrogen fuel cell-powered semi truck in California. The zero emission concept truck, code named "Project Portal," will take part in a feasibility study examining the potential of fuel cell technology in heavy-duty applications at the Ports of Long Beach and Los Angeles.
According to Bob Carter, executive vice president of Toyota's U.S. sales unit, the truck can generate over 670 horsepower and 1325 pound feet of torque, from two Mirai fuel cell stacks and a 12kWh battery. The concept's gross combined weight capacity is 80,000 lbs, and its estimated driving range is over 200 miles per tank of hydrogen, under normal port drayage operation.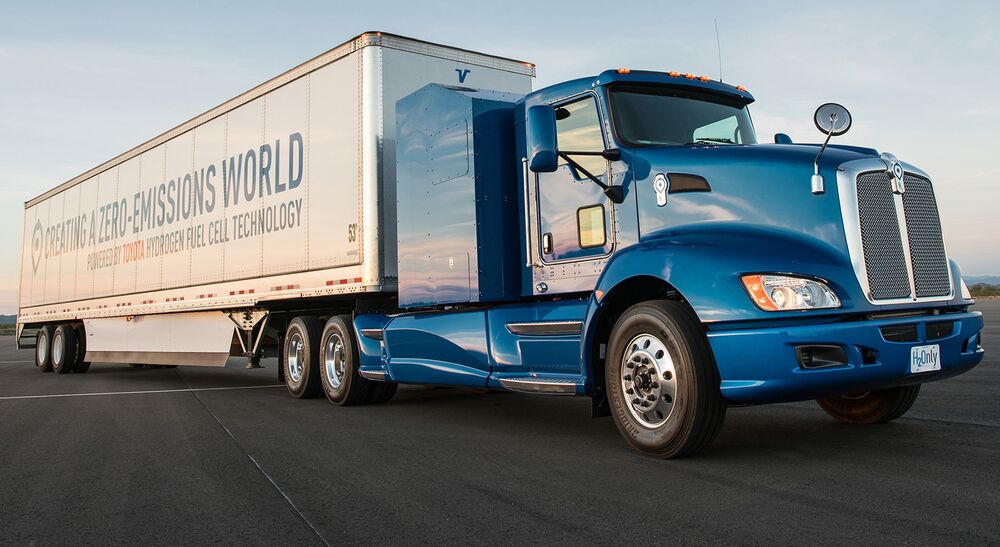 Toyota's "Project Portal" hydrogen fuel cell-powered semi truck concept, which will be tested in southern California port operations this summer. Source: Toyota
The study will begin this summer under the Port's Clean Air Action Plan, which has dramatically reduced harmful emissions from operations at the Ports of Long Beach and Los Angeles since 2005.
California Governor Jerry Brown has called for
100,000 zero-emission freight-hauling machines to be operating by 2030 under his 2016 "California Sustainable Freight Action Plan."
For a link to the full press release from Toyota, click
here
.
FuelCell Energy Announces Grid Resiliency Project with PSEG Long Island
On April 5, FuelCell Energy announced a power purchase agreement (PPA) with PSEG Long Island in New York. The PPA will have FuelCell Energy supply an existing electrical substation with electricity generated by a 1.4 megawatt SureSource 1500™ fuel cell plant.
The PPA was awarded under PSEG Long Island's Clean Renewable Energy Feed-In Tariff (FIT) II program, which supports the adoption of clean on-island power generation to enhance grid reliability and resiliency.
For a link to the full press release from FuelCell Energy, click here.
Hyundai Announces Fuel Cell SUV & Bus for 2018, Kia FCV in 2020, Genesis SUV Concept Vehicle
On March 29,
Bloomberg
reported that
Kim Sae-hoon, head of fuel cell technology for Hyundai and its affiliate Kia Motors, said that
Hyundai will show off its next generation fuel cell SUV - along with a new hydrogen fuel cell-powered bus - next year at the Winter Olympic Games in Pyeonchang, South Korea.
In addition, Mr. Kim said that Hyundai is working to shrink a fuel cell power train to a size comparable to today's internal combustion engines, so it can fit into various fuel cell vehicle models and reduce overall costs.
Hyundai's FE Fuel Cell Concept Vehicle, on display at the 2017 Seoul Auto Show.
Source: Automotive News
On April 3, Automotive News
reported that Kia will release its first hydrogen fuel cell vehicle (FCV) for commercial use in 2020.
On April 12, Genesis Motors, the luxury vehicle division of Hyundai, revealed the hydrogen fuel cell-powered GV80 Concept SUV at the 2017 New York International Auto Show.
For a link to the full article from Bloomberg, click here.

For a link to the full

Automotive News

article, click

here. And f

or a link to the full press release from Genesis, click

here.
California State Officials Demonstrate Fuel Cell Vehicles with Bay Area Caravan
On April 20, officials from three California state agencies caravanned from Sacramento to the Bay Area and back to demonstrate the ease of driving and fueling hydrogen fuel cell vehicles in the state, and celebrate the state's global leadership in efforts to get more zero-emission vehicles (ZEVs) on the road.
Mary Nichols, Chair of the California Air Resources Board; Janea A. Scott, Commissioner of the California Energy Commission; and Tyson Eckerle, Deputy Director for Zero Emission Vehicle Infrastructure in the Governor's Office of Business and Economic Development (GO-Biz), joined representatives from the California Fuel Cell Partnership for the caravan.
The drive included the Honda Clarity and Toyota Mirai fuel cell vehicles, with stops at hydrogen fueling stations in Hayward and San Jose.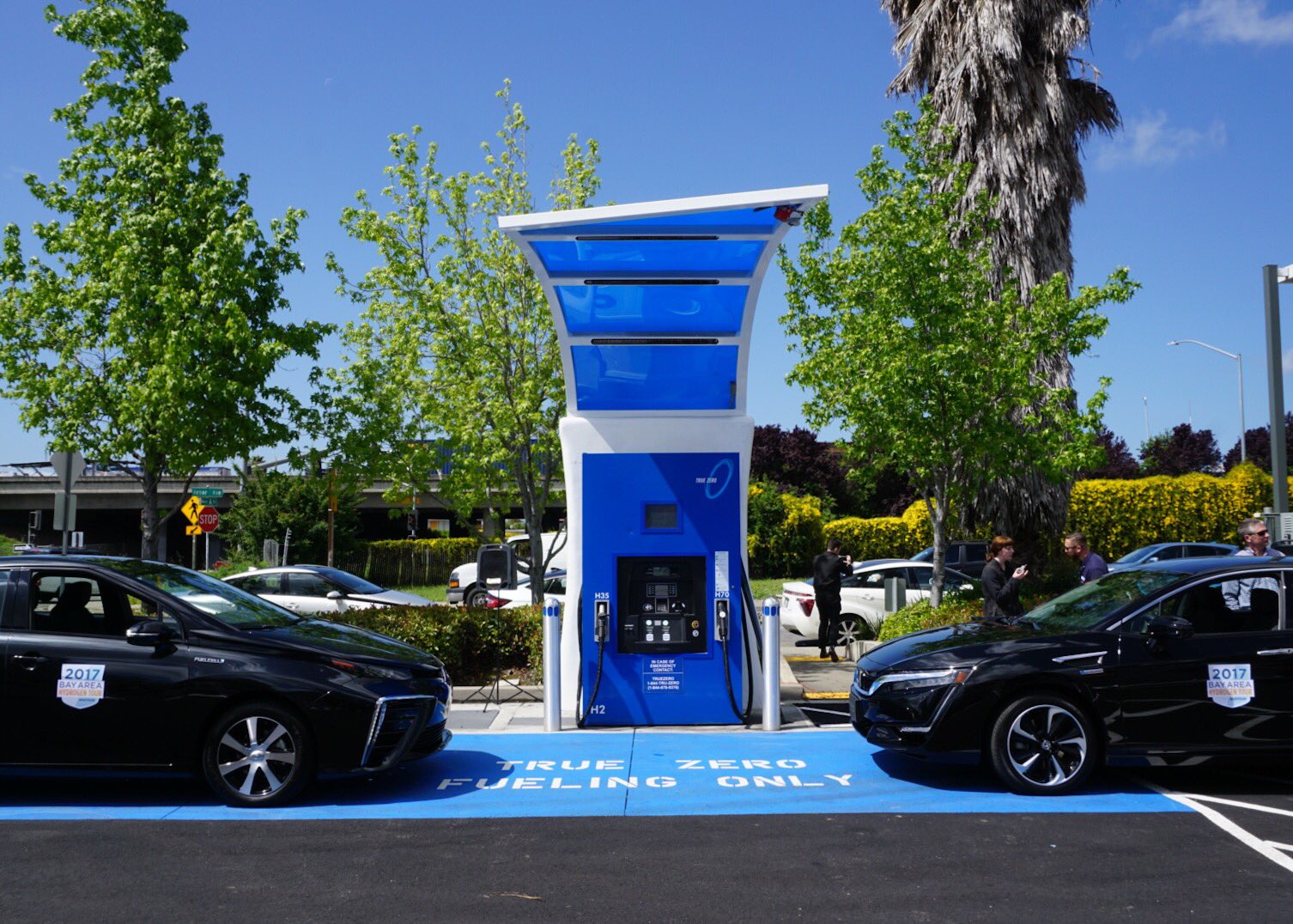 The fuel cell vehicle caravan at the True Zero hydrogen fueling station in Hayward, CA.
Source: California Energy Commission
The caravan also called attention to the state agencies' range of initiatives to help reach the state's goal of getting 1.5 million ZEVs such as hydrogen fuel cell vehicles on California roads by 2025.
For a link to the full press release on the caravan from the California Energy Commission, click
here.
Hydrogenics to Build Country's Largest Renewable Hydrogen Fueling Station in California
On April 21, Hydrogenics announced that it was awarded funding to upgrade a heavy-duty hydrogen fueling station in Thousand Palms, California. The station belongs to SunLine Transit Agency, which Hydrogenics will supply with CelerityPlus™ power modules for five new fuel cell-powered buses funded through the award as well.
Funding for the upgraded, renewable hydrogen fueling station, along with the new fuel cell buses, primarily comes from California Climate Investments, the state's cap-and-trade program. Additional funding will come from the Federal Transportation Administration.
One of SunLine Transit Agency's hydrogen fuel cell buses, which can refuel at the Thousand Palms, CA hydrogen fueling station being upgraded by Hydrogenics.
Source: California Air Resources Board
Once the upgrade is complete, the Thousand Palms station will be the largest renewably-sourced hydrogen fueling station in the United States. According to Hydrogenics, the station will produce 400 kg of hydrogen daily, and will be able to fuel 15 buses per day.
In addition to providing hydrogen for SunLine Transit's fuel cell buses, the station is also open for public use.
For a link to the full press release from Hydrogenics, click
here.
Nel Receives Purchase Orders from Shell for California Hydrogen Refueling Stations
On March 27, Norwegian energy firm Nel Hydrogen announced the first purchase orders on their H2Station® equipment and services from Shell Oil Products US. The
purchase orders stem from a framework contract, announced in February, to construct and maintain multiple hydrogen refueling stations in California.
The purchase orders
have a total
value of NOK 140 million ($16.43 million), and installation of the refueling stations is expected during 2018. Under the framework contract, Shell may issue additional purchase orders at a later stage.
For a link to the full press release, click
here.
Fuel Cell Bus Joins Boston's Public Transit Fleet
In February, the Massachusetts Bay Transit Authority (MBTA) unveiled its first hydrogen fuel cell-powered bus. The bus was developed with assistance from the Federal Transit Administration's National Fuel Cell Bus Program.
Fuel cell power and hydrogen energy supplier Nuvera provides the hydrogen fuel for the bus and will manage its operation. Before its final delivery to the MBTA, Nuvera fueled the bus at its corporate headquarters in Billerica, MA.
For a link to the full blog post from Nuvera, click
here.
OSU Launches Hydrogen Fuel Cell Bus for Year-Long Experiment
On March 24, The Ohio State University launched a hydrogen fuel cell-powered bus to transport students, faculty, and visitors across their Columbus campus.
The bus, on loan from the Stark Area Regional Transit Authority (SARTA), will operate on campus for one year. Researchers from the university's Center for Automotive Research (CAR) will collect performance data to share with interested scientists during this time. Using CAR's hydrogen fueling station, the bus will be able to refuel on campus quickly and run the entire day.
Ohio State's hydrogen fuel cell bus on campus. Source: The Ohio State University
For a link to the full press release from Ohio State, click
here.
Air Liquide Opens Hydrogen Refueling Station in Kobe, Japan
On April 3, Air Liquide Japan announced the opening of its hydrogen vehicle refueling station in Kobe, Japan for public use. This is Kobe City's first public hydrogen refueling station, and Air Liquide's fifth station in Japan.
Members of the Kobe City government and Air Liquide Japan officials hold a ribbon cutting ceremony for the opening of their new hydrogen refueling station. Source: Air Liquide Japan
The Kobe Shichinomiya Station carbon footprint will be the smallest ever built by Air Liquide Japan, and can refuel hydrogen fuel cell vehicles in less than three minutes, according to the company.
The station's construction received financial assistance from the Kobe City government, and the Japanese Ministry of Economy, Industry, and Trade (METI).
For a link to the full press release, click
here.
McPhy Opens First Renewable-Sourced Hydrogen Refueling Station in France
On April 11,
French energy company McPhy commissioned the launch of a hydrogen fuel cell vehicle refueling station in Sarreguemines, France that produces hydrogen on-site from renewable energy sources - the first of its kind in the country.
The station is the result of the "FaHyence Project," a two year collaboration between McPhy, the Communauté d'Agglomération Sarreguemines Confluences (CASC) inter-community authority, the EDF Group integrated electric company, and the European Institute for Energy Research (EIFER).
McPhy designed and manufactured the station, which consists of a high energy-efficient electrolyzer, with renewable energy sources provided by the EDF Group. The station can provide 25 full refuelings per day.
McPhy's new renewable energy-sourced hydrogen refueling station, in Sarreguemines, France. Source: McPhy Energy
For a link to the full press release from McPhy, click
here.
ITM Announces Sales for Two New Electrolyser Systems
On April 3, ITM announced the sale of a 3 megawatt electrolyser, along with additional hydrogen energy equipment, valued at
£3.5 million (approximately $4.36 million). Further details of the contract, such as the location and application of the electrolyser system, will be made available in the future.
ITM also announced the sale of a 0.5 megawatt electrolyser, along with additional hydrogen energy equipment, on March 27, valued at
£0.73 million (approximately $910,000).
For a link to the full April 3 press release, click

here, and f
or a link to the full March 27 press release, click
here.
Toyota to Start China Hydrogen Fuel Cell Vehicle Tests in October
On April 18, Toyota announced that starting in October, it will send two Mirai hydrogen fuel cell vehicles to China to conduct demonstration tests around the country. Testing will take place from 2017 to 2020, during which time Toyota will also construct its first hydrogen fueling station in the country at its TMEC research and development base in Changshu.
Artist's impression of Toyota's hydrogen fueling station in Changshu, China upon completion. Source: Toyota
The Mirai tests are part of the "Accelerating the Development and Commercialization of Fuel Cell Vehicles in China" project, which is funded by the United Nations Development Project and the Global Environment Facility to provide support for fuel cell vehicles in developing countries.
For a link to the full press release from Toyota, click
here.
Air Liquide Announces Partnership with First Hydrogen Energy-Powered Ship
On April 14, Air Liquide announced a partnership with Energy Observer, the world's first seagoing vessel powered by hydrogen and renewable energies. The ship is currently docked in Saint-Malo, France, where it will undergo final testing before embarking on a six-year circumnavigation of the world.
The Energy Observer, the world's first hydrogen and renewable energy powered seagoing vessel.
Source: Air Liquide
Hydrogen energy will be produced on board the ship via the electrolysis of seawater, and then converted to electricity by the ship's fuel cell. Air Liquide aims to demonstrate self-sufficient, carbon-free production of hydrogen energy through the Energy Observer project.
For a link to the full press release from Air Liquide, click here.
Nel Hydrogen Enters Joint Venture to Develop Integrated Hydrogen Projects
On April 20, Nel Hydrogen announced a joint venture with Hexagon Composites, a Norwegian company that manufactures composite

cylinders for storing and transporting pressurized gases, and PowerCell Sweden, which manufactures fuel cells.



The joint venture will create a one-stop-shop for customers wanting to utilize hydrogen technologies across the supply chain. This will include renewable hydrogen production, hydrogen storage, distribution and dispensing, as well as generating energy via fuel cells. It will also will manage and develop the projects to ensure optimal integration of each of the partner companies' technologies.
For a link to the full press release from Nel, click here.
Hydrogenics Awarded Funding from Canadian Government for Two Hydrogen Fueling Stations in Greater Toronto Area

On April 6, Canadian hydrogen energy firm Hydrogenics announced that it has been awarded funding from Canada's Federal Government's Ministry of Natural Resources (NRCan) to build two hydrogen fueling stations for fuel cell vehicles in the Greater Toronto Area. The 1.6 million CAD award (approximately $1.2 million) is part of the Greater Toronto Area Hydrogen Beachhead Project, which seeks to establish a new Canadian market for hydrogen fuel cell vehicles.
For a link to the full press release from Hydrogenics, click
here.
Toyota to Invest in Artificial Intelligence for Fuel Cell Materials Research
On March 30, the Toyota Research Institute (TRI) announced that it will invest $35 million over the next four years in research that uses artificial intelligence to help accelerate the design and discovery of advanced materials, including new fuel cell catalysts. The institute hopes to bring Toyota closer to achieving its goal of reducing carbon emissions by 90% on all new vehicles by 2050.
Initial research projects include collaborations with Stanford University, MIT, the University of Michigan, the University at Buffalo, the University of Connecticut, and the U.K.-based materials science company Ilika.
For a link to the full press release, click here.
Air Liquide to Supply Hydrogen Purification Technology for Louisiana Methanol Plant
On April 10, Yuhuang Chemical Inc. announced that Air Liquide Global E&C Solutions, the United States engineering and construction arm of Air Liquide Group, will supply a hydrogen purification Pressure Swing Adsorption (PSA) unit to their newest methanol production complex in St. James Parish, Louisiana.
According to
Hydrocarbon Processing
, the p
urified hydrogen process will enable a higher efficiency of methanol production, with less natural gas consumption per ton of methanol.
The 1,300 acre, $1.85 billion methanol plant is expected to be completed by the fourth quarter of 2019.
For the press release from Yuhuang Chemical Inc. on the supply agreement, click
here
, and f
or the
Hydrocarbon Processing
article on the agreement, click here.
Fuel Cell Microgrids Report with FCHEA Input Available for Download
FCHEA Features Mirai at NYC Earth Day Event
On April 18, FCHEA sponsored a booth at the New York City Earth Day Initiative event in Union Square Park. In addition to handing out literature on fuel cell vehicle technology, FCHEA also showed off a Toyota Mirai fuel cell vehicle. The Earth Day Initiative reports that tens of thousands of people have attended the NYC event in years past.
FCHEA staff explain the hydrogen fuel cell technology that powers the Toyota Mirai to a group of passers-by at the NYC Earth Day Initiative event. Source: FCHEA

For more information on last week's Earth Day Initiative event, click
here.
Update on GM - Army Fuel Cell Truck Development
On April 3,
Defense News
visited General Motors (GM) Proving Ground in Milford, Michigan as the automaker conducted road tests on a fuel cell truck being developed for the U.S. Army. The ZH2 Chevy Colorado, unveiled last October, can reportedly travel 300 - 400 miles on a single tank of hydrogen, and is able to use liquid hydrogen derived from fossil fuel or renewable energy sources.
The truck is a joint development project between GM and the Army's Automotive Research Development and Engineering Center (TARDEC). GM and TARDEC have previously conducted testing for the ZH2, but this year will mark the first field tests with soldiers.
Soldiers will learn how the ZH2 compares to other military trucks by conducting reconnaissance and silent watch-type operations.
Hydrogen fuel cell powered vehicles appeal to the military because they produce virtually no sound when operating, making them highly valuable for stealth missions and enemy detection avoidance.
The field testing will also examine how the ZH2's technology could be used to power military infrastructure, such as a mission command post or field hospital.
On April 10, General Motors held a hand off ceremony for the truck, which now goes to the U.S. Army for field testing.
In attendance at the hand off event at the General Motors Proving Grounds in Milford, Michigan, were governor Rick Snyder and U.S. Senator Gary Peters. Governor Snyder and Senator Peters took a test drive of the ZH2 following the ceremony.
Michigan Governor Rick Snyder speaks at the General Motors Proving Grounds in Milford, MI, as General Motors hands off the keys to the Chevy Colorodo ZH2 truck to the Army for field testing.
Source: General Motors

2017 Fuel Cell Seminar & Energy Exposition: Call for Abstracts Now Open!
Abstract Submissions are due by May 27, 2017.

The Fuel Cell Seminar & Energy Exposition is proud to announce its 2017 Call for Abstracts. The 2017 Fuel Cell Seminar will be held in Long Beach, California on November 7 - 9, 2017.

With exciting research, progress, and growing commercial deployment and success around the world, we have created a broad topic list, with some overlap, to make it easy to find a fit for your area of expertise.

We encourage those with innovative perspectives, cutting-edge R&D, and real world experience to submit abstracts for consideration for the Seminar's oral presentations and poster sessions. The goal is to create an informative, dynamic and "electrifying" conference that truly showcases the fuel cell and hydrogen industry's vast reach into different market sectors today and the tremendous potential of what's to come.

Please see the Submission Guidelines here for details on how to submit your paper.

2017 CALL FOR ABSTRACTS TOPIC AREAS:
Deployment Progress

Markets / Market Analysis

Safety, Codes and Standards

Finance and Commercialization

Governments as Adopters

Policy

Opportunities for Fuel Cells and Hydrogen

Communication, Education and Outreach

Research Progress

Technology Progress

Fuel Cell Advances

Transportation

Infrastructure Deployment

Stationary Power Applications

Hydrogen Production

Fuels

Portable and Micro Fuel Cell Applications

Supply Chain and Balance of Plant
The full list of
Topic Areas
for the 2017 Fuel Cell Seminar is available online
here.
2017 Congressional Fuel Cell and Hydrogen Energy Policy Forum
Please save the date for the Fuel Cell and Hydrogen Energy Policy Forum, taking place on Friday, May 12, from 12:00 - 1:
0
0 PM EDT in CVC217, Congressional Meeting Room South, in Washington DC.
The Forum will feature a range of industry representatives as they provide updates on the latest fuel cell and hydrogen energy advancements. We strongly encourage you to share this with Congressional staffers whom you or your organization has a relationship with. A flyer with all the information for the Forum can be viewed
here.
To RSVP, or should you have any questions, feel free to contact Justin Lewis by email at
jlewis@fchea.org
or by phone at 202-261-1337.
2017 Advanced Clean Transportation (ACT) Expo
The Largest Clean Fleet Event. All Alternative Fuels. All Weight Classes. The annual Advanced Clean Transportation (ACT) Expo will take place May 1-4, 2017, in Long Beach, California. Learn about the incredible momentum taking place across the transportation industry to lessen dependence on fossil fuels, improve air quality, and mitigate the impact on climate change.
For more information, click
here
.
DOE Hydrogen and Fuel Cells Program Annual Merit Review & Peer Evaluation

Registration for the U.S. Department of Energy's Hydrogen and Fuel Cells Program Annual Merit Review and Peer Evaluation Meeting (AMR) is now open. The AMR will be held June 5-9 in the Washington Marriott Wardman Park hotel in Washington, D.C. All meeting participants must register to attend this meeting, including presenters and reviewers.
For more information about the meeting, including the registration page, a detailed schedule, and hotel and travel details, click here.
The Detroit News | 22 March 2017
The Science Times | 27 March 2017
Kelley Blue Book | 27 March 2017
Financial Times | 28 March 2017
Dominovas Energy Corp | 28 March 2017
Los Angeles Time | 30 March 2017
Motorsport Network | 30 March 2017
National Renewable Energy Laboratory RFP
The National Renewable Energy Laboratory (NREL) is requesting proposals for a Hydrogen Containment Detector Validation device.
Through this project, NREL will help subcontractors expand the capabilities of their device. NREL and the subcontractors will jointly develop integration hardware that enables the gas analyzer to be installed in a 70 MPa hydrogen station. This will include designing a sampling apparatus, hazardous location reviews, automation with station controllers and environmental protection appropriate for a retail hydrogen station environment.

Proposals will be received until 4:00 PM Mountain Time on May 1, 2017.

Hawaii High Technology Development Corporation RFP
The High Technology Development Corporation (HTDC), an agency of the State of Hawaii's Department of Business, Economic Development and Tourism (DBEDT), is requesting proposals for the design of a Renewable Hydrogen Production, Compression, Storage, and Dispensing Station, to be located on State land under control of the State Department of Transportation (HI DoT), adjacent to the Honolulu International Airport in an area known as the Consolidated Car Rental Center (CCRC).
The hydrogen production, compression, storage, and dispensing station shall be capable of providing 200kg/day dispensing capability at 350 bar (5000psi) of 99.999% pure hydrogen in compliance with NFPA2 and J-2600 series guidelines. The project will be managed by HTDC's HCATT (Hawaii Center for Advanced Transportation Technologies) program.

Proposals will be received until 12:00 PM HST on May 4, 2017.
Massachusetts Clean Energy Center RFP
The Massachusetts Clean Energy Center (MassCEC)

is issuing this Request for Proposal (RFP) to conduct a clean transportation study in order to obtain a broad view of the applications of clean transportation that will inform future policy and programs. MassCEC is partnering with the Office of Energy and Environmental Affairs, the Massachusetts Department of Energy Resources, and the Massachusetts Department of Environmental Protection on this study due to aligned interest in clean transportation. The anticipated total budget for contracted services provided under this RFP is $200,000.

Proposals must be received by MassCEC at strategicanalysis@masscec.com no later than Tuesday, May 23rd, 2017 at 5:00 pm. "Clean Transportation Study Proposal" should appear in the subject line.

California Energy Commission Grant Funding Opportunity
The California Energy Commission's (Energy Commission) Alternative and Renewable Fuel and Vehicle Technology Program (ARFVTP) announces the availability of up to $3 million in grant funds for projects that will demonstrate innovative electric vehicle mobility services in four specified areas in California.
Deadline to Submit Applications: June 30, 2017, by 5:00 p.m.
For more information on this grant opportunity, click
here.
New York State Energy Research and Development Authority (NSERDA) Funding Opportunity
New York State's Reforming the Energy Vision (REV) initiative envisions Distributed Energy Resources, including energy storage, being an integral part of transforming the grid to one with more renewable energy and flexible consumption.
NYSERDA is seeking field demonstration projects of commercial distributed energy storage systems that leverage the flexibility of energy storage to 'stack' two or more value streams by performing multiple functions for retail electric customers, distributed generation, utilities and the New York State Independent System Operator (NYISO). These demonstration projects should help electricity customers, storage vendors, developers, utilities, the NYISO, aggregators, etc. by tackling the operational, regulatory and business model complexities in real-world energy storage 'use cases' that can be repeatable and scalable in New York State.
Up to $15.5 million in funding is available for this opportunity.
Projects will be awarded on an ongoing basis from now until December 31, 2019.
For more information on this funding opportunity, including all relevant application documents, click
here.
Administration
Press releases and story ideas may be forwarded to Connor Dolan and Karen Hall for consideration at cdolan@fchea.org and khall@fchea.org respectively.
If your company is interested in joining FCHEA, please visit fchea.org or contact Connor Dolan at cdolan@fchea.org.
The Sponsors
Fuel Cell and Hydrogen Energy Association --
The Fuel Cell and Hydrogen Energy Association (FCHEA) is the trade association for the fuel cell and hydrogen energy industry, and is dedicated to the commercialization of fuel cells and hydrogen energy technologies. Fuel cells and hydrogen energy technologies deliver clean, reliable power to leading edge corporate, academic and public sector users, and FCHEA members are helping to transform the our energy future. FCHEA represents the full global supply chain, including universities, government laboratories and agencies, trade associations, fuel cell materials, components and systems manufacturers, hydrogen producers and fuel distributors, utilities and other end users.
National Energy Technology Laboratory --
The National Energy Technology Laboratory (NETL), part of the U.S. Department of Energy (DOE) national laboratory system is owned and operated by the DOE. Its mission is "advancing energy options to fuel our economy, strengthen our security, and improve our environment." NETL performs, procures, and partners with universities and the private sector. Together, these efforts focus a wealth of scientific and engineering talent on creating commercially viable solutions to national energy and environmental problems. NETL has expertise in coal, natural gas, and oil technologies, contract and project management, analysis of energy systems, and international energy issues. NETL supports the DOE's mission to advance the national, economic, and energy security of the United States.
Click here for an archive of previous issues of the Fuel Cell and Hydrogen Energy Connection.