Full House for 6th Annual FCHEA Fuel Cell & Hydrogen Energy Policy Forum on Capitol Hill
Over 70 congressional staffers, industry representatives, and non-governmental organizations turned out for

FCHEA's sixth annual Fuel Cell & Hydrogen Energy Policy Forum, held on May 12 at the United States Capitol Visitor Center. P

resentations on the fuel cell and hydrogen energy industry were given by

Dr. Sunita Satyapal, Director of DOE's Fuel Cell Technologies Office; Robert Wimmer, Director of Toyota Motors North America Energy and Environmental Research Group; Ole Hoefelmann, CEO of Air Liquide Advanced Technologies U.S., Andy Marsh, CEO of Plug Power; and Paul Wilkins, Federal Government Relations Director of Bloom Energy.
Attendees from House and Senate offices of both parties, industry representatives, and
Executive
Branch officials packed the room at the 2017 Fuel Cell & Hydrogen Energy Policy Forum. Source: FCHEA
The presentations covered a variety of topics including transportation, material handling, stationary power, hydrogen infrastructure, and the role of government in advancing these transformational technologies. Speakers also urged attendees to support the industry's priorities in regards to the reinstatement of the federal Investment Tax Credit, and a level playing for fuel cell technologies.
For more information on the Policy Forum, and other events supported by FCHEA to get the word out on fuel cells and hydrogen energy, see the FCHEA Events page
here.
Ole Hoefelmann (left), CEO of Air Liquide Advanced Technologies U.S., and Andy Marsh (right), CEO of Plug Power, gave presentations on hydrogen fueling infrastructure and stationary power fuel cells, respectively. Source: FCHEA
BMW and Shell Unveil Hydrogen Refueling Dispenser, BMW FCV Concept

Featured

at Hannover Messe
On April 25, BMW Group subsidiary Designworks and Shell revealed a new, hi-tech hydrogen fuel dispenser for fuel cell vehicles. Named "Oasis," the dispenser concept has an "I" shaped, pillar-like design.
The dispenser concept was introduced and displayed this week at the Hannover Messe in Germany.
A large digital screen on the dispenser allows users to keep track of their
refueling
time and price, request maps to check route details, or read more about hydrogen energy. The dispenser's fueling nozzle also has a screen to help guide users through the refueling process step-by-step.
A demonstrative rendering of the new Oasis hydrogen fuel dispenser, designed by BMW Group affiliate Designworks and Shell. Source: BMW Group
BMW also displayed a hydrogen fuel cell concept vehicle based on the automaker's 5 Series GT at the Messe. According to BMW, the eDrive concept vehicle's fuel cell can generate 180 kW / 245 hp to power its electric motor. The vehicle was part of BMW's exhibit on

how the automaker plans to meet the German government's greenhouse gas emissions reduction targets by 2050.
Anne Kleczka, head of BMW's hydrogen fuel cell technology project, with BMW's eDrive hydrogen fuel cell concept vehicle at this week's Hannover Messe in Germany. Source: FCHEA
For a link to the full press release from BMW on the hydrogen dispenser, click
here.
For a link to the full press release from BMW and on the hydrogen vehicle concept, click here.
FuelCell Energy Plans to Build Power Plants for Navy Submarine Base in CT
On May 8, FuelCell Energy announced that it has signed a letter of intent with the
Connecticut Municipal Electric Energy Cooperative (CMEEC). The letter of intent declares the eventual purchase agreement of two SureSource 4000 fuel cell power plants to supply 7.4 megawatts of electricity for the Naval Submarine Base New London, in Groton, Connecticut. FuelCell Energy expects a contract for the power purchase agreement to be finalized this summer.
Design for the SureSource 4000 fuel cell power plant, capable of generating 3.7 MW of electricity. Source: FuelCell Energy
CMEEC is owned by six municipal utility companies in Connecticut, including Groton Utilities which provides power to the Submarine Base there. The proposed fuel cell power plants are part of a multifaceted plan by CMEEC to

support the Department of Defense's desire

to add resiliency and grid independence to key military installations.

For a link to the full press release from FuelCell Energy, click here.
Toyota Unveils Hybrid Fuel Cell - Micro Gas Turbine Power Generation System
On April 26, Toyota announced that it has begun trial operations of a hybrid power generation system that combines the use of solid oxide fuel cells with micro gas turbines. Trials are taking place at Toyota's Motomachi Plant in Toyota City, Japan.
According to Toyota, the hybrid power system has a rated output of
250 kilowatts and an overall efficiency of 65%. Toyota's investment in the
power generation system is part of the automaker's goal of reaching zero CO2 emissions in their production plants, one aspect of the
Toyota Environmental Challenge 2050
.
Details on the generation process of Toyota's fuel cell - micro gas turbine hybrid power system. Source: Toyota
For a link to the full press release from Toyota, with more information on how the hybrid power generation system operates, click
here.
Bloom Energy Completes Fuel Cell Microgrid in Connecticut
On April 25, the City of Hartford, Connecticut announced the completion of a fuel cell microgrid, a joint project between the city, Bloom Energy, and Constellation, a subsidiary of Exelon.
The 800 kilowatt microgrid system now generates 100% of the electricity for Hartford's Parkville Elementary School, Dwight Branch Library, Parkville Senior Center and Charter Oak Health Center. The microgrid can provide emergency power to these locations, plus a local gas station and grocery store, in case of an electrical grid outage. Excess power generated by the microgrid will be directed to four local schools to reduce their electricity costs.
Constellation designed and constructed the microgrid system, which it will also operate, and the city will purchase electricity generated by Bloom Energy fuel cells through a 15-year power purchase agreement. The microgrid project is Connecticut's first developed through a public-private effort, and one of the first funded through the state Department of Energy and Environmental Protection (DEEP)'s Microgrid Grant Program.
For a link to the full press release from Bloom Energy, click
here.
myFC to Develop Hybrid Fuel Cell Product Platform for Cell Phone & Power Bank Markets
On April 28, Swedish micro fuel cell maker myFC announced that it is developing a hybrid fuel cell/electric battery product that can be used to charge power banks, smartphones, and tablets. The JAQ Hybrid product platform will be able to charge these devices using myFC's patented-formula hydrogen fuel via the pocket sized PowerCard, or through a traditional electric battery.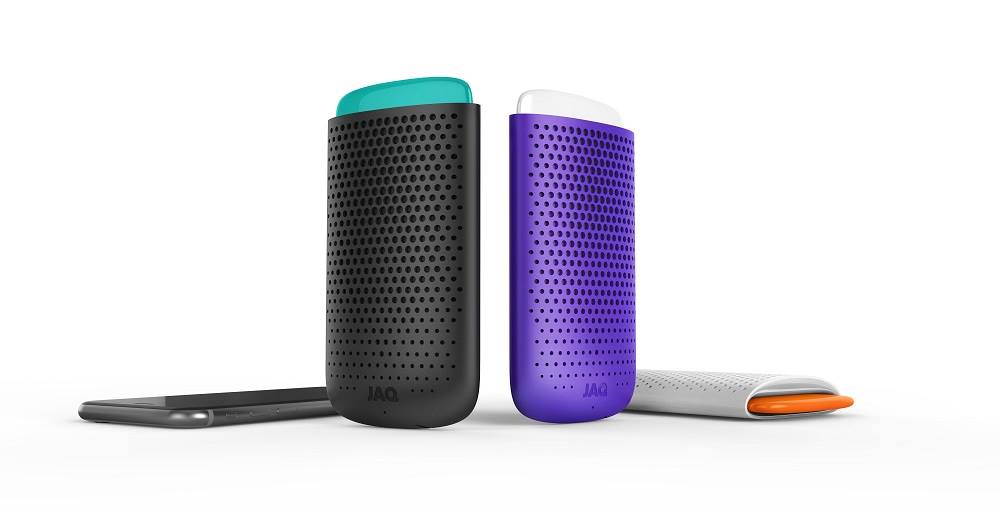 myFC's current JAQ charger, which will be replaced by the JAQ Hybrid platform. Source: myFC
According to myFC, the JAQ Hybrid will be shown to the public for the first time at Mobile World Congress in Shanghai in June.
For a link to the full press release from myFC, click
here.
Hydrogenics Unveils 3 Megawatt Stack for Hydrogen Energy Generation
On April 25, Hydrogenics announced the commercial introduction of its 3 MW Polymer Electrolyte Membrane (PEM) electrolyzer stack. According to Hydrogenics, the new system can generate 1,350 kilograms of hydrogen per day, the equivalent of fueling 280 hydrogen fuel cell vehicles every 24 hours.
The 3 MW PEM electrolyzer stack was displayed this week at the Hannover Messe in Germany.
Hydrogenics' 3 MW PEM Electrolyzer stack on display at the 2017 Hannover Messe.
Source: FCHEA
For a link to the full press release from Hydrogenics, click here.
Hyundai Tuscon Fuel Cell Drivers Accumulate Over 2 Million Miles in CA
On April 21, Hyundai announced that its Tuscon Fuel Cell vehicle drivers have surpassed over 2 million miles on the road in California, just in time for Earth Day on April 22. According to the automaker, the Hyundai Tuscon has replaced approximately 760 tons of CO2 emissions since it was

introduced in 2014 as the first mass-produced fuel cell vehicle for the U.S. market.
The 2017 Hyundai Tuscon Fuel Cell vehicle. Source: Hyundai
For a link to the full press release from Hyundai, click
here.
Ceres Power to Develop Residential Fuel Cell Power System
On May 11, Ceres Power announced a solid oxide fuel cell (SOFC) system joint development agreement with one of its global original equipment manufacturers. The two year agreement will allow Ceres Power to develop its SteelCell SOFC system for residential markets.
Innovate UK, the British government's technology investment arm, is supporting the development project with
£0.7m ($0.9 million) in funding. The project will help de-carbonize household heating systems, which the government recognizes as a key target for reducing CO
2

emissions.
For a link to the full press release from Ceres Power, click here.
Hydrogen Fuel & Technology for Shell Eco-Marathon Americas Supplied by Linde
Linde North America was the sole supplier of hydrogen fuel and technology expertise at this year's Shell Eco-marathon Americas, a competition where students attempt to design, build, and drive the most energy-efficient vehicle. The Americas competition took place at a four-day, festival of ideas and innovation - Make the Future Detroit - at the Cobo Center in Detroit, from April 27 - 30.
At the competition, Linde showcased their HYMERA, the world's first high-efficiency, portable hydrogen fuel cell generator, for the first time in the United States.
The BOC HYMERA portable hydrogen fuel cell generator, which was displayed at the Shell Eco-marathon Americas in Detroit. Source: BOC (a member of The Linde Group)
For a link to the full press release from Linde North America, click
here.
Nel Receives Purchase Order for Additional Hydrogen Station in Norway
On April 26, Nel Hydrogen Solutions, a division of Nel ASA, announced that it has received a purchase order for equipment to build a second
H2Station® in Bergen, Norway. The purchase order for the hydrogen fueling station has a value of 1 million euros, and the station is planned to be installed in Bergen by the end of 2017.
The purchase order comes Uno-X Hydrogen, a joint venture between Nel, Norwegian fueling station chain Uno-X, and American industrial gas company Praxair. Uno-X Hydrogen aims to build a network of 20 hydrogen fueling stations by 2020, covering all of Norway's major cities.
For a link to the full press release from Nel, click here.
Intelligent Energy to Lead Industry Group to Develop Automated Fuel Cell Manufacturing Process
On May 8, Intelligent Energy announced that it has been designated the technical lead for a pan-European industry group to further commercialize fuel cells for the mass automotive market. Named DIGIMAN, the €3.5 million program (approximately $4.5 million) will focus on creating a robust platform for future automated fuel cell stack production for zero emission vehicles.
The program is funded by the Fuel Cells and Hydrogen Joint Undertaking (FCH JU) under the European Union Horizon 2020 initiative. According to Intelligent Energy, DIGIMAN will design a blueprint for the seamless integration of digital manufacturing techniques and advanced technology optimized for automated production, in order to reduce operational and supply chain costs. Once developed, the blueprint design will enable build-to-print machine configurations with ready to scale production capacity to meet future requirements of more than 50,000 fuel cell stacks by 2020.
For a link to the full press release from Intelligent Energy, click
here.
Air Liquide Launches First Hydrogen Pipeline Network in the Middle East
On May 9,
TradeArabia
reported that Air Liquide Arabia (Alar) has started up their hydrogen pipeline network in the city of Jubail, Saudi Arabia. The pipeline, over 21 kilometers in length (approximately 13 miles) will help supply a variety of refining, petrochemical, glass, and steel companies in Jubail with hydrogen for use in their industrial processes. According to TradeArabia, the Alar pipeline network is the first of its kind in the Middle East.
For a link to the full article from TradeArabia, click here.
MyFC to Develop Fuel Cell Range Extender for Electric Vehicles
On May 15, Swedish fuel cell company myFC announced that it is developing a fuel cell / battery hybrid vehicle solution, utilizing a fuel cell system as range extender for electric vehicles. Using its Lamina fuel cell and JAQ hydrogen fuel, myFC reports the hybrid system could potentially double the range of a typical electric car.
According to myFC, testing of the hybrid product with commercial car models will commence within the next twelve months.
For a link to the full press release from myFC, click here.
Nel Signs Final Agreement to Acquire Proton OnSite
On April 28, Norwegian hydrogen energy firm Nel ASA announced that they have signed a final agreement to acquire 100% of the shares of electrolyzer company Proton OnSite. According to Nel, the acquisition will make them the world's largest
manufacturer of water electrolysers for hydrogen production, offering both alkaline and PEM electrolysers in all relevant sizes and markets.
For a link to the full press release from Nel, click here.
TIA Fuel Cell Reference Guide Now Available
On April 27, the Telecommunications Industry Association (TIA) released the "TIA Fuel Cell Reference Guide: Compliance with Regulations, Codes, and Standards for the Deployment of Stationary Fuel Cells." The guide was made to help entities in the global information and communications technology industry (ICT) tap into ways to use fuel cells for backup power.
To assist in developing the reference guide, FCHEA and several of its member companies participated in TIA's Focus Group on Fuel Cell Standards for ICT Infrastructure.
For a link to the full press release from TIA, click here.
FCHEA Releases New Report on the Business Case for Fuel Cells
On April 25, the Fuel Cell and Hydrogen Energy Association (FCHEA) released
The Business Case for Fuel Cells 2016: Delivering Sustainable Value
,
a new report that provides an overview of the fuel cell and hydrogen energy industry through the end of 2016.
FCHEA found that growing sales are helping to bring attention to the range of benefits and markets fuel cells can serve, with high profile corporations and utilities leading both new and repeat customers.
The report profiles dynamic market sectors where fuel cells are making an impact including: Retail Shopping; Grocers, Food & Logistics; Industrial & Consumer Products; Technology & Telecommunication; Entertainment & Sports; Financial Services; Real Estate; Healthcare & Biotechnology; Hotels; Transportation; and Utilities.
On May 16, FCHEA participated in the Northeast Clean Energy Council's (NECEC) Massachusetts Clean Energy Day, held at the Massachusetts State House in Boston.
Clean Energy Day kicked off with the Clean Energy Business Showcase, which included an FCHEA exhibit booth. Attendees then heard about clean energy initiatives throughout the state from a number of speakers, including: Massachusetts State Senator Michael J. Barrett, State Representative Thomas A. Golden Jr, and Massachusetts State Secretary of Energy and Environmental Affairs Matt Beaton.

Peter Rothstein, President of NECEC, addresses the attendees at the Massachusetts State House. Source: FCHEA
MA Clean Energy Day concluded with legislative meetings between NECEC participants - including FCHEA - and state legislative staff at the State House.