Greetings!

This week marks the release of the Vol. 1, No. 1, July 10th 2013 issue of "Tesla Magazine" with an article of mine on "Tesla's Wireless Energy Explained". The magazine is financed by the Tesla Science Foundation and published in Toronto, Canada. The website apparently is still under construction at www.teslainfo.org but the Foundation website is a great resourcehttp://teslasciencefoundation.org/index.php/en/ . I'm also off this week to the Nexus Youth Summit at the UN to participate in a panel on "The Future of Energy," which may help to spread the word about our institute's trailblazing work in that area.

Our first article is a summary of our latest Conference on Future Energy (COFE6) with everything from solar to cavitation fusion, which was held at the U of Maryland for two days. All of the COFE6 presenter's Flash videos are now online atwww.futurenergy.org for anyone to review for free. We plan to publish the Proceedings of COFE6 sometime later in the summer to accommodate a few speakers with late submissions.

Can't say enough good things about Story #2 and our latest publication, Understanding Tesla Coils and Beyond by my good friend and colleague, Mark Bean. The wonder of it all is the command of the science that is immediately apparent upon reading it. Mark knows not only Spark Gap Coil designs of Tesla coils but also the newest craze, Solid State Coils as well. The solid state version lets practitioners couple music into the Tesla coil discharge, instead of using speakers, for an eerie metallic-electric sound that is very unusual. Lastly, Mark also covers the Vacuum Tube coil designs and Advanced Topics which makes for a really complete TC design book. And with Tesla's wireless electricity coming soon, every engineer will want to know more about the ways to create the generators and receivers.

As 3D printing is now being used for more unusual creations, how about the world's first printed battery? Yes, Harvard University and the University of Illinois are credited for this breakthrough in manufacturing microbatteries. An online video is also included in our Story #3.

Will we see more solar powered aircraft soon? Our Story #4 is also a first since the Solar Impulse has flown across the country and also in Europe. We also know that the military has been interested in such a plane for years. Next year the company hopes to do a round the world trip as well.

Willow glass is the secret also used on iPhones for flexibility and resistance to breakage in our Story #5. Now what if that glass was used in solar panels or even solar shingles that can be nailed to the roof? Corning Glass believes that this will produce a low cost alternative to most solar panel home installations.

Sincerely,

Thomas Valone, PhD, PE.

Editor

QUICK LINKS





LIKE US ON FACEBOOK AND GET 10% OFF ANY ITEM IN OUR CATALOG!

1)

Renewable and Non-Conventional Energy Technology at COFE6 a Great Success

Sixth International Conference on Future Energy
July 14, 2013 - Washington DC. The Sixth Conference on Future Energy
(COFE6) www.futurenergy.org was a great success at the University of Maryland with a list of cutting edge energy developments that are unique to the IRI approach to public education.
Our plenary speaker, Dr. Max Fomitchev-Zamilov from Penn State University presented a talk on and demonstration of experimental cavitation fusion that can power the future with his cavitation reactor.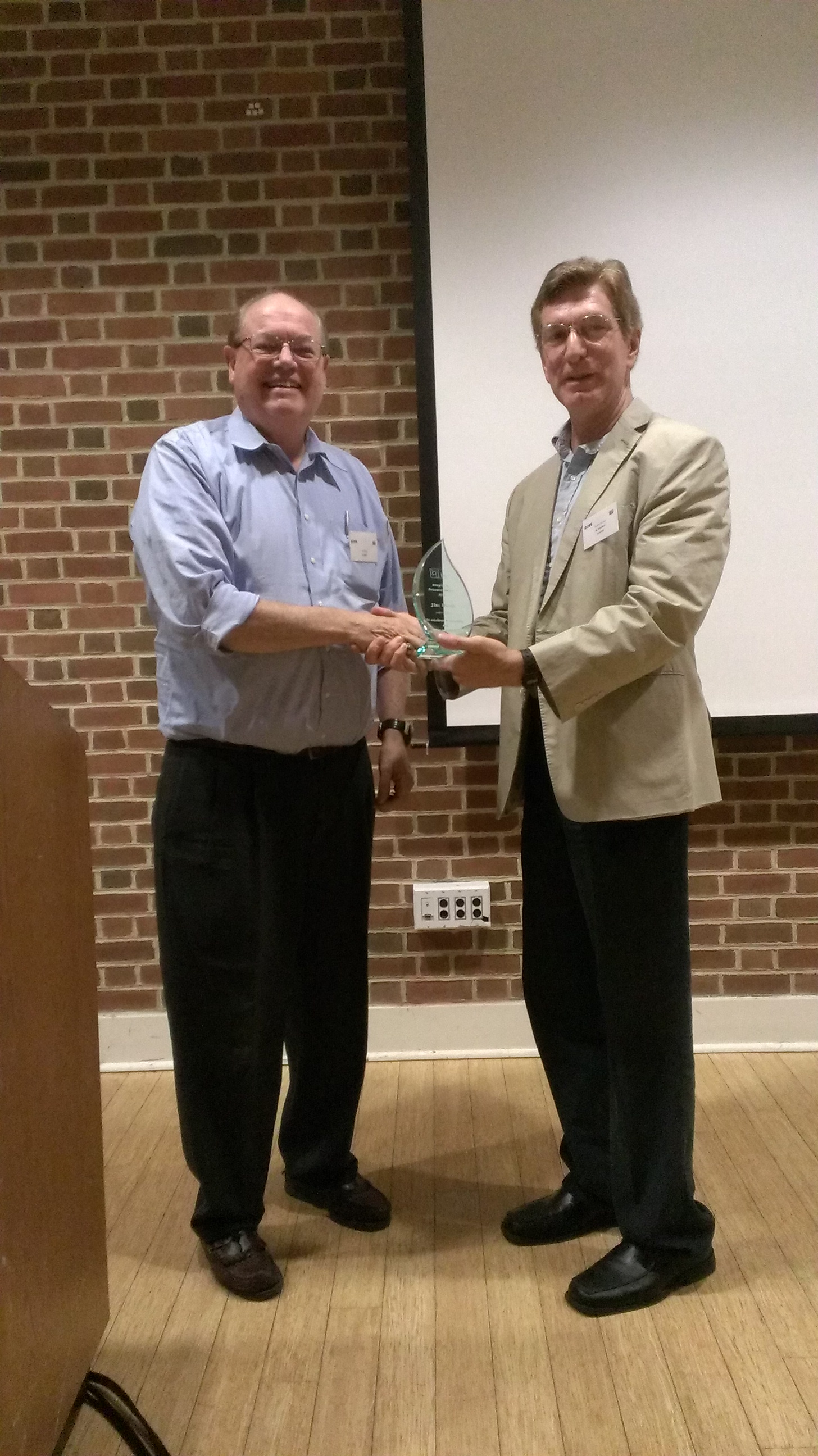 Jim Dunn receiving the "Integrity in Research Award" from President T Valone.
John Finnerty from Standard Solar spoke about the first Maryland Solar grid technology.
Jim Dunn who is a former CEO of NASA's Center for Technology Commercialization presented his latest assessment of energy developments. Jim was also this year's recipient of the "Integrity in Research Award" for his tireless efforts in researching and promoting new energy sources all over the US and the world.
Francis McCabe summarized his research into Gyro and Inertial Propulsion, which caused a shudder last year when an engineer from Boeing announced at COFE5 that many aerospace industries are using gyroscopic inertial propulsion on satellites.
Dr. Thorsten Ludwig from Germany gave two excellent presentations: His findings on the Coler magnetic current apparatus and the second regarding an experiment to measure subtle influences on a single electron spin. James Putnam presented on the Empirical Origins for Force and Acceleration.
Dr. George Miley presenteed his life story of the fusion research he performed everywhere in the world, which is also the subject of his autobiography just published by World Scientific Imperial Press College and available through Amazon. The book's title is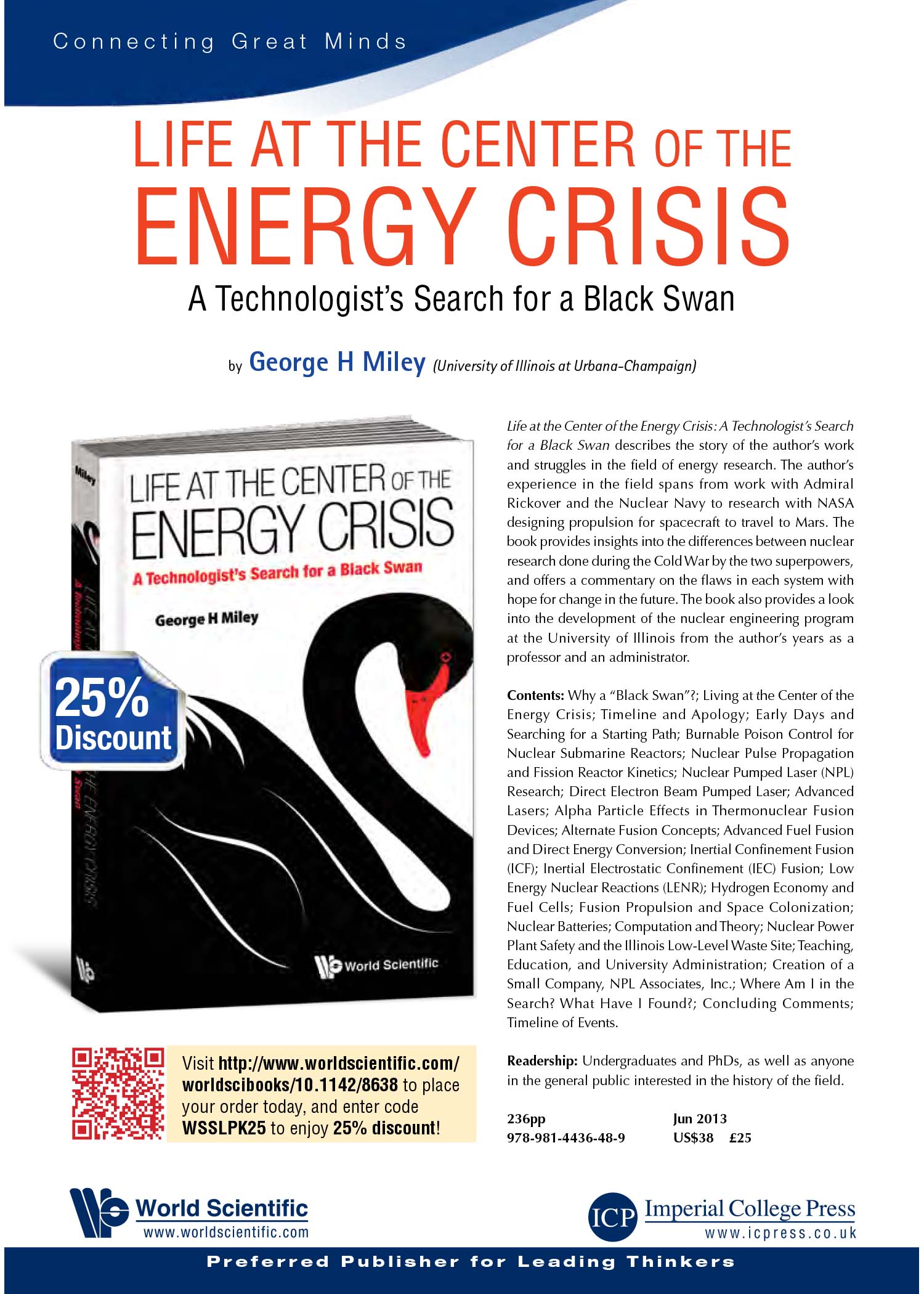 "Life at the Center of the Energy Crisis, A technologist search for a black swan" We highly recommend it , especially to students.
.Matt Emery, who is an expert from www.Leedskalnin.com(Coral Castle), gave an excellent summary of Leedskalnin's work.
We also heard from Sterling Allan, Founder and CEO of Pure Energy Systems, via remote from Brazil, present his summary of five top emerging energy technologies nearing the market.
We were extremely pleased to have Nick Simos from Brookhaven National Labs present his amazing classical physics analysis of Nikola Tesla's wireless transmission of electrical power which gives it a high feasibility rating. His slide show is posted online
Also, Dave Froning's prerecorded slide presentation on electromagnetic confinement for nuclear fusion was excellent.
The Closing talk was presented by IRI's President, Tom Valone on Zero Point Energy Harvesting as the most promising energy source for the new millennium.
We are happy to let you know that all the slide show presentations have been recorded and are available FOR FREE online at www.futurenergy.org . Just click on each speaker's link and follow the instructions. As we continue to strive to educate the public on all emerging energy technologies, we look forward to your continued support through your donations to our Non-Profit Institute and thank you for the generosity shown throughout the years.
All of us at IRI want to thank the attendees for supporting our conference and all the volunteers who made it possible! These conferences would not be possible WITHOUT YOUR SUPPORT.
THANK YOU!
2) New Tesla Book: Understanding Tesla Coils and Beyond
Integrity Research Institute Press Release July 22, 2013
An amazing new book on Tesla Coils has just been released by our Institute entitled: Understanding Tesla Coils and Beyond. Everything you need to know.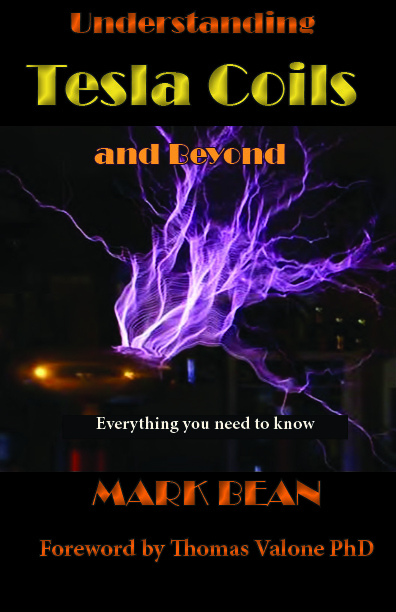 Mark Bean , the author of this extraordinary new book is a Tesla coil builder and inventor who has wowed many Las Vegas stages with huge Tesla Coils displays. He is one of the few living today that has the knowledge and experience on building properly and safely these fascinating devices. He also donated the publishing rights of this book to our non-profit Institute.
Tesla Coils create electrical magic, ordinary wall current is transformed into spectacular displays of man-made lightning. Invented by Nikola Tesla in the late 1800's, these fascinating devices have captivated many. However much of the information about them has been lost to time or neglect. This new profusely illustrated book corrects this and more! It also provides a great balance between the spark gap Tesla coil descriptions, vacuum tube chapters and the solid state Tesla coil chapters, along with advanced topics.
We are sure that the hobbyist, technician, engineer and even the professor will all learn something from the master builder Mark Bean by reading Understanding Tesla Coils and Beyond. It truly is "everything you need to know " about Tesla Coils .
Available on our website and on Amazon.com
3) First Ever 3D Printed Battery
Tech Briefs, July 2013
A research team based at Harvard University and the University of Illinois at Urbana-Champaign has demonstrated, for the first time, the ability to 3D print a battery. Their 3D-printed lithium-ion microbatteries are the size of a grain of sand, and could supply electricity to miniaturized medical implants, compact electronics, tiny robots, and more. To create the microbattery, a custom-built 3D printer extrudes special inks through a nozzle thinner than a human hair. Upon exiting the nozzle, the inks immediately harden into layers as narrow as those produced by thin-film manufacturing methods. Layer by layer, these inks create the battery's anode and cathode.
The inks contain nanoparticles of a lithium metal oxide compound, which give the anode the proper electrical properties. A case then encloses the electrodes and an electrolyte solution is added to create a working microbattery. This tiny battery even has an electrochemical performance comparable to commercial batteries in terms of charge and discharge rate, cycle life, and energy densities.
Tiny 3D-Printed Battery
4) Solar Powered Plane Completes Cross Country Flight

NEW YORK - A solar-powered aircraft completed the final leg of a history-making cross-country flight Saturday night, gliding to a smooth stop at New York's John F. Kennedy International Airport.
The Solar Impulse touched down at JFK at 11:09 p.m., completing the final leg of the cross-continental journey that started in California in early May. For Saturday's final leg, the aircraft left Dulles International Airport a little before 5 a.m.
The flight plan for the revolutionary plane, powered by some 11,000 solar cells on its oversized wings, had called for it to pass the Statue of Liberty before landing early Sunday at New York. But an unexpected tear discovered on the left wing of the aircraft Saturday afternoon forced officials to scuttle the fly-by and proceed directly to JFK for a landing three hours earlier than scheduled.
Pilot Andre Borschberg trumpeted the milestone of a plane capable of flying during the day and night, powered by solar energy, crossing the U.S. without the use of fuel.
"It was a huge success for renewable energy," Borschberg said while standing in front of Solar Impulse on the runway at JFK. "The only thing that failed was a piece of fabric."
Bertrand Piccard, the other pilot who took turns flying the Solar Impulse across the United States, said the flight across the country tested the entire project team.
"Flying coast-to-coast has always been a mythical milestone full of challenges for aviation pioneers," Piccard said. "During this journey, we had to find solutions for a lot of unforeseen situations, which obliged us to develop new skills and strategies. In doing so, we also pushed the boundaries of clean technologies and renewable energies to unprecedented levels."
Borschberg noticed balance issues with the wing in the early afternoon Saturday off the coast of Toms River, N.J., said Alenka Zibetto, a spokeswoman for Solar Impulse.
Officials said the pilot and aircraft didn't appear to be in danger. They said the eight-foot tear on the lower left side of the wing wasn't expected to worsen through the final portion of the trip.
"It was supposed to be the shortest and easiest leg," Piccard said. "It was the most difficult one."
Piccard said in addition to the wing issue, another problem with the landing was Borschberg's lack of air breaks to avoid making turbulence in the wing with the tear.
Despite the relatively short distance, Saturday's commuter-like hop was a long flight that lasted 18 hours and 23 minutes. The slow-flying aircraft was traveling between two of the world's busiest airports and was required to take off very early in the morning and land very late at night, when air traffic is at a minimum.
"This is a leg where everybody is quite moved," Piccard said shortly after the plane was in the air over Washington early Saturday.
The aircraft soars to 30,000 feet while poking along at a top speed of 45 mph. Most of the 11,000 solar cells are on the super-long wings that seem to stretch as far as a jumbo jet's. It weighs about the size of a small car, and soars with what is essentially the power of a small motorized scooter.
The Solar Impulse left San Francisco in early May and has made stopovers in Phoenix, Dallas-Fort Worth, St. Louis, Cincinnati and Dulles.
The cross-country flight is a tuneup for a planned 2015 flight around the globe with an up-graded version of the plane.
Solar Impulse's creators view themselves as green pioneers - promoting lighter materials, solar-powered batteries, and conservation as sexy and adventurous. Theirs is the high-flying equivalent of the Tesla electric sports car.
Europe saw the solar plane first with a test flight from Switzerland and Spain to Morocco last year.
Promoted as solar-powered, what really pushes the envelope with this plane is its miserly energy efficiency, Borschberg said before the flight.
back to table of contents
5) Flexible Glass Cells could Make Tablets Lighter and Solar Power Cheaper
MIT Technology Review, July 2013
Researchers at the U.S. government's National Renewable Energy Laboratory have built flexible solar cells using a thin and pliable kind of glass fromCorning, the company that makes the glass that covers iPhone screens. The new solar cells could make rooftop solar power far cheaper.
Based on tests by Corning, which makes a product called Gorilla glass for iPhone screens and which announced the flexible material, called Willow glass, last year, shingles made from such solar cells could last for decades on a roof-even weathering hail greater than three centimeters in diameter. Conventional solar panels are heavy, bulky, and breakable, which makes them expensive to transport and install.
The new solar shingles could be nailed to a roof in place of conventional shingles. Rather than paying a roofer to put asphalt shingles on a new home, and then paying solar installers to climb back up and mount solar panels to the roof, the roofers could install solar shingles instead of asphalt ones. The only added labor cost would be hiring an electrician to plug the array of shingles into an inverter and connect it to the grid. Thin, flexible solar shingles could also be shipped more cheaply.
The cost of installation is one of the largest parts of the overall cost of solar power-its share has increased even as the cost of the cells themselves has plummeted in recent years. Indeed, installation and other auxiliary costs are now the biggest opportunity for reducing the cost of solar power. An average rooftop solar system in California costs $6.14 per watt, while solar panels themselves sell for less than $1 a watt in many cases.
Solar shingles are already available (see "Solar Shingles See the Light of Day" and "Alta Devices Plans a Fast-Charging Solar iPad Cover"). The chemical giant Dow makes them, for example. But they are typically made of plastic. Glass-based shingles, as counterintuitive as it sounds, could be more durable, says Dipak Chowdhury, division vice president and Willow glass commercial technology director at Corning. Glass is very good at sealing out the elements, which can help solar cells last for decades. It's also surprisingly strong, and, in its flexible form, resilient. "We knew from our optical fiber work that glass is actually stronger than steel when you try to pull it apart," he says. If Willow glass shingles were hit by hail, they would flex rather than break. While other solar shingles can also withstand hail, they may not be as good at protecting solar cells from air and moisture, he says.
The glass also makes it possible to use cadmium telluride as the solar cell material. This is the only material that's been able to successfully challenge conventional silicon solar cells at a large, commercial scale (see "First Solar Shines as the Solar Industry Falters"). Cadmium telluride solar cells need to be made on a transparent material. Other flexible, transparent materials either can't handle the high temperatures needed to make the solar cells, or they block too much light, reducing efficiency.
Willow glass could also be used for lighter, thinner gadgets, and even curved displays, perhaps even for a rumored iWatch from Apple (see "Mobile Summit 2013: In Smart Watch Category, Pebble Still Awaits the Big Competition"). For both flexible displays and solar cells, glass needs to be not only flexible but also very high quality, with a defect-free surface. Most glass is formed by floating a layer of molten glass on top of a molten metal, then gradually cooling it. The interaction with the metal can degrade the surface. Willow glass forms in air-a sheet forms after molten glass flows over the edges of a long trough. It is then spooled up into large rolls with special equipment that keeps the surface pristine. The defect-free surface is also key to making the glass strong, since glass is only as strong as steel if its surface is free of scratches and nicks. Once it's scratched, it requires much less force to break. (Chowdhury says roofing tiles-as well as flexible electronics-would have to be protected from scratches with a coating of ethylene tetrafluoroethylene, or some other protective polymer.)
Using Corning's flexible glass in solar shingles will require careful processing, much as is done now to create an iPhone display. An iPhone actually contains several pieces of glass. The touch sensor, the color filters that make up each pixel, and the millions of transistors used to control them are all produced on top of separate high-quality glass sheets. These are protected in an iPhone by Gorilla glass, which is less susceptible to scratching, but isn't a suitable surface for transistors or other electronics. Willow glass could replace these interior sheets of glass. For rigid devices, the main advantage of doing this would be to reduce weight and display thickness-Willow glass is a third the thickness of the glass used now.
The cadmium telluride solar cells on Willow glass made at NREL were small, proof-of-concept devices that aren't as efficient as the rigid cells now on the markets, says Teresa Barnes, a scientist at NREL. She says that in addition to improving efficiency, it will be necessary to develop ways of handling larger flexible solar cells-manufacturing equipment used now is optimized for handling flat plates of glass.
Chowdhury says another challenge will be persuading manufacturers and customers that glass solar shingles can be durable: "Sometimes perception wins over data."
About Integrity Research Institute
Future Energy eNews
is provided as a public service from
Integrity Research Institute
, a Non-Profit dedicated to educating the public on eco-friendly emerging energy technologies.
FREE copy of the 30 minute DVD "Progress in Future Energy" is available by
sending an email
with "Free DVD" in subject and mailing address in body.
Your generous support is welcome by making a tax deductible donation
on our secure website
Save 10% On

Breakthroughs in Energy and Propulsion DVD

.

Use code: cofe2011 in comment

Scott Kelsey, Missouri State, explaining Rejuvamatrix, Pulsed EMF therapy to increase the length of DNA telomeres, which directly affect our lifespan.
Max Formitchev-Zamilov, Penn State, discussing Cavitation Induced Fusion, that will soon provide power generation and heat production.
Christopher Provaditis, from Greece, explaining Inertial Propulsion and who teamed up recently with Boeing for their space satellites.
PJ Piper of QM Power, discussing the motor invented by Charles Flynn, with a revolutionary parallel path that gives double and triple efficiency.
Dr Thorsten Ludwig from Germany (GASE) discussing the mysterious Hans Coler motor that WWII British Intelligence researched.