Welcome to Gear Talk
Gear Talk is an email newsletter for music retailers focused on all music gear and accessories available from Hal Leonard. It covers recent releases and our sales specials on related products for:
Guitar - Bass Amps - Ukulele & Other Folk Instruments - Keyboards - Electronic Drums -
Mobile Interfaces for Instruments - Related Gifts and Accessories
NOTE: If a specific colleague should be receiving this email, please forward it to them, and be sure we know their email address. Send these requests to your
Hal Leonard sales rep
.
Tech Talk Training Video




Not sure which mobile guitar interfaces to purchase for your store?

This video

provides an informative and succinct summary of offerings available from Hal Leonard. Check out more Tech Talk Training videos on our

YouTube channel

.

August 2018 - In This Issue: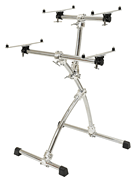 Double Tier Keyboard Stand from Gibraltar
The sleek and sturdy Key Tree double tier keyboard stand offers up maximum portability and style for keyboards and controllers. This sturdy, modern-looking stand replaces the traditional wobbly, stale, X stand and enhances stage presence with lightweight, expandable, and customizable options. The Key Tree accommodates most keyboards with a range of 76 keys or smaller. Memory locks ensure precise positioning of this curvy, sleek design so that the stand breaks down quick, easy, and fits into a bag.
Contour Wah Pedal from Morley Pedals
YouTubers Adam and Joe from GAK, a top musical instrument retailer in the United Kingdom, recently reviewed the Bad Horsie 2 pedal, aka Mini Steve Vai, pedal from Morley. Watch the review here and purchase this contour wah pedal for your store today!
00275967 - Model MTVAI-2 - MSRP/MAP $239.00
Hal Leonard arranged a Walrus Audio clinic at Cream City Music in Brookfield, Wisconsin. Pictured is Walrus Lead Product Engineer Jason Stulce and Hal Leonard account manager Tim Wright demonstrating the array of guitar effects pedals. If your store would like to host an event from these or other lines that we carry, please contact your Hal Leonard sales rep for details.
Purchase the best-selling Walrus Audio products listed below for your store!
Spider V20 Guitar Bundle Pack
Get free copy of the Hal Leonard Guitar Tab Method book (HL00697411) and guitar chord poster (HL00695859) with every Line 6 Spider V20 amp (HL00278843) purchase (minimum order of 5 units).
This $21 value is intended to be passed on to your customer to make a Line 6 amp purchase even more valuable. This special is good on all orders placed through September 30th.
Specials for August & Labor Day
Enjoy temporary price reductions on the items below. Expires 8/31/18.
00158578 -
iLoud Micro Monitor
-
$299.99
now $249.99
00214966 - iRig Keys IO 25 -
$199.99
now $169.99 plus free travel bag
00214965 - iRig Keys IO 49 -
$299.99
now $249.99 plus free travel bag
From August 31 through September 7, 2018, enjoy price reductions on:
00128344 - iRig Keys - MSRP $129.99 - MAP
$99.99
$69.99 promo price
00153170 - iRig Keys Mini -
$79.99
$49.99 promo price
00123353 - iRig Keys Pro -
$149.99
$99.99 promo price
00275361 - iRig Stomp I/O -
$299.99
$199.99 promo price
Instant Rebates
Offer valid through August 31, 2018
XD-V35
-
$50 instant rebate
Sales restrictions to some countries may apply. All prices listed in U.S. funds.
Copyright © Hal Leonard - Please read our privacy policy.
Reproduction in whole or in part without written consent of the publisher is prohibited.